September 30, 2022
Posted by:

Admin

Category:

Blockchain Development, Technology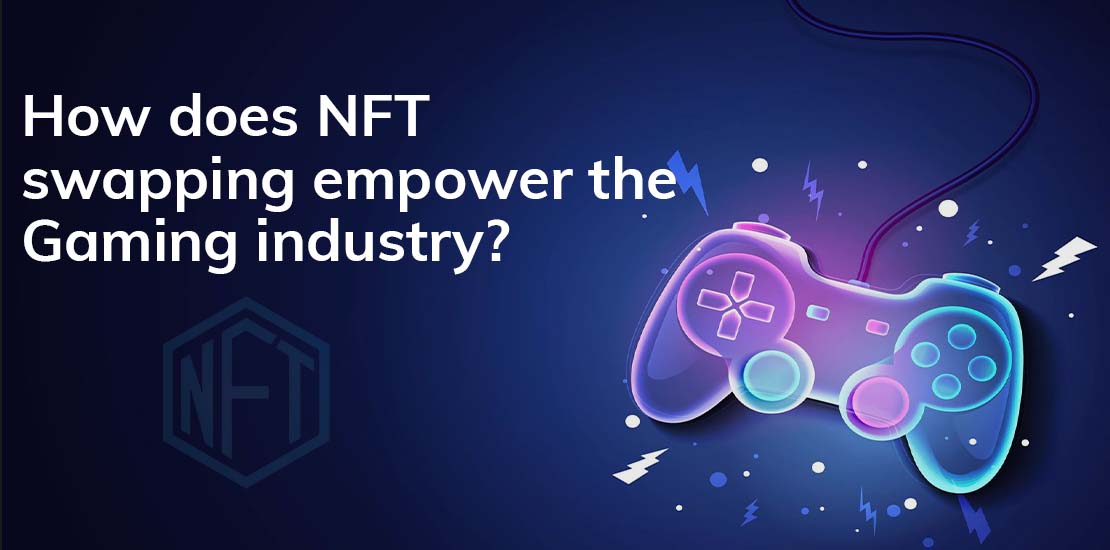 The world of gaming is expanding its limits and offering interactive games backed up with the latest technologies. Now, gamers not only can play multi-player games but also can interact while playing even at a far location. With the gaming expansion, trading has got an important room within the gaming world and it is playing a quintessential part in serving a superior experience to the gaming ecosystem and redefining the gaming world. The traditional gaming world was designed to grow your expertise and level up your gaming skills but no attribute helps you to own your assets of the gaming ecosystem. Anyone with the skills to develop a digital entity can replicate your assets anytime.
Here comes the role of NFT, it is regularly empowering the gaming world by allowing users to gain complete authority over their assets and become certified owners of in-game items. Traditional role-playing gaming streams were allowing gamers to trade with each other but the values of the trading asset were never determined and defined. With the inception of NFTs in the gaming industry, now gamers can attain value for the assets they exchange by making peer-to-peer connections and transactions or on Binance NFT marketplace."
Now, almost 70% of the gaming industry is leveraging the potential of blockchain technology and is trying to evolve as a pioneer of a new gaming era with new trends and gaming options every day. To convert their dream into reality. They are taking assistance from top blockchain companies in India.
Our Solutions:

Blockchain based E-Grid Solution

Crypto Asset Exchange Solution

Blockchain based certification Solution
Easy trading over gaming platforms:
Trading without an intermediary in the gaming world was just an imagination till the emergence of blockchain technology. Now, with the use of NFT swapping, users can conduct peer-to-peer trading without including any middle person. Most of the gaming companies are taking assistance from the best blockchain development companies in ­­­­­­­­­­­­­­­­­­­­­­­­­Dubai and developing a gaming platform where every gamer is capable of trading their in-game assets with whomever they want using a fluid trading process offered by the blockchain technology. Using NFT swapping technology is easy as well as cost-efficient too by eradicating transaction fees and making the trading process seamless. NFT swapping is bringing a vast and open market for gamers with a plethora of opportunities to understand and determine the value of their tangible assets for trading.
NFT gamification revolutionizing the gaming industry:
NFT is changing the gaming industry in various ways and making revolutionary transformations disrupting the traditional ways and giving new faces to the industry. A few outstanding gaming industry changes due to NFT swapping are described below:
Now games are not a leisure element anymore, it has evolved as an earning medium too. Traditionally, gamers were playing games just to win but not most of gamers play to earn and hence find value for the time they are investing in games. With the help of blockchain development companies, games are designed to serve the play-to-earn model in two earning types, either a game can be designed to earn gaming rewards and cryptocurrency or can be developed for trading NFTs.
The new gaming industry welcomes newcomers also with an opportunity to play and win, but initially, the new gamers may require some assets to get started with games, NFT exchange, and more. The play-to-earn guild feature allows new gamers to rent in-game assets and help them to make their gaming passion economic by eradicating the requirement of buying in-game assets. Now, even a newbie can take a swift entry into the world of NFT games. The advantage of play-to-earn guilds is not limited to the gamers but also the owner of the game, as guilds are tempting folks to try the games at least once and hence add a huge number to the game users.
Interoperability of game assets:
The most crucial aspect of NFT games that brings all prominence is the interoperability feature. Traditionally, we had exciting games but the gaming consoles were designed for a specific model and were not compatible with any other ecosystem hence the characters of a game were limited within the specific ecosystem. With the inception of NFT-swapping games, gamers can exchange their assets over an interoperable marketplace.
NFT staking is one of the major features offered by blockchain technology to the gaming industry. It allows users to stake their NFTs or lock their cryptocurrencies in a smart contract and withdraw rewards in return.
Takeaway:
A revolutionary change has been noticed in various business industries since the inception of blockchain technology and NFTs. The gaming industry is leveraging the potential of this technology and giving rise to the new gaming era with an option to determine the value of users' tangible assets and trade them without any interference from intermediaries and without any transaction fees. With NFT swapping technologies, now gamers can enjoy financial rewards and crypto gamification. NFT is offering the widest array of benefits to the gaming industry with an option to evolve with interoperability and a play-to-earn model. With the introduction of NFT in the gaming sector, various types of folks are tempted towards it which includes NFT fanatics, the gamer's community, crypto investors, and more. To get started with the ever-growing gaming industry you can take the assistance of blockchain developers in Bangalore and bring innovation to the gaming sector.
Read Also:

How Much does it cost to develop NFT Marketplace in Dubai?

How Much does it cost to develop a Mobile Application in Bangalore?

How Much does it cost to develop a Mobile App in Mumbai?

How Much does it cost to Develop a Mobile app in Chennai?

How Much does it cost to develop a Mobile Application in Pune?

How Much does it cost to develop a Mobile App in Kolkata?