April 3, 2023
Posted by:

Admin

Category:

Mobile app development cost, Technology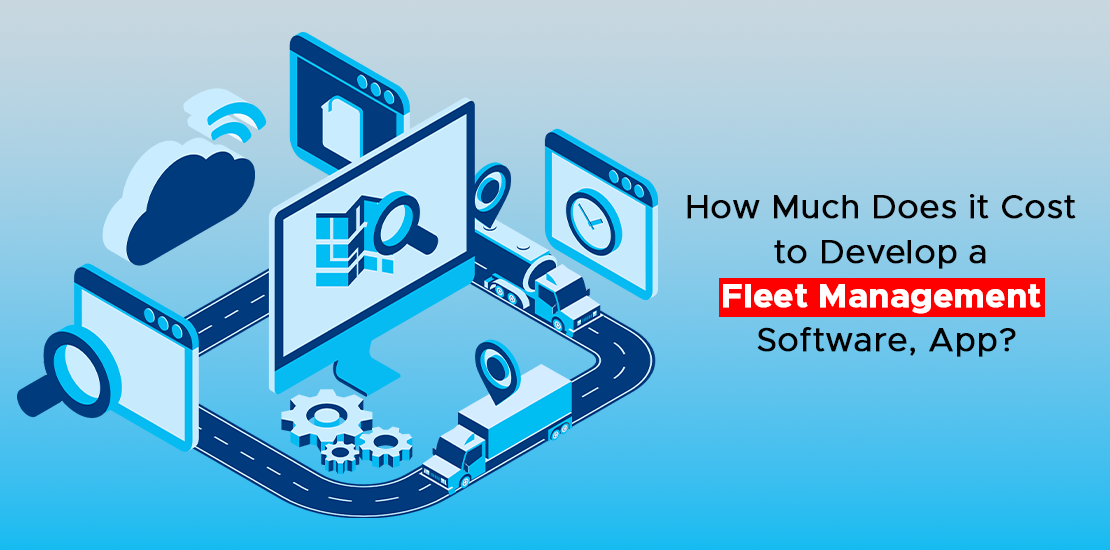 When it comes to vehicle tracking, logistical and transportation companies have always had significant problems. It is crucial for companies in the transportation sector to track their vehicles and keep an eye on their movement. These companies invest a lot of money in monitoring all of these vehicles in order to track and record information about vehicle movement, such as the distance driven. The most recent technologies are now being actively incorporated to help them with this process.
Companies are now heavily investing in Fleet management software to streamline multiple operations.
You've probably used cab services like Ola and Uber. The companies that control these vehicles using a single piece of software are referred to as fleets.
Fleet management software refers to the system used to control such vehicles. Software is what allows it to track the attached vehicle.
The software keeps track of the car's direction, speed, temperature readings, fuel level, etc. Sensors that are installed on the vehicle can be used to track these characteristics.
The fleet management software market is expanding at a never-before-seen rate, and solution owners have excellent financial prospects. The market for fleet management software was estimated to be worth $7.34 billion in 2020, and Mordor Intelligence analysts predict that it will increase to $22.08 billion by 2026.
There is a lot of interest in apparent success. Many businesses are highly interested in knowing what makes these solutions so great and how they can help companies to achieve their objectives more quickly and effectively.
The ideal fleet management solution will give you all the information you require, making everything simple to comprehend. The goal of fleet management is to quickly and easily optimize the fleet from a single interface while increasing productivity and cost-effectiveness, as well as lowering unforeseen costs and labor safety.
In the revealing blog presented by the top fleet management software Development Company, we will make you understand the importance of fleet management apps, examine their primary business advantages, discuss their essential features, and go over the development process and cost to build the fleet management app.
The Necessity of Fleet Management Software
Before jumping directly into this topic, it is better, to begin with, the fundamentals. Fleet management encompasses logistics management, specifically vehicle management, which is a significant component of logistics. It can track optimal truck routes, fuel consumption, truck technical condition, and much more. The monitored parameters can differ from one company to the next and are determined by the enterprise's industry.
The main objective of fleet management apps is to streamline the process of tracking fleet performance and the metrics associated with it while also increasing its effectiveness.
Types of Fleet Management Software
You should select the type of app that best meets your company's needs before considering developing a fleet management app for it. You have three options for apps (or combine all three types in one if the situation allows you to allocate enough resources for it).
Video-recording-capable apps
On-road mishaps that your fleet may experience are highlighted in the video. The cloud, where videos from car recorders in drivers' cars are uploaded, is frequently accessible through such software. Moreover, in real-time, cutting-edge solutions can assess what is occurring on the road from the video and alert about speeding and other violations. Such apps prominently include
– EYERIDE.
Dispatchers can keep in touch with drivers and keep an eye on them and the traffic situation by using a real-time video recording app with two-way audio communication.
– Lytx
All-in-one fleet management software powered by artificial intelligence that includes GPS tracking, 360-degree video recording, live video streaming, and alerts for five different risky driving behaviors.
– Optix Fleet.
With features like driver footage, live view, shock alerts, and many other features, AI-powered video recording software keeps control over your fleet.
GPS fleet Tracking
For maximizing fleet performance, this kind of approach is demanding. Such software is equipped with all the features required to build the best transportation routes, track each car's location in real-time, and allocate transportation right away as needed. Furthermore, it is simple to share and maintain data on the arrival times of vehicles using this software, and it also allows you to save travel logs for later analysis. The solutions of this kind that are most widely used are:
– Team interaction
This app offers users GPS tracking capabilities and real-time reports that assist fleet management companies in lowering costs, streamlining payroll and timesheet processes, and automating workflows within fleet operations.
– Fleet Manager from GPSTrack
Fleet data and fleet performance management is the focus of this highly scalable solution. Users can anticipate features like geofence breach alerts, data that is permanently stored, vehicle diagnostics, reports monitoring, and much more.
– Director of Fleet Software from Teletrac
With features like vehicle location, driver status, geofencing, traffic updates, and many others, this application is perfect for any size of business and gives you complete control over your fleet.
Fuel and Speed Management apps
Many business owners aim to optimize fuel costs because they always make up a sizable portion of the fleet budget. These kinds of apps assist fleets in more intelligently tracking fuel usage and maximizing actions that can cut down on fuel costs (such as monitoring the driver's driving style and many other things). Furthermore, many of these apps include handy analytical tools that can be used to easily display the costs associated with maintaining the fleet of vehicles. Here are a few of the most popular examples of such solutions:
– Fleet Maintenance expert
This software provides all necessary features, such as fuel tracking, fuel transactions, preventive maintenance control, and standard maintenance control, if you want to keep your fleet operational.
– Wialon
With features like driving quality control, sensor parameter analysis inside a truck, fuel control, and much more, another fuel and speed monitoring app gives business owners crucial information.
– GPSWOX
The real-time detailed fuel level monitoring and driving behavior that directly affects fuel consumption are both provided by this application.
Market Analysis of Fleet Management Software
Research and market trends predict that the current Fleet management market size, which was estimated at $7,755 million in 2015, will increase to $34,629 million by the year 2022. From 2016 to 2022, the growth rate is 24.5% CAGR.
These days, the majority of automotive software packages come with smart vehicle communication (V2X) features and a fleet management system that makes it easy, affordable, and quick for businesses to track and maintain their fleets of vehicles.
Looking more closely at all the market research from various sources, it is clear that the fleet management software market will be lucrative for any company that can create a top-notch product.
Who Requires a Fleet Management System?
Check out the individuals and businesses that need fleet management software.
Transport and Logistics Businesses
The businesses that assist in moving goods and services from one source to another are known as transport and logistics firms. They pick up items from the origin point and transport them by vehicle to the recipient's designated destination. Logistic Firms are online ordering platforms that let you order whatever you want and have it delivered right to your door. As an example, consider Amazon and Flip kart.
Aviation and Flight Services
The term "aviation fleet" refers to a collection of flights, usually made up of military helicopters, and led by a single person. It also refers to the military flight of a country. There are numerous flights on it that are managed by a single fleet management firm.
Marine and Shipping Companies
Ships are provided to their owner by shipping and marine companies in large quantities. All over the world, it offers shipping services to its owners. The services offered range from crew training to sophisticated management needs. In addition to being necessary for trade, ships are also used for the nation's security, for importing and exporting goods between countries, etc.
Corporate Fleet Businesses
Corporate fleet management firms are those businesses that oversee these cars in large numbers. These businesses have a large number of their own vehicles that they rent out. The rental cost varies depending on a number of factors, including the length of time you want to rent, the distance you want to travel, and the type of vehicle you want to rent, such as a four-wheeler or a two-wheeler, among others.
Core features to include in Fleet management software
Real-time tracking is essential for many businesses to ensure that some disastrous events and outcomes can be avoided and managed at the appropriate time. Real-time fleet tracking enables businesses to take the appropriate safety precautions and mitigate the effects of any type of disaster. The likelihood of damage occurring is very low when precautions are taken immediately and without any delay.
Real-time fleet tracking provides a wealth of information about the location of the vehicle, its speed, its direction of travel, the traffic it is traveling on, the temperature of the engine, its fuel level, and more. Having access to all of this data actually helps the company manage the real-time data and assess any potential emergencies.
GPS vehicle tracking via mobile apps
GPS navigation is available on many mobile applications, and the Internet has always made it easier for people to move from one place to another. By receiving accurate directions on a mobile application, GPS fleet tracking software has made it very simple to commute from one location to another. Different people have different preferences for their uses and vehicles. The other half can rely on a two-wheeled vehicle while some choose four-wheelers. Customers can obtain accurate and timely information about directions with the aid of mobile-based GPS applications.
It assists customers in determining whether the vehicle has arrived at its destination, and the driver is directly informed of the location. Fleet management software's mobile app-based GPS vehicle tracking feature aids in getting directions as well as managing vehicle destinations.
One of the most crucial aspects of fleet management software is fuel consumption control. This software assists in monitoring the amount of fuel used by the vehicle. This information aids in determining how well the vehicle's engine is functioning or not. If the vehicle is using a lot of fuel, there is probably a problem. Only when there is a problem and it needs maintenance or repair do vehicles always consume a high amount of fuel.
Dispatching management refers to determining which vehicle will be usable when and at what time. Due to the large number of vehicles they manage, fleet companies may find it challenging to keep track of which vehicles are booked and which are not. If reserved, how long will it be unavailable to other customers before the next time? The software handles information as such.
Companies use it to monitor compliance with the policies and agreements between drivers, clients, and the relevant company.
This report contains data on a variety of topics, including the type of vehicle, the number of vehicles managed by the fleet management company, the condition of a vehicle, the vehicle's daily report, the daily revenue generated by the vehicles, information about each driver associated with the company, and the customer database.
Dashboards are used to check important vehicle-related data points and analytics. The dashboard shows data about the vehicle's daily fuel use and cost, engine longevity, tyre pressure, and other things.
Driver Management and Safety
Some of the most important features that businesses can obtain from fleet management software include driver management and safety. This driver management and safety software aid in keeping track of the driver throughout the journey. By examining the driver's behavior and posture, it types in understanding. Information is sent directly to the team in charge of managing driver management if the posture and behavior do not appear to be good. The software also notifies the team if the driver is traveling quickly and at a high speed.
OBD tracker used in fleet management software assists in tracking the vehicle and gathering all relevant information. When the tracker is plugged into the vehicle, all pertinent vehicle information can be retrieved. It could be used by mechanics to determine the exact diagnosis problem that is occurring in the vehicle. As a result, with this vehicle tracker, you can locate any type of information about the vehicle.
Vehicle Management and Maintenance
Vehicle fleet management software is created entirely with the assistance of a team that manages the fleet management software. The fleet management software receives all data and information in real time from the tracker, which sends the report to the software, from which all information is obtained. Vehicle maintenance must be performed with the assistance of fleet management software. The vehicle management feature is one of the most important in the fleet management software used by the company.
Route optimization involves monitoring which routes are busiest and which have less traffic and are accessible for a quicker commute. The software suggests a route that will get users there faster than the alternative route. This is how the software optimizes the route choice.
It's a term for calculating a virtual area in the real world that enables us to determine with precision the precise location of the vehicle. In addition to the fleet company being able to locate each of its vehicles in any given location, this aids the user in finding their cab.
Controlling accidents and claims
Customers may file an insurance claim with the fleet company if they are involved in an accident while riding in one of their vehicles. The organization that owns the fleet vehicle has prohibited the insurance.
What Hardware Does GPS Require?
The following is a list of the equipment needed to construct a GPS. If you're interested and want to build your own GPS device, look over the list.
Microcontroller Units
It is an Internet of Things-based chip with all the necessary information to be controlled by the GPS.
GPS Module
It is possible to locate a device geographically using the GPS module, which is a device that receives satellite data. The idea of "Geo Tracking," which is a virtual perimeter used to track the location, is used to determine the geographic area.
GSM Module
It is a mobile device that connects to a computer to display the information gathered from the GPS device.
Relay Circuit
An electronic circuit that connects to the car's engine. This circuit will transmit information about the engine's operation, performance, etc. Once more, satellite signals are used to deliver this data. Chips built into the circuit receive the signals, which then display on the display screen.
Technology Stack Required for Fleet Management Software
| | |
| --- | --- |
| Application Data | Apache SparkAirflowSnowflakeMQTTQuboleFivetranPythonPostgreSQLRubyRailsKafkaGo |
| Android | TensorFlowJupyterKubeflowAmazon IoT |
| DevOps | KubernetesBazelNixDocker |
What Team Structure Is Required To Create Fleet Management Software?
The development team may be divided into many small parts, such as the team that manages the finance section, other teams that manage customer requests, and finally the marketing team, which handles customer complaints and answers their questions. Another important part of the development team will be the group in charge of constantly updating and adding new features to the software. The team is divided into two sections. One section is in charge of administration, while the other is in charge of operations.
Fleet Management software development team
– Business analyst
– Project Manager
– Front end and back end developers
– UI/UX designer
– Quality Analyst
Finally reaching to spotlight of the blog
How Much Does it Cost to develop Fleet Management Software?
To stay ahead of competitors, fleet businesses are required to automate their processes. What is the cost of developing a fleet tracking system?
The cost of the fleet management system is determined by the features that the transportation company wishes to include. The average cost of a fleet management system ranges between $20K and $60K.
There are numerous aspects to consider when it comes to cost. It is made up of the software used in the development of the fleet management system. The developer's company location and rates are some additional costs. As a result, fleet companies must consider these factors when selecting a company to develop a fleet tracking solution for them.
The development of a simple fleet tracking solution takes 2 to 3 months. On the other hand, the company desires a complex app with numerous features. In that case, the development of the fleet management app will take about 9 months.
Factors influencing the cost of a fleet management system
One such factor that majorly determines the cost of a fleet tracking system is the app development platform. The app platforms are Android and iOS. The organization must decide where they want its app to be located. If the transportation company wants the app to be available on both Android and iOS. In this case, the cost rises due to factors such as software, features, security, testing, and team efforts.
The interactive user interface encapsulates the essence of the software as a whole. It ensures that the fleet management solution runs smoothly. Meeting custom-designed requirements take time. The overall cost of a fleet tracking solution varies depending on the software used, the features added, and the efforts of the team.
The wireframe represents the entire software development process. The costs of wireframe development are included in the fleet software costs. In order to create a wireframe network, you'll need the right tools, such as Figma, Photoshop, and others. The cost of tools has an impact on the overall cost of developing a fleet management system.
The total cost of fleet tracking software is determined by the size of the fleet software development company's team. Many developers, including designers, project managers, and analysts, work in a dedicated organization to create tailor-made solutions for the fleet company.
Software development process
Coding is one such important factor that influences the cost of a fleet management system. The cost of fleet management app development is determined by the developers' hourly rates. The total cost of fleet software is affected by time and the technology stack used in the app development process.
Fleet software Maintenance
It might be necessary to update the vehicle tracking system. The fleet management solution's overall cost creeps up on you. Any stage of the software development process may call for maintenance. Any business that wants a fleet tracking solution must pay these expenses.
The total cost of a fleet management solution is influenced by the use of tech stack tools. A solid system is advantageous to ensure that the process is completed successfully and on time. The client is able to obtain a system specifically for their fleet business. Hidden expenses in the creation of fleet tracking software
Tests and quality control
Depending on the platform types the client selects for software development, testing and quality assurance costs increase. The customized software must undergo system testing during the development stage
The fleet management system's development is impacted by security concerns. To ensure the security of the vehicle tracking system, numerous software applications were installed. It records the driver's financial transactions and personal data.
The cost of developing the app and the software is impacted by bug fixing. For the software to function properly, these bugs must be fixed.
How can DxMinds support the creation of process-automating fleet tracking solutions for fleet companies?
DxMinds is an ISO-certified software development company with years of expertise in the logistics sector. Our experience and abilities have allowed us to develop specialized software solutions that have boosted the productivity of businesses across a wide range of industries. We have assisted numerous different-sized fleet businesses.
One of our most recent initiatives is a complete fleet management system for a trucking company in UAE. We were given the task of developing more effective fleet management tools for dispatchers as well as a real-time shipment monitoring feature.
This project is protected by an NDA, but if you'd like to learn more about fleet-related solutions or how we can help you realize your fleet management ideas, please get in touch with us. We'll be happy to assist you. However, you can still look at our portfolio to see our experience and other projects.
Conclusion
Automation offers the fleet industry tremendous potential for growth and development. The fleet company can expand by making a financial investment in a dedicated vehicle tracking solution. The location, routes, orders, and financial transactions of the driver can all be regularly updated by the fleet agency. Keep tabs on them so they can decide quickly.
FAQs
What is fleet Management?
Fleet management includes logistics management, specifically vehicle management, which is a large part of logistics. It can track the best routes for trucks, fuel consumption, technical condition, and much more. The monitored parameters can differ from company to company and depend on the enterprise's industry.