October 10, 2022
Posted by:

Admin

Category:

Chatbot App development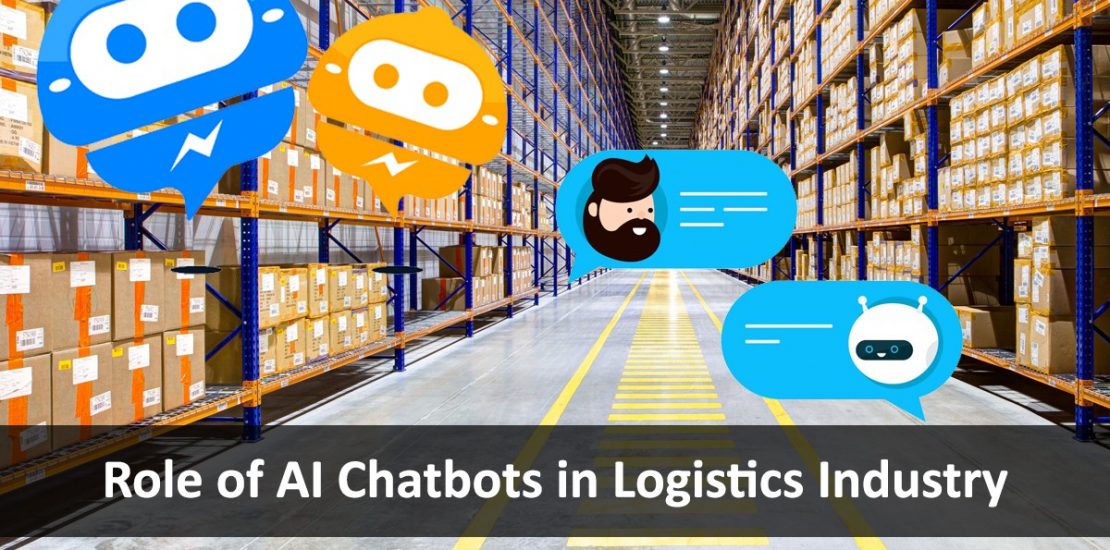 Chatbots for Supply Chain & Logistics
Application of Chatbot in logistics industries
Logistics- the lifeline of businesses
Logistics and supply chain management is one such industry that plays an important role in our day-to-day lives. It helps us in getting our couriers, baggage, shipments, etc. delivered on time. Logistics and supply chain management not only help us indirect ways, but it also plays crucial roles in indirect ways. Right from the delivery of fuel to petrol bunks to supply of industrial equipment, fruits vegetables, and daily necessities, the supply chain makes its mark in our lives in multiple ways. Thus, it has turned out to be an everyday part of our lives. Still, if you need to know the impact of the supply chain in our lives, just have a look at the businesses that are running nearby your premises. Every product that is used by the businesses has reached there just because of the efficient interpretations made by logistics companies.
Challenges faced by logistics Industries
Though companies operating in the logistics industries are trying their maximum to deliver the best in class services, we ought to admit that the real-life challenges faced by these companies are immeasurable. A major portion of the revenues that are generated by these companies is spent on finding effective ways to overcome these challenges, which are not so effective when it comes to practical applications of it. Some of the challenges faced by these logistics companies still remained untouched, leaving a sort of unpleasant feeling among the customers and causing them to move over and never return back. Over time, this causes the businesses to make a loss, reducing the profit margin and gradually end up shutting down.
The chatbot industry is booming
The chatbot development industry is one of the fastest-growing industries in the world because of the facilities offered by chatbots. It is expected to have tremendous and fully-fledged growth in the area of Chatbot development by 2025. Companies are investing heavily in researches and studies to explore the full potential of the impact chatbots can have on our ecosystem.
What exactly can Chatbot do to logistics businesses?
Chatbots, the virtual agents helps logistics business owners in overcoming the aforementioned challenges. Top Chatbot development companies in India are coming up with effective solutions that help logistics companies in solving these problems and making the business generate more business and run in a profitable manner. Chatbot solutions for logistic industries developed by various companies streamline the entire operations in the industry as a whole. With the implementation of Chatbots on to the existing frameworks, enhanced are the processes in the logistics industry.
Advantages of having Chatbot in the logistics industry
Chatbots are helping logistics industries to come up with alternative methods that abrupt conventional ways of running logistics businesses. Let us see in detail what are the major transformations caused by Chatbots in the logistics industry.
· Enhanced transparency and more visibility
Chatbots applied logistics industry saw a sudden change in all terms and aspects. They are creating a huge revolution throughout the industry. It simplified various warehouse activities and enhanced its operations. Right from managing inventory to automated pickup technology, and enhanced package movement, Chatbots enhances the transparency in the logistics industry.
· Reducing last-mile transportation cost
As we have discussed earlier, Chatbots are the latest technological advancements that happened in the logistics and supply chain management industry. A chatbot can take over the entire operations in the logistics industry and make it free from all hassle and bustles. The supply chain is one such industry, which has a lot of minute processes involved in it. Having Chatbot integrated into these processes, helps in bringing down the operational costs, thereby reducing the last mile transportation cost, saving manpower, money and time.
· Enhanced customer and operational support
Chatbots not only enhances customer support but offers the best operational methodologies. From various customer inquiries such as shipment booking to real-time tracking and related issues, chatbots level shift the logistics industry for the good.
· Order Management
Chatbots are excellent agents in helping one in managing their orders. It helps the customers in making new orders, has a regular eye on the progress of their orders, and details about various other canceled and delayed orders.
· Warehouse Management
Chatbots help logistics business owners in having a hands-on top of various activities that are involved in warehouse management. It helps them in having a real-time update on inventory and stocks, a detailed floor plan, deliveries that are ready for shipment, etc.
· Fleet Management
Fleet Management faces a lot of challenges in a conventional way. Gone are those days. Thank chatbots and related technologies. They offer extensive support in the effective utilization of fleet management such as fleet information, vehicle routes, real-time maintenance updates of vehicles and all other vehicle-related issues in detail.
· Employee Management
As a logistics business owner, Chatbots helps you in having a detailed overview of anything and everything you need to know about your employees, including their date of joining, details of leaves, salary, performance, etc.
· No more double works
Running a logistics company in the brick and mortar style is quite challenging and the deadliest among that is the scope of double works. As efforts that are more human are involved in the process, chances of repetitive works are very high. Chatbots helps business owners in completely diminishing these issues, thereby bringing more transparency to the system.
Hire the best logistics Chatbot development company
As a logistics business owner, hearing that chatbots can resolve all of your problems will be like a blessing for you. But the challenging part is to find the best Chatbot developer company to develop logistics solutions. Don't worry! We have got you covered. DxMinds Innovation Labs is the finest Chatbot service provider company having firm routes across the globe. The prime focus of DxMinds is to impart high-end solutions for your business.
Why DxMinds for developing Chatbot solutions for logistics companies
Agile model of development
Cutting edge technologies
In-depth knowledge and high proficiency over various Chatbot domains
24×7 customer support