Streamline your business by hiring Flutter developers in India
Hire an expert pool of Flutter application developers to build seamless cross-platform apps swiftly from DxMinds. You can hire dedicated Flutter developers in India to gain a competitive edge over other competitors in the marketplace.
DxMinds possess a talented pool of skilled developers and programmers who want to strive for excellence in their work. They have immense potential in developing top-notch apps. The team consists of professionals who are experienced in strengthening the business across various dimensions. They build performance-oriented apps by utilizing apt development tools and technologies which attain success in each vertical of business and enterprise. They develop cost-effective and efficient applications with perfectly crafted creative and leading-edge flutter app development solutions for clientele around the globe.
Hire Dedicated Developers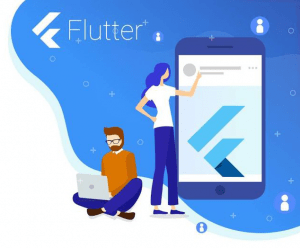 Since its release in May 2017, Flutter has become the most preferred for developing mobile apps. It is one of the open-source software development. It is an open-source platform that offers a complete software development kit that includes tools for cross-platform mobile app development. The best part of Flutter is that it utilizes a single codebase for the development of native like iOS and Android apps.
Flutter works on a reactive development architecture that lets you automatically adjust UI contents while the developer is working on the variables. Moreover, it has reduced the bridge concept and completely collaborates with the app.
Without the requirement of extra bridges, Flutter works on the OOPs concept which helps in an easy combination of written code into native code.
Features of Flutter:
It facilitates the development of applications for different platforms like Android and iOS, by utilizing a single codebase.
Its reload function enables the developers with numerous widget options and lets them function in a dynamic function.
The command named Flutter Doctor let the developers identify the bugs easily so that they cannot be troubled hooted easily.
Highly flexible and easy to use.
It offers GPU rendering UI, and helps to develop mobile applications with appealing UI designs.
RAM code features also help Flutter developers in India to utilize it in tech firms.
UI/UX Flutter comes up with several best-in-class features. Apps developed by Flutter always have faster-loading speeds and look appealing.
Faster Loading: Flutter has an inbuilt feature of loading the app frequently. It also has the great ability to scan bugs in a faster method. Even if there are bugs, Flutter can help you identify them quickly and remove them in a fraction of the time.
Less Space: The applications developed by utilizing Flutter consumes less space. The rest of the space can be utilized to store data in the backend. In case the user requires previous data, you can store the same.
Security: Developers always select Flutter due to the factor of security. Data security is the primary concern behind the security coding.
Why DxMinds?
DxMinds offer a flexible engagement model to reduce the turnaround time. Hire dedicated Flutter developers in India with a varied skill set to ensure the best quality of apps.
Dedicated team
At DxMinds, you can hire dedicated Flutter programmers in India who are dedicated to developing the app and resolving the issues.
On-time delivery
We are always strict with the project timeline and ensure on-time delivery of every mobile app development project.
Flexible engagement model
DxMinds helps you select the right engagement model according to the business requirements while hiring the top flutter app developers from India.
Complete control
When you hire dedicated flutter developers in India, you gain complete control over the project and you are free to make any changes in the project.
In-domain expertise
Hire flutter developers in India who have extensive years of experience in offering top-notch feature-rich mobile apps for native and cross platforms as well.
Client Satisfaction
DxMinds expert team always adheres to client satisfaction. Agile methodology, feature-rich apps, on-time delivery are some of the factors which make our clientele happy and work with us.
Why hire Flutter developers in India?
Finding the right team of flutter developers is a difficult task, hence get in contact with DxMinds. Recognized as the leading Flutter development in India, the skilled team helps clienteles get proper assistance in delivering excellent first-class apps.
At DxMinds, we always have a transparent development process at every stage of development. Our team maintains a transparent development process from the reporting system till the project completion.
Hire dedicated Flutter developers in India to develop scalable and innovative mobile apps. You can rely on them as these cross-platform developers are highly experienced.
Hassle-free project management
DxMinds takes complete responsibility for completing the project right from developing an idea into reality, utilizing the different technologies, and deciding the features of the app. The clientele are not given any responsibility, moreover, if there are any issues, the team helps them in resolving them.
Hire Flutter programmers in India according to the project requirements. You can hire a team of professionals or a single person according to the project.
Young and Vibrant professionals
In India, the clientele can get in contact with a team of experienced professionals who are young and energetic. They have immense knowledge in updating apps and even advanced technologies and can streamline your business process.
Our extensive team of flutter developers is available at competitive prices as compared to any other country across the globe. The count of team members can be selected depending on the project requirements.
When it comes to maintaining the timelines, DxMinds stand out. No matter what the project requirements, hire flutter developers in India who strive hard to craft incredible and outstanding mobile apps.
Hire Flutter programmers in India to take your business to the next level. These resources have got exposure to varied technologies which proves to be beneficial.
Embrace technological excellence to develop high-performance and cost-effective IT solutions for Independent Software Vendors. We help you develop and deploy successful web and mobile solutions.
You can select the hiring model including dedicated, hourly, and full time based on the requirements:
The skillset of developers and programmers
Efficient team
In-domain expertise
Complete monitoring
Highly experienced
Agile methodology
Quick and easy onboarding
Flutter Resource Hiring Model
Offshore Development Center

The offshore development center hiring model helps you create an extended team overseas. By assisting our team in app development team, you can be stress-free. The team takes complete responsibility for the project right from the development of the idea to deployment. We take complete care of every end-to-end solution like payrolls, hiring, and training activities. Under this model, you can take complete control of every requirement.
Turnkey and co-owned projects

The turnkey and co-owned projects are also known to be a fixed cost model. Under this model, both parties agree upon the costing part depending upon the different stages of development. We supply you with resources that are charged on an hourly on monthly basis. Under this model, the project is divided into successful milestones which can be easily achieved in a given timeframe. The team strives hard to meet the deadlines seamlessly.
Build Operate Transfer

This model is designed with several opportunities, where we assist in setting up everything requirements of the project. After the successful completion of the project, the clienteles are given complete ownership.
Frequently Asked Question's