Chatbot Development Company
Chatbots have already started working with Businesses. Have you integrated it to your Business? If not, we can help you in identifying the use case and build a chatbot who that work along with your other employees to deliver endless values to your Business. As the leading chatbot development company in India, we, DxMinds Innovation Labs can build innovative chatbot that matches the best for your business. It's just a onetime process. Integrate it once and let the bot work for you 24/7, seamlessly and hassle free without asking for compensation or leave. DxMinds is the best chatbot development company in Bangalore, India delivering best chatbot solutions for enterprises and startups.
Powerful, Robust and Smart Chatbot to automate your Business flows
If you are looking to have a custom chat bot developed and designed for a specific task like Sales, Lead Generation, Customer Assistant, Tech Support, Customer relationship managing, HR, Recruitment, Support or Finance we have the right Chat Bot AI solutions for you. Our Intelligent Chat bot solutions can work on any industry such as e-Commerce, retail, Banking & Financials, Healthcare, telecom, entertainment, automobile etc. DxMinds is an AI & Chatbot Development Company who is focused on building, training and deploying Chat Bots for your business requirements.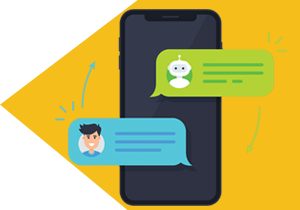 Benefits of Chat bot Development for your Business
Hire once and let them work for your life time.
Works 24/7. Never gets tired.
Seamlessly works with other bots and your human employees.
Can understand human sentiments, remember pas histories and can communicate in multi-language
Can be scaled quickly.
Can be trained with more sample data for better performance initially.
Learns new processes quickly and update by itself.
Voice commands or Alexa / Google home can be easily integrated.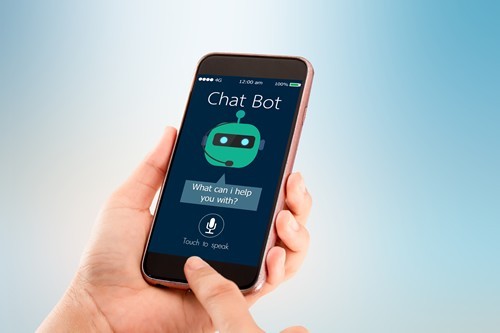 Technologies & Frameworks we use for building Bots
We've created intelligent virtual assistants that give enterprises a first-mover advantage and instantly add value to industries and functions such as sales, service, IT Help Desk, retail banking and HR. NLP, Workflows, Integration via API's and support for various authentication types are the salient features of our implementation
Our team is well experienced in working few popular Chatbot frameworks like Microsoft LUIS & Kore.ai
We use following most popular AI Bot Engines to build more powerful, custom, robust and intelligent bot to fit your business requirements.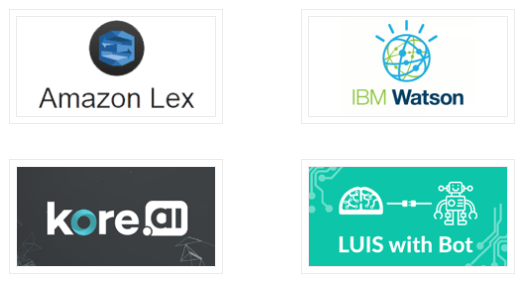 Bots for Multi-channels and platforms

Twilio Chatbot Development