Hire Angular JS Developers in India
Looking to hire dedicated angular developers at competitive prices? Choose our skilled angular JS developers who are proficient to develop a secure, scalable, and dynamic application, and helps you to be in profit by saving 60-70% of in-house development cost. You can opt to hire angular developers on a full-time, monthly, or hourly basis who work as your extended team and ensure to deliver phenomenal, top-rated applications.
Hire Dedicated Developers
Dedicated and Top Angular JS Developers for Hire 
Angular accompanies advanced feature but to productively use the framework you have to hire a professional Angular JS developer or dedicated angular developers having solid expertise on latest technologies, updates, and features with the goal that they can deliver the most extreme Angular solution.
Our best Angularjs developers at DxMinds offer excellent services by utilizing the complete functionalities of AngularJS. Contact us for dedicated Angular programmers and we will filter the best frontend developers profile for your project. Pick the best AngularJS developers that best fit your project needs and get the first-rate Angular programming.
Full fledged services Our Angular JS Developers provide
Our offshore angular JS programmers effectively deliver incredible and advanced Angular development projects by utilizing the latest technologies. Our services are focused on integrating modern web frameworks to create Angular based robust apps for our global clients
Our Flexible Hiring Model 
DxMinds the top AngularJS Development Company in USA and India presents flexible engagement models from which you can choose the best-suited one for your project requirements. You can hire dedicated angular developers on a full-time, part-time, or an hourly basis.
Dedicated Angular developers Team 
A dedicated team model could be the right choice for a long term angular development project with growing requirements. Whether it's creating a product from scratch or in-house development team expansion, hiring a dedicated angular developer team proves to be an exceptionally cost-effective model 
Time and Material
The time and Material model is applicable when you need angular developers on a temporary or long term basis. Here, the offshore dedicated angular developers are your extension of the existing in-house team. This engagement model is usually chosen when you seek to develop new functionality or create new components of existing software applications. 
Fixed Price 
This fixed-price model works great for small and medium scale angular projects where the scope and requirements are clear. Under this model, you will be restricted to several changes allowed in the entire development process which is not suited for a complex angular project because it requires flexibility for changes.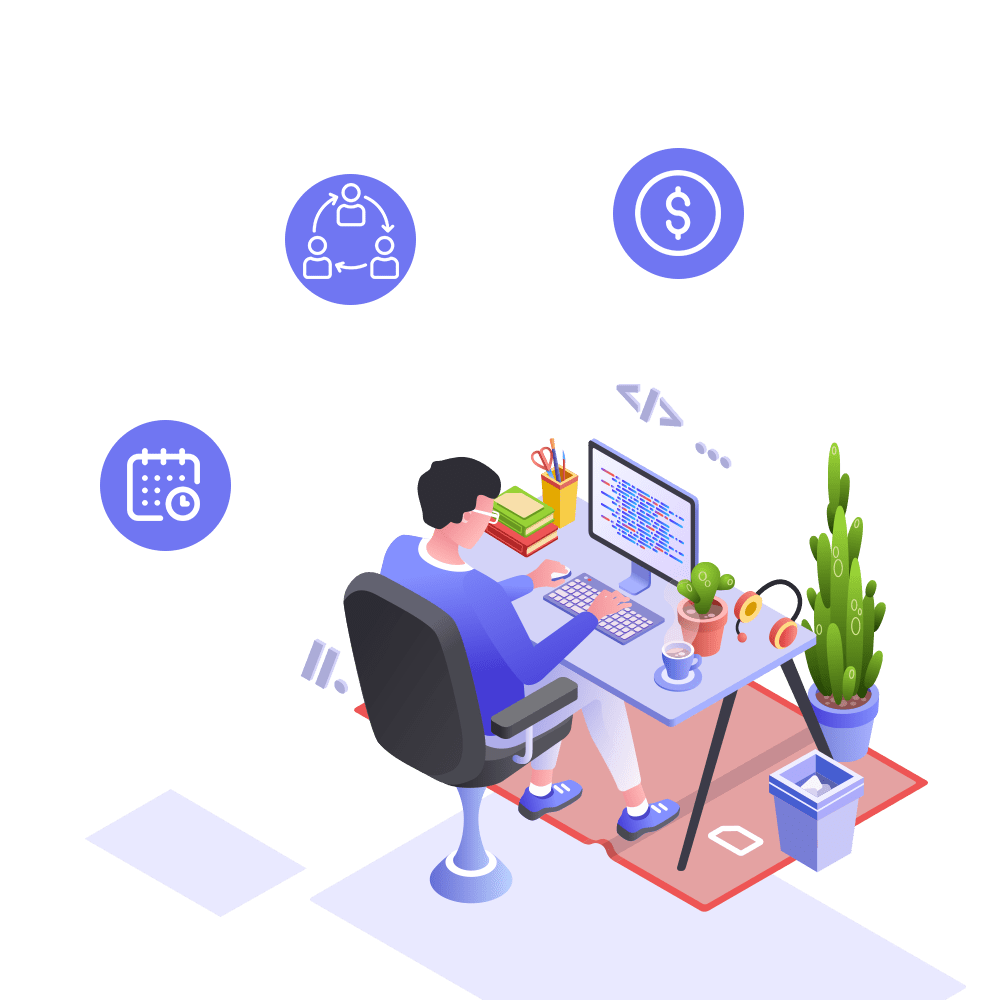 Why Hire an Angular js developer from DxMinds?
DxMinds is notable in providing quick, on-demand angular JS developers. We have a pool of capable and talented developers who are highly experienced and delivered the best projects in their careers.
Solid Technical Knowledge
Work with our team of technological angular experts who are knowledgeable in all the advanced tools, trends, and frameworks. Therefore they offer you the rich, creative, and unique solutions.
Your Project Your Team
We share CVs of our Angular coders from which you can choose the best based on your requirements and their expertise plus experience.
Every Day Reporting
We provide an Angular project Manager who shares daily project updates through email or calls too for a smooth work process.
Fast and Agile Process
We use agile Angular JS methodologies for creating sites and mobile applications to shorten your time and offer on-time project delivery.
Flexible Hiring Models
According to your project requirements, you can hire our best Angular developers by choosing one flexible hiring models followed by us.
Integrity & Transparency (NDA)
Your code is safe with us as we respect confidentiality. Our teamwork precisely and follow strict NDA's.