April 21, 2023
Posted by:

Admin

Category:

Technology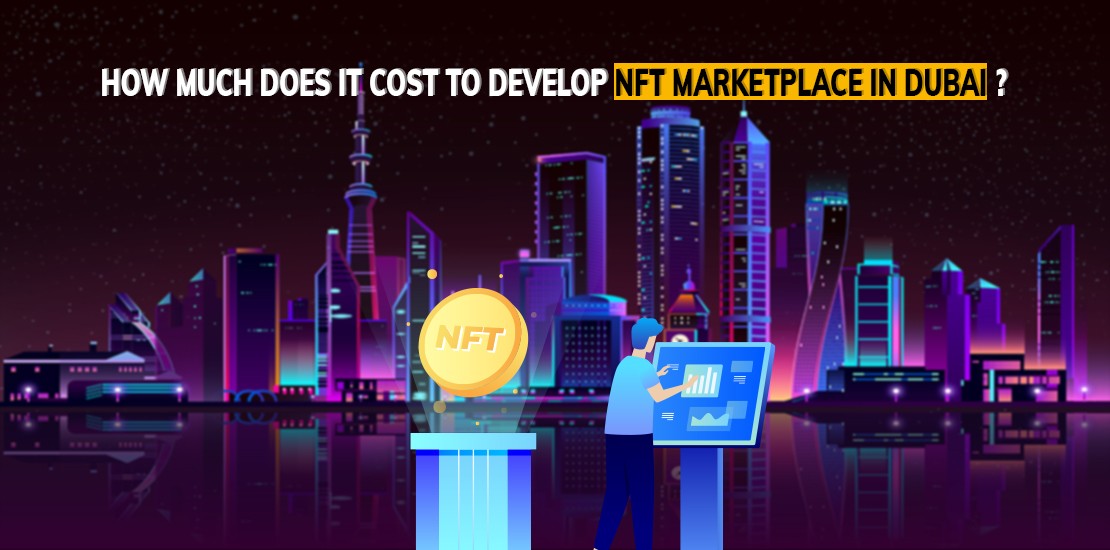 NFT stands for non-fungible tokens. It has incomparable abilities that help create a fully featured marketplace, offering an entire space for tokenization. It has massive growth for the future as it is a revolutionary approach in the world of digital payments. Since everyone is looking for new and emerging ways to develop ownership of assets, the NFT marketplace is concerned about being whole funding blood for this. If you want to establish NFTs for your digital assets, then later sections can be helpful for you to develop a clear understanding of this evolved marketplace and how you can develop NFTs for your business.
What are NFT Marketplaces
NFTs are tokens for digitally owned assets that are cryptographically created. NFT marketplace is a platform wherein tickets are bought and sold for cryptocurrency or money. NFT marketplaces differ from their system in that rules, payment options, and permitted blockchains will depend on your platform. 
When you create an account in the NFT marketplace, you can get different options for sale and the possibility of linking your crypto wallet with the report. Some platforms provide you with an opportunity to buy for a fixed price, while some websites sell through auctions. After the completion of the transaction, it is securely recorded on the blockchain, where the change of ownership can be seen.  
NFT Marketplace Development Characteristics
There are different marketplaces existing in the industry for NFTs. The marketplace development features depend upon the functionalities you want to be integrated into the market. Front-end and back-end features are also considered for searching a file and seamlessly handling complicated transactions. The following features can be looked at in the NFT marketplace development:
NFT Standards: Standards in the NFT marketplace define how tokens will behave and interact. Two standards guide functions of digital assets, namely, ERC721 and ERC1155; ERC721 are permission-based tokens, and ERC1155 is used for creating an asset type. 
Metadata Uniqueness: One of the characteristics of NFT is that it is unique and contains unique information. Swapping two tokens is not allowed as metadata is different for each token. The uniqueness in metadata provides authentic ownership to the assets. 
Authentic Possession: The account within the NFT marketplace holds the authentic possession which is a private key. This means that NFTs can easily be transferred to any account where the owner owns the virtual assets.
Transparency: There is excellent transparency in the NFT marketplace because each transaction is verified publicly. This means ensuring error-free and secured payments show a clear view of each transaction. The involved parties are well aware of the situation and conditions of transactions.
Wallets: A wallet in this blockchain marketplace is a prominent feature for storing and receiving payments through cryptocurrencies. You have the option to create your wallet, or your existing wallet can also be integrated for a smooth experience in the virtual world.
NFT Marketplace Benefits
Since NFTs utilize blockchain technology for conducting a transaction, all the advantages of blockchain will apply to digital platforms about NFTs. The following can be critical benefits of this evolved marketplace: 
Decentralization: The marketplace for NFT is decentralized as it freely allows users to exchange assets in a decentralized manner. It has been made possible through blockchain technology in which users can easily avoid messing up with financial institutions for selling or purchasing digital assets. 
High Level of Security: With the ease of blockchain technology, the NFT marketplace possesses first-class security features. The information is carefully traced and verified by ensuring that any security-related issues do not come into the picture.
Liquidity: We see high demand for cryptocurrencies and blockchain technology these days. With this extent of growth, people appreciate decentralization and actively invest in digital assets. Since there is no standardized regulation in the NFT marketplace, we can see increased liquidity in this sector.
Automation via Smart Contracts: Another significant benefit of the non-fungible token is that it is mined in the form of smart contracts. This means the transfer of ownership and management is assured by smart contracts, allowing people to benefit from automation. Further, coded statements of intelligent agreements are helpful in the verification of standards in the process of listing assets. Thus, it allows greater transparency through authenticity and transferability. 
Futuristic Trend: The marketplace for NFTs is spiking due to the rising popularity of digital assets. NFT is new in the world, and there is much more to discover. People actively utilize this new trend when they want to support their favorite artists or creators. Several brands are leveraging the NFT industry and exploring innovative ideas without getting involved with a third party.
New Entrant: Metaverse NFT Marketplace Development 
Metaverse, a new term in the blockchain sphere, is an immersive space that creates a digital environment for sharing information. Visiting a new place and buying various tokens, everything is possible through Virtual Reality, which is part of the metaverse. Likewise, crypto payments and blockchain games are part of the crypto ecosystem, wherein devices can manage things with the click of a button. 
The idea of the metaverse will look like a reality in the future. That is why the metaverse NFT marketplace is the next big thing for the future in which NFT trading is backed by blockchain technology. Entering into NFT metaverse will get you an immense opportunity to expand your business by reaching a mass audience, resulting in higher sales. Taking advantage of the rise of NFT will be the business's future. 
Cost to Develop NFT Marketplace  in Dubai
The cost to develop the NFT marketplace in Dubai depends upon the needs of the business for marketplace development. The following factors will impact the cost:
Development team cost
Documentation fee
Customer support
Third-party integrations 
Security 
Complexity of functions 
An application with moderate features will cost around $20,000 to $30,000, and the advanced features can go higher. It will vary according to the team quality developing your application. Make sure you do your research before finalizing the project. 
To wrap up, it is established that NFT marketplace development is necessary for businesses to expand their business and stay ahead of competitors. High rising NFT values and increased popularity has made this a new trend. With enticing and the latest features, you can attract large audiences wherein investors have considered this platform a trending graph. You should discuss your business requirements with experienced NFT marketplace development companies. They can guide you with the best solution as per your budget.