April 28, 2020
Posted by:

Admin

Category:

Mobile App Development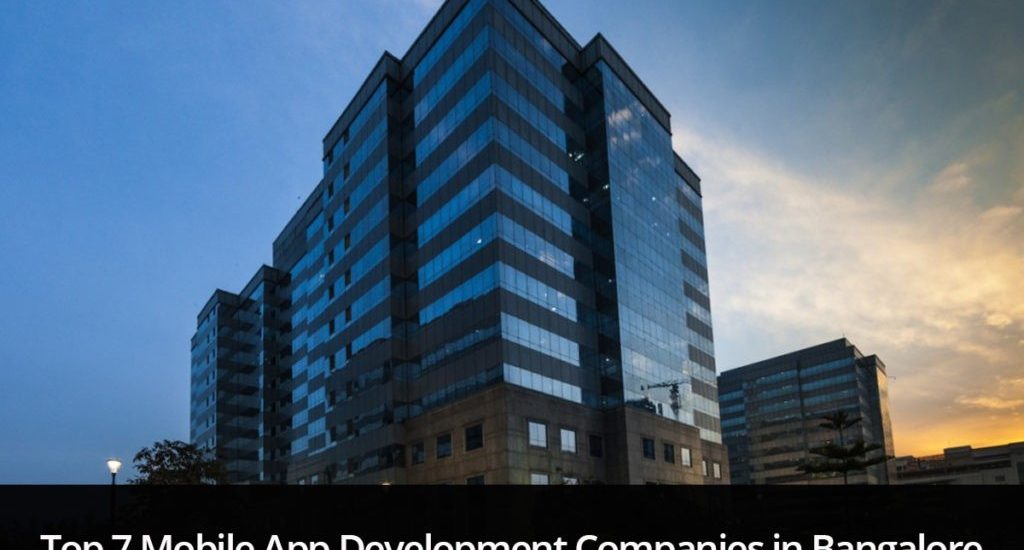 Top Mobile App Development Companies in Bangalore
Advancements in technologies have always taken our lives into the next stage, especially right after the invention of smartphones and their related applications. Each day from morning to evening until night and more, we intensely rely upon smartphones to accomplish our tasks. It has merged into our lives in such a way that it plays a crucial role in it.
Bangalore alias Bengaluru is one of the finest technology hubs in India. Late studies state that Bangalore is the most innovative major city in the country. From fortune 500 companies to IT giants, startups, soonicorns, and unicorns reside in Bangalore. Out of all of them, 99.99 % depends on mobile applications for day-to-day business operations and uses it as a tool for client engagement. This paved the way for mobile app development companies in Bangalore to reach the mainstream.
Hundreds and thousands of mobile apps development companies in Bangalore claim themselves to be the best while few of them have the real fire. In Bangalore, it is a herculean task for all the entrepreneurs to figure out the right and genuine app developers of their choice.
To help those categories out and to cater to their requirement, DxMinds Innovation Labs, the leading iOS, and android app Development Company in Bangalore, has come up with a list of the top seven app developers out there in the city.
So let's get started!
Here are the List of Best Mobile App Development Companies in Bangalore:
1) DxMinds Innovation Labs Pvt. Ltd.
DxMinds Innovation Labs is a digital transformation and mobile app development company in Bangalore having widespread roots across the globe. DxMinds highlights a wide range of digital products and solutions, which can take your business to the next level. The team DxMinds consists of profoundly talented developers, engineers, architects, designers and project managers, for they guarantee auspicious conveyance and timely delivery of high-end outputs. Various technologies mastered by DxMinds includes:
Android App Development
iOS App Development
Hybrid App Development
Artificial Intelligence
Machine Learning
Blockchain Technology
AR/VR/MR
Internet Of Things
Chatbot Development etc.
Get a Free Quote
2) Sourcebits
Focused on disruptive innovation, Sourcebits Technologies caters to numerous digital transformation services exclusively for its clients. It was incorporated in the year 2006. Sourcebits not only support its clients with a handful of resources but enable them in carrying out the next-generation business in a hassle-free manner. Among the best Mobile app developers in Bangalore, Sourcebits excels with its exemplary services and outstanding customer management. The services offered by them include:
Digital Transformation Services
Mobile App Development
Digital Video Services
3) Photon InfoTech
Photon Infotech is an IT service provider based in Bangalore. When it comes to technology, Photon Infotech provides the best in class services. The hybrid, iOS, and Android apps developed at Photon Info Tech possess top-notch quality. Incorporated in the year of 1999, Photon helps its customers in redefining their digital strategies leveraging various trends in technologies. The main services offered by Photon Infotech are Mobile app development, Web App Development, IoT, etc.
4) Happiest Minds
Happiest Minds steers ventures to accomplish their business objectives and thereby helping them in having a fruitful business all around. As the leading iOS mobile app development company in Bangalore, Happiest Minds keenly focuses on deploying customer-centric products and solutions. Other than mobile app development services, Happiest Minds offers high-end consultation and delivery of various technological services such as DevOps, IoT, Data Science, Blockchain, etc.
5) Techjini
Techjini is one of the top mobile application development companies in Bangalore, having years of industrial expertise and hands-on experience over various technologies. The mobile apps built at Techjini meets international standards that are beyond customer expectations. Instead of just delivering a mobile app, Techjini creates solutions, which lets every business to enhance their customer engagement rate.
6) Y Media Labs
As one of the leading app development companies in Bangalore, Y Media Labs delivers unimpeachable services to its clients. Leveraging Artificial Intelligence, Machine learning and various other outstanding technologies, the solutions built at Y Media labs thrive you hard to stand apart from the competitors.
7) Robosoft
Right from various design strategies to UX/UI service, application management, and delivery, Robosoft Technologies is an international Android mobile apps development company based in Bangalore. The app developed at Robosoft is robust and scalable. On-time delivery and best customer support made Robosoft Technologies a trustworthy app development company in Bangalore.
Check Below listed few more Mobile App Development Companies in Bangalore:
Emids is one of the top Mobile App Development Company in Bangalore. They develop the Mobile app for Android and iOS platform that clients love to get their fingers moved on it over and over to develop their business. Operated by a team of dedicated and skilled app developers who have years of experience in mobile app development field.
Compassites Software Solutions
Compassites is outstanding amongst other mobile app development companies in Bangalore, India serving its best to arrive at peak by giving technological solution for mobile apps. They hold the team of developers, testers, designers including them in each phase of app development process made them to remain in the group of competition. The team has long periods of experience and exhibits request service for their customers.
Trigent Software Ltd is one of the best mobile app developers in Bangalore developing innovative and user friendly mobile apps. The company aimed to give best solution for mobile and web application. They hold the group of maker's essence their imaginative deduction to build up a mobile app encourages clients to connect more. Because of their inventive nature in building up an application, they stand themselves in the one of the top mobile app development company.
DigiFutura is one of the professional web and mobile app development companies in Bangalore, India, and Vietnam. DigiFutura was rewarded as one of the best React JS development company, AI development companies with YourStory, Manifest. We also included among a group of elite digital agencies and recognized as Top Mobile App Developer in India by the clutch.
Mobinius is an active and massive team, formed with an innovative approach and created a unique combination of talent. Digital business transformation – using emerging technology to change companies. By bridging gaps, simplifying industries, and improving competitive advantages through technologically-driven market solutions Mobinius brings great advantage to business space. Mobinius is a top-notch mobile app development company in Bangalore, India, and the USA. They have professional best mobile app developers for all types of industries for various devices on Android apps development and iOS applications development.
AbInfosoft is a professional community with a similar feeling: we agree that technology is transformative. United by our dedication to creativity and quality, we are making apps more cost-effective, secure, and agile in businesses.
They have extensive industry experience; qualified technicians, validated and scalable delivery approaches and customers have respected and replicated their efforts with cost-effectiveness. AbInfosoft is one of the leading top mobile application development companies in Bangalore, India. We apply multi-platform features to iOS, and to build Android apps, custom and interchangeable processes, materials, and tools, along with a collaborative support program
BEST AMONG THE TOP MOBILE APP DEVELOPERS IN BANGALORE
As a conclusion, if we are further asked to cherry-pick the best among best app developers in Bangalore, without any second thought, we will recommend DxMinds Innovation Labs. Currently, DxMinds operates and has physical offices in various cities across India, USA, UAE, Peru, and Australia and deliver unimpeachable services all across the globe. Hiring DxMinds as your digital transformation partner lets your business independent, free as a bird, having no worries.
Why DxMinds?
Expertise over various technologies
Robust and Scalable Apps
cutting edge Technologies
Top-Notch Designs
On-Time Delivery
24×7 Customer Support
Top mobile app developers in Bangalore:
All the above-mentioned companies are good. But in terms of proficiency, experience, perfection, and on-time delivery, DxMinds Innovation Labs Pvt. Ltd. is the top mobile app development company in Bangalore for Android apps and iOS apps. For more details: info@dxminds.com
Contact Us