September 30, 2022
Posted by:

Admin

Category:

Artificial Intelligence, E-Commerce App Development, eCommerce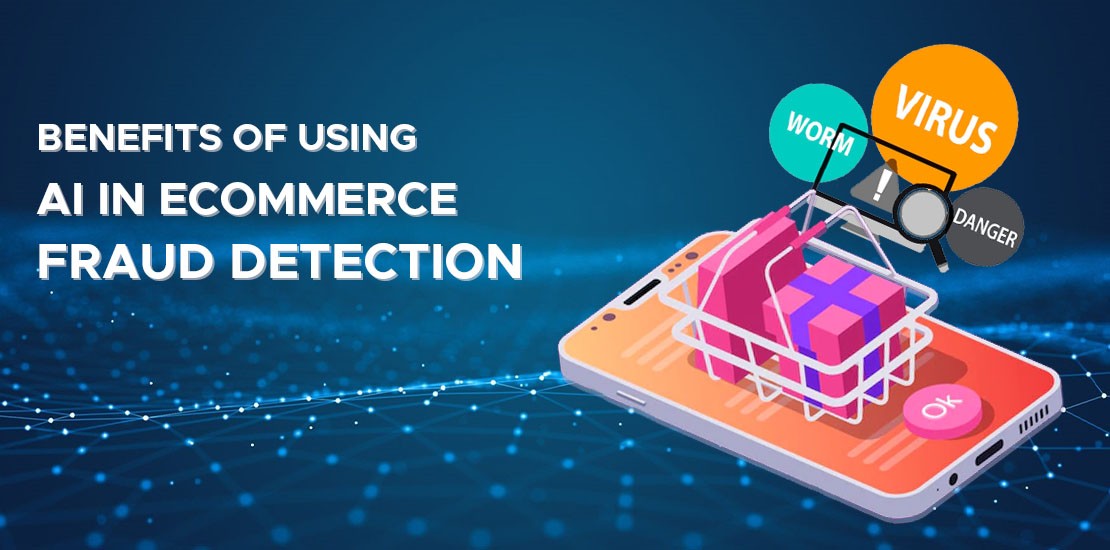 Organizations from various segments are opting for digital solutions for business enhancement and the digital trend is not limited to one or two locations but the drift is affecting businesses all across the world. The rapidly growing need for digitization is seeking a need for smart automation and hence artificial intelligence is walking in as the hero of the industry giving a one-stop solution for all types of automation requirements. AI is helping organizations to analyze, automate and enhance their business capabilities. The stats dependent on the studies of technologies shows that artificial intelligence is about to grow five times in the upcoming two years.
Several industries are continuously opting for the potential of artificial intelligence and leveraging the opportunity to grow bigger and e-commerce is of those giant industries. One of the major uses of artificial intelligence in the e-commerce industry is fraud detection. Since the digital platform became the backbone of the e-commerce industry an exponentially increasing graph of fraud has been noticed in the e-commerce industry.
This is compelling most e-commerce businesses to connect with the AI app development companies in India to reduce this growing graph of fraud and reinforce their business against possible threats.
Let's understand what is e-commerce fraud:
Unauthorized transactions are one of the major threats to the e-commerce industry and such conditions are known as e-commerce fraud. In such cases, most of the impostors use fake/duplicate/or theft details to carry out credit card transactions. Hence, the e-commerce portals are unable to track the original details of the transactions and are mostly left with compromised details. Not just credit card fraud but there are many other verticals of e-commerce fraud, let's get to know those.
Return to origin: Return or exchange is a common policy that every e-commerce portal has. Mostly every online business suffers from a common complaint that the customer has got a faulty/missing product or also claims that they have never received the product.
Promo code abuse: Most of the promo codes are designed for users to use only once but customers use them multiple times using multiple accounts and apps.
Triangulation fraud:
In such type of fraud three individuals are included, the customer, the fraudster, and the e-commerce portal. Here, the fraudster lists a high-demand product on any of the e-commerce portals at a very unusual cost, and on receiving a purchase of the order from the customer they track the credentials of the user's credit/debit card and use it for the product purchase from the original seller to send them to the customers.
Our AI Solutions:

Automated Inventory Classification Software Solution

AI & Computer vision Video Analytics
Traditional fraud prevention ways:
E-commerce fraud is not a new challenge for the industry rather it has been impacting the business segment right from the beginning but the approach used traditionally to combat such a situation was not effective. Traditionally, e-commerce businesses were using static rule-based systems which also added additional time to fraud detection. Traditional fraud detection ways have been subjected to various disadvantages and a few of those are:
Delayed identification of fraud
Dependency on manual interventions
The rules are curated based on risk analysis and human experience. There were rigid standards for the rules
Every day was coming up with a new fraud and hence a new rule for fraud detection which was making the size of the rule alarming.
The creativity of fraudsters was growing day by day and e-commerce companies were compelled to seek new ways to reinforce their security measures.
These problems were becoming a hurdle for business growth. Artificial intelligence has come up as the best solution for all the above-mentioned issues.
Fraud detection with artificial intelligence:
As discussed earlier, traditional ways of fraud detection in e-commerce portals were not effective and required a smarter way to tackle the ever-changing techniques of fraudsters and detect the issue at the initial level. The traditional ways were not flexible but AI is the potential to introduce flexibility to the system and make it capable of changing the rules based on the malicious activities occurring on the channel.
With the continuously growing technologies, hackers and fraudsters are also becoming tech-savvy and bringing up new tactics. The latest fraud detection solutions integrated with the e-commerce portals are empowered with machine learning algorithms that evaluate the threat score before every transaction.
The benefits of using AI in e-commerce fraud detection are:
AI has empowered the e-commerce industry in multiple ways and has offered varied benefits to the business sector, few of those are listed below:
Real-time processing of data:
Traditionally, a fraud detection system was ruled and developed depending on previous experiences which means the system was capable of dealing with the issues which have occurred in the past. That means the system was never ready for the new or any upcoming threats. Artificial intelligence enables the system to get alert and combat real-time issues and also enables the system to detect the threat even before it makes any damage.
Humans are limited to a certain extent when it comes to their capabilities and artificial intelligence helps the system to determine all possible capabilities of threats that can be made by a human. Even, AI helps the system to determine all related scenarios and also gives effective preventive ways.
The use of VPN and proxy can be an intimation of fraud as a legitimate buyer is hard to use a proxy for shopping. Machine learning incorporated with artificial intelligence is instructed to detect the use of VPN and proxy on the arrival of any customer to the portal.
Humans are prone to mistakes as no one can achieve 100% accuracy. A human can only use their learned skills but it is not the exact case with artificial intelligence. This smart technology evolves very quickly with the change in the circumstances and hence eradicates the chances of error regardless of the type of fraud. Hence, artificial intelligence is capable of offering consistent results.
Machine learning helps the system to learn about the usual behavior of the customers and hence a slight deviation can be detected easily.
Quick and accurate verifications:
Artificial intelligence can help the complete system to increase the pace by following a set of predetermined rules and giving a swift process to the customers.
Conclusion:
As the digital world is taking a new face with the ever-growing technologies it is also giving space for online threats. Ecommerce business is highly susceptible to online fraud and since the inception of the business, it has been hampered by some or other type of malicious activities. Traditional fraud detection systems to combat these issues were ineffective and also time-consuming. It's high time to boost the e-commerce business with a real-time fraud detection solution. Artificial intelligence is capable of catering to all fraud-related issues without any or least human interventions. Incorporating artificial intelligence will even help you to enhance the efficiency of fraud detection with 100% error-free results. To attain an accurate and elite AI solution to cater to your e-commerce business requirements you can also take the assistance of artificial intelligence app development companies in India, who can serve you with customized solutions based on your business requirements.
Read Also:

How Much does it cost to develop a Mobile Application in Bangalore?

How Much does it cost to develop a Mobile App in Mumbai?

How Much does it cost to Develop a Mobile app in Chennai?

How Much does it cost to develop a Mobile Application in Pune?

How Much does it cost to develop a Mobile App in Kolkata?