October 2, 2022
Posted by:

Admin

Category:

E-Commerce App Development, eCommerce, Innovation, Technology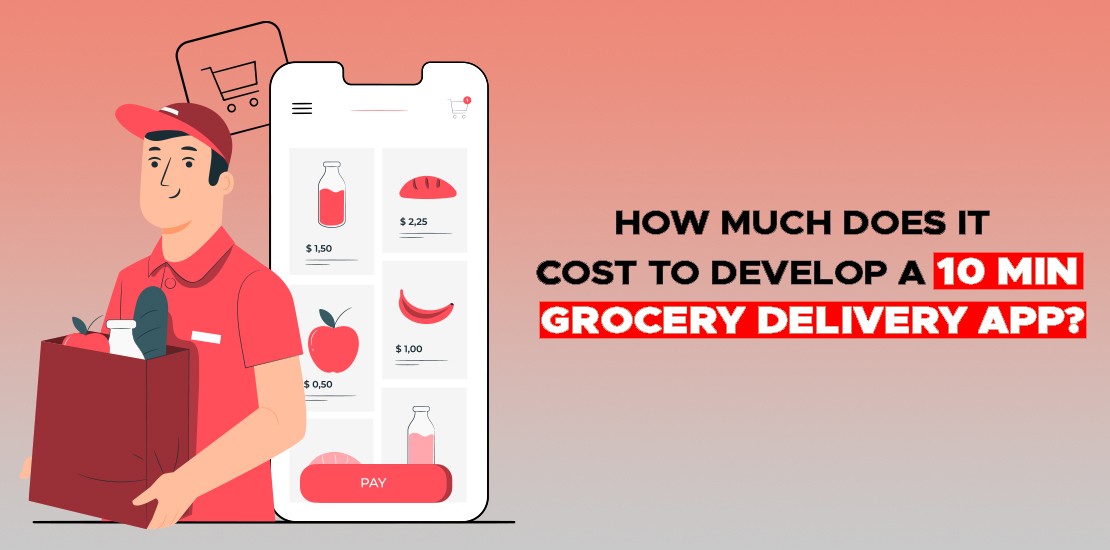 Consider yourself alone at home, preparing your favorite recipe and running out of a primary ingredient. You now have two options. You can switch off the stove and go grocery shopping, or you can purchase the item online from a 10-minute grocery delivery app. The majority of individuals choose the latter.
Customers can purchase anything and have it delivered to their homes using on-demand grocery delivery services. On-demand grocery services have surpassed brick-and-mortar businesses in terms of meeting consumers' everyday needs. 
qCommerce– the new player in town
qCommerce has gained popularity in regions where venture-backed firms are committed to transforming the face of eCommerce delivery. Due to the broken supply chain during difficult times, firms have made speedy delivery of their USP. The simple operating method is to put up a dark store near distribution points instead of the usual warehouse approach of locating stores outside the city. 
Our Solution: DxBasket for Groceries – Airt your Grocery story online just in a matter of days.
Business models to consider while developing a 10 Min Grocery Delivery App
Finding an appropriate business model will be a simple process if you understand your company's needs. If you are worried about how your company concept will do in the market, below are the top 5 business models for on-demand grocery applications from which to pick.
1. The Inventory Model
The inventory model is used to make single-product businesses more convenient. This sort of platform will source straight from numerous vendors. Customers' orders will be picked up and delivered to the appropriate place through the use of an internal/external network.
Various firms utilize the inventory model to determine whether or not the production and delivery of items are constant. Furthermore, profit margins are more significant when a corporation maintains its supply chain entirely by acquiring directly from the company.
Because it entails the construction of a warehouse, quality control, warehouse management, and transportation, the strategy is quite pricey.
2. The Multi-Vendor Marketplace Model
Most platforms do not manage stock on their own. In order to streamline the process, the platform creates a bridge between customers and store owners, allowing users to purchase food, which is then delivered straight to the businesses.
The shipping services are managed by an internal logistics network, which allows merchants to transport food to their clients under their shop names without any problem. Due to market success, a multi-vendor model has emerged as an incredible asset to the on-demand grocery framework. 
3. The Shopping Model
The shopping model is one of the most well-known and often utilized models. It is similar to the multi-seller approach, except that the user does not get to choose which store they wish to buy food from before placing an order. For the same, the platform implies a distribution network. When a consumer places an order, the platform forwards it to the vendors, who purchase the items and deliver them to the customers. This concept has led to many enterprises' extensive storage and supply network. With this business model for your app, your company will reach new heights.
4. The Hyper-Local Model
A hyper-local marketplace is a market that caters to the needs of customers. A hyper-local marketplace, as the name suggests, is a market that caters to the needs of customers in tiny geographic areas. A tour around your site will bring you to a similar business that meets practically all of the needs of the locals, albeit small and limited yet self-sufficient. The company employs a three-tier consumer strategy in which customers may purchase goods and have them delivered via the app. The distinctive selling feature of enterprises operating on a hyper-local business model is the enthusiasm to supply products and services at record speed. As a result, the popularity of numerous on-demand grocery stores has shifted dramatically in terms of ordering and delivery services.
5. The Online Selling Model
Businesses that use the online selling strategy have several revenue streams. The grocery supply and multi-seller established grocery platforms create the greatest amount of sales. Popular income streams include merchandise, commissions, memberships, service charges, promotions and so on.
Must have features of a 10 min grocery delivery app
For a functioning grocery delivery app, you must have three components- the User panel, the Admin panel and the Delivery panel. 
User Panel Features
Login and Registration: Users should be able to join the site using their email addresses, phone numbers, and even social network profiles. In order to gain the confidence of users, the app should only request the necessary information upon registration. 
Customer Feedback & Review: Users ought to be able to rate and comment on the services they get. This will help the businesses thrive and allow other customers to buy food confidently.
Search Option: Your grocery delivery app should have a search option that allows customers to search for groceries using keywords.
Delivery Tracking: By using this feature, consumers should be able to follow their order as well as the delivery person in real time. 
Order Management: Users should have the ability to manage their orders and replace them when necessary.
Payment Gateway Integration: Your grocery delivery app must be linked with a standard payment gateway. Users will be able to make payments in any convenient manner, including online and offline modes. 
Schedule Delivery: Users should be able to plan the arrival of their order using this functionality, based on their availability.
Admin Panel Features
Dashboard: The dashboard serves as a one-stop shop for tracking and managing all client orders. This also covers responsibilities contributing to the upkeep of a dedicated grocery delivery app.
Order Allocation: This feature assists the administrator in allocating new orders to grocery stores and monitoring their execution at each stage.
Payment Management: The administrator may examine all platform transactions and control the income stream.
Manager Assignment: The efficient operation and implementation of orders enabled by this supermarket delivery app allow consumers to trust the system and add grocery shop managers.
Inventory Management: The admin may easily manage the entire inventory and send client orders using this capability.
Customer Management: This feature allows grocery app owners to monitor their users by analyzing and cooperating.
Delivery Panel Features
Geo-location Services: Incorporating Google Maps allows delivery personnel to monitor the customer's position as efficiently as possible.
Accept/Reject Delivery Request: This feature allows the delivery person to accept or reject any order depending on the distance and time required to arrive.
Delivery Request Notification: This function notifies the shop manager whenever an order is placed or requested to be delivered, along with the order number.
In-app Communication: Chatting and phoning within the app allow drivers to engage with clients and business owners.
Get Delivery Confirmation: This feature sends the customer's delivery verification to the delivery agent.
Target Audience and Warehousing
In general, quick grocery delivery apps are in high demand in the market. Buyers who do not wish to go out and shop or missed something and need it right away, working-class buyers who arrive home late, elderly buyers who are unable to go out, and others are the target demographic for such apps.
When it comes to the consumer base, it is rather worldwide, and this software is not restricted to specific user groups.
The app would obtain supplies from the city's existing dark markets. These might be adjacent small businesses that are prepared to offer items 24 hours a day, seven days a week, in order to broaden their consumer base.
The cost behind developing a 10 min grocery delivery app
The cost of building a grocery app like Instacart or Zepto is determined by the features, technology stack, complexity, and time necessary to complete the project.
A simple grocery ordering app development may cost between $25k and $50k, with sophisticated features costing over $110k.
The overall time required to create the app for Android is around 820 hours to 1060 hours and 830 hours to 1080 hours for iOS. The cost of development is also determined by the hourly rates of the mobile app development business with whom you collaborate. 
Read Also: How Much Does it cost to develop an app like BigBasket?
How to make money off a 10 min grocery delivery app
Surcharge for dark storefronts: In order to register with the application, the dark stores must pay a fee.
Delivery fees: The app can generate money by charging basic delivery fees on orders that do not satisfy minimum shopping restrictions. People do not always place large orders. As a result, they prefer to pay a small delivery price rather than postpone the transaction.
Fees for membership: They may quickly generate a lot of money with simple membership fees that include substantial discounts and incentives on the items on the application.
Advertisements from sponsors: Sponsored adverts that focus on your audience and earn when they showcase their ad on your platform contribute a portion of the money. 
Read Also:

How Much does it cost to develop NFT Marketplace in Dubai?

How Much does it cost to develop a Mobile Application in Bangalore?

How Much does it cost to develop a Mobile App in Mumbai?

How Much does it cost to Develop a Mobile app in Chennai?

How Much does it cost to develop a Mobile Application in Pune?

How Much does it cost to develop a Mobile App in Kolkata?