October 12, 2022
Posted by:

Admin

Category:

E-Commerce App Development, Famous App Analysis, Mobile app developers, Mobile App Development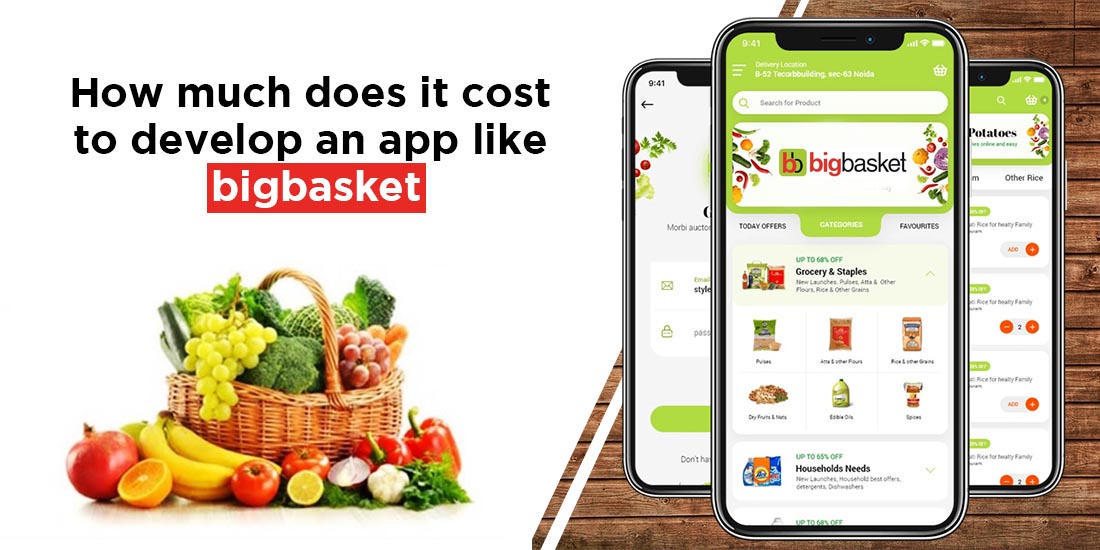 Let's dive into the technology-driven world where the customers are getting upgraded according to the technology. With the revolution of mobile technology, customers are diverting their way of shopping from offline to online. A survey by Google says that 60-75% of smartphone users are turning their mode of shopping online, as in result the companies are also competing with each other and providing the most user-friendly services through their applications. In this competitive world of mobile applications, Do you know, that how much it cost to develop an app like BigBasket? Let's Discuss it and the requirement to develop an app like BigBasket.
Requirements to develop an app like Bigbasket
Research:-
The very first step is that we have to do the market research on the business segment what is going on, how they are working, and what is the most profitable thing they are doing for their highest ROI we have to do the whole 360-degree market research while planning for how to develop an app like Bigbasket. We have to get the answers to all of our questions whatever we have being business owners.
Define your business and target your audience:-
When we get the answers to all of our questions we have to define the meaning of our companies business and how we are being an E-Commerce platform we are exclusive from the crowd and the services offered through our platform are completely different from our competitors, these all things we have to explain and market them to attract the customer.
Everyone knows that more than 50% of the E-Commerce business are having youngsters as their targeted audience because they are having better understandable capabilities and they are very familiar with all these E-Commerce businesses. We can target our customers based on the products and services we are offering.
Choose a better option while developing an app
In this modern and booming technological era, we get a lot of different options for app developers to develop an app like a big basket. They do have different options for developing an app like native, Hybrid, and web apps. The developers have an idea about these options like native is used for kinds of heavy things like gaming apps or video/graphic designing apps and using native will be costly for these kinds of apps. Web apps are best for regular and easy updates. The best hybrid as its name suggests it has a kind of hybrid feature in it which helps the developers to make things easy to estimate how much it cost to develop an app like BigBasket in India or any other E-Commerce app.
Know your monetization Options:-
While expanding your business online we have to know all the aspects of our app because an app will be having a different role and generating revenue for the owner is one of them. A few apps are there for free download and they provide information to the customers about different things. We have to be more specific and we need to have all the monetization information about our app.
Build own marketing Strategies:-
We all know that it's a competitive era and post covid-19 the scenario is completely different according to a Forbes report, the E-commerce business acquired 36% of the new customer during this Covid-19 Period. It indicates that the competition is very tough and we have to be more specific about our product/Services and the strategies we are planning to expand our business. As everyone thinks of building an app for their E-Commerce boost and do you know the online grocery app developers' cost in India, to know it we have to do a lot of research and then we get the best. We have to create buzz around our business's plan and the app we are launching to excite the targeted customer base.
App Store Optimisation:-
Just hiring the app developers to develop an app like Bigbasket is not going to help us, so we have to be more specific while hiring the developers and we need to have the draft of our app with what features we want, the logo, Purpose, Keywords, Description Video,m Screen Shots of the features and many more things you can think about your E-Commerce app/ Online Grocery App.
Resources:-
We have to know our resources before hiring them because for the marketing and launch event and we have to create the buzz around our apps so we need to have an idea about the development process and time. According to Kinsey's Report, an app development process will take 7 months to 1yr time to develop and deploy the app. To avoid all of the communication-gap and delay in the app development process including Mapping, Framing, Programming, Coding, Design, and Testing we need to be in touch with the developer's team.
Security measures:-
In this much-advanced tech-driven era we all know the rising cases of Cyber-crimes, scams, and frauds. To avoid all these things we have to create privacy policies and we have to improvise the security of the app. The security of your app is always the key point.
Features of Grocery delivery apps like Bigbasket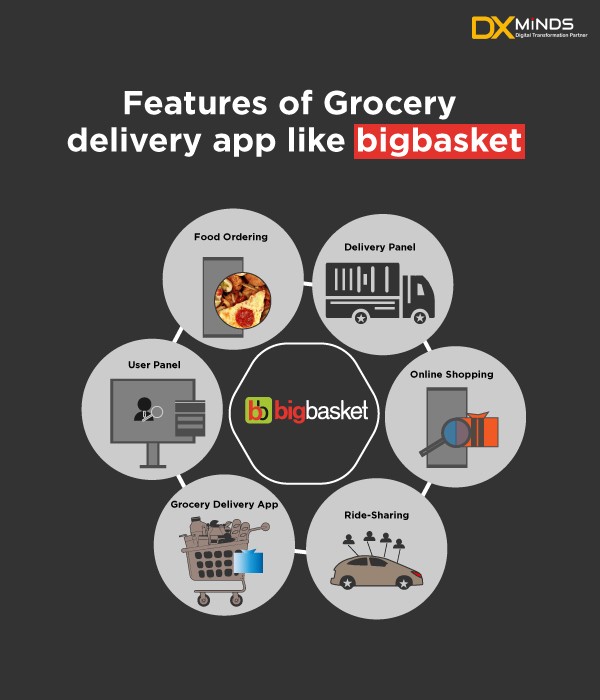 E-Commerce apps like Bigbasket have three major features that you can get by developing a Grocery App like BigBasket.
Admin Panel:-
Admin panel has a Dash Board Option where the admin manages the inventory, order assigning, and real-time analytics.
User Panel:-
The user panel completely belongs to the user where they can register themselves, browse the product, tracking of their orders, Push notifications, rating and write reviews of the product, support for disputes, and many other features for the customer User.
Delivery Panel:-
In the Delivery  Panel, Customers can track their order details, they can speak to their delivery executive and they have access to accept, reject or reschedule the order, through the delivery panel they can do all of it.
The list of Industries that have gained huge success in developing  an on-Demand Delivery app are:
Grocery Delivery App:-
These days we can buy online anything and getting groceries delivered to the home is now becoming a new normal for the Youth they probably want everything delivered to their doorstep. Do you wonder if the grocery app development cost in India is very marginal compared to the other countries?
Online Shopping App:-
The trend started long back and the E-Commerce Giants Amazon and Flipkart have extended their services to rural area since that day the industry is booming and unstoppable by seeing this trend lot of new business has extended their wings and they started their E-Shopping App and Services.
Ride-Sharing:-
In metro cities, every single individual wants to skip the traffic buttons from their routine. So keeping in that mind and to help working individuals few startups come up with the idea of ridesharing apps and then from that day, it's kept booming with regular updates.
Food Ordering:-
Everyone is familiar with the names Swiggy, Zomato, and Uber Eats. When they came into existence the food industry's new era has begun and the customers are having a full-on restaurant experience in their homes by ordering the food online. By seeing this trend lot of restaurant chains have started their own Food Delivery App.
Online Pharmacy:-
In this fast-growing era, no one wants to stand in the queue to get their medicine and pharmacy products. When one player started it successfully others jumped automatically into the same and as in result, we can see the competition and industry booming.
How Much Does it Cost to Develop an App Like BigBasket
There are different factors were there which fluctuate the Cost of Your Grocery App Development Process
App Platform:-
As we have users of both IoS and Android we have to choose both platforms that kind of work will cost us more. If we are planning just to start then we can select any one platform and then we can later for the other platform.
App Size:-
Features and functionality will be increasing the app Size, to be more user-friendly we have to add more user-friendly features and functions for the regular connectivity with the customer, and by doing that we can increase the number of users also.
App Design:-
App Design is about the app's overview and to attract the customer we should have a good overview for that we need the help of a UI/UX designer and it will help us in developing an app like BigBasket.
App Development and Process:-
It depends on the developer's Geographic residence area, the time they need to develop apps like BigBasket, the experienced developers, and the number of expertise they are having with them.
Payment Gateway:-
When we are into Online Business we should be having, more than one payment gateway because that will help users while they make payments, and probably these features play a major role in the cost of developing an app like BigBasket.
Conclusion
Here we come to the last session of the discussion as we discussed earlier in this blog, this is a very competitive era one should have an app that will help them to boost their ROI and to know the details of how much it cost to develop an app like BigBasket we can Google it and we will get the infinite results. Hence the conclusion is before going online do your research and make your strategies and then you can easily survive in this tech-driven competitive era, without the strategies and uniqueness it's quite difficult to survive in the industry.