August 22, 2019
Posted by:

Admin

Category:

E-Commerce App Development, Famous App Analysis, Mobile app developers, Mobile App Development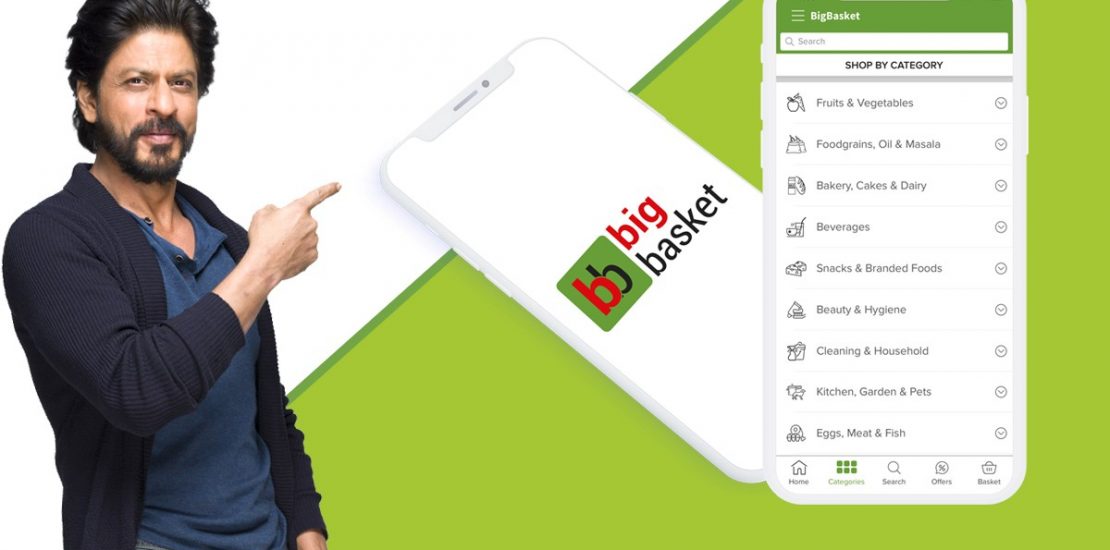 COST TO DEVELOP GROCERY DELIVERY APP LIKE BIGBASKET
Want to develop grocery delivery app like BigBasket and to know the development cost of Bigbasket then you are right place.
Purchasing food and grocery items from supermarkets and grocery stores can be chaotic at times as one needs to invest quality time and energy searching for the right items. Back in time, it was mandatory that at least any one member from a family has to go through this process twice or thrice a week as no alternatives were available.
It was a team consisting of Mr. Hari Menon, Mr. VS Sudhakar, Mr. Vipul Parekh, Mr. Abhinay Chaudri & Mr. VS Ramesh who thought of a well-stuffed answer for settling this issue and they ended up in the incorporation of India's largest food and grocery store, the Big Basket. Big Basket made its first takeoff in the October of 2011 registering under Innovative Retail Concepts Pvt. Ltd.
In this blog, we will uncover all the in and out features of Big Basket as well as its mobile app development cost.
So, let's get started!
WHAT DOES BIGBASKET DO?
Big Basket always focuses on bringing the best deals for the customers that too at their doorsteps. One can skip the regular visit to a grocery store just by making use of the facilities offered by Big Basket. Currently, they have their diversified operations across major Indian cities such as Mumbai, Bangalore, Hyderabad, Chennai, Gurgaon, etc.
• Big Basket is the Amazon for food and grocery products.
• Customers can easily place their orders with the help of the Big Basket mobile app.
• Right now Big Basket showcases over 18000 products and 1000 unique brands on their mobile app.
• The product range at Big Basket varies from groceries to spices, fruits, vegetables, condiments, and personal care stuff.
• Big Basket fulfills customer satisfaction by delivering over 50000+ orders per day.
HOW GROCERY DELIVERY APP BIG BASKET WORKS?
• A customer has to download the Big Basket mobile app and has to sign up for an account.
• Post account registration they will be having access to the customized dashboard.
• Based on their interests and needs, customers can order the products listed on the app.
• A customer has to choose a flexible delivery time.
• Normal delivery timings are from 7:00 AM to 12 PM forenoon and 5:00 PM to 10:00 PM afternoon
• Payments can be done as cash on delivery, card payment or other wallets.
MAIN FEATURES OF BIG BASKET APP
• Interactive UX/UI
• Ease of browsing experience
• Customer-centric design and appearance
• In-app wallet
• Wish list
• Order Tracking Facility
• Filter and Sort products based on Categories
• The direct product search option
COST OF DEVELOPING AN ONLINE GROCERY STORE APP LIKE BIGBASKET
When it comes to developing an app like Big Basket, one has to be pretty much aware of various factors and features that can determine the costing aspects. The cost of developing an app like big basket depends on various features such as:
• Mobile App Platforms
• Features and Functionalities
• Third-Party Integrations
• UI/UX
• App Maintenance & Support
• App Security
• App Location
Based on the above-mentioned features and the type of mobile app Developer Company that one hires, the development cost of an app like Big Basket may vary. However, a leading mobile application Development Company in Mumbai like DxMinds Innovation labs charges a reasonable Cost of developing an app like Big Basket and it will be around USD 11,000 to USD 55,000
CONCLUSION
DxMinds Innovation Labs are the pioneers among apps development companies in Mumbai. The quality of the services offered and ready to serve solutions gave DxMinds a position among potential clients. Right from micro to small, medium and large enterprises hosts DxMinds as their digital transformation partner.
Hiring DxMinds for developing a Grocery delivery application like Big Basket can help you in availing the best services within your budget limit. Should there be any query, drop a mail to