November 23, 2022
Posted by:

Admin

Category:

Real Estate Mobile App Development, Technology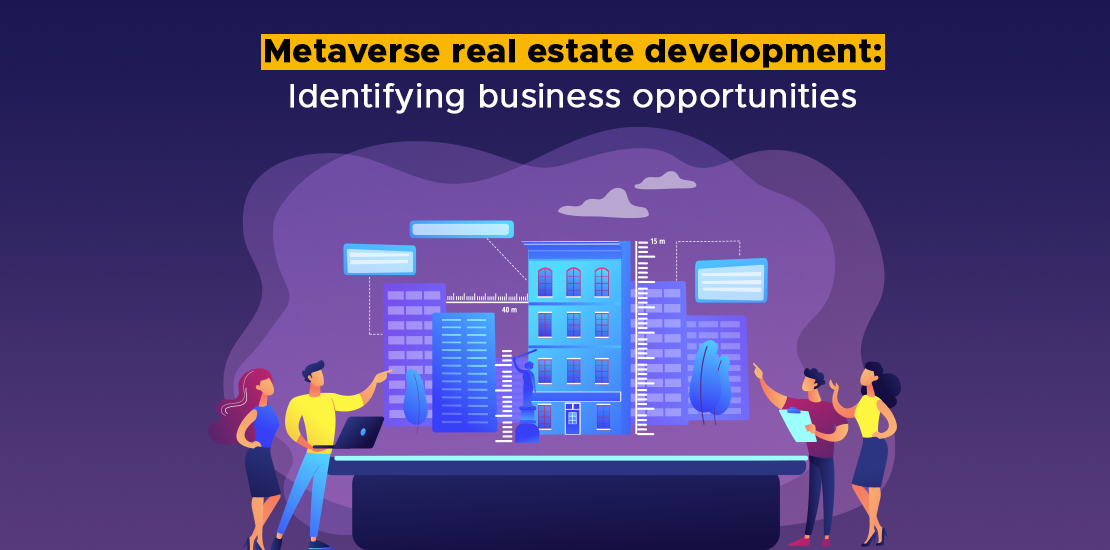 It comes as no surprise that the real estate market is following suit as the world becomes more digital and embraces the revolutionary blockchain technology that is changing so many industries.
A completely new real estate market is emerging with the rise of virtual reality or VR. People can now buy and sell property anywhere, whether it's in a made-up world (metaverse) or a real one, unlike in the past when they could only invest in tangible assets they could see and touch. Many are adopting and securing a first-mover advantage in the metaverse real estate market.
The metaverse, which arises from the fusion of virtual reality and physically enhanced virtual reality, is a shared and persistent virtual space that exists in real time. This blending of the two worlds is bringing about a paradigm shift driven by technological advancement and creating new opportunities that are exciting for both consumers and businesses. The metaverse is therefore extremely important for the future of business, whether it be giving a virtual concert for a huge audience or conducting an executive meeting with your company from the comfort of your home in a realistic virtual boardroom.
Rapidly emerging virtual worlds are being used to test new business models, which has brought everyone—from established corporations to innovative startups—into the media spotlight. The fact that people are acquiring, building on, and utilizing virtual land in novel ways is also creating new opportunities for the metaverse's conventional real estate market.
If you are unfamiliar with the idea of metaverse real estate, you probably have a few questions. Continue reading to find out more if you're also interested in the metaverse real estate industry.
Real Estate Investing In the Metaverse
Similar to conventional real estate, properties in the metaverse can be purchased, sold, or developed, and their owners can lease them to others. Virtual real estate transactions occur without any of the annoyances associated with traditional real estate, including the need to physically search for a property, and deal with the associated paperwork, agents, brokers, etc. Real estate in the metaverse is also much more adaptable; for instance, you can purchase a plot of land in the virtual world and build whatever you want there, whether it be a gaming environment, a virtual store, a gallery of digital art, an event space, or a school.
The distinction between the real world and the virtual world has become increasingly hazy due to the metaverse's rapid growth and adoption. Despite the fact that there are alternatives to The Sandbox on the market, we think the platform is special because of how long it has been around and how many services it offers. It is without a doubt the go-to website for those interested in trying out virtual real estate investing.
Overview of Metaverse Real Estate
In the metaverse, real estate refers to land, structures, or other infrastructure that takes up space. To put it simply, metaverse real estate is the digitized representation of real estate properties from the physical world inside the virtual world, with an interaction layer.
Customers can purchase land in the metaverse through metaverse real estate. Although they function like pixels in digital images, these pieces of land are much more.
The Metaverse's real estate spaces can be programmed to accommodate a variety of real-time activities, including gaming, relaxed socializing, selling NFTs, and attending meetings, and virtual concerts, among countless other things.
Furthermore, the actualization of metaverse projects is being pushed by VR's rising popularity. The metaverse can now be accessed from the convenience of a room, unlike earlier when people had to travel to the actual location.
Potential customers can now buy and sell their properties in a 3D environment regardless of where they are thanks to immersive technology.
Users can also design their own 3D experiences, whether they want to browse an online store or play a game in real-time. NFTs can be used to purchase real estate in the Metaverse.
The User Experience in a Metaverse
Let's, therefore, imagine the user's journey as they search for land to purchase in the metaverse.
Step 1
Axie Infinity, Decentraland, Sandbox, and other metaverses are just a few examples of the many real estate properties or websites that users visit.
Just as they would visit various property locations in various cities, states, or even countries. They contrast the costs of various parcels of land and other elements. Additionally, the features and other information are clickable. Additionally, the user can request virtual tours.
Step 2
The user would then connect the platform with their digital wallet that complies with the metaverse. Wallets like Metamask, AnCrypto, Binance, and others work with the majority of the top blockchain metaverse platforms.
They should add money to their wallet using the Metaverse's standard cryptocurrency. If they are creating the metaverse inside of Decentraland, for instance, they should purchase MANA.
Step 3
Once the transaction is complete, the digital property you purchased is stored in your linked digital wallet as NFTs. In your digital wallet, go to the "NFTs" tab to see your acquired land.
Metaverse Real Estate Opportunities
Property development, acquisition, and sale are simple in the Metaverse, just like in conventional real estate. Virtual space or land owners can rent it out to others with ease.
When compared to traditional real estate, transactions on the Metaverse are much less complicated because users can find suitable properties, handle the paperwork, and communicate with brokers and agents from the comfort of their own homes.
Users can also purchase Metaverse land and then rent it out.
These characteristics greatly increase the flexibility of the Metaverse's real estate. Users can easily buy a plot of land and turn it into any type of building they want, including a school, store, gallery, or event space.
Real estate businesses can build ROIs with explosive potential in this market.
Metaverse Real Estate Property Management
For virtual real estate metaverse businesses, property management is a promising opportunity. The virtual world has potential, just as real estate is essential for all businesses in the real world.
There is a huge potential for metaverse real estate development, regardless of the type of company or asset. Other crucial services include:
Client property rental administration
Property management for technology and visuals
Rental gathering
All client-related issues and inquiries are handled by this person.
Real-Estate Property Development in the Metaverse
In the metaverse, you can provide full-stack real estate development services. You can unlock a profitable business model by working with a metaverse real-estate development company.
The blockchain company can assist you with real estate development, allowing you to devote your time to more important tasks.
Architecting your construction
Creating your own design
Developing your own design
Building development on the map.
NFT Real Estate Metaverse
The NFT real estate metaverse is a rapidly growing market that attracts both businesses and consumers. Real estate assets can be converted into non-fungible tokens, or NFTs, allowing owners to generate passive income.
Businesses can offer to tokenize a space, a plot of land, a structure, or an entire city into one or more NFTs. NFTs now represent a wide range of assets in the form of objects, avatars, talents, and other assets.
How to Build Real Estate in Metaverse?
Building the infrastructure, producing content, and finally defining the operational logic through protocols all fall under the category of component-level metaverse real estate development.
You are putting the property's structure together at this point. Numerous services for users in the metaverse should be made possible by the digital infrastructure. Adding content to the properties, such as design, layouts, assets, and the range of activities comes next.
Be sure to specify the operational standards and protocols last. These would outline the guiding principles and policies, as well as the business logic behind buy/sell agreements, rental contracts, etc.
Step1: Pick a Metaverse Platform
A wide range of skills is now needed to construct real estate within a metaverse. Decide on the blockchain platform that will serve as the foundation first.
As of now, all significant blockchain platforms, including Ethereum, Polygon, Algorand, Solana, and others, provide the foundation for building a democratic, community-driven virtual reality.
This implies that a blockchain-based metaverse is supported by the capability of a smart contract that sets off specific events based on predetermined circumstances. It is crucial to enable cryptocurrencies and NFTs because decentralized finance is essential for optimal functionality.
You can either choose pre-existing blockchain metaverse platforms like Decentraland, Sandbox, etc. to build real estate properties inside of them.
Building a metaverse ecosystem from scratch and then adding real estate properties is the key to creating a larger and more specialized platform. It is wise to build a metaverse from scratch and incorporate the functionalities and features of your choice because the existing metaverse platforms are still in their infancy.
Here, a skilled metaverse development company such as DxMinds can speed up the procedure for you.
Step 2: Make a Metaverse smart contract
A smart contract for the metaverse is a permanent "rules" document that, when a certain set of conditions are met, causes specific actions to be taken. The smart contract can, for instance, start a transaction between a buyer and a seller when both parties click "Agree."
Another instance of smart contracts is the definition and execution of rental agreements between two parties.
This includes terminating the agreement if the tenant violates particular rules or conduct guidelines. Smart contracts are essential for maximizing the advantages of a virtual real estate metaverse environment. To tokenize real estate assets into non-fungible entities, you can also use an NFT smart contract.
You must develop smart contracts based on the blockchain platform. You would require the skills of a metaverse blockchain development company precisely at this point. Since both physical and digital real estate depends on finance for growth, blockchain is a crucial part of your project.
Step3: Create the Metaspace
The next logical step is to design the Metaspace once you've decided on a platform for Metaverse virtual property.
Apps, virtual meeting spaces, and other digital spaces can all be considered
A room, building, stadium, or even an entire city can be designed as a metaspace. As with real estate properties in the real world, it calls for a comparable level of architectural design expertise.
You can quickly develop virtual reality applications and 3D designs in line with the goal of a blockchain-enabled platform with the support of a metaverse development company.
Step4: Create an interaction layer
Next is the construction of the interaction layer. You are currently creating the application logic needed to let assets and characters interact with the metaverse's virtual spaces.
This layer controls user controls, navigation, communication protocols, and accessibility. An example that is simple to understand is when a user enters the main gate of a real estate establishment, such as an event hall. At this layer, it is crucial to specify how external apps will be integrated. For video calling, for instance, tools like Zoom, smart glasses, virtual reality goggles, headsets, haptic gloves, sensors, etc.
At this layer, everything develops the link between the real world and the enabled metaverse.
Step 5: Build an interoperability layer
Interoperability broadens the scope of the metaverse and raises engagement. For instance, a user of one metaverse might want to buy tickets for and attend a function taking place inside a building in the other.
To accomplish the same, interoperability between various underlying blockchain technologies is essential.
If you want to build a fully functional virtual world, you must encourage cross-environment transactions. Choose a blockchain that enables quick and secure payment gateway transactions as a result.
Opportunities for investors in the metaverse of virtual property
NFT trade has a lot of potential with digital plots of land and metaverse real estate. By providing users with a distinct and profitable way to participate in virtual reality, the metaverse aids in this. The geographic restriction that once prevented the sale of real estate has been removed in the Metaverse, allowing individuals to purchase a piece of property and earn a consistent rental income from it.
The metaverse has fundamentally altered real estate and properties by tokenizing lands into NFTs. The following are some of the fundamental choices available to real estate investors in Metaverse:
Digital Stores
Brands and businesses can open stores in the metaspace where customers can browse and buy goods by integrating the metaverse into their systems. They only need to click on the item and pay with the method they decided upon before signing up for the Metaverse.
Gaming
The Metaspace offers limitless gaming possibilities with cutting-edge technology. It is similar to an entire virtual world where you can build structures and produce other goods to make money. The P2E, or play-to-earn, real money model can be applied to this kind of gaming.
Entertainment
In the near future, people will visit theatres and movie theatres in the metaverse. Therefore, there are numerous opportunities for the entertainment industry to connect with audiences. Theme parks, concerts, and performance spaces will be built, attracting artists of all stripes.
How to Choose the Best Metaverse Property Development Company?
Finding a technology partner is necessary now that you are familiar with the development of the digital real estate metaverse.
Investigate the following characteristics in potential metaverse development companies.
A prior background in blockchain development is required. Despite the fact that the metaverse is a relatively new technology, your tech partner should have sufficient expertise in creating various types of blockchain applications.
They should also have a track record of success working on NFT real estate metaverse projects. The most common metaverse use case among all NFTs. They enable the monetization of digital assets, including real estate.
Providing digital solutions for businesses in a variety of industries, DxMinds has a skilled team of software developers with experience on a global scale. We provide incredibly creative metaverse development services while maintaining the app's usability, all while utilizing the most recent technologies.
To build a real estate company in the metaverse that is tailored to your preferences and choices, DxMinds can offer you its metaverse development services. The development of the Metaverse real estate app will be centered on creating solutions that are tailored to your unique requirements, and the end result will undoubtedly be profitable.
We will collaborate with you to create the best real estate app for the metaverse so you can start doing business right away. So, get in touch right away!