October 10, 2022
Posted by:

Admin

Category:

Mobile App Development, Real Estate Mobile App Development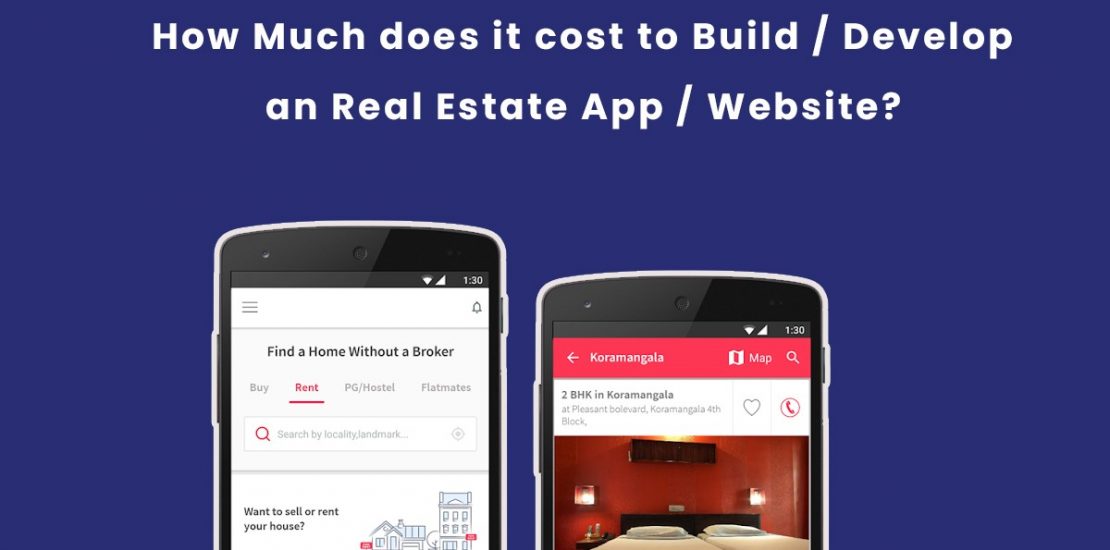 How Much does it Cost to develop an Real Estate Business Mobile App / Website
Today's world is overruled by the Mobile app industry, and the marketplaces have upgraded the way to showcase their products and services. For each and everything, we are dependent on technology from ordering food, online shopping to the health care industry. Today almost one-fifth of people are using real estate mobile apps to buy, sell and research of properties. Gone the days where people use to hire a broker for a search of the property, home or office, the addiction of people on mobile apps has driven real estate business owners to develop a real estate mobile app. There is no doubt that real estate mobile apps are one of the best platforms where you can reach global customers and can enhance your brand awareness.
Major Advantages of Real Estate Mobile Apps that make things easy for Buyers and Sellers
Rapid Search For Property
DxMinds, the top real estate mobile app development company develops the apps that aid the customer to search for property and houses as per their choice. Add speed and convenience for your property as per the filters like price, location, area, and city. The mobile app will provide quick related searches that will boost your user experience and will attract more and new potential customers.
Improve Customer Support
Real estate is a much-elaborated business and it requires interaction at every point. Communication in real estate benefits you in building up a healthful relationship with your clients. The real estate app features help you get in direct contact with your clients, builders, owners and regularly update you with the needed information related to the property.
Speed Up Sales Process
As it is the easiest way to search residential or commercial properties for sale or rent. A mobile app can stimulate the process of users as per their requirements, with photos, videos, interactive maps, you can get a clear picture of what you are looking for.
Direct Marketing Channel
The mobile app for your real estate business facilitates you to showcase your business directly without disruption of the third party. It is the best channel to make the clients stay connected and engaged with your business. A real estate mobile app provides you with special offers and deals to app users. Hence, a mobile app helps you to get the right and potential customers and end up with expanding the business and boosting up of revenue.
Creates Brand Identity
All the real estate businesses have a unique identity and the mobile app is the best stage to create a brand identity to your business by targeting the potential and right customers. All most all the customers get attracted to strong brand identity and real estate mobile app stand out for innovative and creative brand identity.
Standout Away from Competitors
The real estate mobile app empowers you to be outstanding, unique from your competitors. It helps you to be updated with advance trends and technologies and be up to the mark with changing needs of customers so that you can provide products and services as per their requirements.
Get a Free Consultation
Important Features That Must Be Include in Your Real Estate App
The real estate mobile app has become popular because of its functionalities and features. DxMinds the best Real-estate Mobile App Development Companies shedding the lights on providing the unique real estate app development features.
User/Broker Panel Features
Register and Login: After installing the app user must register to the app using email id or by social media credentials.
User Profile Verification: Once you have registered in the app, your profile will be validated by admin and using a security code you can add your further related details such as name, address, etc. Then the app may ask whether you are registering as a seller/buyer.
Find Property: After the profile get verified users can start to search for the desired property.
Filter and Sort Property: Users can search the property using a filter option as well as sort their search options as per their requirements.
List View and Map View as Options: As per the user comfort they can choose between List view and Map View.
Get Details about Selected Property: If the user comes across the relevant property that matches their interest, then they can seek the details by directly contacting the agent.
Add Your Property For Selling or Rent: Users can add the property that they are interested to sell or put on rent.
Subscribe for Listing Properties: Subscribe for your property using app payment modes.
Admin Panel Features
Manage the Users: This Feature allows the admin of the app to manage the users that include sellers, buyers, and brokers.
Property Management: Property listing can be updated and managed from here by the Admin, who is liable for the addition and removal of property.
Managing the Revenue: In this feature, admin is responsible for managing the revenue earned by selling the property, deals, subscriptions, and commissions.
Addition of Offers and Discount: The admin is responsible for when to provide the discounts, rewards and loyalty coupons.
Currency Converter: This feature allows the customers to see the property price as per their country currency.
Add / Edit / Removal of Subscription: The admin has the authority for adding, removing and editing the subscription package.
Other Features
Social Media Platforms: If you want to have a huge base of customers then it's important to stay connected with social media platforms.
Map View: Mapping feature makes easy for users to search for particular properties as per the area and location.
Push Notification: This one of the major feature which lets you send messages where you can stay connected with your target audience.
Loan Calculator: Using this feature user find it easy for calculating their monthly installments, loans and EMI's.
Get a Free Quote
Advanced Features
Real Estate Chatbot Development: 
Chatbots are well known for providing 24/7 service. Adding the bots to your app makes it unique and provides the best possible solutions to customer's quires. DxMinds develops the best real estate Chatbot with specialized features such as chit-chat as needed, showing the property value by number, number of bedrooms or other criteria and many other unique features.
Real Estate AR VR App Development:
With the high demand for AR/VR technology, the Real Estate business has benefited a lot. For example, offering a 3D view for the property helps the buyers to have brief knowledge about the property there are interested in purchasing.
CRM Solution
When a CRM solution is included in Real-Estate apps it helps in gaining better conversion rates and enhance your real estate sales. This solution is very effective in sending messages and alerts to users.
The Cost of Developing a Real Estate App / Website
DxMinds the best Real state app developer, estimated the cost of a Real-estate mobile apps depending on various factors such as choice of the platform, app designing, app size, and Technology used.
However it is difficult to give the extract cost for developing a real estate app, but the range may vary around $5k-$50K.
If you are looking for Top Mobile app / Web App Development Company for your real estate business then get in touch with our expert developers to standardize your business prospects.
Get in Touch With Us