September 29, 2022
Posted by:

Admin

Category:

Technology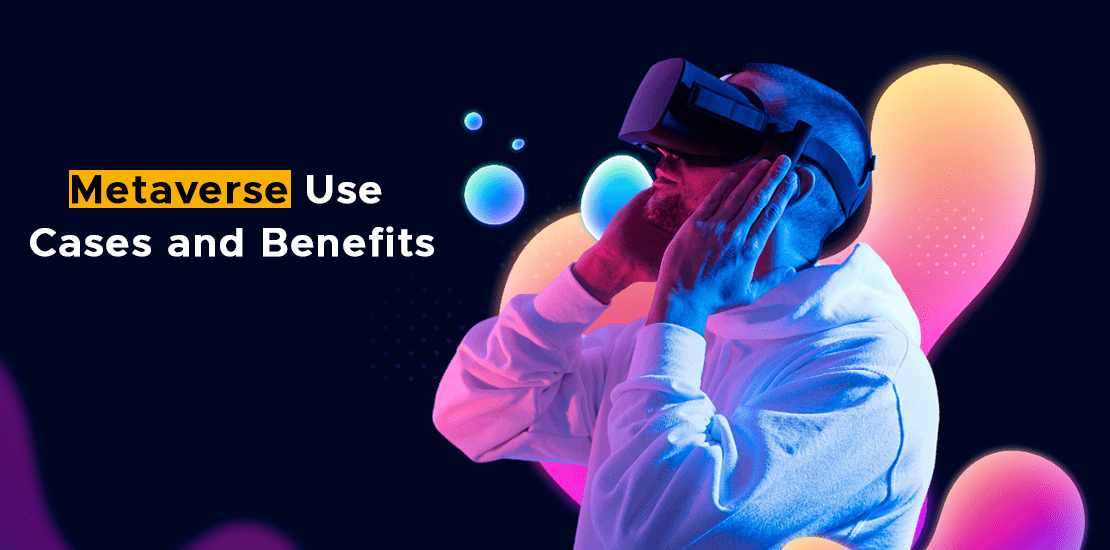 Web 3.0 is the next iteration of the Internet as it facilitates connected and interactive web experiences for users. This new digital evolution is created with the objective of machine-based understanding of data through blockchain and artificial intelligence for developing intelligent systems. The concept of Metaverse is the new chain of advancement for providing embraced digital experiences for users across the globe. It has comprehended new and exciting opportunities for the people as the best-used mainstream technology for every industry. Implementing metaverse for business is a new source of revenue as part of a digital transformation strategy. Read this blog further to understand how metaverse can be a real game changer and the top metaverse use cases and applications for modern businesses.  
What is Metaverse?
Metaverse is a shared virtual space powered by advanced technologies like Virtual Reality (VR) and Augmented Reality (AR). It is the persistent and self-sustaining element that provides an extension to the physical world. It consists of digital currencies like crypto as key to the metaverse that helps explore the world with transactions in the digital surrounding. It's a three-dimensional web in that it acts as a digital universe and replicates the activities of the real world. Metaverse includes digital items, including NFTs, to create an immersive user experience.  
For example, the pandemic has forced organizations to adopt remote working models and embraced social distancing to a greater extent. This isolation has led to a lack of in-person interaction and low social gatherings.
Metaverse deep learning has made us meet the real world without physical presence. Users can feel virtual objects like never before. Since the metaverse is getting more exciting, its popularity is rising.
Why Learn about the Use Cases of Metaverse? 
Numerous Metaverse use cases associated with businesses allow virtual interactions through digital avatars and related digital items. You can create, share and trade just like in the real world. The metaverse has gained momentum for many big companies to augment the unique digital workspace by stepping into the digital transformation journey. Facebook came up with a new parent company named Meta in late October 2021. Besides, Microsoft is also experimenting with a collaborative digital world like Microsoft Mesh. Search for Metaverse use cases has gone wider with broadened number of new players in this world.  
What does Metaverse Means for Business?
Metaverse is poised as a "Super Platform" for businesses as it renders a collaborative space for social media, video games, and other applications existing in the same cyberspace. Big players are pioneering in the tech world, and business owners want to secure an online presence to remain competitive and relevant to the market. There is seamless management of digital transactions through Metaverse with blockchain. Not only this, but businesses can also collaboratively interact with large audiences through an eCommerce business framework and level up customer engagement.
Further, Metaverse gives access to a virtual world that opens exciting brand engagement opportunities through showcasing the product. It supports almost every industry in transitioning business operations and building a cutting-edge reality. Thanks to the benefits of the Metaverse that it equips businesses with solid marketing efforts. A unique kind of storytelling through 3D views and 360-degree imaging is part of this digitally evolved world.
Major Use Cases of Metaverse
People have shown eagerness towards advanced technology like the metaverse. Transforming business enterprises by changing how people interact and see things are part of revolutions brought up by the benefits of the Metaverse. Since it can be used in almost every industry vertical, people find it a means for many applications. For a clear understanding, let us take a deeper insight into Metaverse use cases for businesses.
Crypto Use Cases
With the ease of Metaverse, many brands have been capitalizing on market prospects wherein people can come, socialize and sell products in exchange for a digital currency. Companies are leveraging cryptography technology wherein we see crypto as the key to Metaverse. Users exchange value as per the trading regulations, and crypto tokens are integrated into the project as per the specific business needs.
NFT Use Cases
The gaming industry extensively utilizes metaverse projects, wherein gamers can receive various collectibles for playing and earning. Non-fungible tokens, or NFTs, are crucial in the constant regulation of the Metaverse. Due to its decentralized nature, it is becoming more exciting for users. Tokenization is another essential factor that gives authentic ownership to digital assets. The idea of avatars in gaming and exploring a vast digital environment is attractive to the new generation. Metaverse with blockchain and NFTs can bring revolution to the gaming world.
Blockchain Use Cases
Metaverse use cases in blockchain can be seen in developing blockchain-based online games for next-generation users. Mainstream industries have adopted Metaverse due to the blockchain as a vital technology. Modern businesses grow realistic NFT marketplaces by creating a secured space and serving as a distributed ledger for peer-to-peer transactions. Complementing and routinely maintaining cryptocurrencies can benefit your organization from the Metaverse.
Virtual Office & E-Learning
Digital modes such as awesome online video and audio calling platforms have become an emerging need today. The office environment must often be engaging, interactive, and highly collaborative to promote innovative ideas. Metaverse helps in creating a virtual environment and lifelike avatars for the participants for an immersive experience.
Top Technologies Empowering Metaverse
In the tech-based world, empowering the virtual surrounding is essential. Cross-cutting technologies are needed to be harnessed to take advantage of Metaverse for business. Here are the top technologies that big companies use as digital techniques for embracing experience.
Blockchain and Cryptography
The continued development and growth of Metaverse is possible with Metaverse. Business enterprises are focusing on Metaverse for digitally proven and transparent solutions. Cryptocurrencies are the medium of exchange under the Metaverse universe. Organizations are using crypto to bring the Metaverse into reality.  
Artificial Intelligence
Artificial Intelligence (AI) is another latest technology that makes business automation seamless. It helps create an immersive virtual world and brings responsible AI to Metaverse. AI technology analyzes the Metaverse process by utilizing data-driven facts. It empowers online gaming by developing realistic avatars that properly align with the actual participant.
Augmented and Virtual Reality
Augmented Reality (AR) and Virtual Reality (VR) are crucial for developing immersive 3D worlds. The terms are highly compatible with creating a computer-generated digital world wherein the future can be redefined. AR allows graphical visuals to be stated for viewing surroundings, and VR is related to exploring the digital world with sensors and VR headsets.
Internet of Things (IoT)
IoT system is well defined to give meaning to the virtual world by bridging a gap between the two. It allows transferring of data for enhancing digital representations. Therefore, the intersection of IoT and Metaverse will determine the functioning of objects for developing an evolving environment.  
Top Benefits of Metaverse for Business
Many tech organizations are focusing on building Metaverse versions of their business to stay ahead of competitors. It enriches existing technologies and introduces new technologies that can benefit the company.  
Engaged Users
Metaverse brings an engaging experience for users, coming up with entirely new possibilities for growth in the interactive world. For instance, Metaverse games allow for a real-time simulation of games in which players can wander and perform several activities.
Sell and Showcase Products
NFT marketplace showcases different products in the digital commerce world for a better and uplifting experience. There are many customers who can be reached to bring virtual reality closer to real life. Metaverse deep learning allows for bringing users closer to the real world due to its open-source nature.
Easy Transactions
Since Metaverse is all about digital experience, digital payments are essential in keeping transactions secured and safe. Meeting Metaverse with blockchain is what businesses are required to make better experiences. Digital money can get easier with cryptocurrency, which is key to making easy transactions. 
To sum up, I would say Metaverse is changing how people interact over the internet. Businesses are capitalizing on new and innovative metaverse projects to create new possibilities for businesses. The future of the Metaverse is promising as it will transform how people perceive things around them. However, Metaverse use cases can help you get detailed knowledge about every aspect of Metaverse and related technologies.