September 30, 2022
Posted by:

Admin

Category:

Finance & accounting, Technology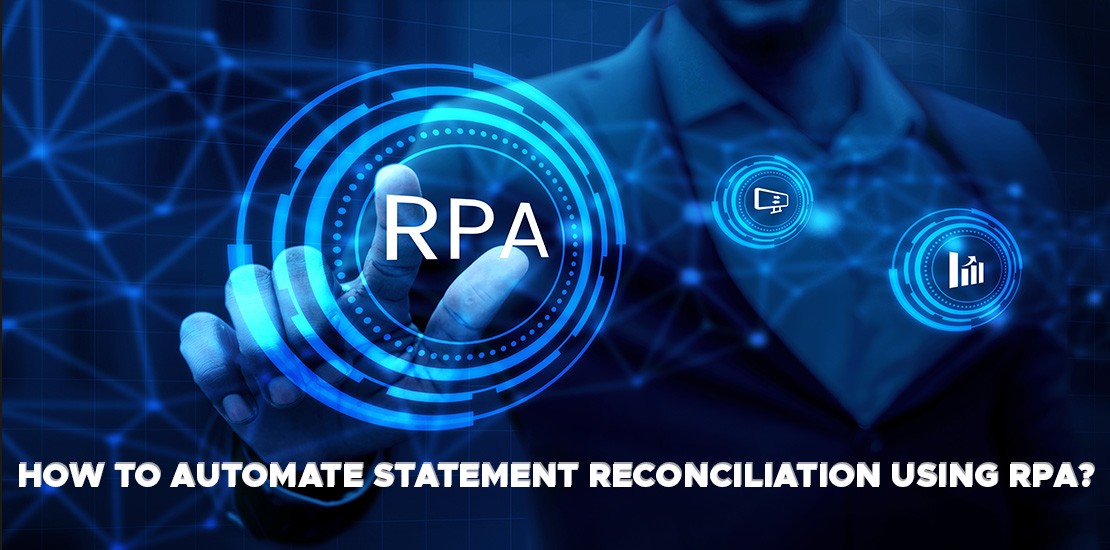 Businesses having major transactions and multiple financial processes need to keep accurate and precise records of each transaction. Statement reconciliation is a process that is done to ensure the accuracy of the transactions by comparing multiple records, documents, etc. keenly. This is a hectic process and needs extra manual efforts to bring precision to the work. Such processes are majorly integrated into the banking and finance business operational system where transactions are made every minute. But statement reconciliation has been one of the most challenging jobs in the banking and finance sector. This process ensures that all the documents for every transaction have been received and recorded. An efficient reconciliation is necessary to eradicate duplicate information, search for missing invoices, and search for discrepancies in data.
Well, if you consider a manual reconciliation, it can't match the required accuracy, and also it needs a big team of experts but still, the probability of error remains the same. A survey conducted over the major business segments has depicted that approx. 59% of the total company's capital is invested in the finance department and wastes 95% of the human resource in matching the records of transactions that are completely documented.
With the exponential growth of the world's economy, financial transactions are getting more complex and demanding a potential solution like automation. If you choose to automate your statement reconciliation using RPA then it can cut down your efforts to 99% and can also cut down the probability of error to 0.001%.
RPA in finance and accounting processes can help you in simplifying your jobs to a great extent. Most businesses are operating with a giant network of clients and customers from which every single customer makes at least ten transactions per month and similarly hundreds and thousands of invoices are generated each month. Organizations need to reconcile each of these transactions to maintain a track record, but maintaining these records manually is a hectic job.
Here comes the role of RPA technology that empowers businesses to automate their statement reconciliation process and convert this tedious and time taking task into a simple and swift process. For all those finance companies out there, automation of statement reconciliation using RPA is the best choice. Now, if you are willing to integrate RPA into your operations then you may need to know what RPA is and how it can help you automate your finance reconciliation process.
Read Also: How Can RPA help HR departments?
What is RPA?
Robotic process automation, as the name, suggest it is a technology that can be used to mimic manual tasks repetitively. You can also educate your bot to perform certain steps to accomplish any set of tasks. In the case of finance reconciliation, you can specify each element that must be matched during the reconciliation process.
If you are willing to make your process handling smarter then you can also incorporate an AI and ML-powered robotic process automation into your organizational procedures. For instance, if you are working in a business segment where you have to deal with handwritten data and need to extract information for further financial procedures then you can use the power of artificial intelligence that will educate your system to convert the information into digital one by using machine learning technology.
Account statement reconciliation with RPA:
Using RPA people can automatically upload the statement of each transaction to their financial records and can store it in a cloud-based system to make it more accessible and centralized. Whether you are having your statements in PDF, excel format, or as a hard copy in hand, RPA can help you convert each form into the same and store it in centralized storage.
Now, your finance team can be empowered with the potential of a robot and it can help your team in separating errors from the proper records and reduce 95% of the manual efforts. Hence, your team is now only responsible to check the errors and rectify them, instead of wasting time matching the records which are already complete and correct. This will help your business to enhance its efficiency and make the process faster than ever before.
The RPA integration can also be added with the real-time report-sending system that will send an alert to the managers notifying them about the errors. There are several benefits of integrating RPA into the financial management system to automate statement reconciliation, a few of which are listed below:
Faster execution of statement reconciliation
Higher efficiency in matching records
Least or zero possibility of error
Better accuracy
Easy to set up
Saves time
User friendly
Low maintenance
Use cases of automating statement reconciliation:
Financial imbalance can lead any business to loss and every business must keep a detailed eye on the checkbooks and need a proper balancing. It is one of the tedious works that require a huge chunk of energy but still leaves a big question of the possibility of error. If done manually, it has several risk factors and gives a higher possibility of errors, such as missing out on an error in reconciliation, insufficient clarification for documentation, unreconciled accounts, and more. All the above-mentioned issues can be sorted using RPA as it can help you perform multiple tasks at once within no time, such as:
Maintaining multiple bank accounts
Logging in and maintaining multiple business resource planner
Easy extraction of the required ledger from the accounts
Preparing and sharing bank reconciliation statements with anyone
You can also automate your bank balance with a general ledger
Information extraction and digitization:
Although we are living in a digitized world where almost work is done on digital platforms still every business has a bit of paper and handwritten work that needs to be digitized. Manually doing it is a bigger task that can also be accomplished with the RPA. This bot can help you to extract information from handwritten papers and digitize it automatically without any human intervention.
Authenticity verification:
When you are dealing with financial accounts you need to stay alert to fraud and piracies. RPA helps you to verify the authenticity of the signature, account details, etc. using the power of artificial intelligence. RPA can help you to determine the authenticity of any and every given data. It also notifies the respective manager if any human counterpart is required to complete the provided task.
Get started with the automation of statement reconciliation with RPA:
Do you have a tedious financial process that is frenzied to get done manually? Are you looking for an automated process that can speed up your process with the help of digital solutions using least or zero human interventions? If yes, then you need to integrate RPA into your business structure. Before incorporating RPA you need to consult with the RPA developer in India and determine the dependencies involved in automating the process.
You can seamlessly integrate RPA solution into your business operations and automate your business process and also can integrate it into any existing software without developing any software from scratch. RPA development companies in India can help you attain your objective with greater efficiency.
Conclusion:
Automating the reconciliation process has helped several business sectors along with the banking and finance sector to simplify their financial process and achieve 100% accuracy and efficiency in it. Now, businesses are required to implement human resources only to deal with the exception and hence reducing 95% of manual efforts and also required human resources for the statement reconciliation. To make the RPA solution smarter, most businesses are integrating it with the potential of AI and creating new opportunities for the banking and finance industry.
Read Also:

How Much does it cost to develop NFT Marketplace in Dubai?

How Much does it cost to develop a Mobile Application in Bangalore?

How Much does it cost to develop a Mobile App in Mumbai?

How Much does it cost to Develop a Mobile app in Chennai?

How Much does it cost to develop a Mobile Application in Pune?

How Much does it cost to develop a Mobile App in Kolkata?