March 6, 2023
Posted by:

Admin

Category:

Mobile app developers, Mobile App Development, Mobile app development cost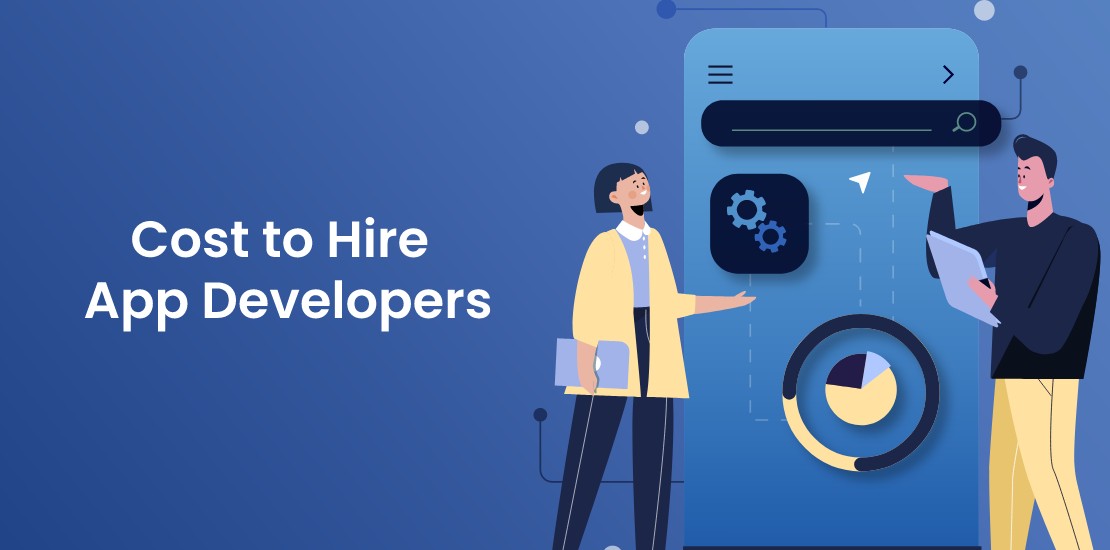 India is recognized as one of Asia's primary technology hubs. The country has a significant pool of software, app developers, and engineers. There were around 2.75 million developers in India in 2018.
At the time of this figure, it was expected that the number of software engineers will expand by 90%. According to BusinessWire, the outsourcing market in India is predicted to grow at a CAGR of 7.25% from 2020 to 2025.
It has the world's fastest-growing mobile app developer base, even outpacing the United States. One of the reasons for the success is the usage of classic coding languages such as C, Java, Java 8, and C++, which are commonly used in software development projects by organizations.
. As a result, hiring Mobile developers in India is an attractive option for most companies looking to outsource their staff. Today, numerous vendors in India offer the opportunity to hire Indian app developers economically.
Why do most countries look to hire developers from India? Why not other countries? The reason is simple the Cost.
So What is the cost of app developers in India? Some false conceptions are streaming on the internet regarding the cost to hire an app developer in India.
And all of this uncertainty may have made you wonder if you are taking the right decision.
Should you hire Indian software developers for your project? The answer is yes. You will never get passionate, dedicated, and zealous developers like Indians 
Go through this blog, to understand the average cost of hiring an app developer in India, where to get them, the recruiting process, and some key points to consider before employing them.
What Distinguishes Indian App Developers in the Global Market?
1: English fluency
Although India is a land of many languages, English is the language that connects Indians professionally. Being from one of the top five English-speaking countries, and having English as a medium of education, gives Indian developers an added advantage in becoming the most sought-after developers globally.
2 Internationally recognized educational institutes
Many prestigious universities and institutions in India are renowned for their competitiveness and educational excellence.
Many Indian-origin globally-renowned CEOs' success stories demonstrate that their roots in Indian colleges are one of the assets that formed their mindset and thinking.
3. Cost-effectiveness
Since the advent of outsourcing, global corporations have viewed India as one of the most cost-effective places.
Gradually, this generated an optimistic opportunity for Indian techies to upskill and be ready to seize the lucrative opportunities that await MNCs.
Companies benefit both intellectually and financially by preferring Indian Mobile app developers. Indian developers are open to challenges, learning, and adapting, all at a lower cost than domestic software professionals.
For example, the cost of employing a software engineer in the United States is three times that of recruiting one in India. As a result, it is the main factor in establishing a pool of opportunities for tech-savvy Indian developers.
4. large talent pool
The availability of a young population is undeniably a pillar of any functioning economy. With almost 66% of the entire population (more than 808 million) under the age of 35, India has the world's highest young population.
This translates into trained and supervised youth, demonstrating how much India can provide to other countries in terms of a skilled workforce.
5. World's best quality providers
Indian coders are cost-effective, yet their quality work is unparalleled. India is the leader in custom software development. With the biggest number of ISO-certified Mobile app development companies, India is consistently focused on providing high-quality services on time.
India's Developer's Comparison with Other Countries 
With Asian Countries
| | |
| --- | --- |
| Country | Rates |
| Mobile app developer cost in India | $18-25/ hr |
| Mobile app developer cost in Indonesia | $21-24/hr |
| Mobile app developer cost in Bangladesh | $20-$25/hr |
| Mobile app developer cost in Nepal | $22-$25/hr |
| Mobile app developer cost in Malaysia | $25-$30/hr |
With Eastern Europe
| | |
| --- | --- |
| Country | Rates |
| Mobile app developer cost in India | $18-25/ hr |
| Belarus | $26-$30/hr |
| Romania | $25-$25hr |
| Ukraine | $35-$39/hr |
| Hungary | $38-$40/hr |
| Croatia | $22-$25/hr |
With Latin America
| | |
| --- | --- |
| Country | Rates |
| Mobile app developer cost in India | $18-25/ hr |
| Peru | $32-$35/hr |
| Bolivia | $28-$32/hr |
| Costa Rica | $38-$40/hr |
| Chile | $48-$52/hr |
| Argentina | $50-$55/hr |
How does the App Developer cost Determined?
It is essential to have a thorough understanding of the process of calculating the cost of hiring an app developer in India. Any software development cost assessment must include two essential components:
Hourly rate of app developer * total development time consumed = application cost
The second variable has a significant influence on the price structure. Because a developer who charges a higher fee initially may spend less time constructing an application, his overall cost will be lower, not to mention the quality of the code.
Consider the following example:
18 dollars per hour multiplied by 180 hours equals $3240.
50 dollars per hour multiplied by 120 hours equals $6000.
Where to get India's best App Developers?
When it comes to recruiting app developers, every entrepreneur faces a lot of obstacles on the way to getting the right one. Not simply app developers, but best-in-class professionals who can help you achieve your business goals.
Below are a few companies that can assist you in overcoming this obstacle:
– Upwork
– Indeed
– Toptal
– Linkedin
– Fiverr
– DxMinds
The top mobile app development companies calculate the rate of a coder based on their expertise and talents. This shows that employing Android app developers is more expensive than recruiting iOS developers. The entire development and testing process takes a long time. So, make the right decision.
Hire Developers in India:
Measures to take while hiring Indian developers
While reviewing the remote developer's portfolio and credentials, you should also look at the innovativeness they possess. Fortunately, there is no shortage of remote app developers available throughout the world.
You will gain the necessary skill set and expertise to meet the needs of your firm. So, before you begin, keep the following fundamental basics in mind:
Know the Fundamentals
Understand the programming languages used to create mobile apps. Don't get too deep, but get a general concept of the platform. At the same time, be attentive to your intended audience. The language of the code used is determined by the complexity of the program.
A reputable offshore partner will examine your app development project requirements and advise you on which platform and style would be best for you.
Examine the Experience
No one wants to hail a developer who has just graduated from university and has no experience. Understandably, you would seek out an experienced Indian offshore mobile app developer or organization.
You may also request a portfolio, code samples, and information about their previous work in this subject.
Assess Creativity
As a business owner, you will want your app to stand out from the crowd. As a result, when selecting an app developer, originality is paramount. Your interpersonal and communication talents are highlighted here. Look for a developer or organization that is willing to go the extra mile for you such as DxMinds Technologies. This surely aids in the development of a strong rapport.
Payment Terms
You would have a budget in mind before developing the mobile app. After reading the entire article, you should have an idea of how much the developer or development service company will charge.
Is it in tune with your budget? It is usually preferable to clarify things ahead of time.
Check to see whether the company has any hidden expenses or other concerns, such as an additional cost for establishing the security system. Remember that the cheapest option is not always the best. Quality always comes at a cost, so never sacrifice quality standards.
Clear place your requirements
If the app developers do well in the interview, don't forget to direct them to your company's requirements. A dedicated mobile app development team or organization understands app design and development, but they do not know your company or customers.
As a result, it is critical to communicate with your business and your rivals. Let them know if you have a few applications that you admire.
What To Prefer: Freelancers or Offshore Mobile App Development Company
When aiming to hire an iPhone or Android app developer in India, it is best to enlist the assistance of a professional team of offshore developers. Hiring an offshore mobile app development company is safer due to its superior resources, talents, and expertise.
Achieve everything under one Umbrella
Whether you are a start-up, a mid-sized company, or an established brand, an offshore mobile app development company can unleash you with advantages that no one else can.
You get everything you'd expect from a top-tier offshore app development company,
including a skill set that spans many technologies and industry-tested commercial acumen.
Furthermore, the best part is whether you need to employ iOS app developers, Android developers, Kotlin developers, Flutter developers, or web developers, you can obtain all of the technical talents you need in one spot.
Safety and Reliability
Probably many freelancers are not utilizing up-to-date systems with firewall protection. Furthermore, their systems may be vulnerable to online hacking. This is a significant loss because they hold sensitive information about your organization.
Offshore mobile app development companies, on the other hand, take security seriously and ensure that client data and applications are well-protected.
Team Availability
Hiring an app developer from a random freelance portal can be dangerous. There may be occasions when people are unable to devote time due to health or personal reasons.
On the contrary, an offshore mobile app development business will ensure that your project is handled by a specialized team of experts. And someone is always accessible to assist or support you anytime you require it.
If an offshore mobile developer becomes unavailable, they can substitute another developer from their enormous talent pool.
Excellent Quality
The quality standards of freelancing mobile app developers are unknown. However, this is not the case with a reliable offshore mobile developer.
Most businesses uphold a service quality that necessitates the use of the most recent tools, licenses, certifications, and software.
How DxMinds support you in hiring your Ambitious Mobile app developers in India?
DxMinds is your desirable offshore Mobile app development company that provides unrestricted access to thousands of developers. We are recognized for our ability to supply businesses with experienced and knowledgeable development teams, having over ten years of experience.
We take pleasure in providing a simple process with no hidden expenses. You just enjoy the advantages of working with excellent developers. Other advantages of employing through
DxMinds include:
– Scaling your team quickly
– Increasing the focus of your business
– Increasing your output
– lowering operating costs
– Increased adaptability
DxMinds works with both large and small organizations, and our clients include well-known companies from throughout the world, including California, Abu Dhabi, France, and Japan
Final words
Today and in the future, a mobile app will be an essential aspect to make your company competitive. Therefore, it is a good idea to hire mobile app developers from an offshore location as it will enable you to shift digitally without spending a lot of money.
Take into account all of the aforementioned factors before launching headfirst into mobile app development. Associating with a reputable, reliable mobile app development company may be very beneficial as they will give you thorough, precise blueprints for the entire project.
Firms, especially startups and small businesses, can outsource their projects to India at a considerably lower cost than hiring an internal team.
If you're interested in outsourcing your Mobile app development requirements to India, then get in touch with us here.
FAQ's
How Much does it cost to hire a Mobile app developer in India?
Based on experience, skill sets, and location the average cost to hire a Mobile app developer in India ranges from $15-$18/hr which is economical in comparison to other Asian countries
Contact DxMinds to know more
What makes Companies choose India for Outsourcing?
India has become a top outsourcing destination due to its affordable services, abundance of qualified English-speaking labor, and cutting-edge technological solutions. What makes businesses choose India?
India is the top outsourcing destination due to its affordable services, an abundance of qualified English-speaking labor, and cutting-edge technological solutions.
Read Also:

How Much does it cost to develop NFT Marketplace in Dubai?

How Much does it cost to develop a Mobile Application in Bangalore?

How Much does it cost to develop a Mobile App in Mumbai?

How Much does it cost to Develop a Mobile app in Chennai?

How Much does it cost to develop a Mobile Application in Pune?

How Much does it cost to develop a Mobile App in Kolkata?