July 22, 2019
Posted by:

Admin

Category:

Mobile app developers, Mobile App Development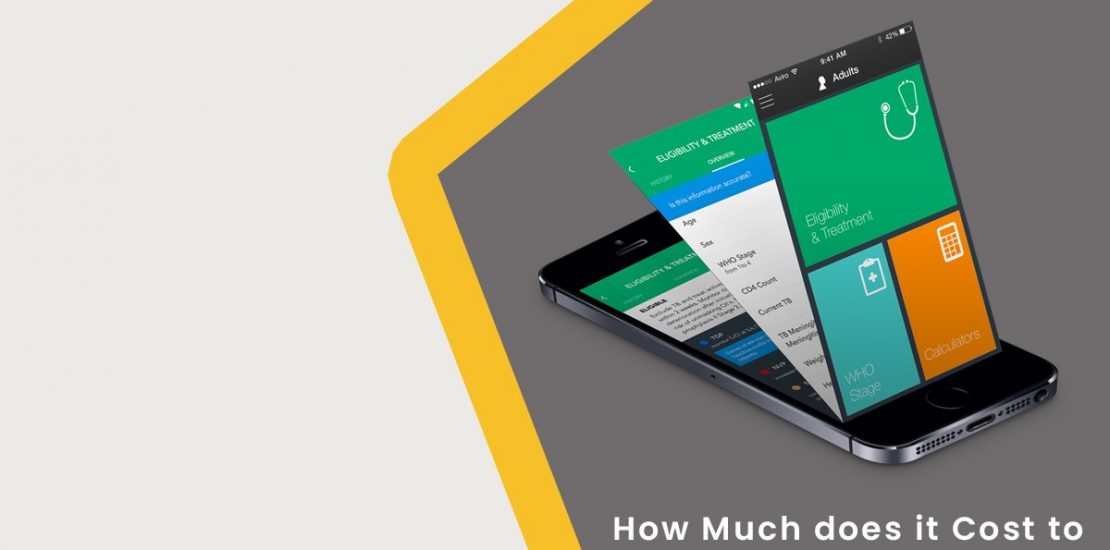 How Much does it Cost to Develop a Mobile App in India
Mobile apps have become a basic need of our daily life. As technology has gained a rapid momentum globally, India is nowhere lagging to become a world's digitalized country. From the latest reports "India has become one of the fastest growing tech market for mobile apps on platforms such as Android, iOS and React Native. For new emerging business and start-ups mobile app development have become game changing factor, as it is overloaded with plenty of benefits. Today most of the businesses in India, demands to develop a high performance mobile apps for the benefit of customers and to enhance the business revenue. It has brought the big variation in mobility world, where you can see numerous mobile apps in the market.
Therefore more and more start-ups and entrepreneurs coming forward with a query how much does it cost to develop a mobile app for your business? Are this applications are effective in a business? When it comes for a standard and extraordinary mobile apps, we have to consider a lot of facts. Before you visit a best mobile app development company in India, it's better to have a sound knowledge on the facts that effects the app development cost.
Get a Free Quote
Factors That Determine Mobile App Development Cost
As per the DxMinds there is no convenient answer to the query "How much does it Cost to Develop a Mobile app in India"as the cost differs from one company to another company. The Factors that differs the app development cost are mentioned below.
Selection of Vendor Type
App Platform
App structure and features
Complexity in Design
Advance Technology
So let us give a point to point description about the facts
Selection of Vendor type
For any businesses that determine to develop a mobile applications, need to decide the application requirements, then to need to resolve the query whether to hire a Mobile App Development company or an independent freelancer developers
Mobile app development Company
Freelancers
Highly Committed and focused on developing a rich mobile app within the time and budget
Seems to lack the focus as they set their own priorities, and tend to work on several projects at the same time
Having a specific team for particular domain so have very good Specialized knowledge on app development
Freelancer handle both front end and backend, unfortunately specializedknowledge in both areas is not possible
Reputed app development company offers a proficiency in their dealings, and allocate the fixed price for development project and precisely provide the proper planning
Rarely offer the fixed price as they offer the services at hour basis. Sometimescost more than the fixed price provided by the company.
Employing a company means you have to deal with a team of developers rather than individual, where if one developer falls sick, the project get transferred to another developer.Atlast complete their work before deadlines
Freelancer is an individual worker when he falls sick then the whole project gets delayed
Long lasting relationship
Short term relationship
App Platform
Your choice of platform effect the app design/develop cost, as the cost varies from one platform to another platform.
Android App Development cost
If you are aiming to develop the app on android platform the cost varies depending on the number of screens, backend complexities in the app and hours imparted in building it.However for innovative apps with advance technologies and tremendous patterns developers must have good experience. Android app development cost in India depends on the functionalities of the app, chosen Android app Development Company in India.
iOS App Development Cost
There are various facts where iPhone apps gaining more popularity then compared to different OS such as user friendly, expensive in app purchases and greater security. Iphone app development cost in India depends on the top iOS app development companies in India you have hired.
React Native App Development Cost
Native application is similar to basic functional apps, but differs in development process which includes the cost of development and implementing the logic behind the app. However the cost of react native apps differ based on the business and technical boundaries.
App Structure and Features
An app complexity defines how much time the company take to build it and how much does it cost. This means simple mobile apps takes smaller budgets, while complex apps will be pricier.
Here are the details of common features that makes a specific mobile app
App Feature
Description
Comment
Cost for backend
Sign in/Sign up
User can login or register with email or social media accounts
Forget password/restore password included
$500-$700
User profile
An extra feature which combines a individual sense and enhance the user experience
User can add their bio, websites and social media links
$700-$900
Paid apps
Users can make basic app purchases
One non-consumable in-App -Each subsequent in app adds some percentage of original estimate
$600-$1000
Search
User can manage the app with small interface
Each search entity effect the estimate
$300-$400
Payment wallet
User can make credit card payments
Here user can add/remove the credit card to/from their user profile where they can initiate payment
$1,500-$2000
Chat
User can have a simple conversation
List of chats, Send text, image, Push notifications for new text
$1900-$2300
Geolocation
Get information about user location
Track the location
$1000-$1400
Review feature
User get the option to send feedback/review
Rate the service
$700-$1200
Do You have an App Idea?
App Design
App design enhance the whole app development process, the more creative and complex design the more app development cost. Spending the budget on the design of app is the best choice to make your app successful. Several factors need to consider is cost of ios app development is little expensive than android, where iPhone app store take more time to optimize.
Ultramodern Technology
Mobile app development is a raising field where the advent of latest trends and technologies evolving the field day by day. DxMinds the best mobile app development company in India provides the access for the updated and newest technologies such as Artificial Intelligence/Machine Learning, AR/VR, Chatbot, Blockchain, and builds your high grade dream app.
App Development Procedure by DxMinds
DxMinds the leading Mobile app development company in India, highly focused on developing a levering mobile apps with quality rich features. Started the journey in 2017, within a short span of time achieved a high degree of success in app development. We follow the perfect procedure in estimating the app development cost. Our main aim is to develop a high skilled mobile apps that matches the market trends and fulfill the client's requirements. The process by which mobile apps being developed are:
Market Analysis and Survey
To build a best mobile apps it is very essential to have a great research. In this phase, we do competitive analysis and examine the business model of our clients, and we get the technical graph about the requirements and features.
Ideation
This is most engaging phase, where we host a brainstorming sessions to get the creative and innovative ideas for the app. The ideas are then shortlisted by our mentors, then we focus to transform the idea into reality.
Designing and Development
In this step, our designers plan to give to attractive look for the app. DxMinds always stands way from competitors, by providing the stunning UI designs and unique user experience.
Deployment
In this phase the app is ready to be deployed in the respective app stores, before deploying the app our app developers check some factors such as load balancing, security, scalability to make a huge impact on client business.
Mobile App Development Cost in India?
Its is very difficult to give a exact conclusion on the query How much does it cost to build a mobile app in India? As it varies on the location, company and several aspects. The Development cost of a Mobile App varies from $5000 to $5000000 based on the app features & functionalities.
DxMinds have expertise in developing all types of famous apps by blending with advanced features and tools and delivers a booming mobile app for any kind of business. If you want to know the app development cost, feel free to contact us with your requirements, demands and type of app you want us to develop.
Get a Free Consultation