September 27, 2022
Posted by:

Admin

Category:

Mobile app developers, Mobile App Development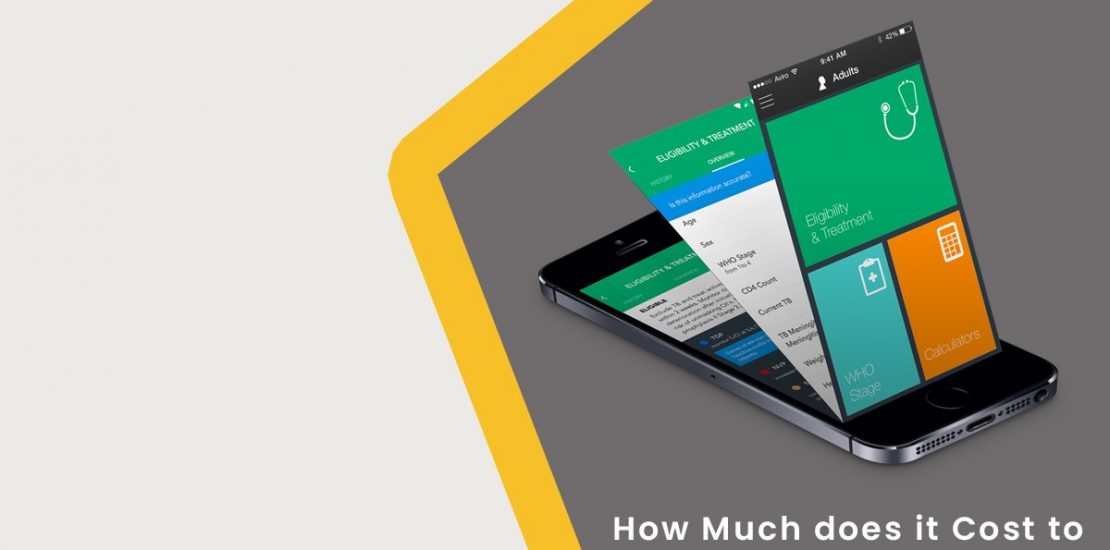 Mobile App Development Cost in India
Have you ever visualised how much would it cost to develop an iOS or android app? This ultimate app cost estimation will help you to figure out how much your dream app will cost under short time.
The number of mobile apps is continuously whopping out to the biggest number. The count of smartphone users is expected to reach out 7 billion by the end of this year. In this technological era, every folk is willing to attain the perfect solution for their requirements within a few fingertips on their mobile phones. Hence, every business regardless of its size is driving towards mobile app development companies. In the present world where customer interaction has become the priority for businesses, mobile apps are the only solution for all of those and it is also being one of the major factors giving a great leap to the mobile app development sector all across the world. Due to higher demands, the cost of mobile app development has also been gained hype and has been doubled the cost within a decade. The higher cost of mobile app development is not affordable for every business, especially start-ups. Hence, most businesses from all across the world are getting tempted towards mobile application development companies in India. The major reason behind the rapid shift of IT sectors to India is the most affordable mobile app development cost in India.
The app development service cost widely depends on the type of assistance and the expertise included in it. Before entering the world of mobile app development most businesses are striving with the question "how much does it cost to develop a mobile app in India?" If you are new to the IT industry struggling with the same question and are willing to know the segmentation of estimated app development cost in India that can bring a great variation to your project cost is mentioned below.
Components that defines app development cost in India:
Requirement gathering and planning:
If you are looking for a team who can serve you right from the beginning of product development, namely from the market analysis, requirement gathering, and planning, then you may require to add a business analysis professional to the hired team. They will help you conduct thorough research over the targeted market and get the most required details to develop a prominent and thriving app that can take your business ahead of the competition. The business analysis services can add a sum of $1000-$10k to your budget.
App designing:
The design of an app plays a crucial role in scaling up your brand name and grab the attention of your targeted audience. Hence you must choose the most creative UI/UX designer. Experienced app designers in India are costing around $1000 to $20k. As per a study conducted over the designer segment of the IT industry, it has been depicted that the most sophisticated, intrusive, and attractive designs have been given by the Indian UI/UX designers to the top trending brands and have helped them gain an out-of-the-box identity in the existing marketing.
App Development Cost Estimation:
App development is one of the lengthiest phases and also can be called the backbone of your project. This phase involves extensive coding developing every single segment of an app, right from the small buttons to the effective navigations and other require functionalities. If you are choosing a freelancer then the app development cost in India may range between $1000 to $10k. If you are going to hire an app development team in India then the application development cost may range between $10k to $500k, depending on the size of the team you are hiring. There are different types of apps existing in the market and each of those differs from each other in various aspects and hence the selection of the type of app can bring a great variation to your mobile app development cost estimation in India. The type of apps can be categorized based on the operating system, complexities, and more. Another differentiation that can impact the cost of mobile app development in India is the technologies used for app development and the type of apps such as mobile websites, progressive web apps, hybrid apps, native apps, cross-platform apps, etc.
App development complexities:
The complexities of app development play a crucial role in cost estimation. The app development can be divided into three categories, i.e. low complexities, medium, and high complexities. Lower complexities apps are termed to be the ones which are having a lesser number of screens, user types, use of third-party apps, etc. Such apps take around 100-300 hours. Medium complexity apps are developed with several pages, multi-user access, built-in sensors, push-notifications, and social media integration. The higher complexity apps are developed with the highest load capacity allowing a million users to access the app simultaneously. Such apps are developed with the latest technologies incorporated with the latest features and it takes a minimum of 600 hours to develop an app.
The budget of testing:
The validation of each functionality of the developed app is essential to make it bug-free. A professional testing team is required to ensure the flawlessness of the app. Hiring an experienced testing team may cost you in a range from $1000 to $10k.
Lower mobile app development cost in India: The major attraction for businesses all around the globe
Most of the business from every corner of the globe is turning towards India to get the best app development services in the least possible cost. India is emerging as another silicon valley that is going to rule the world with stunning and unparalleled innovations in the world of technology. The Indian app development market offers the lowest possible mobile app development cost and hence makes its one-stop solution for all types of business niche regardless of their size. The total app development cost in India is calculated based on the total app development time and the hourly cost of app development.
Per hour estimation of cost of app development in India:
The mobile app development cost estimate in India varies based on the choice of platform. There is diverse mobile application development platform opted by the organizations to develop a business app, such as android, iOS, hybrid apps, and progressive web apps. You can find comparatively cheap app developers in India than overseas developers and the reason is a huge talent pool which shows an approximate statistics of 2 million software developers among which 45% are highly proficient in developing android apps and 23% have gained a master hand on iOS app development, and rest are deemed to be the best app developers with the expertise in the latest and the leading mobile app development technologies emerging these days. If you compare app development costs globally then it may charge you approx. $27000 for iOS and $23000 for android app development. The average mobile app development cost on an hourly basis are described below:
Cost of Android app developers: $30/per hour
Cost of iOS app developer: $26/per hour
Cross-platform app development: $23/per hour
Windows app development: $21/per hour
Conclusion:
The cost of mobile app development in India is comparatively lesser than overseas developers and hence most of the businesses are driving towards the mobile app development companies in India. An average application development cost in India ranges from $20000-$50000 and may vary more based on the platform and features you are opting for your business app development. The hourly cost of mobile app developers in India varies based on their expertise, experience, and own skills.
Faqs:
Does the choice of mobile platform can also impact the cost to build a mobile app in India?
Diverse mobile platforms are based on various technologies and hence the developers of each platform are differentiated based on their technological skills. The complex ones, such as iOS app development or the latest flutter app development are comparatively costly than android and other app developments and the major reason behind it is the availability of skilled developers and time consumed in the app development. Hence, choosing a mobile app development platform can greatly impact the mobile app development cost in India.
How much time does it take to develop an app?
The time of app development depends on your requirements, such as features to be incorporated, the platform is chosen, uniqueness of design, usage of third-party services, and other factors. The estimated time to develop a mobile app is one-to-eight months.
What type of mobile app development services are offered by Dxminds?
We have gained expertise in developing a wide variety of mobile apps based on various technologies and mobile app platforms. We have worked with a wide range of business niches and have catered to various types of business requirements and have succeeded to satisfy our clients with the best services.
What technologies are mainly used for iOS app development?
The major programming languages used for developing iOS apps are C, Objective-C, and Swift. The integrated development environment used for iOS app development is Xcode that offers a wide array of software development tools.
Get a Free Consultation