January 23, 2023
Posted by:

Admin

Category:

Technology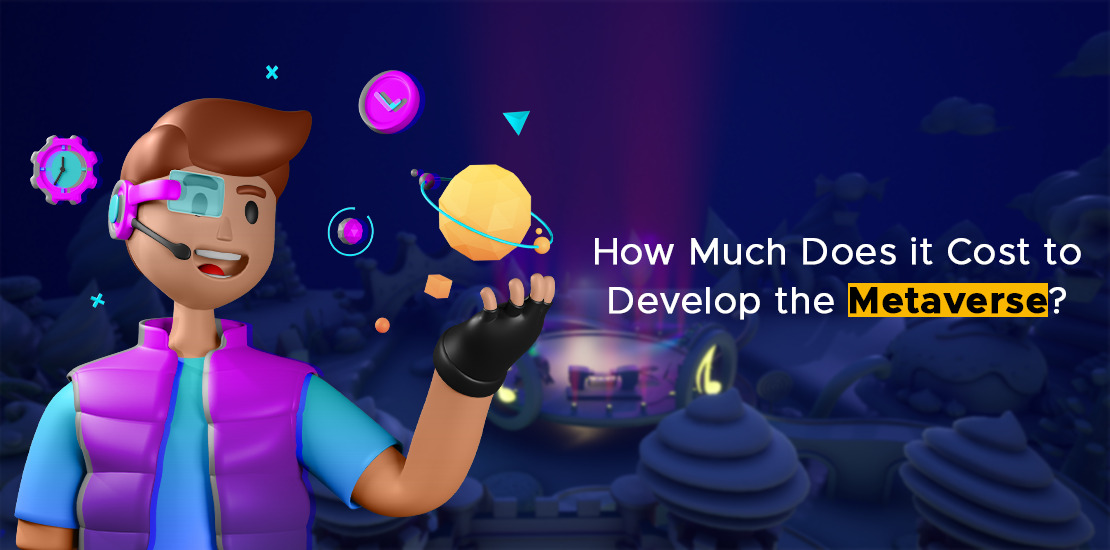 Currently, one of the most popular topics worldwide is the Metaverse. It is successful in stirring up commotion in contemporary society. Numerous industries have already invested in this possibility and are using it to plan their future operations.
For those who are unfamiliar with the term "Metaverse," it is a combination of the physical and virtual worlds. This could be compared to the virtual ecosystem from a sci-fi movie where the main characters have entered the virtual world
A Metaverse can enable people to interact in a virtual realm in a variety of ways. If you want to start a business in the Metaverse, whether it's a game, social media, or real estate, you're probably wondering how much it would cost to develop a Metaverse app.
Metaverse is nothing more than pushing boundaries by building a vast universe that closely resembles interactions in the real world. A few of the technological advancements that help the Metaverse's system function include augmented reality (AR), artificial intelligence (AI), AR cloud, adaptive work procedures, head-mounted displays (HMDs), the Internet of Things (IoT), 5G, and geospatial technologies.
The cost of the technological infrastructure overlaps with or is linked to the cost of the earlier version of the technology due to the gradual evolution of technologies. Thus, estimating the actual cost becomes complex and challenging. The cost of developing the Metaverse falls into several categories, including the following:
Data and Infrastructure costs
Hardware for AR/VR headsets
Manpower
Content
This article will address your Metaverse queries. We'll begin by discussing the Metaverse, which is the idea behind this digital revolution's future, and then talks about some topics related to Metaverse development costs.
The Concept of a Metaverse
A virtual reality environment called Metaverse gives users the chance to interact with a setting created by a computer and other users.
There is now more to the concept of the metaverse. Since it is already there, anyone can access it. The Metaverse concept is still novel, but the method is unique and is always changing.
Overview of the Metaverse Market
According to PR News Wire's reports, the Metaverse market is anticipated to grow at a CAGR of 39.1% and reach $824.53 billion in value by 2030.
According to Globe News Wire, the Metaverse market is expected to grow significantly from $61.8 billion in 2022 to a staggering $426.9 billion in 2027.
More than 500 businesses have already started creating their own metaverse.
There are currently more than 470 million users of Metaverse platforms.
The Top-Notch Advantages of a Metaverse
The majority of people will likely favor online communities and various technological communication tools like web conferencing in 2022, as can be seen from our observation.
The real-world capabilities that can be used in a 3D virtual world are a breath of fresh air thanks to Metaverse. The benefits that the Metaverse provides are as follows:
Remote Work
Increasing remote work is one of COVID-19's contributions, even though it occasionally benefits companies. The remote working model, however, presents many challenges for businesses. A Metaverse manager can set up a virtual environment and work well with the staff.
Monetization
The amount of attention being paid to Metaverse is greatly increasing, which is also assisting it in growing its user base. People who want to use Metaverse to make money will be glad to know that it can support them. Every person has the freedom to develop their own project on the ecosystem because it is open-source.
Virtual Tour Experience
Nobody can travel to their desired destinations, so Metaverse comes in handy, allowing users to view the locations electronically. With AR and VR technologies, Metaverse can provide an enhanced virtual tour, even in the first person.
Online Gaming– The majority of Metaverse games have decentralized and include an integrated economic mechanism that allows for play-to-earn gaming. Metaverse allows users to purchase, sell, and even trade in-game items in NFTs.
Factors that influence the cost of developing the Metaverse
The ideal recipe is said to be created by balancing the ingredients. The characteristics (ingredients) will determine the final cost when building a metaverse. In comparison to previously explored options, exploring new and uncharted territory will demand a larger financial commitment.
As a result, the topic of how much it costs to develop the Metaverse is left open-ended. For the time being, let's think about and investigate the main factors that will impact the overall cost.
Metaverse features
Building a Metaverse necessitates the use of cutting-edge technologies like augmented reality, virtual reality, cryptocurrency, IoT, blockchain, and many others. Users must communicate with each other and digital resources in the Metaverse's augmented world. It must have the following characteristics in order to enable the same:
Digital avatars
Digital avatars are self-portraits that can communicate feelings and sentiments in novel ways. They can be an exact replica of the user or they can be a recreation of a beloved character from popular culture. With the help of these virtual personalities, the vast majority of internet users will be able to communicate in a gamified way, exchange knowledge and experiences, and even travel to the most distant corners of the globe.
Hardware:
A virtual reality headset is needed to enter this interactive virtual world because it will teleport us there. Smartphones, PCs, and laptops can also be used to access the Metaverse in addition to VR headsets.
Infrastructure:
Infrastructure is just as crucial as the interactional devices themselves. It is crucial to have robust 5G towers that can deliver superfast internet speed, greater capacity, and extremely low latency for us to experience the virtual world in order to guarantee constant connectivity. Similar to how the internet today connects websites, the Metaverse will be interconnected with many people for a seamless experience.
Security
Given the exponential rise in cyber threats, this has always been a top concern for internet users. As a result, it is not only crucial but also absolutely necessary to take cyber ethics, security, and privacy into account when developing the Metaverse ecosystem. Data integrity and secure transactions will become much more crucial. This is possible with the development of the Metaverse Blockchain, but it is crucial to consider the morals, ethics, and principles of the organization that created the Metaverse.
These are the fundamental features that are necessary to develop the Metaverse; there are many additional features that could increase the cost of construction.
Metaverse key tech Stack
We require multiple worlds to interact with one another, as mentioned in the features section. One will need to combine the power of various technologies to make this possible. The following is a list of some of the necessary technologies.
Virtual Reality
The principal gateway to the Metaverse is virtual reality. Computer-generated virtual environments are primarily created using VR. Utilizing VR headsets, sensors, and gloves, users can explore these environments.
An individual can hear, feel, and communicate with people all over the world using the Metaverse VR.
Augmented Reality
The term "augmented reality" (AR) refers to a technology that combines the perception of real-world objects with digital visual elements. Computer vision enables AR to recognize actual surroundings.
You can interact with interactive digital images that provide a sophisticated user experience in Metaverse AR to experience your surroundings.
Blockchain
One of the best technologies for raising Metaverse security standards is blockchain technology. The Metaverse is made safe by immutability, quick confirmation of data, and secure transactions.
Artificial Intelligence
Artificial intelligence is one of the best components to include in any digital solution. This technology can quickly process enormous amounts of data in the Metaverse and even picks up on interactions from the past.
Internet of Things
Real-time simulations in the virtual world are necessary to build a successful metaverse. Additionally, IoT technology is used to create live simulations.
IoT links every physical object to the internet using sensors and other hardware. Each internet-connected device has a unique identifier. These gadgets have automatic information-sending and receiving capabilities. IoT enables the connection of many different types of devices, including voice-activated speakers, thermostats, and many others.
In addition to these technologies, a Metaverse solution includes:
Decentralized Storage Database
Cryptocurrencies
3D Reconstruction
A skilled workforce that excels at using technologies like AR/VR, AI, Blockchain, IoT, and others makes up DxMinds. Utilize DxMinds to develop your Metaverse solution.
The Metaverse platform must be built by a team.
The following is necessary for a fundamental Metaverse ecosystem development:
Independent database
Three to four full-stack programmers who are proficient in Node.js and React.js
UI/UX developers
One developer for CRYENGINE, UNREAL, and
three 3D modelers (Blender, Max3DS developer)
Creator of a single decentralized wallet
A single decentralized dApp producer
The cost of creating Metaverse is influenced by all of the above-mentioned elements. Additionally, the cost may change depending on where the development company is located which has the necessary infrastructure and a team of developers with different skill sets.
How to Create a Metaverse?
There are three simple steps to getting started with Metaverse development. Determine what you need to build, select the Metaverse platform that best meets your needs, and then begin the development process.
With the help of a Metaverse development company, you can start building something incredible by knowing which Metaverse development process best suits your needs and understanding what you should work on in the Metaverse.
Determine Your Goals
The first and most important thing you should do for yourself is to decide what decisions you need to make. The Metaverse, like this immersive reality, has an infinite amount of resources. From Metaverse-based games to Metaverse-based products that can improve the user experience and your business, we have you covered.
In general, the Metaverse has two types of development: Scenes and Wearables. Wearables are digitized merchandise and other resources that do not fall under the architectural domain.
Some Metaverse platforms might be more appropriate for you depending on what you need to develop and your level of skill. Additionally, some Metaverse will charge you fees for submitting your manifestations for approval for use inside the Metaverse. These are a few fundamental factors you need to think about in order to choose the Metaverse that is best for your goals.
Select a Metaverse Platform
After considering your needs for the Metaverse development process and the things you need to develop, you should choose the Metaverse platform that best satisfies your creative needs. You can start creating one by using any of the available Metaverse platforms. You can use a variety of platforms as your Metaverse platform, including Sandbox, Somnium Space, Cryptovoxels, Decentrland, and many others.
Create a virtual space
Having chosen the platform, it is now time to design the area, which could take the form of an application, a virtual conference room, or a virtual home theatre. The focus should be on VR development and 3D designing when creating a 3D virtual space.
Build the interaction layer
Virtual spaces only make sense if users can communicate with one another. Therefore, creating an interaction layer would be the next action. Access requirements, user control, navigational control, and communication policy for communication will all be part of this. Third-party interaction is a crucial component of the Metaverse. At this stage of creating your Metaverse, you should also include hardware components and external output components.
Create the interoperability layer
The Metaverse is characterized by the interaction between the various virtual spaces. The layer of interoperability standards now allows the processes to communicate and exchange data that both humans and machines can use. Blockchain technology enables the integration of payment gateways for virtual currency transactions to ensure that they are safe, open, and decentralized.
Begin the metaverse development process.
Now is the ideal time to start the development process after choosing the Metaverse platform that, in your opinion, best meets your needs. if you feel that you lack the necessary knowledge. Numerous Metaverse development companies can assist you with the development process.
Cost estimates of Metaverse development based on industry
In spite of the enormous advantages of Metaverse, technology has not yet advanced to the point where it is widely available and easily accessible. A wide range of industries, including social media, online gaming, real estate, healthcare, fashion, tourism, and many more, can and are already gaining from the metaverse.
The cost of development for each sector will be significantly influenced by a number of variables and the complexity of the requirements for creating virtual worlds. To better understand, let's examine some of the highly profitable industries that have embraced technology and attempt to estimate the cost of their growth.
Since the introduction of blockchain, everyone has adopted online gaming as their preferred pastime. Online gaming has made it easier for players to trade and make money thanks to tokenization.
As the Metaverse has developed, the virtual representation of characters in the form of avatars has given them more life. It gives the players the chance to win digital goods that can be sold to make real money. Players can connect and communicate with their social media friends while experiencing a lifelike environment in the Metaverse. The ability for players to switch between different Metaverse worlds without experiencing significant change is an intriguing feature.
The following technologies contribute to the Metaverse's virtual gaming environment:
AR/VR technology
Blockchain and cryptocurrencies
3D reconstruction Internet of Things
Depending on the game's features, the cost of Metaverse development will change. Although the technologies being used, as mentioned above, are relatively new, they will increase the cost of developing the Metaverse game, making it an expensive project. Having said that, given how quickly technology is developing, it would take a creative group of professionals to produce something special and distinctive, which would obviously be expensive.
According to the various factors mentioned above, the average cost of developing a Metaverse game can range from $25,000 to $200,000. The Sandbox, Minecraft, Axie Infinity, Alien Worlds, and many more are some examples of popular play-to-earn Metaverse games right now.
Metaverse Social Media
Social media has evolved not only due to competition, but also because businesses are being forced to rethink their strategies regarding data privacy, intrusive advertising, and the need to stay ahead of new concepts. Metaverse is one such concept that can be described as a social media extension. With the help of augmented and virtual reality, Metaverse will be able to bring together various elements of social media such as live entertainment, collaboration, commerce, and immersive experiences.
The cost of Metaverse social media development is determined by the various elements you choose to include in your platform. According to industry reports, Meta spent more than $10 billion in 2021 alone to realize its metaverse vision. The company now expects to spend more than $80 billion in fiscal 2022.
However, depending on the feature set and technologies used to develop the platform, the average cost of a Metaverse social media platform can range from $20,000 to $400,000 in total.
Purchasing a plot of land in the virtual world, also known as the Metaverse. Doesn't this sound intriguing? However, it is anticipated to be the next big thing in business.
The Metaverse enables you to invest in a parcel of land or pixels in the virtual world that can be traded with virtual currencies and converted into real currency using virtual currency, NFT, and blockchain technology. You can do everything you can do in the real world if you own a piece of land in the Metaverse, such as go shopping, attend events, socialize, play games, and so on.
The process of creating virtual land is remarkably similar to that of creating real land. The layout of the plan is created based on the specifications of the customer, from which the customer is given an estimate of the cost of the land. Designing the size of the digital land is made easier with the aid of 3D modeling.
Similar to how engineers, architects, and builders bring a design to life in the real world of land development, programmers fill the role of engineers in the virtual world of real estate. Depending on how complex the projects are, the cost of hiring designers and programmers will affect the cost of Metaverse real estate. An average of $12,000 to $300,000 may be required to develop a Metaverse real estate.
| | |
| --- | --- |
| Industry | Metaverse development cost( Average estimation) |
| Online Gaming Metaverse development | $25,000 to $200,000 |
| Social Media Metaverse development | $20,000 to $400,000 |
| Real estate metaverse development | $12,000 to $300,000 |
Who Could Aid in Building a Metaverse?
Despite the fact that there are numerous Metaverse developers who can assist you with the development process, Businesses should carefully investigate their background as Metaverse development is not as easy as web development.
Conclusion
The company should only put its trust in Metaverse development companies that have a proven track record of success and who can support the enterprise at every stage of development. A capable Metaverse development company like DxMinds can be your ideal ally. Stop asking questions and decide if their capabilities match those of your project. Drop your inquiries and decide if they can complete the requirements of your project.
FAQs
1. Why should businesses enter the Metaverse?
The Metaverse is gaining popularity because it provides a new way for businesses to virtually communicate and collaborate with users from all over the world. It also supports an entire virtual economy where users can engage in a variety of activities such as building a real business.
2. How Will the Metaverse Affect Business?
Instead of just a website, the Metaverse could provide an opportunity for online businesses to provide a more engaging experience.