November 30, 2022
Posted by:

Admin

Category:

Technology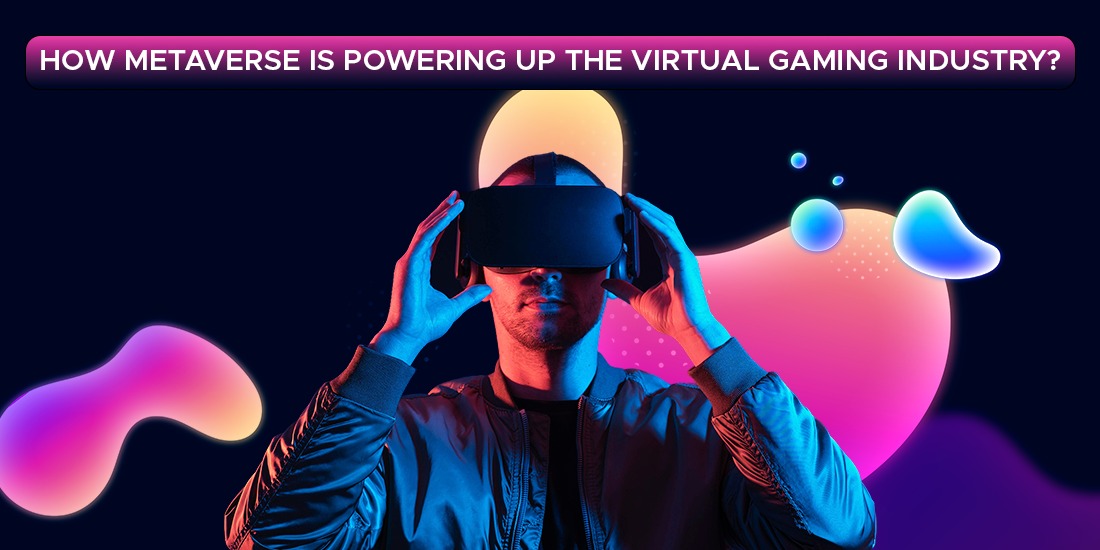 Since the introduction of the internet, the world has experienced a significant shift in electronics. Internet and virtual conversations have gotten more popular thanks to social media and online shopping. Moving on from the doors that the internet helped us open, virtual reality is a concept that has recently generated a lot of buzzes. Since Virtual Reality has been introduced, various facets of the online world have improved. The gaming industry is one of the biggest areas of the internet that has absorbed everything virtual reality has to offer.
In the virtual reality world, there is a variety of software that supports various gaming platforms by creating an illusion of a realistic experience.
To help turn rooms into playgrounds, these games frequently make use of 3-D graphics, VR headsets, full display screens, and sensory features like scents and tactile sensations. Let's move on to the enormous opportunities that the invention of the Metaverse has wrought in the gaming industry.
The Metaverse industry has given gaming a completely new level of realism thanks to disruptive VR technologies. The Metaverse is responsible for the gaming industry's evolution into this incredibly lifelike virtual experience. Because of the new features that the gaming industry can now offer its customers using the metaverse offerings, it has not only assisted in the transformation of the gaming industry but also helped it gain significant traction.
According to the most recent market reports, at a CAGR of 47.6%, the global metaverse market is predicted to grow from $100.27 billion in 2022 to $1,527.55 billion by 2029. Based on AR/VR trends and technologies, this growth contributes
It's fascinating to see how Metaverse gaming is transforming cyberspace gaming into an interactive and engaging 3D platform by providing immersive environments.
Before we get into Metaverse, let's take a look at the gaming ecosystem.
How is Virtual Gaming World back and now with Metaverse?
The initial iteration of video games had a lower level of player interaction and control. Additionally, the second generation of games enabled players to play virtual games both for free and at a cost, which improved engagement.
After this, blockchain-powered games with significant multiplayer components dominated the virtual gaming industry. Blockchain later altered the gaming paradigm by utilizing NFTs and cryptocurrencies, though.
Virtual ecosystems built on the Metaverse are the most recent development in the gaming sector, giving players access to next-generation environments. Both centralized and decentralized metaverses are possible in the gaming industry, but since the future has been unlocked, gaming companies tend to prioritize decentralized projects.
This has also ushered in a brand-new gaming environment known as Web 3.0 gaming, which enables users to switch between different gaming experiences with their characters. The "play-to-earn" model is another name for this one in the context of online gaming.
How Metaverse is igniting the Virtual Gaming platform?
As previously stated, the Metaverse is an online space that employs both augmented reality (AR) and virtual reality (VR) in which users can interact with one another and the digital world around them using advanced human-computer interaction (HCI) hardware and software. While the Metaverse provides the features, one of the major sectors that are making use of the Metaverse features to provide users with a next-generation gaming experience is the gaming industry. Players can now interact in ways they never have before in a competitive gaming environment. Furthermore, the Metaverse and Gaming duo work together to provide an immersive experience that improves their overall gaming experience.
The Metaverse has the potential to captivate users by giving them the impression and environment that they are truly in the real world they have entered. It provides them with a 3D environment or space in which they can interact with the elements around them.
Along with this, Metaverse provides an immersive and out-of-this-world experience in which users can study, connect, work, earn money, and even attend meetings and concerts virtually through NFT trading and live game streaming.
Metaverse gaming is a vast ecosystem that is gaining traction for bringing the vision of realistic experiences to life. Metaverse applications reshape the future of online interactions, content ownership, and even real-world trading.
In addition, Metaverse provides an immersive and out-of-this-world experience in which users can study, connect, work, and earn.
Cens World, a 3D virtual game platform that was launched as the "Future Metaverse Open-World Game of the Century," allows players to create their own stories and give their characters personalities.
Core Characteristics of Metaverse Virtual Gaming
Metaverse gaming has the potential to transform many aspects of virtual activities. Metaverse, like life, does not require any special gadgets such as headspace and has the potential to touch far more gaming verticals than AR and VR.
While the Metaverse provides the features, one of the key industries utilizing the Metaverse features is the gaming industry, which does so to provide users with a next-generation gaming experience. In the competitive gaming world, players can now interact in a way they never could have before. Furthermore, the combination of the Metaverse and gaming offers a rich experience that improves their overall gaming enjoyment.
The following are the key characteristics and aspects addressed by Metaverse use cases in gaming:
SOCIAL GAMING
It goes without saying that the metaverse is social by nature. One of the most crucial characteristics that distinguish it from the more widely known VR experience in which players played alone is this. Players will be able to invite numerous friends from the real world, communicate with other players online, form connections, and much more, giving multiplayer gaming an entirely new dimension.
GAMES-AS-PLATFORMS
Users can enjoy better gaming on the games-as-platforms. Flexibility comes along with experience. Here, users can add to the virtual world, make their own content, even develop minigames inside of games, and so on. To put it simply, players can use the gaming environment as a platform-like space to work on other things as well.
MIXED REALITY EXPERIENCE
The Metaverse's combination of AR and VR offers users a much more natural experience. The mixed AR and VR experiences available in the Metaverse incorporate mixed reality, allowing users to transition smoothly from regular group text in augmented reality to a mixed reality board game to a full-fledged virtual reality world.
Portable game assets
Asset portability could be made possible by the Metaverse's interoperable architecture. NFT regulations would govern persistent ownership of weapons or avatar upgrades that were acquired in one game but could be transferred to another.
WHAT TECHNOLOGIES SUPPORT THE DEVELOPMENT OF THE GAMING METAVERSE?
The Metaverse is the next generation of internet technologies. The Metaverse's structure is based on interface standards and communication rules shared by two different virtual environments. The most recent Metaverse development has compelled gaming companies to switch to Metaverse games or begin investigating the same. There are a few more technologies that cater to Metaverse and Gaming deliverables. Some are listed below.
AR/VR TECHNOLOGIES
The Metaverse's Augmented Reality and Virtual Reality features to aid in catering to players or users seeking an organic environment.
BLOCKCHAIN AND CRYPTOCURRENCY
Blockchain technology is used in the construction of the Metaverse. This aids the creation of decentralized Metaverse projects by the developers. Although Metaverse is decentralized, it also aids in bringing advantages like digital collectability, value transfer, proof of ownership, and interoperability, among others. While blockchain caters to the technological aspect, crypto assets assist in the exchange of the necessary gaming assets, NFTs, and other items.
INTERNET OF THINGS (IOT)
The Internet of Things (IoT) enables the Metaverse to give users a much more realistic experience. IoT enables Metaverse to gather, obtain, and use data from the physical world. This facilitates the connection of the Metaverse to a wide range of physical devices. In the Metaverse, this enables objects to change how they operate in response to changing weather or atmospheric conditions.
3D RECONSTRUCTION
The pandemic has given rise to some intriguing uses for 3D models. While real estate agents have been giving customers tours using 3D models, Metaverse has been using the technology to improve every other technology already in use in the virtual world!
Challenges in the Gaming Metaverse That Remain to be Solved
Challenges don't always expose us to security risks; they can also present us with fantastic opportunities. Before achieving their full potential, a number of issues must be resolved. The gaming Metaverse is a digital environment where vast amounts of data are uploaded and are prone to hacking and other online crimes.
Check out a few significant obstacles that game developers frequently encounter when creating mind-blowing games.
Data security
Gaming companies will be held liable for safeguarding their enormous data from cyber criminals as players enter more and more personal information into the Metaverse to customize their individual experiences.
Gamers who want to visit thrilling places in the Metaverse won't stay for very long if they believe their data or safety is in danger, according to an EY report.
Gamers, on the other hand, will stick with services and goods provided by organizations they perceive as being open, secure, and reliable. This suggests that brand loyalty and a customized gaming experience depend on cybersecurity.
Not sure how to include NFTs in games
Digital assets that gamers can own in their virtual world are an example of NFTs in gaming, and they have the potential to serve as a foundational element of the Metaverse economy.
According to the EY US report, gaming executives think that greater NFT usage increases customer satisfaction, expands margins, and enhances the visibility of goods and services.
Despite these advantages, 90% of executives said their businesses currently lacked a workable business model to benefit from NFTs.
Services and controls that are suitable for children.
Gamers found it difficult to keep an eye on children's online behavior and warn kids if their avatars are heavily customized. Gaming companies are required to create games with adequate controls and ensure that the experiences are suited to children's ages.
Infrastructural Error
One of the biggest difficulties businesses in the gaming Metaverse face is the lack of interoperability and uniformity between the various Metaverse gaming platforms.
Successful gaming businesses will concentrate on creating NFT technology that supports player needs and on doing so in a way that is advantageous to both players and businesses in order to close this gap.
The gaming industry has not yet reached the level of interoperability needed to create a metaverse for gaming. A single set of Metaverse laws must be developed through international cooperation between tech giants and patent holders, and our technology itself still has a long way to go.
Control over user data
Gaming companies frequently encounter a deluge of user data as they ramp up their efforts to find Metaverse opportunities. Gaming companies need to have professionals or experts working in the background in data analytics and cybersecurity if they are to protect your personal information from cyber attackers.
Engage a specialist who is familiar with the effects of distributed and decentralized ecosystems to solve the problem as soon as possible.
A study found that nearly 47% of gaming executives thought that by hiring staff with advanced cybersecurity skills, they could easily manage cyber risks.
Popular leaders in the Metaverse Gaming industry
The Metaverse's adventure is still in its early stages. The space has only been around for a little more than a decade, but it has already attracted a significant amount of investment. The players and investors are all from various gaming companies, tech behemoths, and others. With Metaverse's increasing popularity in the gaming industry, it is frequently rightly proclaimed that Metaverse is the future of gaming. The following are some prominent players in the Metaverse gaming industry.
DECENTRALAND
Decentraland was one of the first to explore the Metaverse sector for gaming opportunities (MANA). Decentraland bills itself as a virtual reality platform powered by the Ethereum network, allowing users to not only create but also monetize applications and content.
MANA is a cryptocurrency that is based on blockchain and is open to all social gaming platforms. MANA is suitable for a wide range of games including blackjack, poker, slots, and roulette. It is also where players can earn money. Users can earn tokens by playing various games available on the platform.
SANDBOX
Pixowl launched the Sandbox (SAND) in 2011 as a blockchain-based virtual world that allows users to build, create, sell, and buy digital assets through a game. The primary goal of sandbox crypto is to bring blockchain gaming to the masses. The platform employs a novel play-to-earn model, allowing users to become both gamers and creators.
SAND allows players to play, build, own, and control a virtual space while also monetizing their gaming skills on the Ethereum blockchain. The economy of Sandbox is based on NFT assets and user-generated crypto. By collaborating with various brands around the world to provide users with unique and enriching experiences.
META
Meta, formerly known as Facebook, is a brand-new player in the Metaverse gaming community. However, Meta has a history of innovation in the virtual reality space that is quite impressive.
AXIE INFINITY
Pokemon, a well-known video game series, served as Axie's inspiration. Users can collect a variety of virtual pets called Axies thanks to the game's fairly flexible gameplay. In the Axie ecosystem, they are raised, bred, and eventually engaged in combat with one another.
Axie Infinity is a blockchain-based game that gives players complete ownership of the virtual goods they acquire. It was made in 2018 by the Vietnamese gaming startup Sky Mavis.
EPIC GAMES
The virtual reality game and event destination Fortnite is the most well-known product of The Epic Game. Because of Fortnite's enormous popularity, musicians from all over the world have performed live shows using the game's potential to resemble the Metaverse. Epic Games just recently revealed a $1 billion investment plan to build its own gaming-focused Metaverse.
HOW DOES METAVERSE POWER THE FUTURE OF GAMING?
The ability of the Metaverse to provide a space in Virtual Reality that can be used to not only cater toward immersive gaming, but also to provide a space where an individual can get access to Web3, cryptocurrency, gaming, team meetings, and so much more. In plain English, users can experience a lifelike experience that is identical to how they feel in the real world because Metaverse uses technologies like AR and VR to create a more organic experience.
When it comes to the potential for the Metaverse to advance the gaming industry, it is still in its infancy. We only have time to get used to the projects already available to become an expert when the next stage of gaming enters the scene because there are so many projects and experiments underway, and projects like Decentraland and Axie Infinity are already working towards futuristic games!
Why Rely on DxMinds to embrace Incredible Metaverse development services?
DxMinds is a reputable Metaverse development company in India, the USA, and the UAE with years of experience in creating immersive applications.
The team of Metaverse experts can serve you as a strong Metaverse software development service partner to get your project off the ground and running. Among the Metaverse development services we offer are:
Metaverse game development
Metaverse NFT Marketplace development
Metaverse interaction services
Metaverse application development
To get started right away, contact our technical experts.