September 28, 2022
Posted by:

Admin

Category:

Blockchain Development, Technology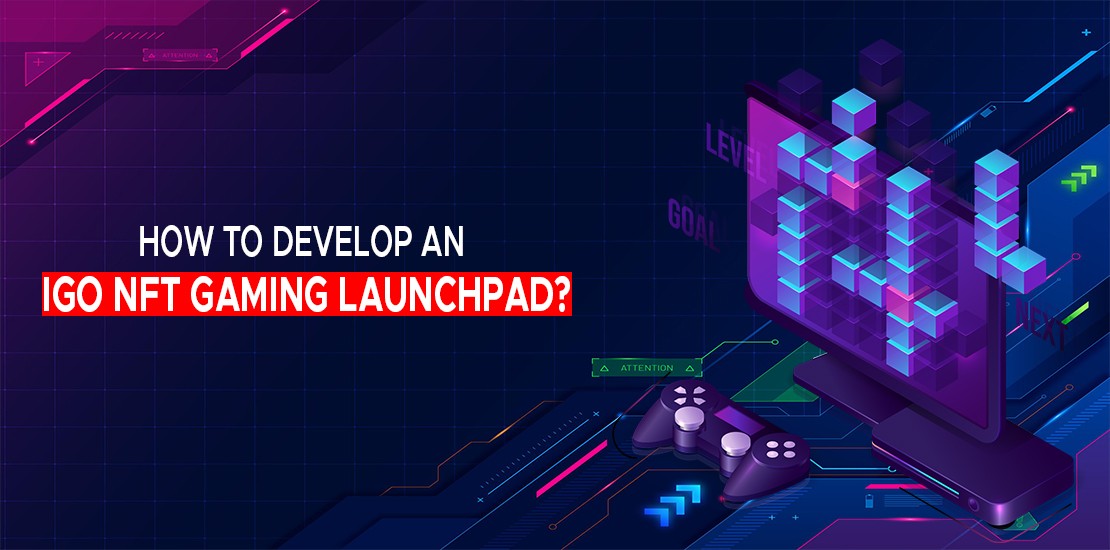 The incredible scope of NFT games has truly astounded the virtual game field! Remarkably, Initial Game Offerings (IGO) are becoming increasingly popular among all crypto investors. Gaming platforms have disrupted the prediction and implementation of technological advancement. Now before entering into the development stage, investors can create an IGO launchpad, blockchain gaming NFTs, digital tokens, and much more. People are thrilled with this type of imagination and creative technologies. IGO launchpad clone enables users to create a space that they can completely exploit to demonstrate the true potential of their gaming enterprise.
Business investors and international entrepreneurs now have a fantastic opportunity to promote themselves by taking part in the initiatives of Non-fungible tokens (NFTs). By releasing the so-called NFTs as a replacement for game assets like skins, weapons, and so forth, NFTs are, in a futuristic sense, pressing the gaming industry to meet the expectations and want of aggressive investors. The idea behind an Initial Game Offering (IGO) launchpad is to pool cash for underdeveloped blockchain gaming enterprises.
Interested in knowing How To Build an IGO NFT Gaming LaunchPad? Then let's get down towards it.
What is IGO (Initial Game Offering)?
An initial game offering (IGO) is a video game financing strategy. IGOs decrease the entry hurdle for participating retail investors by allowing them to secure in-game assets and tokens before they are made available to the general public.
IGO enables wild gamers and hopefuls to play a game that merits greater luxury and worth professionally and consistently. The game developers that create the game of interest will post it on the IGO launchpad to gather funding to finish the projects.
IGOs are distinct from initial coin offers (ICOs) because they are primarily geared toward the gaming sector. IGOs allow developers to directly approach their audience for funding their video game ideas. The blockchain gaming industry has expanded significantly as a result of the increased interest in this kind of launchpad.
The revenue for cryptocurrency gaming projects has skyrocketed. Some well-known blockchain games have garnered multimillion-dollar valuations. Developers appreciate the low barrier to entry and the financial incentives, and they continue to raise the bar on the quality of blockchain gaming projects they release. Each game improves on the previous one in terms of gameplay and functionality with each iteration. Blockchain games presently account for 52% of all decentralized app activity, according to DappRadar research.
Blockchain-based gaming developed by the best mobile application development companies in Dubai will have attracted $4 billion in total funding by 2021. The study also indicated that crypto gaming projects received $1.1 billion in investment in January 2022. Top-tier GameFi projects such as Axie Infinity (AXS), Aavegotchi (GHST), and CryptoBlades (SKILL) have thousands of daily active users.
This data suggests that blockchain games are increasingly being announced and launched through IGOs. An IGO's premise is straightforward. Before the game's formal release, investors and potential gamers can buy into blockchain gaming ventures.
Although IGOs are primarily used for early-stage fundraising, certain IGOs are intended for games that are currently in production. Others only show the beginning concept of a game, which is still a long way from completion.
IGO Fundraising Model
A sort of funding created specifically for ventures in non-traditional gaming is called an initial gaming offering (IGO). It is likely to be other well-known methods of raising funds for cryptocurrencies, such as ICO, IEO, IDO, etc. IGO, to put it simply, is a novel concept for funding video games that utilizes an IGO launchpad to get a game started. Investors research the project as well, and if it seems good, they join the IGO in return for in-game items or tokens. Early adopters or investors eventually profit from assets under their control as the initiative expands.
What exactly is an IGO launchpad and how does it work?
Innovative fundraising ideas and investors are brought together through the IGO launchpads. An IGO launchpad is a location where early-stage blockchain gaming projects can raise financing. Investors buy the native token of an IGO launchpad and use it to fund contributions to the IGOs of their choice.
To invest in the project, users must either pool their tokens or stake them. This is dependent on the Launchpad platform. The players are then given in-game asset tokens, or NFTs, which they must utilize to play the game. Among the most prominent IGO launchpads are GameFi, Seedify Fund, TrustPad, and BinanceNFT.
Features of the IGO Launchpad
Integration with a digital wallet
Pay people or businesses securely in any currency from anywhere around the globe. Allow recipients to select how they want their payments delivered.
Scam-Prevention Measures
Scam prevention measures make your IGO launchpad more trustworthy. Incorporate anti-scam strategies that track proxy habits and other indicators.
Flow trading
Cooling times are no longer a problem in flow trading. Flow trading is used on the launchpad since there is no need to wait for transaction execution.
Transparency
You may gain the trust of users by making everything completely transparent to them. As a result, the source code should be open to public review and verification.
Different Staking Models
Our IGO launchpad generates multiple staking modules, allowing all users to engage in IGOs and so create an ecosystem for them.
Automated Liquidity Pool
Connects your IGO launchpad to an automated liquidity pool, allowing investors to contribute funds in exchange for yield.
KYC (Know Your Customer)
The usage of a KYC in the IGO Launchpad by a top IGO Launchpad Development Company ensures privacy and prevents fraudulent activities.
Compliance throughout the Supply Chain
We provide a decentralized cross-chain fundraising platform that allows projects to raise funding while protecting early-stage investors' interests.
Multiple Chains Support
Multiple crypto wallets must be supported by a Multi-chain IGO launchpad. You can develop an effective crowdfunding site using our multi-chain IGO launchpad solution.
IGOs in NFTs
As with any other video game, players can earn in-game tokens and gain power-ups and special goods. Blockchain games reward players for their investment in the game with tokens that can be traded directly on a cryptocurrency exchange. Nonfungible tokens (NFTs) give significant financial value to established and emerging blockchain gaming enterprises.
NFTs aid in the tracking of in-game assets. Weapons and skins are preserved as NFTs, with their information permanently written on the blockchain. GameFi NFTs enable gamers true ownership of in-game items. Every asset gained, purchased, or generated in-game is recorded on the blockchain as an NFT.
Storing them as NFTs precludes an outside party from modifying the assets. These assets are valued in the game and, like any other NFT, can be purchased or traded on an external market. The in-game tokens and NFTs of the GameFi project can both be traded on a DEX. Players can then exchange their in-game currency and assets for well-known cryptocurrencies such as Ethereum (ETH) or Bitcoin (BTC).
Stable coins can also be exchanged for GameFi tokens. A gamer may also choose to exchange a token for fiat currency. In either case, the money gained in-game is now theirs to trade and is no longer just a video game item. Tokens have long been used in video games with in-game marketplaces. What GameFi does is make it easier to turn these assets into cash lawfully and swiftly.
IGO launchpad clone
GameFi
The GameFi tech start-up business often organizes the initial game offering (IGO) fully. The company is driving the possibility to raise money for potential customers, and as a result, investors will participate in the video game cryptocurrency initiatives.
If it is extremely imaginative and bright, it is taken into consideration regardless of its degree of completion. In essence, it is a rudimentary outline of the game's rules and how NFTs are developed to inform investors about how their money is being spent.
Binance Launchpad
One of the launchpads offers a special system for establishing fundraisers and new coins.
Seedify
A platform created specifically for crowdfunding that encourages business owners to launch great things.
GameStarter
It is used to build an extendable framework for metaverse gaming projects.
Functions of IGO Launchpad
IGO's developers will handle this aspect in a variety of ways, including:
Power of recommendation: To attract the target audience, a developer must quickly promote their ideas on video game projects through methods such as press releases, online chats or podcasts, and forums. To discover users and potential, developers would do market research and count the number of viewers.
Show in pictures: When game developers show a visual representation of the project in the form of artwork or project notes, investors will get a sense of what the game is all about.
Graphical display: Another way to present the public is through a graphical showcase, in which pre-recorded videos are put online to capture the attention of their target audience.
Prototypes: Interactive models are 3D trailers of game concepts that are also pre-released to generate cash. This may or may not be a comprehensive concept, but it will certainly get the interest of our users.
Why Should You Partner With DxMinds for Initial Game Offerings Launchpad Development?
Initial Game Offerings Development creates a gaming launchpad environment for gamers who purchase gaming assets. Game launchpads can be utilized to establish a business. A big investment can be made in it by paying gamers for creating an original project and investors who wish to invest in IGO launchpads.
DxMinds can help you create some of the most popular IGO launchpads, such as Gamefi, Game Starter, Seedify, and others. We are a top-tier Blockchain Development Company that services clients all over the world. Anyone interested in establishing an IGO launchpad can speak with one of our specialists. Inquire with our team for further information and a consultation.