October 2, 2022
Posted by:

Admin

Category:

Travel Technology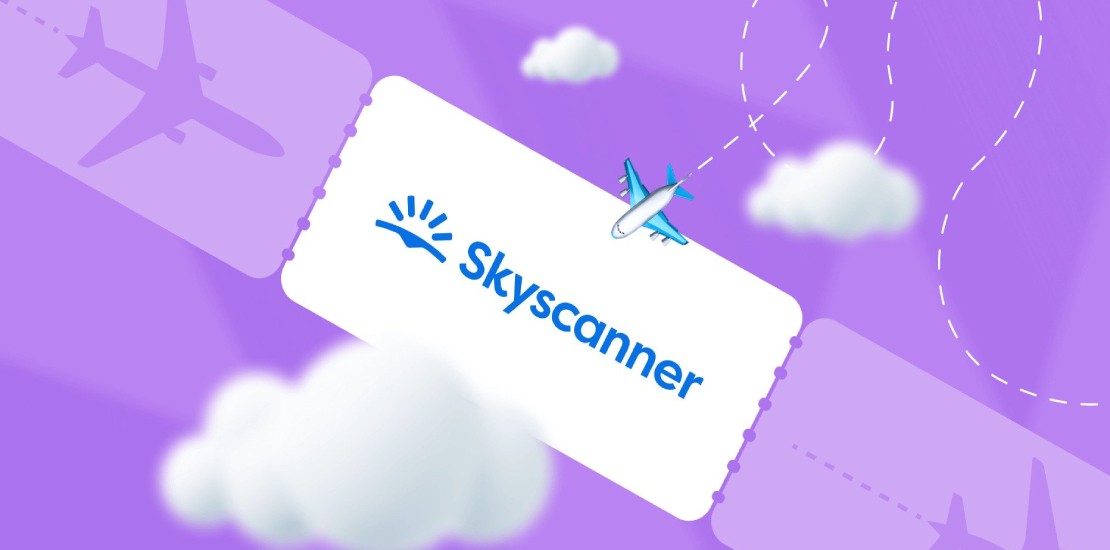 The IT Industry is identified for its faster evolution and technological advancements. Each day in the industry ends up with new ideas and incredible opportunities. According to the preceding line, flight ticket booking app development is the latest craze in town. 
With 43% of people booking their vacations through travel applications, everything has become a point-and-click activity. According to travel statistics, 78% to 80% of the users downloaded flight booking apps, with 60% using these apps on a regular basis.
Amazing isn't?
Among all the fight booking apps, the Skyscanner app has achieved the best responses and downloads covering multiple things from Flight, hotel to car booking.
There is no deny that building such a Flight booking app can give you a big shot than any other thing.
So, the next question that pops into your mind is How Much Does it Cost to Build a Flight booking app like Skyscanner? And How to build it?
We understand the importance of getting a basic perception of cost so that you can plan your budget and other stuff accordingly.
To help you in doing so we have bring down a blog that outlines everything from features, benefits, cost to development of skyscanner.
Now, if you want to stake your claim on this ground, you must be distinct and endowed with all of the necessary qualities. So why go elsewhere when you can get a comprehensive guide to travel app development right here?
Let's go for it.
Our Solutions:

Travel Technology Platform for Hotel Booking, Flight Booking, Bus Booking
What is Flight Ticket Booking App Development like SkyScanner?
The term Flight + Booking + Mobile + App + Development completely describes its meaning in by itself. Flight refers to air travel, booking refers to confirming your occupancy for travel, mobile refers to a cell phone, app refers to your application that assists in making the booking, and development refers to the creation of such apps.
As a result, the overall meaning is the act of creating a platform for your cell phone to book or fix your availability at the respective location. It could be a business meeting, vacation, or casual travel. So it was all about the significance. The existence or development of this business segment in the IT sector would come next. With market speculation, we have gotten stronger and wiser, with superior products that can help you earn a lot of money.
Flight Ticket Booking App Market Stats in 2022
Skyscanner claims to be increasing at a 2x rate. On occasion, bookings are predicted to reach 54% of the total number of bookings.
With the inclusion of AI into the mainstream, around 69% agreed to book in advance, travel safely, and execute automated trip selections.
This specialist industry has experienced significant expansion. User penetration fell by 5.8 percent in 2022, but grew at a 14.5% annual pace by 2026.
With $1.2 trillion in revenue in 2020, the online booking business has one of the greatest market shares. According to estimates, more than 700 million individuals will book their tickets online by 2023.
Revenue production on the flight booking industry has a reasonably high growth rate of 26.67% with US$278,546m in 2022 and is predicted to keep expanding with $71704M by the year 2026
According to a report, the average Indian customer spends 4% of the cost of travel tickets. On exceptional events, the rate of booking increased by 25 to 30%.
What is Your Platform Choice to Build a Flight Booking app Like Skyscanner?
Once you choose the sort of application, you can build whatever app you want. The target demographic, the service you are offering, its usefulness and your budget all play a significant role in determining the type of application. Three main versions are the main focus of such app development:
Native app
Native app development is specialized choice that is created for a single operating system. Therefore, you have the choice of an iOS app or an Android app. The native app uses coding patterns from Kotlin, Swift, C++, React, the incredibly popular Python development, etc.
An app's ability to operate quickly and provide a seamless user experience are advantages of building it for a native platform. The requirement for duplicate codes raises the price of development, which is one of its key drawbacks.
Hybrid
With less expense and compatibility with all platforms, including iOS, Android, and Windows, hybrid app development is the practical option. The use of languages like HTML5, Objective C, and others makes creating hybrid apps simple. Users have a faultless experience thanks to these applications, which function as web apps.
Because hybrid applications are useful for a broad range of users, most clients prefer to own them. With our cost-effective options, you can definitely reach your target market with a ground-breaking product.
Web applications
Like native apps, web apps also run and function on your phone through the browser. These are the websites that you access from your desktop or mobile device and which adjust their user interface to fit the screen size.
The key advantages of getting a web app are that it doesn't need to be customised and is compatible with platforms like iOS and Android. Additionally, neither the Play Store nor the App Store offer downloads for the apps
Therefore, if you are planning to build a flight booking app, you must choose the platform first then decided the features that listed below
Specifications of the Custom Flight Booking App Development
Setting up business goals is always made easier by keeping an eye on the feature. Features are the elements that propel your business and aid in achieving the intended business goal. You are already far ahead of your rivals when you enter the market with a distinctive feature set. Our Android and iOS app developers provide you with solutions that become industry standards thanks to their technological know-how and practical experience.
With technical talents and industry experience, our Android and iOS app developers provide you with solutions that establish industry standards.
Easy Registration
The first impression is the final impression, and this is true for app development as well. When users initially begin using the app, the first step is to sign up. When users swiftly log in to the app, this is an example of flawless application development. Simple sign-ups are the rungs on the success ladder.
This procedure should be kept as simple as possible. It should not be complicated, and accessing the website should be as simple as feasible. Login with an Email ID or Contact Number and Password.
Travel Bookings
Flights may be booked in a matter of seconds with this feature. You choose your destination, then the appropriate date, and you are ready to book flights. With our travel booking app development, booking flights is simple and accessible from anywhere in the world. You will also learn about the flights that are available to the specific destination. Time spent between flights, etc. This makes travelling as simple as possible.
Hotels Available Based on Reviews
Based on the Star Ratings or Reviews of the clients, the hotels or villas at the specific location are listed on the app. The 4+ Star rating and positive reviews determine the best places to stay. Then, until a 3 or 2, the rating and reviews decline.
The app doesn't draw attention to the sites or areas with negative evaluations or ratings from customers.
Artificial Intelligence in Flight Booking
The Artificial Intelligence (AI) solution is another fantastic element added into the online flight booking system. It aids in anticipating the optimum time, flights, rates, and so on for you. AI is proliferating like wildfire in the travel industry.
Flight Confirmation Status
Once you've booked a flight, you can see whether it's confirmed or not. If the flight is still on hold or is not being booked via the app, this allows you to consider other possibilities. Skyscanner app provides the status on the confirmation of bookings
With such functions and cutting-edge technology, we ensure that you stand out from the competition in the market
Get Ahead With Scalable Airline Application Development Like Skyscanner
Everyone strives for advantages or benefits when it comes to the creation of any application. The sections provide sufficient information on the advantages of developing a travel booking app like Skyscanner. These benefits make it simpler for the mobile app development team to reach the market and provide high ROI. If you have any questions, you may reach out to our team at any time.
Multi-language support
When it comes to entering the app, the primary necessity is to configure the login language. There should be no ambiguity. Any candidate can set up and adjust their language options at any time by including such functionality.
Tempting Booking offers
The users can ask for special packages on lodging, eating, or travel when it's their big day or someone else's. Any user can confirm as many tickets as they want with the app. This means you won't need to look all over for additional ways to get tickets. With the same login information, you can reserve several tickets at once.
Easy access to flights
Numerous applications do not simultaneously offer domestic and international flights. You risk losing a lot of money and running into difficulties in this case. Domestic and international flights can be booked in one location thanks to the creation of an innovative flight app.
Regarding both domestic and international flights, you don't need to worry. At this one-stop shop, everything will be verified.
Payment Gateways
When it comes to booking, the payment alternatives are immediately shown. The payment gateways associated with the apps are very secure and reliable, ensuring that your payment information is kept as secure as possible. Simultaneously, you have access to all payment gateways such as Google-Pay, Paypal, Payzapp, and others.
Predictive Analysis
As the article describes the deployment of AI in the travel business, apps are working their way towards predictive trip analysis. One may accommodate what is the best time or season for traveling when the trip would be cost-effective, what are the flight fares, train fares, and so forth.
Multi tickets booking
You can book multiple tickets at once. The app construction nowadays is so advanced that the multiple ticket confirmation capability is also included. Users can pre-book their venues when traveling for a vacation or a business meeting. 
Push Notification
The true business of travel is based on fliers, e-brochures, SMS, and e-mail marketing, among other things. The flight booking app development gives you the advantages of sending timely notifications and doing the aforementioned promotional actions. These encourage consumers to book their travels through your app, generating revenue in the short run.
Business Model
Every industry has seen a shift in its patterns as time passes. So in the flight booking app. To compete with industry norms, the marketplace provides numerous opportunities to new entrepreneurs, business tycoons, and service suppliers.
So let's have a look at them.
Dedicated Model
A single platform is in charge of serving individuals in this type of business model. Get the best offer on one platform, rapid searches, easy cancellation, time-saving journeys, and everything allowed inside the platform on the phone.
Aggregator Model
Businesses, merchants, and service providers are all grouped under this paradigm, with a price list for each category. When a user books one of the flights, they are forwarded to the payment gateways.
How to make a profit from Flight Booking application like Sky scanner?
There are numerous ways to earn money or generate business revenue through flight booking application development. These comprise some methods or business modules that will increase your flight sales and give a long-term customer base.
Implementing the following features could be one of these strategies:
Merchant Model: Users can book one-way or round-trip flights at their leisure.
Commission Fees: You can earn good incentives or commissions by listing the top hotels on top.
Advertising model: Hotel and airline advertisements are displayed on the app, and users are paid per click.
Social Media Campaigns or Promotions: Users distribute promotional offers for their apps across several social media networks. Earn money by promoting social media.
Because you entered the market with the goal of making as much money as possible, the airline application development process must incorporate as many functions as possible in your web application.So this is the complete revenue generation process of the flight booking app.
How to Build a Flight Booking clone app like Skyscanner?
Let us focus on the most important aspects to consider when designing an app:
1. Choose Your Business Niche
Any advancement occurs for a reason. You must have a clear idea of your company's goals. Only after that will you be able to attain the highest development results. Decide whether you want to have a hotel booking app or a whole travel booking app. When you've decided, include some fast login or signup pages in your application
2. Pick the convenient platform for development
It is necessary to decide if your app will be a native app, a hybrid app, or a web app. Choose the platform that will have the most impact on your app development costs. Native, in compared to the other two, will be slightly more expensive because it is created for a certain operating system.
However, if you need an app that is compatible with all platforms, such as iOS, Android, or Windows, Hybrid is the ideal option. As a result, a timely choice on the app deployment platform is also required.
3. Flight and Destination Integration
Now, the development must include popular destinations, locations, and domestic and international flight booking possibilities. You might get good finance and partnerships from firms like Indian Airlines and others.
4. Maps and directions
Locations on maps and travel directions are also encouraged by flight booking app like Skyscanner. This allows every user to estimate their travel time and plan accordingly. Maps also show you the sub-locations you can visit.
5. Secure Payment Gateways
Nowadays, security is strongly recommended. Security is the first thing to consider while developing apps or using payment gateways. Any information entered by a user while doing transactions or booking flights must be as secure as gold in a vault.
After getting to know every imperative fact of flight booking app, now its time to move forward towards
How Much Does It Cost to Create a Flight Booking Application like Skyscanner?
The cost of developing a flight booking app like Skyscanner can be determined based on the features included. The features described in the blog are the essential features of any travel app like Skyscanner
Based on these characteristics, the following cost was expected in the creation of travel booking like Skyscanner
Skyscanner like a travel booking app may take around 1000 hours.
If we calculated the price per feature, it would be in the $50 to $100 per hour range.
Therefore, the total estimated cost to develop a travel or flight booking app like Skyscanner ranges from $50,000 to $100,000.
When estimating the cost of developing an booking software, the cost of entering the market may appear a little greater, but the income it produces makes the investment worthwhile. We provide the top on-demand mobile app development services at a fair price and under time constraints. We recognize how crucial it is for you to enter the market at the ideal time for the greatest rewards.
Conclusion
The development of flight booking apps is the newest trend that is sweeping the globe like the wind. Everyone who used to like taking naps or getaways from life now chooses to travel instead of taking a snooze at home. In order to quickly increase corporate income, visibility, and brand value, the development of flight booking has emerged as a new market. You are undoubtedly in the right area if you want to get into the industry to capitalize on the trends that tourists are currently adopting. Just be sure to select the flight booking app development business that will enable you to maximize your advantages.
Read Also:

How Much does it cost to develop NFT Marketplace in Dubai?

How Much does it cost to develop a Mobile Application in Bangalore?

How Much does it cost to develop a Mobile App in Mumbai?

How Much does it cost to Develop a Mobile app in Chennai?

How Much does it cost to develop a Mobile Application in Pune?

How Much does it cost to develop a Mobile App in Kolkata?