Travel Technology Platform
Level shift your travel business with DxTravela
DxTravela, a one-stop, power-packed solution is all your travel business needs to shift from level A to Z. As you are the owner of a travel company, the nimble DxTravela has a handful of services embedded to assist you throughout your journey. The impeccable travel solution curated by the pioneer mobile app and digital transformation company, DxMinds Innovation Labs, automates the whole landscape of your business for the good.
DxTravela goes hand-in-hand with your existing frameworks
Whatever your existing frameworks be, DxTravela always stays on top of it. It can be seamlessly integrated to travel businesses of any kind. Right from ticket booking to hotel booking and flight booking, DxTravela has it all covered and on-boarded.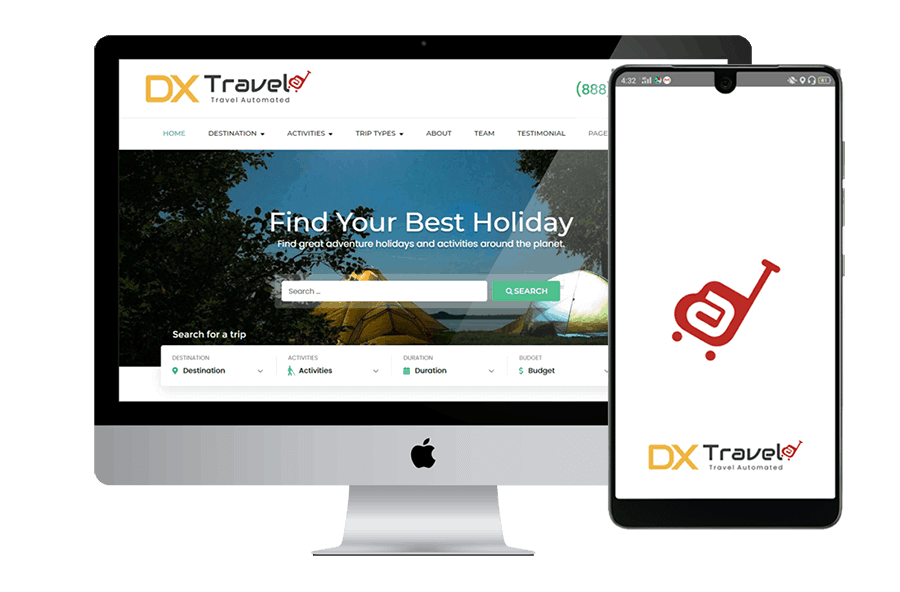 Give your travel agency, the wings to fly
Why limiting yourself when you have immeasurable possibilities to grow your business and get flourished? With DxTravela comes much power. It pushes your business forward breaking all the constraints and help you stay ahead of the competition. Integrate DxTravela on to your business, just sit back relaxed, watching DxTravela work for you.
DxTravela houses plenty of cutthroat solutions for your business
Holiday Packages
Airline Reservation System with GDS Integration
Car Rental Solution
Bus Ticket Solution
GDS Integration Solution
Event Booking Modules
Bring to fruition, the art of mastering your travel business by leveraging DxTravela
Having hands-on top of your travel business using conventional ways can be hard at times, but not anymore. Thanks to DxTravela. DxTravela gives you more power to master the art of running a travel company in hassle-free ways.
Deep-root your customer trust
Any company that offers the best experience to its customers will generate huge revenue and will be a part of history. Your travel business will be one of such kind if you have DxTravela right with you. It helps you offer seamless services to your clients, amid situations of any kind. Build your emporium right away with customer loyalty as its firm base. DxTravela, the best travel technology solution provider helps you nurture your clients thereby prompting them to be regular beneficiaries of your business.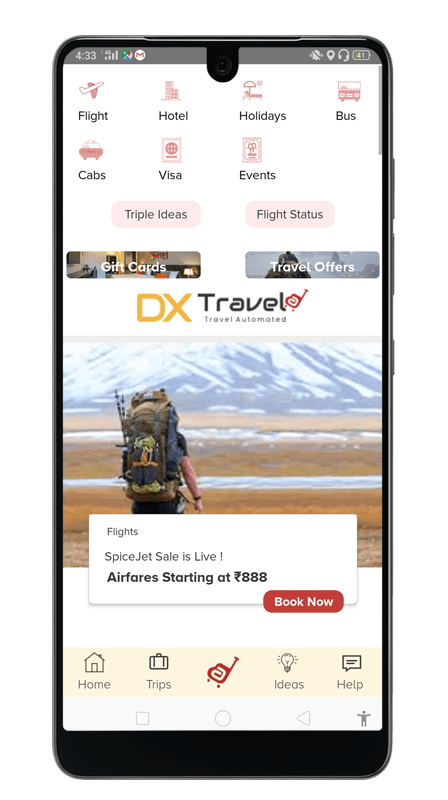 Why even your business needs more of DxTravela
Agile model development
Cut-throat Technologies
The high degree of customization
Hassle-free ways of third-party integration
Extended admin console
Enhanced payment gateways of your choice
Go live in just a couple of weeks
Highly reliable scalable and affordable
Responsive layout
Seamless integration of multiple APIs and multiple GDS
Economical and budget-friendly
Promotions and advertisement management system
Corporate booking management system
Why wait when you are just DxTravela away from your success
Deploy DxTravela onto your current business environments and experience how we are capable of making your business fly off the shelves.