October 10, 2022
Posted by:

Admin

Category:

E-Commerce App Development, Famous App Analysis, Mobile App Development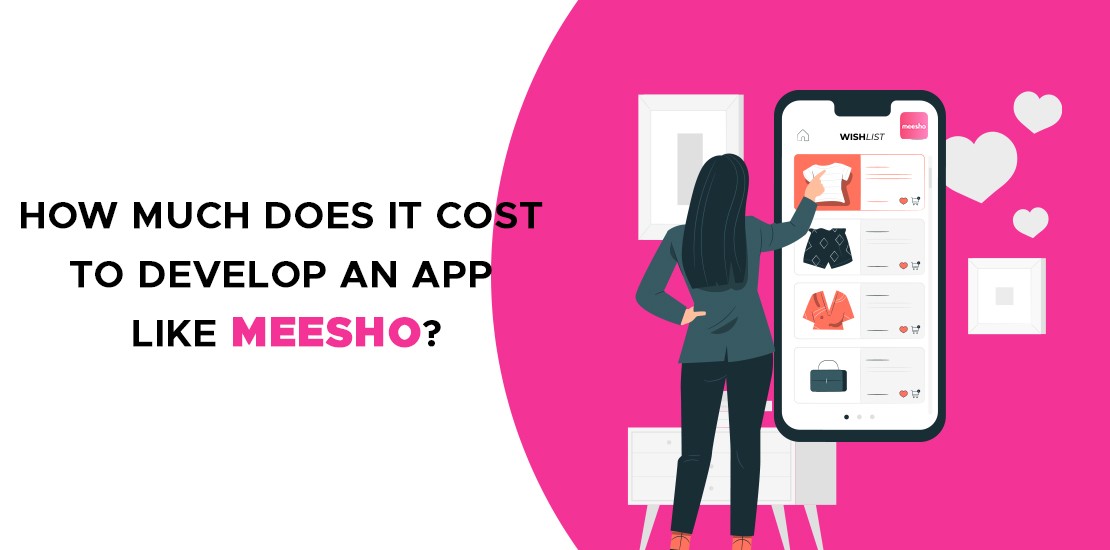 Reselling through the app is an extremely lucrative concept- Not only providing opportunities for normal retailers/ wholesalers but to anyone who is wishing to start their own business for very less investment. With such a brand-new concept, Meesho has arrived and become a one-spot destination for retailers, wholesalers, purchasers, and consumers that dream, to begin with, something.
Reseller mobile apps, such as Meesho, are built on this business model and have exploded in prominence in the pandemic year of 2020. During the Covid-pandemic and lockdown phase, most people were looking for ways to build their online businesses, and Meesho at that time turned out to be the hero.
The key concept of this app that made it exclusive is that resellers especially home-based businesses can earn money without the need for big inventory management or capital.
It is now one of the most inspiring stories in the reseller app world, defining itself as a premium online multi-vendor marketplace availed by 1 crore + Resellers.
Coming up with such a unique business idea where everyone is on the same page of making a profit with minimal investment can enable you to spark differently.
Now, the concept of uniting all types of resellers under one place has got viral, exciting entrepreneurs to build an app like Meesho and increase their revenue to the sky's limit, as well as allowing the ones who are unable to bring their shop to the internet platform.
Read Also: Meesho Business Model and how does it work?
The big question here is "How much does it cost to develop a Reseller app like Meesho?"
In this blog, we will disclose the business strategy of a reseller app like Meesho, the features of the Meesho clone app, and the Meesho clone app development process or cost to develop a reseller app like Meesho.
We will also tell you how you can make money with the Meesho clone and how much the Meesho clone costs, as well as the average cost, to design a reseller app like Meesho
So, continue reading till the conclusion!
The invention of the Meesho Reseller App
The inspiration for developing reseller software like Meesho arrived for a social reason. The founder's vision was to open up opportunities for people to start home-based enterprises, allowing them to supplement their income.
They were especially concerned with motivating housewives to start something on their own with no investment. The wave quickly caught up with other small and medium-sized businesses looking for internet outlets to sell but lacking the funds to construct their storefront.
Meesho began with a small selection of popular product categories, primarily fashion and electronics. With the app's traffic rising over time, its customers expected much more. The new product categories are as include:
Household
Accessories
Fashion for Men, Women, and Children
Kitchen items
Gift Cosmetics
Grocery and necessities
Meesho has raised roughly $215.2 million in total funding from venture capitalist heavyweights such as SAIF, Sequoia Capital, RPS Venture, Facebook, and others, and has experienced 50x growth in less than a decade.
Meesho has experienced unprecedented success and a slew of milestones, with over 1 crore resellers listed on the site. This has paved the road for numerous businesses to try their hand at creating a similar mobile app to Meesho, where they do not need to build a full-fledged eCommerce website.
Now, let's take a look at the most critical aspects of developing a reseller app like Meesho and how much money you should set aside to do so.
Market Research
Before you go into the development phase, you must research the market in which you intend to launch the app. Perform a short SWOT analysis to assist you to sort through the advantages and cons of getting into this industry.
Make a list of your direct competitors in the space and match them to your geographical reach. You will encounter severe competition from established firms such as Amazon, which likely controls the majority of the eCommerce market share.
The best part is a reseller app like Meesho has carved out a place for itself, and that's where you should concentrate your efforts. You may make a similar Meesho app with unique and noteworthy features and a good, user-friendly design.
Choose a Specialization
Consider your selling strategy. Do you want to be a platform that links local businesses to the community, or do you want to go all in and create an app that allows buying and selling across borders?
It is critical to focus on the market. This is the initial step before you do anything else. Next, create a list of product categories that you wish to promote in the app. Set up a team to create merchandising for each unique category, which should be ready before you launch the application.
Establish Your Product
Make a list of your app's unique selling points (USPs). There is little chance that the platform will find any takers in the market after launch unless you sufficiently explain what your software offers to the target audience. Focus on the most effective benefits:
Excellent Quality
Best price-to-quality ratio
Luxury \Aspiration
Must-Have
Create a value proposition. Answering these essential questions can help you get through the process faster.
What kind of product or service does the app platform offer?
Is there a list of advantages for the end user when they download the application?
Who exactly is the intended audience?
Have you differentiated your offerings from those of your competitors?
Coming up with unique product features in the case of reseller apps may be a difficult task because the functionalities are pretty much the same across the board.
You can, however, provide some kind of service or value that entices your target audience to download and begin utilizing your platform.
Here are some topics for discussion:
Shipping is complimentary.
Next-day delivery is available.
Purchase Bonuses
Return policy
Price reductions
Customizability
Sellers can post their products for free.
Make a list of features
Before deciding on a feature set, make sure your priorities for what you want the app to deliver are clear. Additionally, the kind of features you select highly impacts the Meesho-like app development cost Next, divide the list of features into:
Reseller App Seller
Supplier App
Admin Panel
Reseller App Features
Registration
The user registration procedure is the initial step in the creation of any mobile application. This is accomplished through the use of an email address/mobile phone number and a password combination.
Furthermore, to further ease the procedure, mobile apps typically use social media profiles and Google ids as a one-step alternative to register on apps.
Authorization
After completing the user registration, the app sends an authorization that checks the user details such as the email address and cellphone number that were used to create the account on the app.
Search Filters
Again, this is a basic feature in most eCommerce apps today. The search filters are intended to make it easier for prospective resellers to hunt up goods of interest. Adding advanced filters such as price, product category, size, brand, location, and so on further streamlines the search results.
Product Feed
Reseller apps offer a product feed that shows the consumer a variety of products. This is typically created while taking into account a variety of factors, including customer interest, previous purchases, browsing history, favorite product types, brands, etc. The stream is dynamic and continuously updates itself.
Product Categories
All reseller apps must group the products they list into categories and subcategories. This makes it simple for the potential reseller to browse the products.
Product page
Every product should have a specific page where details like the product's description, price, the seller's contact information, the time frame for delivery, etc. are captured.
The idea here is to include pictures and consumer reviews. Resellers can check that a product satisfies all of their requirements before sharing it with their networks by enabling a product view.
Image Recognition
Using modern Artificial Intelligence and Machine Learning technologies, the image recognition functionality allows the reseller to take a picture of a certain item that they want to sell, and the software recognizes it automatically. The reseller is led to the appropriate category without having to go through the complete browsing procedure.
Offers and Discounts
Every reseller appreciates cash backs, discounts, sales, and special offers. As a result, you must have a specific feature that displays ongoing specials and promotions, which drives more sales and money for both the reseller and the platform.
Product Catalogues
The unique product catalog feature of reseller apps enables the reseller to directly share the product or the whole catalog with their networks via social media accounts, WhatsApp, or email.
Product Comparison
While users always like to compare identical products with their closest competitors outside of the platform, having a built-in product comparison option can be significant value addition.
Buyers can compare similar products featured on the application to make a quick purchase decision. Adding this creative feature will allow your consumers to study items or services without leaving the app.
Reviews and Ratings
Resellers should have a place where they may share product and customer feedback and ratings. This increases trust in the product and the source, prompting other prospective resellers to spread these catalogs with their networks.
Geotagging
You may make your meesho app stand out by integrating a function that aids in market localization. By filtering by area, the reseller can narrow down their product search. This helps produce search results that are tailored to that area.
Push Notifications
App upgrades, offers and promotions, new products, out-of-stock items, and so on must all be sent to the reseller. All of this is simple to do with the push notification feature. You can also send users personalized warnings and messages.
Shopping Cart
When a reseller is ready to buy an item, he or she can add it to the shopping cart with a single click. This allows the reseller to keep track of all the products they want to buy and go over them one more time before checking out and paying.
Payment integration
Payment gateways are required for reseller apps. The reseller might choose to pay for the item before shipping or send it as a COD order. Most apps have basic connectors such as Debit or Credit Cards, Net Banking, Google Pay, UPIs, eWallets, and so on.
Delivery & Tracking
Once the order has been placed with the seller, the reseller must have a process in place to trace the order from despatch to delivery. There should also be the opportunity to return or exchange the product after delivery, which should be trackable and monitored via the app's platform.
Payment tracker
Payments for COD orders are sent straight to the platform. This should be trackable by the reseller till it reaches their bank account.
Ratings and Reviews
Resellers should have a place where they may offer product and customer feedback and ratings. This instills confidence in the product and the source, prompting other prospective resellers to spread these catalogs with their networks.
In-app chat
Having an in-app chat function for every eCommerce organization helps handle resellers' problems promptly. It can also be used to link resellers and suppliers. This can let them bargain on prices, discuss payment methods, or even organize a meeting.
Refer and earn
When resellers begin to perform well, they will look for other ways to supplement their revenue. Having a refer and earn section can quench their appetite for adding additional resellers to the network while earning a nice commission on the referral.
Loyalty Program
Your resellers will only stay with your app if you have a loyalty program that keeps them coming back to your platform.
Aside from these standard features, you may want to think about incorporating some sophisticated functionality on the reseller front of your application.
Seller or Supplier Features
Registration
Every seller or supplier who wants to sell their items through the reseller application must also sign up for the platform. The approach is identical to that of the Reseller app. Sellers must register to put items for sale and select prices, among other things.
Item Management
Sellers can use the Item Management module to list their items. They can enter basic product information here, such as a description, price, material, dimensions, delivery term, refund policy, product photos, and so on.
Inventory Management
This functionality enables sellers to easily add, view, publish, and amend products on the marketplace while also tracking product status.
Order Management
Sellers can process the order once the reseller has confirmed it on checkout and payment.
Customer Feedback
The merchant can see customer reviews and respond appropriately.
Shop Statistics
Sellers can examine real-time statistics and insights into how well their stores are performing on the app's platform. They can view insights on which products are selling out, which items are lagging, any customer complaints, shipping updates, and so on.
Push Notifications
Sellers, too, need to be kept up to date on what's new with the application, planned promotions, notifications, and so on. Push alerts can also be useful in this case.
In-app Chat
Sellers may have queries as well. This can be swiftly remedied by connecting them with the platform's seller support department via the in-app chat feature. Furthermore, the in-app chat can serve as a bridge between resellers and suppliers. They can use this channel to set up meetings.
Admin Panel Features
Authorization through email or OTP
After verification, the administration verifies user credentials such as email addresses and mobile numbers that both the reseller and supplier use to create accounts on the platform.
Reseller Management
The administrator manages all aspects of the reseller through a specific reseller administration module on the admin panel.
Product Management
While the seller uploads all product information, it is the admin's responsibility to validate the information before it goes live on the platform. Incorrect information can lead to reseller frustrations and complaints.
Seller or Supplier Management
The administrator manages all aspects of the seller or supplier through a separate reseller administration module on the admin panel.
Analytics
Admins can view the big picture of their reseller business.
Real-time analytics allows businesses to maintain track of and monitor crucial information such as the most popular items, overall sales/revenue, purchase patterns, user session times, and so on.
Order Management
Although the seller processes the order, the admin controls the process and guarantees that delivery occurs on time. They also follow up with the seller if there are severe delays in product delivery.
Support Request Management
The administrator moderates all support requests and forwards them to the appropriate departments for resolution.
How to Make Money from Meesho clone?
You can opt to monetize your reseller app in a variety of ways. Here are several revenue-generating opportunities:
Subscriptions/Membership Fees
While the initial signup may be free, there is a membership fee structure or a subscription model in place for resellers to resale from the platform. This can be a little fee that allows them to access more advanced capabilities of the application.
Insertion Fees
The application may charge sellers or suppliers a fee to put their things for sale on the application. If a vendor lists their goods in two categories, they must pay the cost for both.
Advertised Listings
Sellers can pay for sponsored listings to feature their products near the top of the category.
Seller Commissions
Every item sold by a listed supplier through the app's platform pays the marketplace app a commission.
Transaction Charges
When a transaction is completed, the app receives a commission from the payment gateways, which might be a percentage of the sale or a fixed cost.
In-app Advertising
When the reseller app has received a considerable amount of user traffic, the app can allow third-party advertising to be shown at defined real estate on the platform. This advertising system enables vendors to attract users by providing them with personalized offers and internal suggestions.
What is the Cost to develop an app like Meesho?
The cost of developing an app like Meesho varies depending on your specific needs, such as the location of your team, app platform, app features, app type, and other development factors.
On average Meesho app, development costs can range from $35K-$100K based on your project concept
The following is an estimated breakdown of your mobile app development:
The hourly cost of developers
| | |
| --- | --- |
| Countries | Cost per hour |
| Meesho like app developers cost in India | $15-$80 |
| Eastern Europe | $55-$180 |
| US | $88-$250 |
| UK | $90-$250 |
| | |
| --- | --- |
| Technicalities | Cost |
| Front end-back end development cost of Meesho like app | $6000-$11000 |
| Meesho like app UI/UX design cost | $400-$9000 |
| QA and testing | $4500-$5500 |
| Wireframe | $600-$2700 |
How DxMinds can help you to make a profitable Meesho like app?
Despite its technical complexity, creating a reseller app like Meesho is not difficult when you hire a reputable Mobile app development company like DxMinds. Everything is dependent on how successfully we conceptualize, strategize, and execute the project.
You are already halfway to victory if you begin on the right foot!
FAQ's
What is the team structure required to Build a Reseller Market place like Meesho?
Unless you hire a skilled full mobile app developer, creating a desirable reseller marketing app can be frightening. As a result, you require the services of an experienced and specialist team of developers that can complete the project.
This project's team will look like this:
Project manager — 1
Business Analyst — 1
Backend developer — 1
UI/UX designer — 1
Dev/Ops — 1
Android developer — 2
QA engineers — 1
What technology stack should be used to develop a Meesho Clone?
Mobile Platform – Android, iOS
Web – .Net, PHP, JS etc.
Push Notifications – Twilio, Push.io
SMS, Voice, and Phone Verification –Nexmo, Twilio
Payments – Braintree & PayPal, Stripe, EWallets
Database – MongoDB, Hbase, Cassandra, Postgres, MailChimp Integration
Cloud Environment – AWS, Google, Azure
Real-Time Analytics – Hadoop, Spark, BigData, Apache Flink, Cisco, IBM
Read Also:

How Much does it cost to develop NFT Marketplace in Dubai?

How Much does it cost to develop a Mobile Application in Bangalore?

How Much does it cost to develop a Mobile App in Mumbai?

How Much does it cost to Develop a Mobile app in Chennai?

How Much does it cost to develop a Mobile Application in Pune?

How Much does it cost to develop a Mobile App in Kolkata?