November 19, 2022
Posted by:

Admin

Category:

Famous App Analysis, Game App Development Cost, Game Development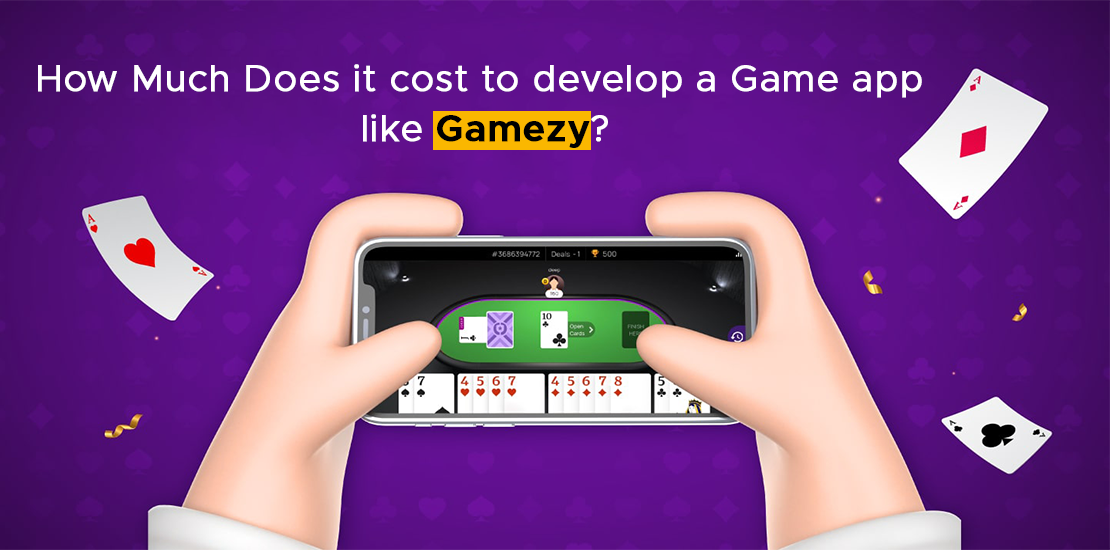 The concept of fantasy games has gained tremendous popularity all over the world. These games have a sizable fan base, and they are expected to advance further in the future.
Due to its widespread appeal, investors and businesspeople are compelled to create a fantasy sports app like Gamezy and expand its user base
No matter how experienced or inexperienced a player is, they want to get their hands dirty while engaging in mind-blowing experiences while playing unusual games.
Numerous sports fantasy apps, including Dream11, MPL, and others, are currently dominating the fantasy sports app market. One of the most widely used real-time fantasy sports mobile apps, Gamezy draws millions of players to its platform.
Gamezy, which was introduced in 2017 by GamesKraft, offers multiple games, fantasy sports, rummy, and poker that can be played in 8 different languages. With special features like 2nd innings, Live Fantasy, etc., it has gained popularity and amassed more than 1CR+ players!
Wondering how mobile apps are influencing the sports industry, If you've decided to create a gaming or sports betting app like Gamezy then this article is for you.
The creation of a potential sports betting platform necessitates the development of ideas, designs, features, development, testing, and maintenance.
Related Article:

How Much does it cost to develop a Game app like RummyCircle?
Before that, it's imperative to get a basic idea about the fantasy sports app like Gamezy so that you can plan your budget accordingly
Navigate through the blog to know everything
What is a fantasy sports app such as Gamezy?
Sports have existed forever. We've come a long way from being a self-indulgent activity to a social gathering or big-budget entertainment event. Throughout history, new games have been created, some of which have since faded away.
However, they all shared the fact that in order to participate in the game, you had to be present in person at the venue or playing area. The advent of fantasy sports apps, however, brought about a complete paradigm shift.
Both users and businesses are adopting this idea more frequently. The originality of the concept is the main justification for this. You must first understand what a fantasy sports app is in order to grasp this.
Users can engage in online sports through their mobile app using this "fantasy" application. The sport of choice can now include more mainstream fantasy sports app niches like Football, as well as sports like cricket, hockey, and basketball. Players can form teams on the platform and compete in tournaments or against other players. The player is essentially the same as a sports manager, to put it another way.
The popularity of the fantasy cricket app is largely due to the simulation's accuracy. This is another reason why fantasy sports app users outnumber traditional sports participants in today's market. As a result, there are many opportunities for generating revenue that, when properly utilized, can lead to millions of dollars in revenue for businesses. Moving on, the section after this one will cover how fantasy sports applications function.
Among fans of fantasy sports, Gamezy is a well-known brand. Its ground-breaking business model draws a huge number of users daily to the intriguing platform. There are numerous fantasy sports such as Rummy, poker, and more available on Gamezy, and players can select and play indefinitely in the sport of their choice.
Do you wonder why players adore Gamezy so much? Well, the tempting rewards scheme is what encourages more users to join Gamezy frequently. To reward the winners and build brand recognition so that more players will download their app, Gamezy offers cash prizes and bonuses. Additionally, they have a very interactive user interface that always makes gaming easy, fun, and adventurous.
Market Analysis for the Sports Betting App Sector
In the first quarter of 2022, the market for international sports betting surpassed $231 billion.
With over 25,000 active businesses and almost 245,000 employees, the fantasy sports sector is well-represented in the market for sports betting apps.
In 2019, the US is one of many nations that participate in the global market for legal sports betting. By the end of 2028, it is predicted that US sports betting will generate $10 billion in revenue
The total value of bets made was $4.6 billion in March 2021, of which only sports mobile app bets accounted for $3.1 billion, or the market for online sports betting apps.
The size of the global fantasy sports market is anticipated to increase to $6.11 billion from 2022 to 2026, with a CAGR of roughly 6.51%. This graph shows the fascinating statistics of the global fantasy sports market.
Working Model of Fantasy Sports app
Fantasy sports applications, on the other hand, are simple to use. On the popular fantasy sports app, players can play one match per day. This is made even more intriguing by the fact that it uses cutting-edge AI and machine learning technology to produce real-world results. This means that players can pool their talents and knowledge to form the best possible team. Winning also results in rewards, which keep players interested.
Here is how a fantasy app Work:
The first step is to download the fantasy app from the Apple App Store or Google Play. You can start by registering yourself once you've downloaded the app to your device. While some fantasy apps only allow you to choose from one sport, others offer a variety of sports options, letting you move forward by choosing any of them.
It's time to create a team after selecting a sport. Although this procedure varies from app to app, it is generally the same.
Once your team is complete, pick a captain to serve as its leader.
From this point forward, you are free to upgrade or alter the team as you please.
A fantasy app works in this way. And because there is no storyline, the game has no end, unlike the majority of other games.
Top Notch Features to Be Integrated To Build a Fantasy Sports like Gamezy
Your primary focus should be on the features and functionality of your sports app if you want any application to be successful. The features of sports betting apps can be divided into two sections:
User Panel features
Admin panel features
Keep in mind that these features determine your app's USP and have an impact on the cost of developing fantasy apps like Gamezy.
Features of User Management
The user panel's features make your app user-friendly and aid in maximizing engagement for your users and subscribers. These features are available on the user panel:
Sign-in – This enables users to register on your sports betting platform using their email addresses, phone numbers, banking information, and more. For a simple onboarding process, you must also enable users to sign up using their social media accounts.
Live scores – This makes it easier for users to follow the progress of online games or wagering matches. Users can also use player or team performance analysis to make wagering decisions.
Results notifications: In this case, push notifications are used to inform users of the match results.
Ranking and upcoming events – One of your sports betting app's best features is the ranking feature, which makes it convenient for users to wager on a specific team or player based on their rankings. Additionally, you can use the upcoming events feature to inform your users of upcoming games and events.
Offers and betting advice – In a sports betting app especially, it is always preferable to reward your loyal users with enticing offers and discounts.
In addition, make sure your fantasy sports app always has a "betting tips" section for new users to help them learn more about the game.
To set your sports betting app apart from the competition, you can also add advanced features like in-app video calling, live streaming, app updates, etc.
Features of the Admin Panel
The admin panel's purpose is to have control over user actions and the overall functionality of the application.
User Management
By including this feature, the administrator can keep an eye on what users and regular bettors are doing in the app. The admin can use the user management feature to ban any user from the application in the event of any malicious activity.
Price and payment management –
This aids the administrator in keeping track of the payment that was received from the user as bet money and later distributing the payment price among the winners.
Game management
In this section, the admin can easily modify the specific event or game of their choice and manage any active games.
Marketing tools – From a financial standpoint, marketing tools are absolutely essential for your sports fantasy app. Here, the administrator can use a variety of marketing techniques to send advertisements, social media messages, etc.
Content management – The features of the content management system enable the administrator to change the app's content, including its language, accessibility, updates, and deletion.
Now before understanding the cost of the Gamezy app, let's know the major factors that influence the cost of Fantasy sports apps like Gamezy
Factors Affecting Gamezy like Fantasy sports app development cost
Unquestionably, one of the first factors to take into account when creating a real-time fantasy sports app like Gamezy is the cost. You must first estimate the cost of development, whether through freelancing or hiring a fantasy sports app development company, in order to determine the project budget.
The cost of creating a mobile app for real-time fantasy sports like Gamezy is influenced by four key factors.
We'll examine each aspect in more detail now:
1) Platform
Which platform should you use to develop your Fantasy mobile application like Gamezy?
When you consider launching an app, this is the first thing that pops into your head. But there are only two choices when it comes to mobile apps.
You have the option of iOS or Android.
Your project's cost will be significantly influenced by the platform you select.
Gamezy operates its fantasy sports service on both platforms and ensures service reliability and security on Android and iOS platforms. The team uses the Amazon RDS for Aurora for high performance.
The cost of creating an app for iOS is generally considered to be much lower than that of creating one for Android because iOS is more compatible with a wider range of devices. Therefore, choosing a platform before working with a fantasy app development company is essential. However, you should create your app for both platforms if you want to reach more potential customers.
2) Technological Requirements
The right tech stack should be chosen after you've chosen a platform. You must be capable of responding to inquiries like:
– Which programming language do you want to use, or which database will you use to store data?
– You must also choose whether you want to build your software natively or use a cross-platform framework.
– You can determine how much cost you'll need to spend on developing your mobile app by answering all of the questions above. To make an informed choice, it is a good idea to first speak with your development partner.
3) Features of the Fantasy Sports Mobile App
The features of your app will ultimately determine whether it succeeds or fails. It follows that the functionality of your app will have an impact on the cost of your development project.
Depending on the features you decide to include in your tool, the cost of developing a fantasy sports app like Gamezy will vary. The process will cost more if you choose to include premium features like leaderboards, expert analysis, live match streaming, multiple payment methods, and multi-platform support.
Whatever you decide, there are a few things your real-time fantasy sports app must have in order to succeed. Next time, we'll talk about the premium features that sports betting app should include
4) Engaging with an Expert Fantasy sports Development Partner
Last but not least, the Gamezy fantasy sports development cost or any other sports app ideas will depend on the Fantasy app development company in Bangalore India you select. Working with a development partner who can help you create an app at a fair price and who has the necessary experience, resources, and goodwill is essential.
Check out some of the most popular sports apps created and developed by DxMinds, share your requirements and get to know their development process.
A sizable portion of your financial outlay will depend on how well-optimized your development process is. Your mobile app will be created by the best minds and state-of-the-art tools with the aid of a reputable development partner who will advise you wisely, help you avoid mistakes, and use only the best tools and resources. The geographical location of your developers will also have an impact on the project's cost.
Now that we've examined the factors that have a direct impact on the cost of developing a sports app like Gamezy, the main question that arises here is How to Make Money from Fantasy sports app development.
It's the perfect time to join the game by developing your own fantasy sports app as the trend for such apps is currently sweeping the globe. What you need to know, however, if you're still stumped on how to monetize your sports betting app.
Let's figure out
How Do Sports Fantasy Apps Make Money?
Fantasy sports apps use a variety of monetization strategies to generate income on Gamezy. If you're considering how Gamezy makes money, you should be aware that an app may combine one or more of these strategies, or it may employ all of them simultaneously. Let's examine how to earn money on Gamezy with that in mind.
Participation Fees
The majority of fantasy sports apps primarily earn money by taking a small cut of the buy-in price. You can decide what portion of the total amount of money you'll take off for each buy-in.
Advertisement
Making money on Gamezy mobile app is simple as your platform grows in popularity because you'll be able to sell advertising space on it to brands and businesses. Sports-related brands and leagues are always looking for platforms with a high level of fan participation.
User Engagement Models
Users can take part in daily or weekly competitions with fantasy sports apps like Gamezy. User engagement and revenue both increase as a result.
Sports betting apps are the latest generation of apps that allow users to legally place bets on the games of their choice. Sports betting apps with great monetization strategies and results, but make sure you have a trustworthy sports development partner on your side.
Delving towards the limelight of the blog
What is the cost to develop a Fantasy sports app like Gamezy?
Creating a real-time fantasy sports mobile app can be difficult. Every day, millions of people use popular fantasy sports sites and apps like Gamezy, which are evolving the pace of the sport
To ensure that your app can handle a large amount of traffic, you'll need to invest in a high-quality backend and servers. Furthermore, these platforms necessitate a slick and appealing user experience that is both exciting and simple to use.
Based on the factors discussed above, the average cost to develop a Fantasy sports app like Gamezy will range between $15,000 and $100,000.
If you want to build a sports app with simple features and for a single platform, the estimated cost to build a sports app like Gamezy can fall between $8,000-$10,000. However, if you want to create an app with extensive features for more than one platform, the costs can reach $60,000 or higher.
How DxMinds can support in achieving user winning Fantasy Sports app?
Leading fantasy sports app developer DxMinds has a history of producing engaging Android and iOS apps for big-name companies.
Among our premium sports app development services are:
Mobile game development
3D game development
AR/VR game development
Metaverse game development and more
Our highly skilled team of programmers, designers, and gamers creates impressive sports and gaming apps for businesses using cutting-edge technologies and mobile programming techniques. Speak with one of our experts to begin your journey right away.
Conclusion
There is always time!
If you have cricket app ideas and you keep thinking about creating an app like Gamezy dream11 and MPL, remember that many people are already working on and creating such apps. And each one of them is vying to develop the top fantasy sports app.
As a result, you should now move forward as well. Additionally, the popularity of cricket shows no signs of abating, so the market for fantasy gaming apps is still booming.
Utilize this chance, and with our assistance, launch your own, custom Fantasy sports app like Gamezy. Take advantage of the vast number of cricket supporters in our nation and win the cricket season's championship.
Frequently Asked Questions Regarding the Cost of Developing a Sports Betting App
1) How Much Does the Gamezy fantasy app cost?
It can cost up to $10,000 to develop a sports app similar to Gamezy. The Gamezy mobile sports betting app can also cost up to $90,000 if you want many features and availability for multiple platforms.
2) Where can I get a detailed overview of the cost of the Fantasy sports app?
You can consult our experts at DxMinds for more specific information and receive tailored insights on your app idea.
3) How long will it take to build a Gamezy-like Fantasy sports app?
It can go around 10- 15 weeks to build a fantasy sports betting app based on the complexity of the app and many other factors
4) Which is preferable: an application on a hybrid platform or applications on both native and Android platforms?
A mobile app's success is greatly influenced by its user interface and user experience. This is possible with the proper application of native iOS and Android app development. This is due to the fact that the success of the app depends entirely on sports fans.