April 9, 2021
Posted by:

Admin

Category:

Famous App Analysis, Game App Development Cost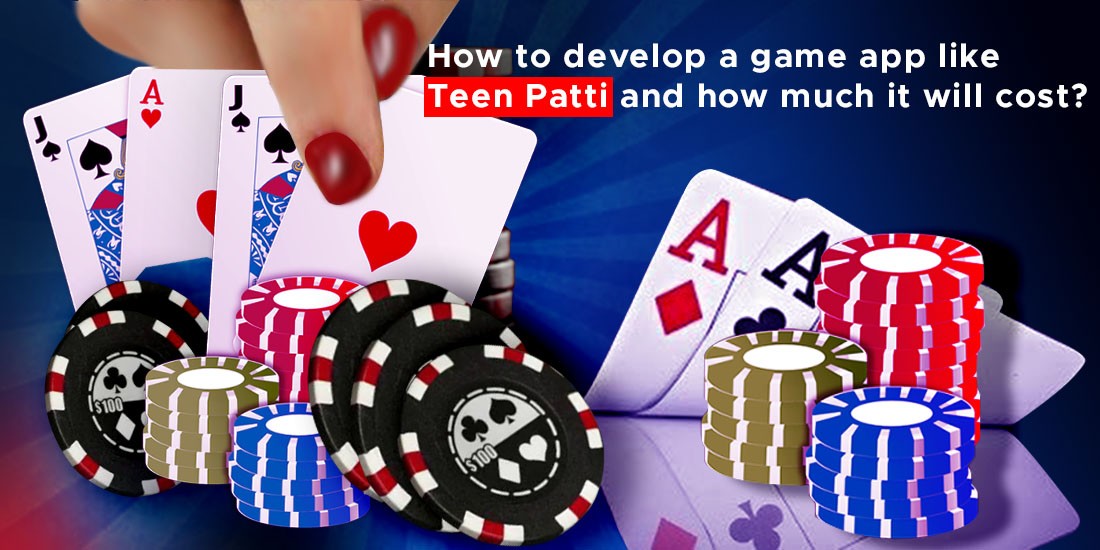 Important aspects you shouldn't miss out for the successful development of a game app like TeenPatti
Indian poker, also known as Teen Patti has always been the favorite game of Indians, also this game has attained great fame in other countries too. Are you in the gaming industry and willing to expand your verge with an exciting game like TeenPatti? There are several online Indian poker games available on the play store, but how many of those are successful? If you are willing to step into the gaming sector with a thriving and engaging Teen Patti app, then you might be having several questions and must be curious to get detailed information about it, such as the cost to develop an app like TeenPatti, technologies used for Teen Patti game app development, and most importantly the salient features that can magnetize your targeted audience to use your app and stick to it longer.
If your questions are the same then you are at the right place. Here we will be discussing the development process, technologies used, features incorporated, and most importantly online Teen Patti game development price.
Let's first get to know what is Teen Patti and how it is played online.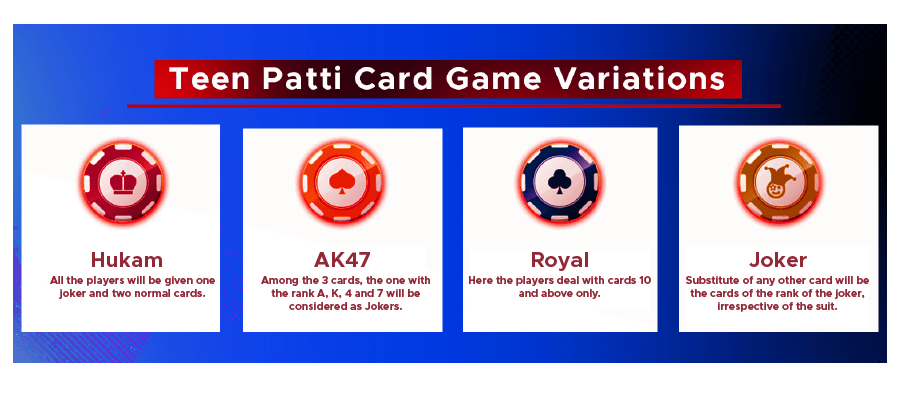 Teen Patti is termed as an Indian form of poker which is a streamlined version of the same. It is played over several south Asian countries. It is betting of cards played among a maximum of six members with three cards each. Before the players manage their cards, they call for a boot sum which is contributed equally by each of the players.
Initially, the boot sum is kept least at the center of the table where the game is being played. As the game progress and entertainment increases with the intensity of the game, players will increase the sum and the winning player will receive the entire sum. The winner is announced after looking at the final hand of every player, the one who owns the best hand will win the game.
If Teen Patti is a new game for you and you are willing to know the patterns of hands to be made to win the game, then have a look at the examples of Indian poker hands that can be a winning one based on the hands played by the companions. A few hands that you can make while playing Teen Patti are:
Get a Free Consultation
Amazing features that must be included in the Teen Patti game app development:

Basic Front end features:
Live game chat
First-person game view
Personal avatars
No-limit tables
Fixed limit tables
Free daily chips bonus
Easy and attractive user interface
Facebook integration to invite friends to play
Animated navigations to make the game more interesting
Basic Backend features:
Easy downloads and installation process
Timely updates
The live score is available on the user's screen
Multiplayer options
Compatible with all mobile platforms with equal efficiency
User-friendly interface
Other features that must incorporate for user engagement:
Wallets
Daily bonus
Joining bonus
Leader boards to track your achievement and track with others
Themes
Multiple currencies
Integration with Facebook
Multilingual options
Tournaments (online and with your friends)
The technologies used for Teen Patti game development:
Android, iOS, web, and cross-platform app development
3rd party applications such as payment gateway and communication channels
Nginx for proxy server and HTTP
Twilio, Push.io for push notifications
To integrate SMS, phone, and voice verification, Nexmo and Twilio are used
Emails services are integrated with the Teen Patti game using Mandrilltechnology
MongoDB, Postgres, and Cassandra are used as the based
To give a robust cloud environment AWS is used
Solution architecture of Teen Patti game: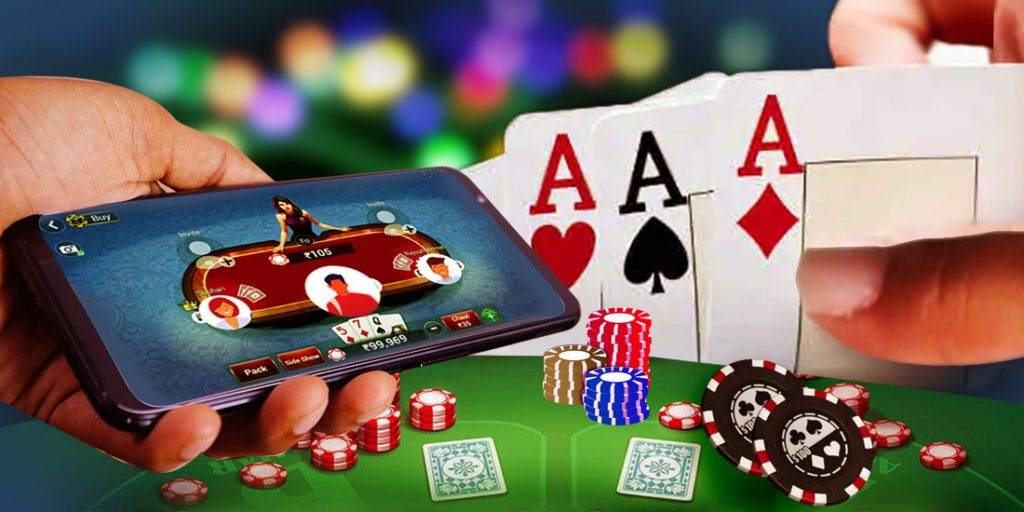 Feature enriched Teen Patti game development cost: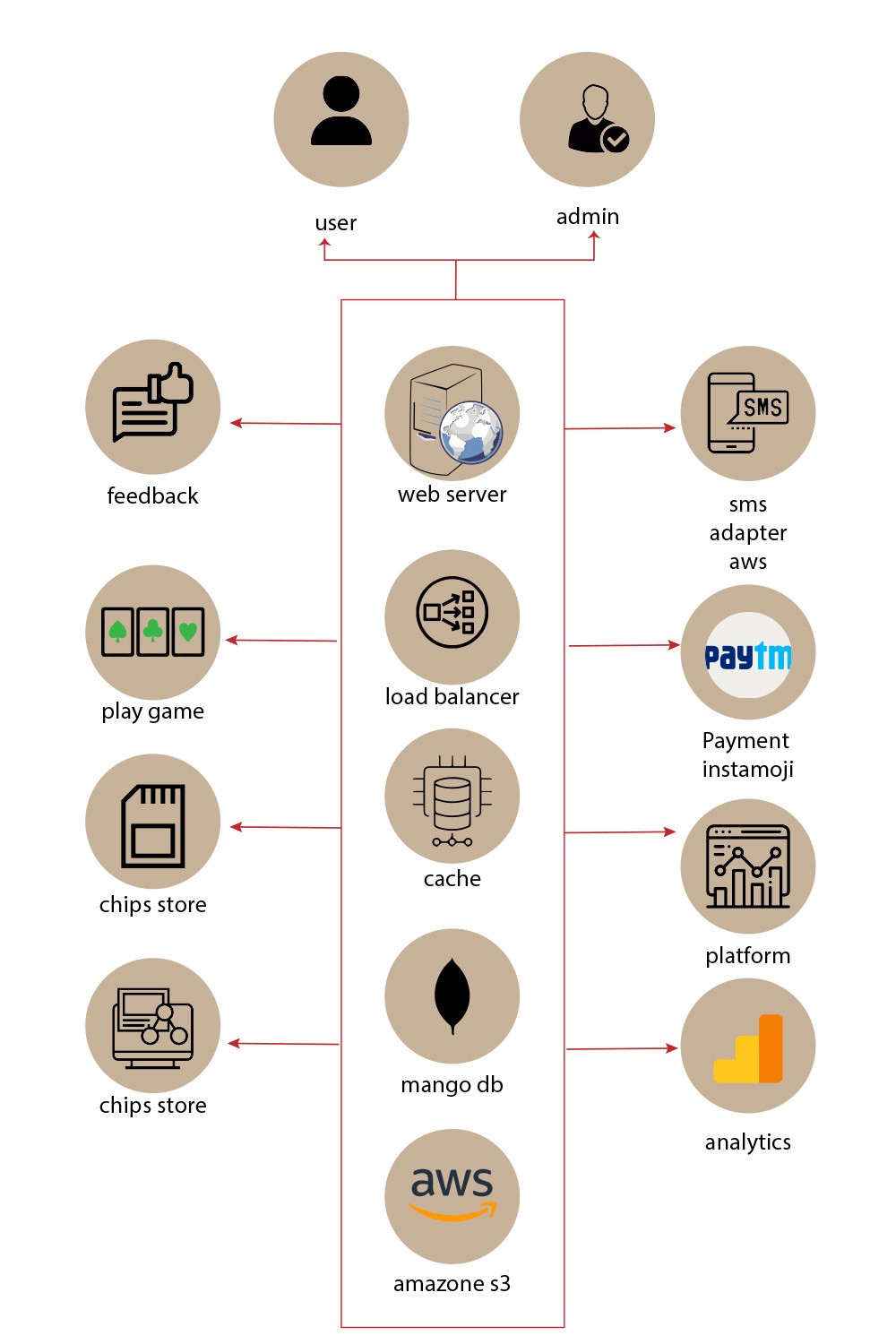 The making cost of a game app like Teen Pattiwidely depends on the requirements of the clients. There are various components included in the Teen Patti game app development, such as size, multifaceted players, a platform to develop, and many more. Another factor that can put a major impact on your Teen Patti app development is the geo-location from where you are choosing your professional team.
The two major locations which are well-known for mobile app development services are India and the USA. Let's compare the hourly cost of a game developer in both locations.
The cost of game developers changes based on their experience and the skills they master. Hence an average cost range is given below which may change with the transit of the IT sector and requirements.
India: An average cost of Indian game developers ranges between $25-$75 per hour
Eastern Europe: An average cost of game app developers in the USA ranges between $50-$150 per hour
If you are willing to know the cost of the game app development like TeenPatti more precisely then it is important to know the estimated hours of development. Below we are listing the average counts of hours required for each development phase of mobile game app development, it may change with the requirements.
Client board development: 350-400 hours (average)
Admin panel development: 130-190 hours (average)
Design: 50-80 hours (average)
API development: 90-120 hours (average)
Final note:
Are you wondering which technologies you must opt for to develop the best Teen Patti gaming app and does the cost of TeenPatti game development is the biggest concern? The average cost of a game app development like Teen Patti ranges between $25-$150 per hour based on the professionals you are choosing. In this blog, we have mentioned details about the making cost of the Teen Patti app with the essential features required to make your app beat the competition and rule the game industry.
FAQs:
What is your expertise in developing games like Teen Patti?
We have top professionals in our game development team who have worked with top brands and hold experience in developing all types of games for different platforms using the latest technologies. We have gained expertise in developing custom game apps that render your ideas and develop the best possible solution.
How to earn money from game apps like Teen Patti?
The game industry is growing beyond the sky limit giving several opportunities for entrepreneurs to earn. If you are willing to develop a game like Teen Patti with the experts of DxMinds that ensures the development of your app in the most enthralling manner that serves you with unlimited traffic to your game app, ultimately helping you to earn money from different sources.
What makes DxMinds worth choosing as the game app development partner?
One of our major USPs is our prolific team with experience of several years in the relevant industry and mastery over the latest game app development technology. The second potential aspect that makes us the right partner for your game app development is a robust portfolio that comprises different types of successful apps with 100% satisfied clients.
How much does it cost to develop an app like Teen Patti?
The development cost of game apps like Teen Patti varies with the variation in requirements. The major factors that constitute the development cost are the complexity of the app, the platform chosen, supported languages, multiplayer options, third-party app integration, and many more. An average cost of a game app developer may range between $25-$150 per hour.
Experts are Just a Click Away