December 9, 2020
Posted by:

Admin

Category:

Mobile app developers, Mobile app development cost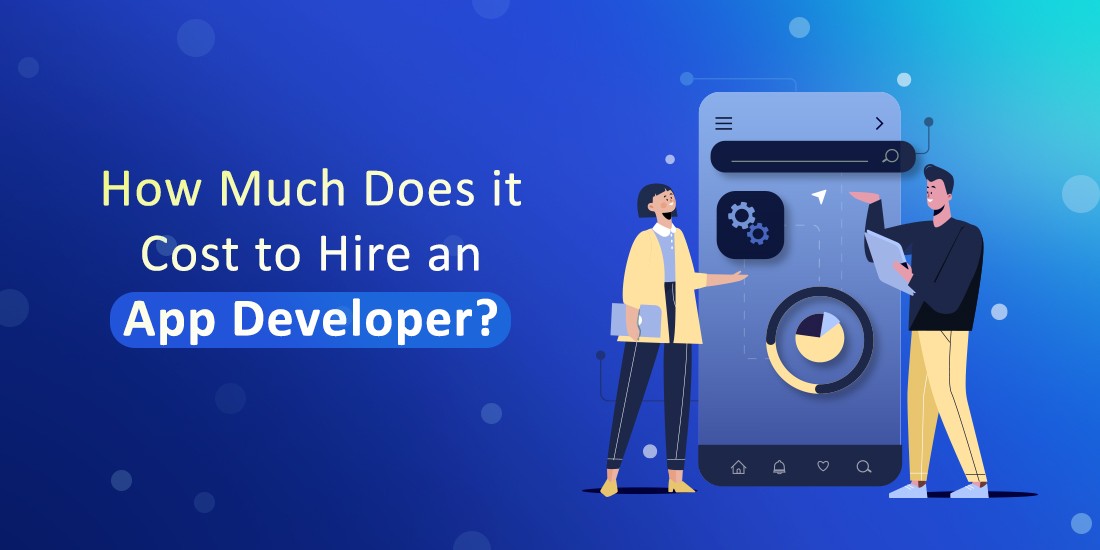 It is a digitized world where every business is onboarding digital platforms to expand its reach over the worldwide market and mobile app domination among all the digital interaction options. Are you an entrepreneur and willing to hire an app developer who can help you develop a top-notch app empowered with unique and trending features? Regardless of your business domain and size, a mobile app can help you scale up your business with heavy traffic to your business portal and rapid revenue generation. The growing rate of smartphone users with the exponentially accelerating numbers of internet-savvy folks has given an insuperable solution to businesses to stay at the screen of users' devices and seek their attention frequently to browse your services and products. Businesses from various industries are offering distinct solutions for various requirements with a wide range of products and services. To widen the area of services and expand revenue, businesses have migrated their physical business to an online one.
Most businesses withdraw the idea of hiring app developers, thinking it will add an expense to their capital investment but forget to count all the benefits they will avail from the app in the near future till the long run of their business. If you are also thinking about your capital investment and are willing to know the cost to hire a mobile application programmer then you are on the right page. As you know there are several countries renowned for serving the best mobile app development services and with the emergence of offshoring development team trends most businesses get confused with the selection of country and team to get the most affordable team. Here we will discuss the approximate cost of app programmers in top countries.
Cost to Hire a mobile app developer:
Location and experience have a great impact on the cost of an app developer. Before hiring a mobile app programmer you must keep a keen eye on the standard of living and economic condition of the country. Most businesses are turning towards India to hire the best app developers and the reason is cost-effective yet quality solutions offered by Indian app programmers. While selecting a team for your app development you can choose the team or a professional based on your requirement, either you can hire a dedicated team or else you can choose a monthly or hourly basis. The average costs to hire app developers from various countries are listed below:
Hiring mobile app developers in India:
As per the studies conducted over the global market, it is depicted that hiring an app developer from India will cost you around $42k-$52k per annum. The average pay scale of the developers varies based on their skills and experience. Breakups of the salary of an app developer in India are listed below:
iOS app development cost: $18-$40 per hour
Android app development cost: $20-$35 an hour
The annual salary of a skilled developer may range between $38k-$48K per annum for a junior developer and the range may spike up a bit when it comes to hiring an experienced mobile app developer.
For a full-time developer, you need to pay other remunerations also which include supplementary payment costing around 3% of the basic pay, annual paid leaves making a sum of 7%, insurance for 8% of base salary, retirement funds, and many more.
Hiring app developers from the US:
The market research on earnings of app developers in the US depicts that the average annual salary of a developer in the USA ranges between $80k-$185k depending on your requirement and the selection of app developer also. The above-mentioned salary breakdown has been mentioned below:
Range of a developer's salary: Depending on the experience of a developer the salary of the developer changes. A junior app developer in the USA charges approx. $64-$110 and the salary of an experienced professional ramps up to $140.
Other remunerations:3.2% of net salary is added to the gross for the additional supplements. The insurance charges approx. 8% of the net salary, paid leaves, and retirement fund makes a sum of 10% of the net salary.
Adding all these expenses the gross salary of an app developer in the USA ranges up to $185k-$190k per year.
Hiring mobile app programmers in the UK:
Folks working in the UK get a personal allowance of £12k which is a perk over their salary regardless of the sector they work for. Also, the income tax of an employee is paid by the employer. The income tax in the UK is comparatively higher than that of the US but the salaries are lower. The average salary of a UK developer ranges in between $47k to $90K.
Taxes: 20-40% of the taxable amount of the employee's salary
Insurance:12% of the salaries of employees sums up to $4,600 per year
Pension plan: 3% of the annual salary is paid by the employer per year
Cost of hiring app developers in Australia:
Research conducted on Australian developers states that hiring a developer from Australia may cost you around AU$50K-AU$100K per year depending on the experience of the developer. The employers are also supposed to pay a yearly bonus to the employees which is excluded from the calculated average. The cost of a yearly bonus may range up to AU$500-AU$10000 depending on the net salary of the employees.
All the above depictions are approximate figures and the range of the remuneration may change based on the qualities, experience, and the type of app development you choose. Based on all the figures, if you are willing to choose the most affordable but quality services then hiring an app developer from India is a wiser choice. Comparing all the expenses, the cost of hiring app programmers from India is approximately 50% lesser than the of developers from other countries.
Other reasons that back up the decision of hiring app developers from India are:
There are a plethora of reasons that are pulling up entrepreneurs from around the globe to hire the best developers from India and give them the best results in return. If you have chosen India as your destination to hire your expertise team then here are more reasons that justify your decision:
Global recognition:
India has been ever-leading in the race of technological advancements and top professionals using the latest technologies for amazing technological innovations and transformation. The qualities possessed by the Indian app developers have not been hidden anymore, and even big brands across the world are hooking up with Indian talent to drag the technology to their country and boost up their business domain with new trends.
Huge tech community:
In India every year approx. a million students graduated as software development engineers with various specifications and skills in the latest technologies. Choosing India to hire your app development team will open you to a talent pool where you have millions of options to choose from based on your requirements. Here you will get every type of talent and a wide range of experience.
Quality:
Almost big brands popular for offering the best quality services and excellent applications have their offshore development centers in India with the most talented professionals working on their app development and maintenance. Indian professionals are working hard to make all those big brands even bigger with top-quality services.
Global industry leaders:
With the growing years, India is expanding its existence all across the globe and now in the year 2020, it has become the global technology leader with the maximum number of top and renowned brands working with Indian professionals.
Solution for startups:
Most start-ups struggle to find the best team to initiate their process with a successful approach and the main reason behind it they can either choose cost-effective professionals who are less skilled or else they can choose the most talented professionals but the cost ramp-up. Hire mobile app developers in India a one-stop solution for all the start-ups to cut down their expenses and get the best and the most skilled professionals at an affordable price without compromising on quality or technology.
Where to find the best professionals in India?
If you are willing to choose your professional team from India then you have got a plethora of options to build your team with great ease. You can choose offshore development companies like DxMinds, or you can go with freelancing sites like Upwork and Fiver, or else you can also filter out professionals from social media platforms like LinkedIn. Well, selecting professionals from social media or networking platforms can be a tough task for you and can be time-consuming too. Taking assistance from offshore development centers is the right option to hire the best app programmers in India with no time and effort.
Compare the cost to hire app developers based on technologies in India and other companies:
| | | | | | |
| --- | --- | --- | --- | --- | --- |
| S.No. | Type of application | Hours required for IOS | Hours required for android | Hourly rates in India | Hourly rates in other countries |
| 1. | Basic app | 90-160 | 90-180 | $15-$20 | $50-$120 |
| 2. | Chat/Message app | 600-700 | 700-750 | $20-$30 | $70-130 |
| 3. | Gaming app | 450-500 | 550-600 | $30-$40 | $90-$120 |
| 4. | Data Base app | 150-200 | 160-230 | $15-$20 | $50-$100 |
| 5. | E-commerce app | 250-270 | 300-350 | $30-$35 | $100-$150 |
| 6. | Social media app | 300+ | 350+ | $25-$35 | $80-$110 |
The above values are an average that is charged by developers all across the world but the price may vary based on their skills, experience, and your requirements too.
What you must consider while hiring an app developer from India?
When you step out to choose a team in India you will get a plethora of options with several offshore development centers skilled in various app development vertexes. But one fits all will not work for app development. Based on your requirements and the objectives you are willing to achieve will put a great impact on your team selection. Here are a few major aspects that you must consider while choosing your team to get the most out of it.
It is very crucial to list down each requirement for your app that includes:
The objective of your app
Estimate for the time and cost
Quality of the desired app and end-result
Share company information
While selecting a team make sure to share optimal and appropriate details about your business, your objectives to achieve, the objective of developing an app, targeted audiences, targeted market, and other related information. This will help the developers to attain a better understanding of your business and serve you with the best solutions.
There are several platforms and app types available in the market but all might be not fit for your organizational goal. You need to conduct thorough market research or must ask the experts to decide on a particular platform and type of app which can serve you with the most dynamic results.
Technical features you need in the app:
The present technological world is emerging with multiple features in mobile and other applications making the users much more comfortable with the easy interface and options to find the apt solution for their requirements. The choice of platform and technology will decide the performance, responsiveness, loading speed, and budget of your app. Hence, conduct a deep research before filtering out one option.
The design of your app plays a crucial role in grabbing the attention of your targeted customers. You must choose the best interface that can make your customers feel comfortable and simple. You must choose the best designs that can make an appealing approach for your business and make it stand out from the rest.
Conclusion:
Hiring an app developer can be tedious for an organization, but several offshore development centers can help you to build your team from various corners of the world. The cost of hiring mobile app programmers can vary from location to location and the experience of the candidate. There are several countries renowned for offering the best quality solutions but all are not affordable and pocket friendly. If you check globally, the US, UK, Australia, and India are renowned for app development but most businesses are turning towards India to hire the best developers and get the best solution for their requirements. The cost of Indian developers is 50% lesser than other developers comparatively. The professionals of India are much experienced, talented, and deep-rooted with the latest technology and capable enough to serve you with outstanding solutions.
FAQs:
What is the average cost of hiring an app developer from India?
The average cost of hiring the best app developers from India varies with the technology you choose, but an average range of cost is $18-$50 per hour making it an affordable deal for your business.
Does hiring an app developer from India offer a simpler way of project management?
India is growing at a fast pace and is incorporating the latest technologies. For project management also they have incorporated the latest tools which allow them to share every detail of the project with the client sharing details about the development, testing, and deployment.
Is there any risk in hiring app developers from India?
Hiring app developers from India is completely safe. The professionals you get in India are experienced, well-rooted with the technology, and honest with their professions. They are dedicated professionals and serve you with 100% efficiency.
Can we build an app that can work on IOS and Android too?
You can hire professionals with skills in cross-platform development which can help you develop an app that can be coded in a single programming language and can support both platforms.