October 11, 2022
Posted by:

Admin

Category:

Famous App Analysis, Mobile App Development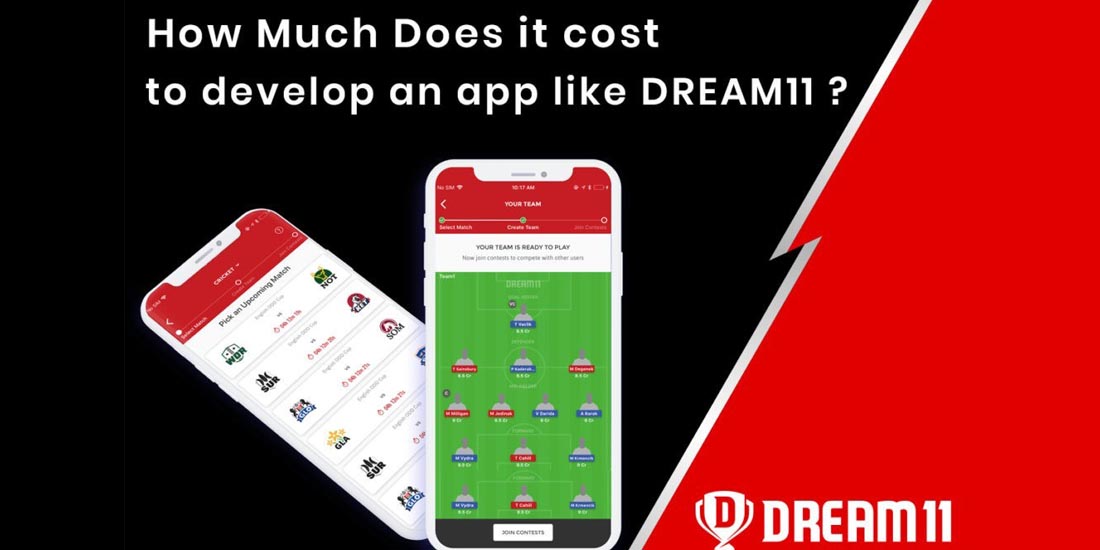 Do you want to know how much does an app like Dream11 cost? We will definitely guide you!
Normally, the cost of developing an app like Dream11 starts from Rs 30, 00, 000 per platform. Price May vary based on platforms, features & functionalities.
At first let's have a detailed study on Fantasy Sports.
What are Fantasy Sports?
Fantasy sports are the types of games where users can host real sports players in their virtual team. How the player performs in the fantasy sports will be based on their real-time performance. Fantasy sports has literally fuelled up the gaming industry. It is an online platform, where the sports fans can boost their engagement and excitement towards their favorite games by participating in live matches. In return, they can earn cash in terms of bonus, rewards and winning prizes.
Features of Fantasy sports:
The Business model is legal and 100% safe to play.
Rapidly growing user base with millions of online cricket fans.
9 out of 10 people are familiar with Fantasy sports
Fantasy sports are very sticky, as people get addicted to it.
The Rise Of Fantasy Cricket App:
Across the globe, Fantasy cricket app platform is the most trending virtual game, which is all about passion fun, and excitement . Especially in India where cricket is the most popular sports, and it is a treated as a religion. Fantasy cricket games have doubled the affinity of fans towards the game.
Benefits of developing an app like Dream11
Never-ending events
The scopes are enormous for this kind of apps because, every year a large number of successful cricket tournaments such as IPL, text match, ODI matches, etc.
are arranged
Limited Competition
The idea of developing a fantasy cricket app is still unfamiliar. Not many apps of this kind are available in the app stores.
A Legal App
In a country like India, the perception of betting in cricket is not legal. However, fantasy cricket apps are legal and genuine. Its a game of applying your skill and sports knowledge. This is one of the main reason why a fantasy sports app like Dream11 turned out to be a huge success. So it's the right time for you to develop a fantasy cricket app.
Now let's see more about Dream11 app:
Dream11 is India's fantasy gaming platform founded in 2012 by Mr.Harsh Jain and Mr.Bhavit Sheth, enabling millions of sports lovers a stage, where they can showcase their sports skills and knowledge. With Dream11, fans can squad their own virtual team.
It can be Cricket, Football, Kabaddi, etc. Dream11 has gained more popularity from past years, which made them in being the official partner of top sports companies in the world.
Basic Features of Dream11 App
Registration
After installing, sports lovers can signup for the app by using the referral codes, email-id, mobile.no or Facebook.
View Player Stats
This section showcases the statistics of each players performance in the past. This will be very beneficial for users while selecting a team for a specific tournament.
Account
Here the user can get the information about new offers, gameplay, rewards, and bonus. The prize will be divided among the winners of the game.
Join Leagues/Tournaments
In this section, the users can join tournaments and league and further they can create a virtual team.
Select leagues/tournament
User has to select the particular tournament they want to play.
Create a team
Create your own Dream11 team by selecting players based on their skills, points, and performance within the given credit point. Then the users have to choose the captain and vice caption of the team.
Dream11 App Development Cost
It requires a high skill set and experience to develop a complex gaming app like dream 11. Developers consider several aspects like
App platforms
The development cost of Dream11 depends on the app platform which you want to develop viz. Android, iOS, or Windows.
App Design
An attractive UI/UX design is a must for an app like
Dream11 as it makes the users download the application,
App Size
App size means the total number of features and functionalities that an app holds.
App Developers
The development cost of an app like
Dream11 varies from developer to developer. At DxMinds, we keenly focus on developing apps like Dream11 at a minimal budget without any compromise on quality.


Normally, the cost of developing an app like Dream11 starts from Rs 30, 00, 000 per platform. Price May vary based on platforms, features & functionalities.
DxMinds, #1 Mobile app development companies in Bangalore helps individuals and organizations in developing an app like Dream11 at minimal cost.
For more inquiries write to us info@dxminds.com