How Much Does it Cost to Develop an app like MPL?
Offer your users an exceptionally incredible and thrilling fantasy sports league experience with DxMinds the top fantasy app development company offering robust, scalable, and cost-effective fantasy sports app development services.
With the headway in digital technology and the rise of different T20 cricket leagues, we have seen an enormous upsurge in the demand for fantasy cricket apps where users can get a rich experience and gain reward/price while playing the game.
Surely, the fantasy sports application industry has risen as one of the greatest ventures and it is continuously growing significantly. Additionally, the level of enthusiasm, fun, expectation, rewards, and prices make the dream sports app more fascinating and grab the interest, attention of users.
The concept of fantasy sports is the thing that makes it stand apart from the rest. MPL is one fine best example of that. It is a game wherein users need to create their virtual team by choosing players according to the rules and play either a single match or the entire league according to their preference.
If we go by the percentage growth of the fantasy sports application space and users, there is a grand rise in user base from 15 million in 2007 to 57 million in 2017 in the USA and Canada countries. More than 350+ billion fantasy applications downloaded is predicted to happen by the end of 2020. What's more, worldwide fantasy sports revenue can reach $1700 million before the end of 2022 with a stunning rate of 27.5%.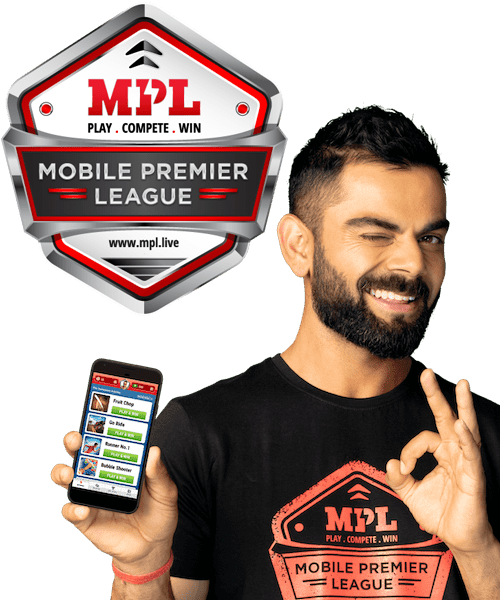 MPL(Mobile Premier League) is one of the biggest mobile gaming app platforms where you can play your favorite skill-based games and can win real money. MPL provides unique features such as multiple games option, Voice chat with your opposer, thrilling offers/rewards and chats feature with other users in tournaments.
Mobile Premier League (MPL) is an online gaming platform that offers plenty of games, fantasy sports, quizzes, and more. Users won't simply play yet win an amazing price for playing preferred mobile games. Sounds fun, right? With MPL, you can play 40+ games and various fantasy sports on your mobile to win incredible prizes. Browse from adventure, sports, and numerous different categories.
From games like Rummy, Poker, Chess, Ludo, and Carrom to Football, Cricket, and Kabaddi, the platform provides all the gaming experience. Play games online and win in the place in leaderboards. Connect with your companions and know who the real winner is.
DxMinds is a top fantasy app development company in Bangalore designing and developing the most innovative and popular gaming apps with highly advanced technologies.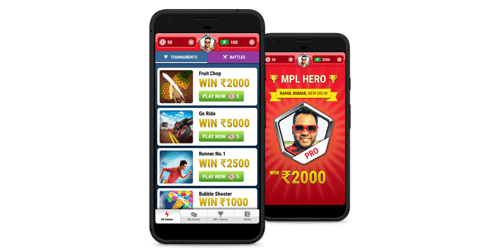 How to Play and Win in MPL?
Select the game Choose from the list of multiple games like Rummy, Poker, Chess, Ludo, Carrom to Football, Cricket, and Kabaddi 
Join A Tournament Users can either join live or upcoming tournaments/battles.
Participate, compete, and win Get your winnings at the end of the game in your wallet by competing with other opponents.
How to play Fantasy Cricket in MPL?
Click on the Super-team tab to create your super team.
Select a match by clicking on a match card.
Click on the add team button to start adding a team.
Click on player names to select players.
Select a team of 11 players within the given credits.
After selecting team members, choose a captain and vice-captain of the team and save the team
Click on the Find a Contest button, and choose your favorite contest.
Then at last click on the Register team button to register your team.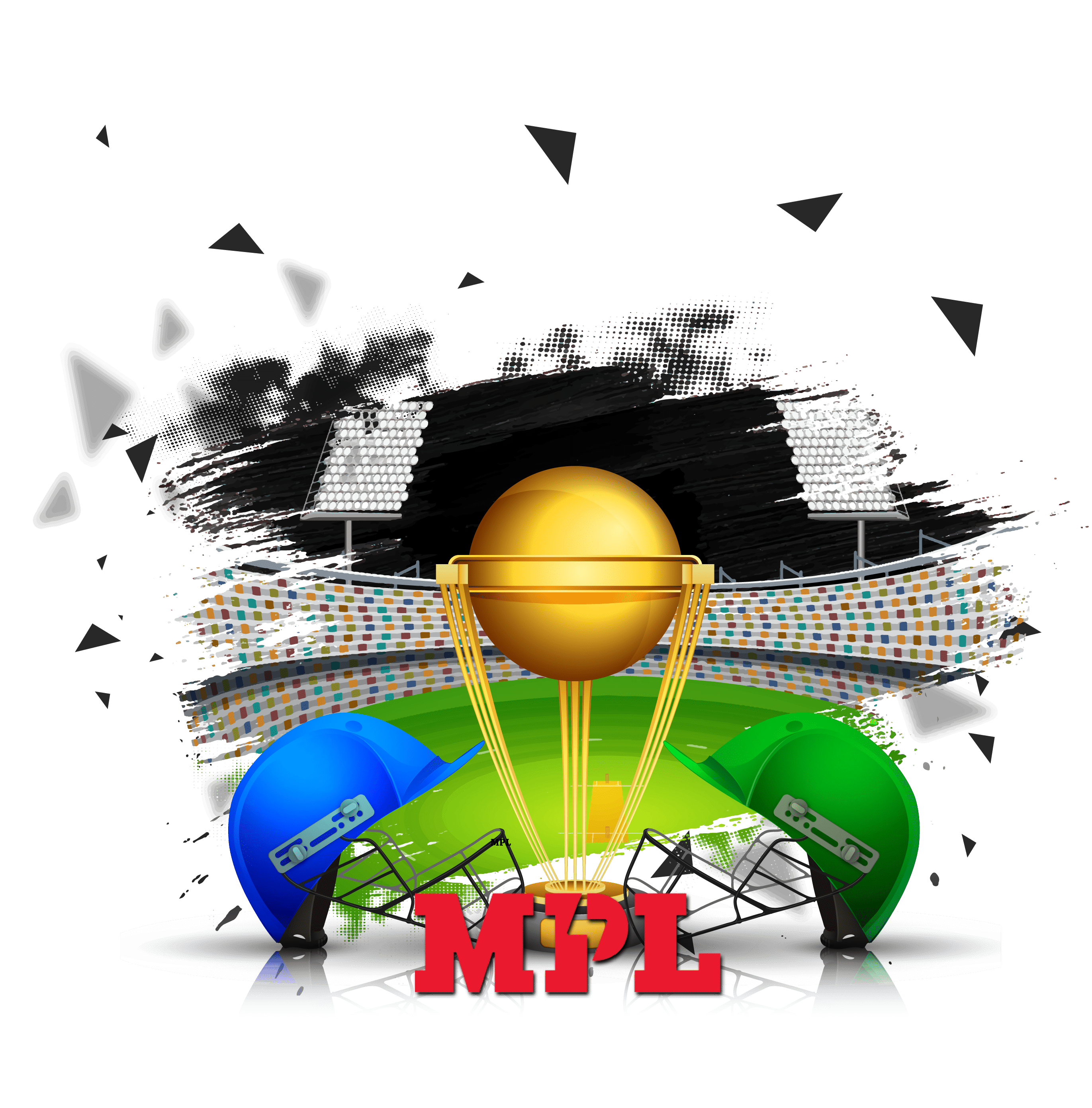 Features
Important Features that Gives You a Quick MPL Like App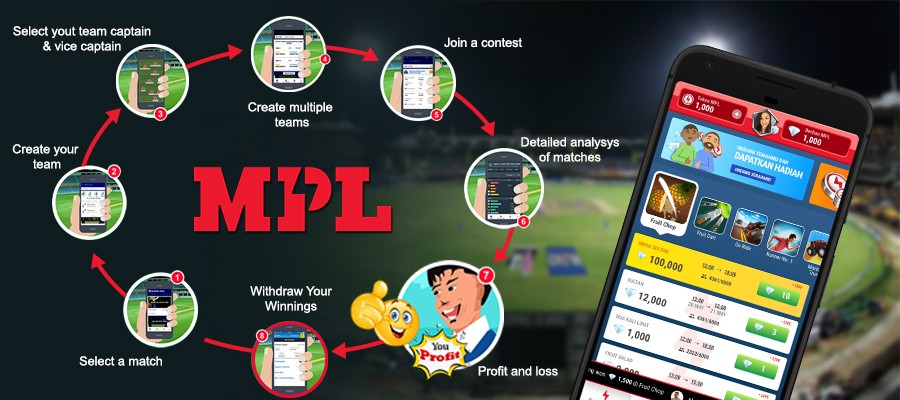 User Panel Features
Admin Friendly Features
Additional Advanced Features
User Panel Features
Simple to Install and Login 
You simply need to install the application to utilize it. There is no long and difficult registration procedure to get to the application. Install the application and the home screen will have appeared. 
Feature Rich Dashboard 
On the dashboard, you can see the record of live, upcoming, and completed matches along with the contests you are a part of. 
Create or Enter the Contest 
Users have double options of either making a contest or participate in the prevailing contests by paying the mentioned entry free.
Create Your Fantasy Team 
When you participated in a contest, you can create your fantasy team by choosing the desired players and following the app guidelines. 
Team Preview 
Before the contest starts, users can preview the team they have cut in the wake of participating in the contest. They can likewise make huge changes before the contest turns out. 
Assign Roles
Along with team preview, you can likewise assign out specific roles to various team members remembering their capabilities. 
Extra Attributes 
In more tab, you can discover a variety of options. Here you will discover add or withdraw cash choices, refer and earn, how to play, terms and conditions, security approach, FAQs, and the rundown goes on. 
Verification
You can verify your mobile and email address in the verification tab. 
Include Cash 
To play the fantasy cricket match-up uninterruptedly, you need to include cash in add money tab as indicated by league charges. Cash can be included in various ways like debit/credit card, net banking, and UPI. 
Refer a Friend 
You can likewise refer to friends and gain rewards by sharing invite codes with friends.
Admin Friendly Features
Additional Advanced Features
Our Fantasy App Development Services
DxMinds #1 Fantasy app developers in Bangalore have an amazing experience in offering best-in-class fantasy app development services on Android, iOS, and web platforms that provides an unruffled user experience along with numerous advanced features and functionalities. 
From Scratch to working Fantasy Sports Platform, we appraise your path toward success and make your startup journey noteworthy for others. We work to make your Fantasy Sports Platform grow in the market through an incredible "idea to launch approach ". 
Our expertise in Fantasy sports App Development permits us to create fantasy apps like MPL as per the requirements. From the user-friendly UI to the 24/7 support system, we insert everything in our own Fantasy Cricket Platform. 
That's the reason we are considered one of the reliable Fantasy Sports App Development Company in Bangalore and over the globe and our specialty in app development services lead us to provide quality rich sports app development services.
We have the competency to develop a fantasy app like MPL on all operating platforms such as Android, IOS, and Web. Not only cricket, DxMinds experienced fantasy app developers can likewise create fantasy sports applications for different games like basketball, golf, hockey, soccer, and so forth. 
We are a heavenly name with regards to offering customized, dynamic, and ingenious fantasy sports web app solutions. Regardless of what your desires are, we are competent to build up any coveted fantasy sports web app solution. 
We can easily build up the three most followed scoring frameworks – standard scoring system, individual player, and focuses per reception system.
Fantasy Sports Analytics Software
We can build up the most effective and accurate fantasy sports analytics software that will portray the real-time data and precise details of the team and player.
Benefits

We Commit Ourselves to Fantasy sports app development
We have an excellent reputation for delivering 99% of projects to customers before the deadline. Regardless of how complex or long the project is, each time we have effectively figured out how to pull it off within the depicted time frame and outperformed customer expectations.
To ensure you have a smooth encounter while utilizing the DxMinds fantasy sports application, we offer 24/7 customer support and services. You can connect with our team anytime to get issues settled in no time.
Glitch - Free End Product
We deliver, what we commit. We ensure that the product we deliver to customers ought to be from all glitches, packed with requested features/functionalities, and run productively on operating systems flawlessly.
The resource exclusively works for your projects. Along with these ways, you can get full control over time and ease of use. 
We charge what we quote. We hate financial jargon and trust in complete transparency as it comes to costs.
QA tested and Bug-free Solution
FREE Quality Analysis Support is offered with the development. We generally make it a point to double-check your project so make sure your any bugs, they get fixed.
Cost Analysis
Things DxMinds Consider before developing fantasy cricket app Like MPL
We do competitor analysis in the arena of fantasy cricket apps, such as the type of features they offer, how convinced their users are, and also we go through their app review section to check the feedback from the customers, according to that we plan a strategy.
Here we do planning with our clients, discuss their views on Fantasy cricket app, and we plan a list of unique features need to be added and then we decide the budget and provide deadlines
Here we consider the app platform needs to be offered, so the users get more engaged with the gaming app. In the case of Fantasy cricket apps, DxMinds the top mobile app development company is highly focused on the mobile interface, as it is convenient for the app users to play the games on their mobiles anywhere, anytime.
Before developing the fantasy cricket apps, the DxMinds team have a deep discussion with clients on deciding the format and game rules of the app and ensure to provide engaging features so that the users experience the same excitement of real cricket on virtual cricket platform.
DxMinds developers consider several aspects in developing gaming mobile apps which are
The development cost of an MPL like mobile app depends on the app platform which you want to craft the app viz Android, iOS or Windows.
App size refers to the total number of features and functionalities an app holds, which must be taken into account in developing a high tech gaming app like MPL.
An attractive and innovative UI/UX design is a must for MPL like an app to catch user attention. DxMinds designers are experts in designing an outstanding app at an affordable cost.
The cost of developing an app like MPL starts from Rs 20, 00, 000 which includes the platform and one game. Price may vary based on exact features and the number of games.

DxMinds the best mobile app development companies help startup ventures and organizations for their upcoming growth by developing a tremendous mobile app like MPL at minimal cost without compromising on quality.
Frequently Asked Questions
Fantasy Sports App Development