Kisan Supply is an e-commerce mobile app. It is an online grocery delivery application that will provide fresh vegetables to customers. With Kisan Supply, users can order farm-fresh vegetables based on a subscription model. This will help customers stay ahead of the market price hikes. Kisan Supply also helps farmers by creating a customer-demand-led cultivation model, where they will share a percentage of subscription revenue with the farmers. Farmers can use this as an input cost.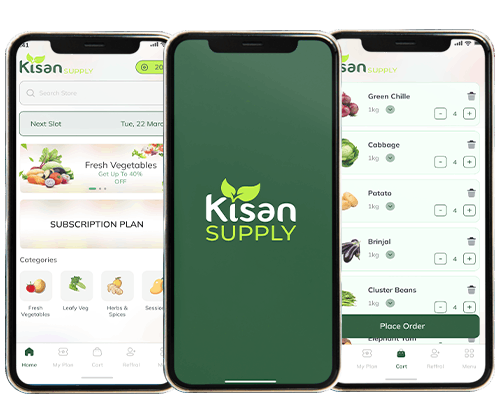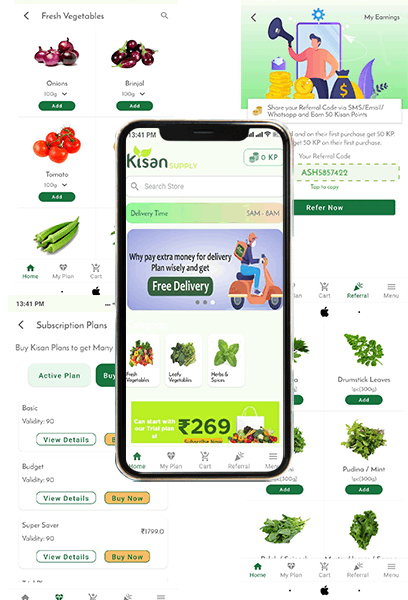 The client comes with prominent experience in the agriculture industry. They approached DxMinds Innovation Labs and wanted a mobile application ( iOS & Android) using which they want to receive and manage orders. They also wanted an admin app to have control over their entire operations. 
Our offering
We have provided native platform solutions to the customer. The solution consisted of a user app, a delivery executive app, a vendor panel, and an admin panel.
Interfaces:
User App: Android (Kotlin, Java), iOS (Swift)
Vendor Panel (Website)
Delivery Boy (Android)
Admin Panel (Website)
Outcome
With the innovative app, the client was able to build a scalable business model.
They were able to manage end-to-end logistics in a hassle-free manner.
With the app, customer acquisition was made easy 
Business operations were streamlined with the customer, delivery, vendor, and admin panel apps in place.
Stay unaffected by price hikes.
Wide Assortment
24 x 7 Support
Easy Refund Policy
Reliable Deliveries/Free Delivery
Online Payment