September 29, 2022
Posted by:

Admin

Category:

Finance & accounting, Mobile App Development, Restaurant Industry, Software Development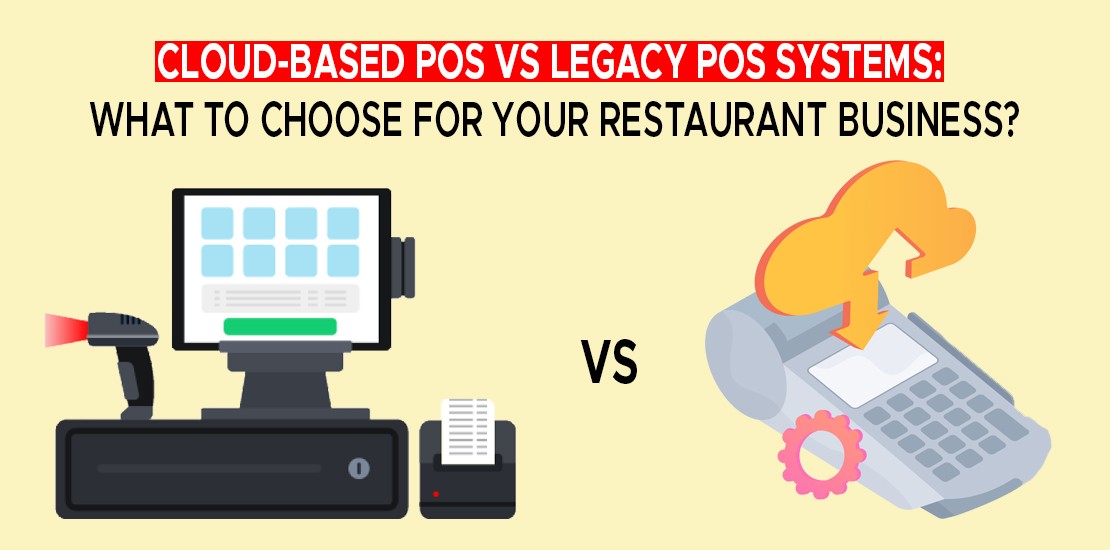 In late years, the Point of Sale (POS) system has been viewed as one of the keen technical breakthroughs that have assisted millions of organizations in effectively managing in and out of management operations. With the advancement of technology, the POS system has been brought on the mobile which resulted in maximizing consumer convenience. On the other hand, cloud-based POS (modern system) offers differences and several better features as compared to the Legacy POS (old POS system)
Well If you are a restaurant business, then choosing between cloud-based POS and a legacy system turns out to be a challenging task.
Purchasing a restaurant POS system is a massive investment that should not be done without careful research into all available solutions. Understanding the differences between a cloud-based POS and a traditional POS is a good place to start.
Walk through our guide that discloses the top difference between a cloud-based POS and a traditional POS, which includes a comparison of benefits, prices, limits, and hardware/software.
Let's delve into the blog
What does a point of sale system(POS)for restaurants mean?
This is a basic question that every newbie in the restaurant business would like to know if you aim to survive in the modern tech era. Yes, every day every industry is getting modernized with new trends in technologies, so there is no corner left for a restaurant as well.
A restaurant point of sale (POS) system is the software and hardware that restaurant owners use to manage every aspect of their business, including taking orders, managing the floor plan, and reservations, reporting on sales, conducting inventory counts, scheduling workers, and pricing their menu. The point of sale system at a restaurant is typically a whole restaurant management system.
Intuitive table management, online reservations, payment options, real-time sales reporting, and potent customer relationship management (CRM) strategies are just a few features that the finest restaurant POS systems provide you.
Now understand
What are Cloud-based and Legacy POS?
A cloud-based POS is a web-hosted point-of-sale solution that facilitates the data to be stored or retrieved on remote servers. It is also known as a Software-as-a-Service (SaaS) platform or web-based POS. Because the cloud is ubiquitous, this data is available everywhere where there is wifi – you access the cloud every time you sign in to Facebook, Gmail, or your online banking app. This means you can change a menu item from the comfort of your living room couch.
In simple terms, it is a restaurant POS system that utilizes the cloud and makes the entire database of information, including daily transaction reports, inventory data, and customer data, online access.
By 2023, the market for cloud POS systems is projected to grow to $3.73 billion, according to research from Markets and Markets. Amazing right?
So moving on to the Legacy POS
Traditional POS software is another name for legacy POS. Before the cloud technology system was developed, it had been widely utilized for many years.
Legacy POS is a sales management software that includes a computer with point-of-sale software loaded to save all the data and information. In this system, the data is stored on the local server and in a secure intranet system.
Read Also:

How Much Does an app like Zomato Cost?

How Much Does it cost to develop an app like Dunzo?

How to build a successful online office food delivery business?
For the sake of simplicity, let's assume that you can only see an image that is stored on your old phone when you open it. In other words, you cannot post the photo to your social media accounts or move it around your devices. The legacy point-of-sale system experiences the same issue, which is problematic in the modern world where there is a greater than ever requirement for data and information interchange.
Let's understand the difference
One of the key differences between traditional POS and modern POS is data storage. But there are several varying factors that we should take into account.
Easy Data Access
| | |
| --- | --- |
| Legacy POS | Cloud based POS |
| The information can only be accessed on-site, which necessitates constant physical need at the store or the computer to access the system, add new data, manage product data, manage products, and sales, and see sales statistics. | The modern POS platforms include automated data analysis and reporting so you can assess data at any time, anywhere. You can check the health of the company from home using an internet-connected device, such as a desktop computer, tablet, smartphone, or laptop, so you don't have to be in the store. |
Data Storage
| | |
| --- | --- |
| Legacy POS | Cloud-based POS |
| The information is kept on the computers of the establishment | In contrast, data for a cloud-based POS systems is saved in the cloud. The two most well-known are Microsoft Azure and Amazon Web Services. |
Budget-friendly
Legacy POS
Cloud-based POS
Traditional POS systems frequently demand a one-time payment for specific billing equipment and sales data collection software.
The initial fee is extremely costly, however, it does not cover the total cost. In addition to the original fee, you will be charged a software maintenance fee. So, if the system fails, you will have to spend a lot of time and money to repair it, putting all of your commercial activities on hold.
In contrast, using a cloud-based system does not require you to incur excessive upfront fees because the installation procedures are simpler than those for a conventional system. The software will be installed directly on the computer, tablet, or smartphone you already have, which further lowers the initial cost of a cloud-based POS system.
Most notably, POS providers automatically update the software on a regular basis, and maintenance charges are included in the monthly or annual pricing plan. So if the system breaks down, you won't have to worry as much about the time and cost of repairs. The cost of a cloud-based POS system can, however, end up being as expensive as a traditional POS system or even more in the long term because you must pay monthly maintenance fees for it. pay for services used as the firm expands on a monthly, yearly, and other bases.
Fast updates
| | |
| --- | --- |
| Legacy POS | Cloud-based POS |
| When a software update or maintenance is required for the majority of Legacy POS systems, technicians must visit the location and program the update procedure. Because updating legacy POS systems manually takes time, you can't do the routine update procedure. | Regarding EPOS systems, the POS vendor will carry out the upgrades automatically and remotely, demonstrating that no software engineers will visit your shop to manually program it. Additionally, you can be confident that the system is constantly being updated in real-time, ensuring that you may use all of the functions as soon as they are updated. |
Hardware device effectiveness
| | |
| --- | --- |
| Legacy POS | Cloud-based POS |
| The hardware components of the Legacy POS system are frequently rather big, thick, and heavy. A typical traditional POS display is 15 inches in size. Since these items are cumbersome to handle, you must remain in the store to manage the business since you cannot transport everything home. | The hardware for modern POS systems is portable, and all you need to do is connect it to the internet. Your system also incorporates credit card readers, receipt printers, and other utilities over an internet connection for when you need them. |
Security
| | |
| --- | --- |
| Legacy POS | Cloud-based POS |
| Without a terminal server, data from a traditional POS system can only be accessible locally. The restaurants are in charge of data security; if it is inadequate, the data may be at risk. In the event that the servers break down, are hacked, stolen, or damaged, the data cannot be restored. | Since cloud-based POS systems store their data online, they are accessible from anywhere in the world. Security is handled by the POS vendors because they have the tools and expertise to store data securely. In the event of a system crash, data can be easily restored and will be automatically backed up in the cloud. With Cloud POS, everything is kept in the cloud, ensuring that the data is never lost. |
Integration Possibilities
| | |
| --- | --- |
| Legacy POS | Cloud-based POS |
| It can be challenging to integrate legacy POS systems with other types of software and programs. This will restrict the system's ability to grow and add more new features. As a result, it is challenging for you to alter the system to suit your company's requirements. | If your point of sale system is cloud-based, you can combine it with additional software and functional modules to enhance it. hence handling numerous jobs on a single machine cloud-based POS system, for instance, that enables you to connect with your online stores through social media or e-commerce platforms. |
Why Choose Cloud-based POS over Legacy POS for your Restaurant?
After weighing the pros and cons, it is clear that the advantages of a POS system based on cloud technology outweigh the advantages of a legacy POS system.
Cloud-based POS is currently one of the most popular POS technology developments. Currently, 61% of all fast-food restaurants in the United States use cloud-based POS systems (Pymnts, 2018). Furthermore, 60% of new sellers believe that cloud-based POS should be used instead of legacy POS systems (Reforming Retail, 2018).
By understanding deeply about both POSs, we prefer you to go with Cloud-based POS. Because there are certain obstacles to overcome while implementing a Legacy POS system. Here are several reasons why you should pay attention.
– Legacy POS's operating system is antiquated, the interface is out of date, and the software is slow, severely limiting retailer expansion because it cannot grow to meet current needs.
– It specializes primarily in invoicing and information storage and is utterly incapable of merging other company tasks, whereas a modern POS system can integrate everything into one system and reduce operator work.
– Because legacy system components and functionalities are incompatible with contemporary technologies, finding replacement parts will be difficult if the Legacy system is broken or destroyed. These limits will impede your business activity and are not worth it.
Invest and Install the right POS by partnering with DxMinds
So, if you're seeking successful restaurant app development services or willing for hassle-free cloud-based POS implementation then DxMinds is the place to go.
We provide you with everything, including the creation of POS systems, inventory management software, food ordering apps, and other applications. Our skilled team is dedicated to improving the effectiveness of your everyday restaurant operations and is well-versed in the food service industry's technology requirements.
Final words
We hope that this post has answered all your queries about old and new POS systems. Each has advantages and downsides; therefore, you must analyze and select the one that provides superior and advanced features to the other.
Please contact us at info@dxminds.com if you have any questions about POS integration.
Read Also – Why DxMinds is the best company for food delivery app development?