How Much Does it Cost to Develop Multi Service App Like Dunzo
Want to develop an app like Dunzo and to know the cost of development then you are right place.
Business models transform with time, sometimes because of changes in the market and sometimes due to the advent of technology, resulting in a rise of new trends and innovations.
The rise of the on-demand economy has transformed the traditional business model at a high range over the last few years. From hailing a taxi to getting a spa massage, purchasing groceries to ordering food, buying medicine leasing furniture, the on-demand applications from top on-demand app development companies in Bangalore have made our life simpler than before. Smartphones are the main reason for this on-demand delivery business model.
The ecommerce business is evolving quickly.
This change is explicitly being seen in on-demand delivery businesses. The credit for this change ought to be given to the introduction of a creative concept called Hyperlocal
The hyperlocal system is the next level for the eCommerce industry. Additionally, it empowers to target the customer's nearby area and produce huge revenue from them.
Are you looking forward to developing an on-demand delivery app like Dunzo? Here is some useful information that will help you throughout the journey.
Incorporated in 2015, Dunzo is a hyper-local delivery service provider that makes use of a mobile app for customer interaction. It was founded by Mr.Ankur Agarwal, Mr. DalvirSuri, Mr. MukundJha, and Mr. Kabber Biswas.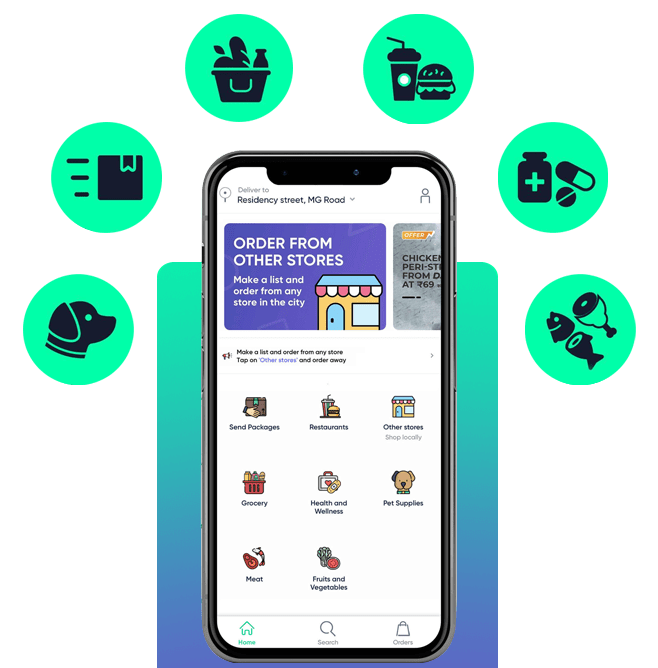 Currently online grocery delivery app Dunzo operates in seven major cities in India viz. Bangalore, Delhi, Gurgaon, Pune, Chennai, Mumbai, and Hyderabad. Right from its first day of launch as a Whatsapp group to an AI-fused mobile app now, food delivery app like Dunzo is solving the deep local discovery and fulfillment problem of People. This was the key factor that determined the success of the app. As the report says, over one million orders are placed on Dunzo each month. Moreover, Dunzo was the first start-up in India which was funded an amount of USD 12 Million by tech giants Google.
How Does it Work
Working Model of Dunzo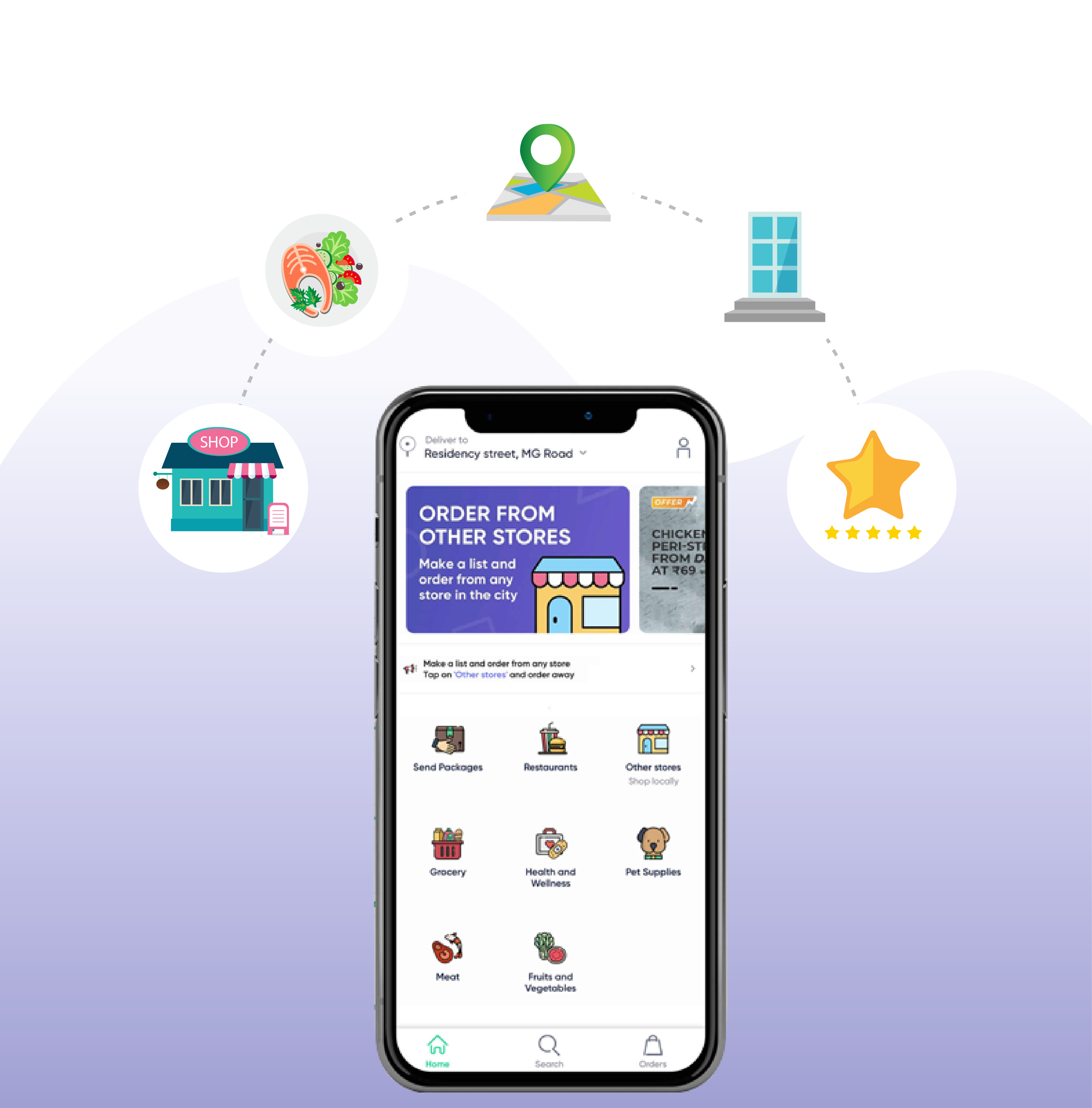 The working model of this Bangalore-based task management company is quite simple. Users, who have access to Online packaging services apps like Dunzo can avail of the Dunzo Services. The app lets the users place their orders along with the specifications. Soon after the order has been placed, one of the nearest delivery executives gets this task assigned to him. He then carries out the activities as per specifications. An image of the commodity that's been delivered is sent to the user for confirmation. Once the item is confirmed, it will be delivered to the location mentioned.
The mobile app connects its users to the nearest delivery person to get their tasks accomplished. From restaurant orders to groceries, pet supplies, and medicines, Dunzo delivers anything and everything to its users, making their lives hassle-free.
So, let's have a look at the main features of the Dunzo clone
Picking & Dropping the Packages From Point to Point
Packages of any kind, let it be a document, Tiffin box or even a vehicle key can be sent via Dunzo.
Vendor to-do lists to strike off the tasks once done
The app comes with a unique To-Do list created by the users for the vendors where the vendor can strike off the tasks upon completion.
Buying, Repairing & Home Services
Buying goods from a local vendor, repairing a clock, or any kind of home servicing was made easy after the launch of Dunzo.
Multiple Payment option for Customers
Dunzo lets the customer choose the most convenient method of payment such as cash, UPI, etc.
AI-Enabled Chat Assistance
Artificial Intelligence enabled Chatbot is integrated into the app to increase productivity and customer service.
Dunzo can deliver food of your favorite kind from the restaurants you choose.
Dunzo regularly provides offers and promotions for its users to increase the user experience.
24x7 Service Availability
You will be assigned a delivery executive to serve your need 24 hours a day and 7 days a week.
Interactive User Interface
Dunzo boasts an attractive user interface that is designed creatively.
There is an inbuilt app wallet with which the users can make their payments.
The status of the order placed on Dunzo can be tracked using GPS.
Surprise gifts and greeting cards to your dear ones can be delivered with the help of Dunzo
Features
Unique Features of Our Dunzo Like App Development Services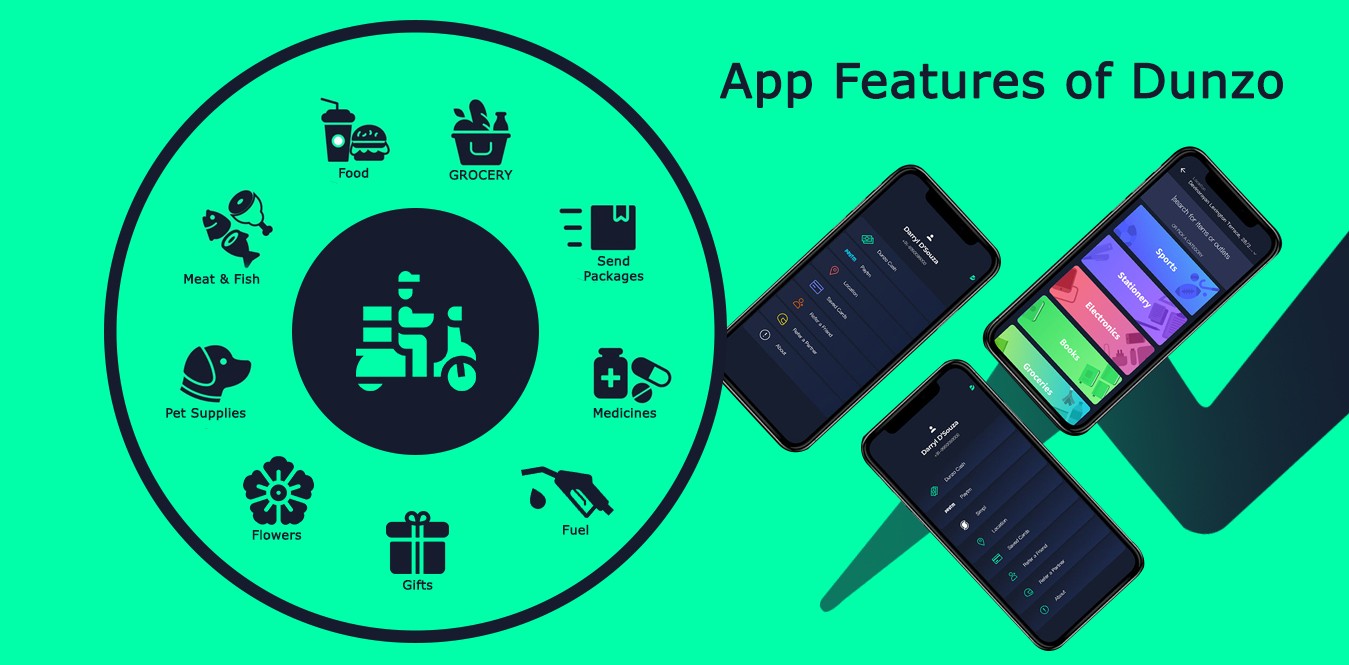 Customer App Features
Delivery Executive App
Admin Dashboard
Customer App Features
Register
A fast and simple sign-up process with email/ phone number or social media accounts.
Delivery details 
Complete delivery details about your package. 
Pick up location
Enter the location from where you need your package to be picked up. 
Drop off location 
Enter the location you need your package to be sent to. 
Pin location
Often utilized location can be pinned for simpler use. 
Task deadline
Set a time and date before which you need your task to be finished. 
Customer Support
Customers can connect with the staff to address any worries or queries. 
Track delivery
Track your delivery package in real-time.
Contact delivery executive 
Connect with your delivery executive whenever. 
Notification
Get updated on the progress through different mediums, for example, Email, text, and more.
Multiple payment modes
Enable your users to pay hassle-free with different payment modes. 
Refer and Earn
Boost customers to get the message out with rewards for referrals.
Delivery Executive App
Admin Dashboard
Our on-Demand App Development Services
The trend of the On-demands economy is transforming the lives of individuals. Nowadays users depend on ordering online as they don't have time for purchasing products from the store. Presently numerous businesses are looking to offer on-demand services for users based on their requirements.
Some businesses are fascinated by the Hyperlocal model of Dunzo and looking forward to developing a similar app to Dunzo
Building up an On-demand mobile app is valuable for your business from various perspectives. 
DxMinds the top on-demand app development company in Delhi offers a high-end on-demand mobile app that provides a significant level of functionality and is additionally innovative. With a variety of advanced features like payment gateway, real-time tracking, and push notification, DxMinds on-demand app development services help not only in building a platform, through an on-demand application but also grow your business by providing a smart and advanced shopping experience for your customers
We have a talented team of on-demand mobile app developers to understand and serve your business requirements. Take your business higher than ever with on-demand applications that can be accessed by users anytime anywhere.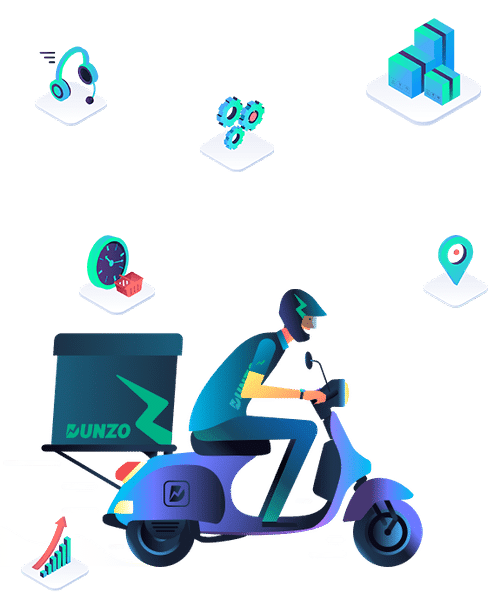 Our demand app development services for various industries
We offer on-demand app development services for different verticals. Business visionaries/entrepreneurs are understanding the power of on-demand applications, because of which on-demand applications have become the standard in every industry.
Food, Beverages and Grocery
This is the most famous sector for creating on-demand applications. Restaurants, Hotels, and even dining halls choose an on-demand food delivery application to provide comfort to their app users for ordering their delicious dishes or booking a table quickly. 
Grocery delivery app development is another part of this section. It empowers application users to order groceries and other household products and get everything delivered to their doorstep
We provide on-demand food delivery app development services and enable you to come up with a user-focused business model. 
Home Services and Utility
We build an on-demand application that provides an opportunity for users to hire skilled people for managing household chores and fix the problems like Leakage and damage to furniture.
Logistics and Transportation
On-demand delivery apps can be developed for transportation and logistics service providers to deliver a package starting with one place than another. Such applications permit customers to move parcels anytime and anywhere.
Get salon and spa services from the comfort of your home with On-demand app development services.
We commit ourselves to On-demand App Development
We inhale technology. We pick the top and latest technology to make the best on-demand app like Dunzo. Cooperating with the best technology providers and considering the latest trends, our master's on-demand app developers conduct a brainstorming session to generate new ideas to choose how the application will work and what resources will be required to make an effective and faultless on-demand mobile application. We use the latest updates, rather than the standard tools, to give amazing yet ground-breaking on-demand app development services. 
Expert Team of Professionals 
Our team has rich involvement with creating quality mobile apps as well as engaging UI/UX designs concerning your business necessities. 
Associate Clients Hassle Less 
Our on-demand mobile app developers help in redefining and executing effective techniques for the connectivity of your online mobile customers. 
Unmatched Quality 
Our demonstrated app development methodologies stay up with the latest technologies to elevate your business for better goal-oriented service.
Phenomenal Performance 
With the blend of amazing procedures and flawless business value, our dedicated developer works consistently to deliver remarkable applications.
Cost Analysis of Dunzo Like App
The cost to develop a Dunzo like App depends on various factors such as
Mobile applications are categorized depending on their complex nature they are Simple, medium, and high-end. 
The simple version of a mobile application costs you less compared with the other two. In this way, pick as per your on-demand Dunzo app development features and functionalities
As the number of platforms expands the cost to develop a Dunzo-similar app will additionally increment. 
It altogether relies upon the business owners on what number of platforms they need to begin, in case you are a start-up better to go with the single platform
Application Development Team
It is the cost-deciding factor of app development. So pick cautiously. The team required the on-demand dunzo-like app development Project Manager.
2 - Requirement analyst.
1-2 Web developers.
2 - QA engineers.
2 - Android application developers
2 - IOS application developers
1-2 UI/UX designers
Aside from the firm you pick, their location likewise influences your on-demand delivery app.
Developers in India:$20-80/hr
Developers in Eastern Europe:$30-150/hr
USA Developer cost $50-250/hour 
By examining the above factors
The cost to develop an app like Dunzo ranges from $20K-$50K.

Hire DxMinds Technologies, the best mobile application development company in, Bangalore, Mumbai, and other major cities in India to develop an app like Dunzo. DxMinds is the perfect place when it comes to visualizing your app idea. DxMinds has got proven track records on working with start-ups to Fortune 500 Companies.
Frequently Asked Questions