October 12, 2022
Posted by:

Admin

Category:

Food Delivery App Development, Mobile App Development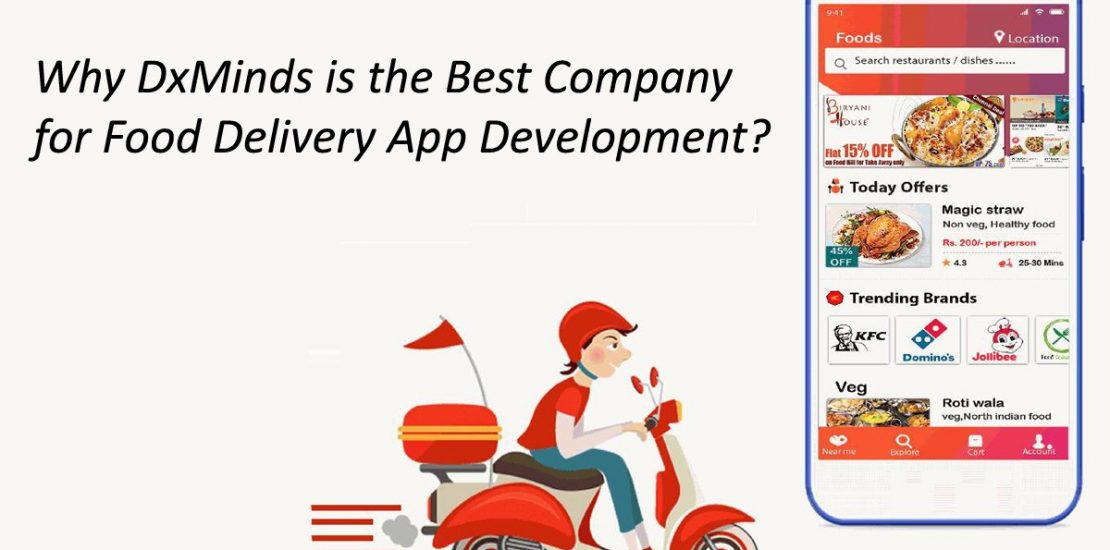 The fashion for smartphones with people can be associated with the application that can be easily downloaded on smartphones. People look up the internet for obtaining knowledge about everything; similarly, they buy online for all of their requirements which are kind of easy as it is just an app that can do the work for them. Regardless of your business type, the best way that you can take your business to a global audience is through mobile app development. Today, our conversation will be center on online food delivery app development
Find
Perfect Company to Develop a Mobile App
It has been seen that it is because of online food delivery apps, the improvement in sales of the restaurants has gone up. You can also do the same with your restaurant business by food delivery app development which will help in extending your business throughout almost all the major regions and nations. The biggest advantage that the online food ordering apps have given to the wide public is that they have tantalized their tongues with various cuisine items ranging from Mexican, Thai to Italian, Indian, and Chinese to pamper the taste buds enjoying the meal.
You should go for professional food delivery app developers in India for getting the best app development results. It is more useful to go for an experienced company that will consist of a development team comprising of a couple of app developers (Android or iOS) based on the choice of platform, a pair of each UI and UX designer, backend developers, quality support team and experienced app testers. We at DxMinds can help you to build a perfect food delivery mobile app for your business. Let's learn more about DxMinds.
DxMinds Innovation Labs
DxMinds is one of the top food delivery mobile app development company in India, Peru, USA, UAE etc. We have designed many food delivery mobile apps for our clients. We have expert in latest tech solutions such as AR, VR, ML, AI etc. we are famous for on-time project delivery. We are continuously trying to help all food business owners to enhance their sales insight and generate more revenue through our developed mobile app. We are going teach you how we are designing online food delivery application and how much does it cost developed a food delivery app.
Let's Discuss
On-demand online food delivery apps like Zomato, Swiggy beats serve the entire range of food outlets to offer a hassle-free service to the customers Irrespective of the type of food they desire for. Some of the assistance that the on-demand food delivery app development provides includes:
Door Step Delivery: With the selection of technology in every field in life, people now seek easier ways for everything. The mobile application is an integral part of everybody's life. It very hard to cook for Professionals themselves in different cities after office work.Food delivery mobile apps like Uber beats come to rescue this problem. People can have food delivered to their doorstep with just a tap on the app.
Fast Food Units: Primarily focusing on quick bites, the fast-food joints find it hard to provide space for the people to sit and enjoy their food. At Such Conditions, on delivery food app development would add spice to their business. People can easily order food online through food delivery apps to buy foods by fast-food joints.
Online Food Delivery Startup: You might be new in the food industry and it hard to have a meaningful impression on the consumers, top food ordering app development companies revel in promotional offers to promote their business online. I will be explaining below about full featured food delivery app.
Features of the Food Delivery App
If you have thought to create a mobile application similar as other food delivery app then you have understood the complete feature and function of online food delivery app. I haveshortlisted below about mobile app.
Online food delivery app development should be such that it has an option that enables customers to order again.
Easy user registration by choosing a form or by directly signing up in using social media account.
Choosing the restaurant that satisfies their purpose based on the area, time and cuisines
Seamlessly track your purchase and stay updated with the status.
A variety of payment options based on your choices.
Appropriating the order history, Online Food Ordering App Development enables users to reorder and save the time of ordering the same food again.
Some companies develop food ordering applications for both platform, Android and iOS platforms and also provide discounts for the promotion.
Top Similar Food Delivery Mobile Apps
With the world changing their trends, mobile apps have overpowered every sector of human life. Recently, the food industry has saw a major changes from physical services to the delivery of food at the doorstep with just a tap on the app. Will rising competition, a plethora of Companies come up with the startup to indulge in food ordering app development? These below listed apps are growing faster and generating good revenue from across the world.
Pizza hut
Zomato
Swiggy
UberEATS
Cost of Developing an App
With trendy applications for all industries, the food industry has also entered the field of mobile applications to deliver food to customers. Uber is one of the main players in the food industry. After exploring the travel industry and creating a huge user base, they expanded their activities to restaurants in different regions. All that needs to be done is that the user has to download the on-demand food delivery app like Uber eats, search the available foods, order and pay online. Uber does the rest. They visit the desired restaurant, pick up food and deliver to customers.
However, if you want to request the development of food delivery apps while Uber eats, you need to know the cost of developing them. Since users have a mobile device for two platforms, the app must be compatible with Android and iOS. The next important element is the development team needed to develop the food ordering application. An application developer, a backend encoder, a user interface developer, and an insurance and testing team make up the whole body. There are three elements that require special attention when marketing the project.
Customer app
Restaurant dashboard
Control Panel
Customer App
The above task that needs to be develop a UI rich platform for users to easily order food for themselves. This page comprises of:
Registration or login panel
Search bar
Option to customize food items.
Add to cart
Payment option and choice of mode of payment.
Order Tracking
Feedback and review the restaurant.
Support Option
Business Owner Dashboard
Not just the consumer but also the Business owner of the restaurant must have an excellent app dashboard to track orders, control their food items and food delivery services. I have shortlisted some major feature which has to enable while creating a food delivery mobile app.
Login in
Menu listManagement
Managing and updating orders.
Option to see Customer Feedback
Customer Push notifications option
Control Panel
The last but most important part of developing my food control app is not to be missed. Log in to the administrator to follow the restaurant and the delivery people.
Add or remove a restaurant. By administering the application, the administrator has the right to put a restaurant to sleep or any delivery person.
Payment Controlled & Provision for Discounts.
With all of the above completed effectively, the cost of online food delivery appdevelopment like swiggy and zomato can be estimated. Generally, developers are paid based on an average of $20,000-$30,000for Online food Delivery Mobile Application. But Again, it will change based on your requirements.
Advantage of Building Food Delivery Mobile App.
Developing an app to order groceries offers a variety of benefits that force customers to order over and over again. This varies depending on the requirement. The applications developed are both inexpensive and time-limited. Disseminate know-how on demand which helps them to propose robust solutions.
The development of the food ordering application is designed to focus on increasing your sales and increasing sales. The introduction of on-demand applications for food delivery such as Uber Eats allows global access in different regions. Developing apps to order food involves a huge development process, but each phase is designed to be user-friendly.
Existing dedicated assistance from the technical team, from the start to maintenance of the entire application development process for grocery orders.
Conclusion
Connect foodies with all the nearest restaurants with an online food delivery app development services that give you an aggressive advantage and an increment in revenue. We examine your business requirements and develop and design a custom food delivery app that helps you go online and expand your business globally. If you are looking for any food mobile app development company then you can drop an email at info@dxminds.com to get a free estimated quote.