October 19, 2020
Posted by:

Admin

Category:

Outsourcing and Offshoring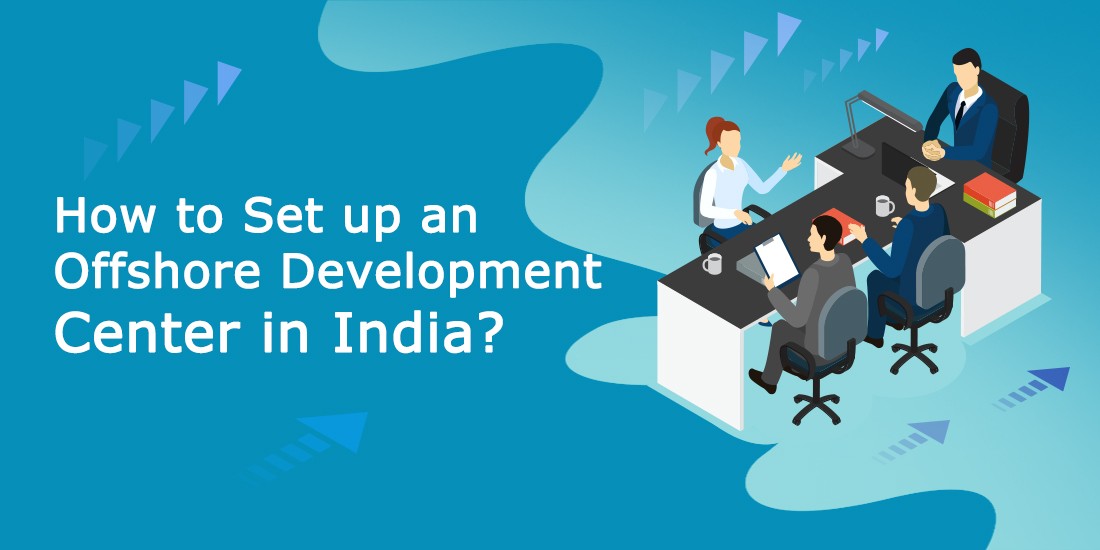 Are you looking to expand your business and have a goal to take it on the global market? Then setting a offshore development center in India is the best solution for your problems.
The software industry has become remarkably popular, with some predicting there will be over a million different software companies in the world in under 10 years. Since the vast majority of these businesses are quickly loaded into Western Europe and North American cities, competition is intense and the cost of doing and maintaining a business is climbing.
Inevitably, the offshore development center (Offshoring) in India made a survival presence for western businesses looking to develop custom software because it provides you an option to explore a huge talent pool and hire the best resources as per your requirement.
Offshore is there in the market for a long time now. At first, the goal to work with an offshore team was to save costs, time, and efforts. However, later start-up, SMEs, and well-established firms appreciated, impressed, and accepted that setting up an offshore development center in India can be advantageous in terms of productivity, cost, and reduced time to market the companies and can focus on their core expertise.
If you are a startup or big company looking for immense growth in the software industry or any industry? For sure you are considering for setting up an offshore software development center in India because of the high productive benefits in terms of quality and cost.
So We at Dxminds the top offshore game development company in Bangalore India have designed this blog to answer the essential queries in a very detailed and understanding way.
What is an offshore Development Center?
ODC or offshore development center implies an -extended, dedicated, and coordinated offshore team. As the name defines, this external dedicated team is usually placed in a foreign or offshore country i.e India who offer support to your company or organization as required.
The offshore team turns into a group of your extended team that works at a 24/7 shift asper the international time zone.
The offshore development center in India will operate as a part of your company, running an explicit operation for your business. From a business perspective, most organizations (of any size) consider setting up their offshore development center in a country like India where the average cost of living is lower in comparison with their native country.
It encourages them to reduce the overall operational cost, expanding proficiency, and rising net profits. You just need to team up and coordinate with your offshore developers productively, as they have industry experience (for any industry games, entertainment, real estate, Banking, and more), knowledge, and expertise about the modern tools and technologies to build an innovative and advanced software for your business.
The ODC not only aims to hire developers as well as come up with other specialists and experts too. Your offshore software development may incorporate, developers(unity, unreal, android, iOS, and more) designers, animators, testers, and a project manager/lead to monitor the monitor and build software .
Logic to set an Offshore Software Development Centre in India to uplift your company and make a million dollars revenue
Working and Operating Cost – Building a team in India is more affordable and less expensive when compared to Paris, or London, or New York. Premises, equipment, tools, and salaries are all lower because of the affordable cost of living.
Shortage of talents and skills – Across Western Europe and America, exceptionally qualified and knowledgeable software engineers and developers can be very difficult to find. However in Tech IT City like Bangalore produces world-class IT engineers than any other place on the planet.
Restricted expansion – Quickly scaling-up business can be challenging and tough. Going for Offshore helps businesses to buy bigger workplaces, work effectively, and no stress over finding sufficient staff.
Fortunately, this made tech Hubs like Bangalore, the Silicon Valley of Asia, and Rich Technology source where you can hire the best-skilled developers for software development.
For example, top IT giant like Google, Apple, Microsoft, and SAP are for the most part building up their R&D centers in Bangalore! What's more, they all found support from an offshore software development service provides in India at the absolute starting point.
How it is Different from Outsourcing?
ODC is somewhat unique from software outsourcing. ODC offers software development services or solutions, it's located in another country while outsourcing is a service that offers some specific software services or products through Third Party Company, the geographical location is not a considering factor.
The main goal behind outsourcing is to expand efficiency and motives on other complex tasks while saving cost can be one reason however it isn't the basic cause. Then again, ODC's essential aim is to support in lessening the organization's cost by using the cost difference between the two countries.
However both ODC and outsourcing (particularly offshore) share a similar purpose: gain access to an enormous talent and skill pool with lower costs for development services, enables start-up or corporate ventures to save funds and accelerate the efficiency in hiring, improves accounting, human resource, and office budgets
ODC can offer different types of supportlike building a dedicated development team dependent on your requirement, project-based development, testing services, setting up separate ODCs for various clients
An ODC generally includes a wide range of experts you may require: developers, QA engineers, project managers, product managers, DevOps engineers, designers, copywriters, UX/UI experts, marketing specialists
Here some details of the roles
Account Manager: Works as a part of your organisation and offer their faithfulness in managing payment and other financial issues. To ensure that the client is happy with the work done by the organization.
Project Coordinator: The experts who organize and assign the tasks to manage ODC, full plan, and communicate with the you. He/she builds the development plan, divides the team, provide status to you, and ensures there is a timely project delivery.
Designers and Developer: Hold the role of the planning, creating amazing designs, programming, develop software, app or website, testing, and maintenance.
Tester/Quality Analyst: Responsible for quality and bug-free check of a software.
Technical Writers: Deal with the tech content creation of website, product, or app.
Usability Engineer: Before the launch of any software, the usability engineer has to assess the user-friendliness.
Why Setup an Offshore Software Development Centre? | Benefits of Having an ODC for Software Development
Reduced Cost
The Offshore Development Center in India arises with a complete package that is equipment, software tools, infrastructure along with an experienced and expert's software development team.
Your organization won't need to be stressed over costs for setting up the infrastructure. As the ODC project can start a lot quicker with less cost when compared to building everything from starch.
Access to a huge pool of IT talents
An ODC is one of those spots where you can discover a profoundly capable IT software development team with demonstrated IT competency, skills, and experience.
Top Offshore development centers in India often put an incredible emphasis on drilling the skills of their employees ensuring that they are fit for delivering the required solutions to target customers.
Control over project operation
As referenced before, the ODC strictly follows guidance from the fundamental office. You'll monitor, evaluate, access, and keep track of the current work progress.
You should arrange contract terms with the ODC company so that if the outcomes don't satisfy your expectations and desires you can request the ODC to fix the project with additional cost
24/7 technical support
ODC offers persistent technical support during the whole development cycle of the project. During the project, top offshore development companies in India use their mastery to finish their tasks. They additionally acquire knowledge and updates which will be additionally added to make the project incredible and advanced
On-time project delivery
ODC teams are capable to provide on-time delivery since they work under optimal conditions and intently adhere to the project guidelines and direction set by the primary office from the start to the end of the project
Also, they friendly collaborate with the in-house team, which makes it conceivable to reduce the total time to finish the project
Effective allocation of resources
The number of resources required differs from one project requirement to another. There are times when resources at the main office must be reallocated to oblige the project requirement; you can either exclude or increase the number of staff in your in-house team.
An ODC serves like an extended and boosting arm that can play out the tasks of the in-house team, successfully helping you in scaling your IT department. Without an ODC, right and experience resource allocation would be very difficult
How to set up an Offshore Development center in India?
Select the top vendor in India for your ODC: Check out their past work and records. Contact with their past customers about the experience and work
Assort your company structure with your new team: Make sure each member understands their roles and responsibilities. Divide the software project task equally between the onsite and offshore team
Create job descriptions for all vacancies: You should not focus on qualification or certification and education aspects yet also on soft skills and their immense talent
Plan your ODC security measures: Determine who gains access to various parts of the software task and what choices they are authorized to make.
Begin the actual development process management Select your methodology, make milestones, and outline deadlines. Set up project equipment's, tools, and project management tasks
Set up communication between your new team and the existing team: Everyone in the team should know whom to report to for any issues with the goal that everything in the team is managed flawlessly and smoothly.
Engagement and Billing Models Used In ODC
Time and Material model
This model is suggested when the scope and requirements of your projects are aimed to change. You can include or expel resources as your software requirements are evolving. They will be charged dependent on the measure of time and efforts the resources spend on the project.
Turnkey co-owned cost model
This model is appropriate for a short term, small and medium-sized projects with definite scope and requirements. The time and cost are fixed before beginning the project, and you will be charged accordingly, and the whole project is divided into various milestones based on that payment is made
Dedicated Resource Hiring Model
This model is designed and planned for long term projects with unclear scope and requirements. In this model, you will have an entire team available and follow a simple costing system: you will pay a month to month that covers the salary of each team in addition to overheads, including administrative and infrastructure expenses
Why To Setup the offshore Development center in India?
India has a huge pool of talented employees in the IT/ITES industry. There are skilled human resources that support your businesses across various verticals like Gaming, retail, healthcare, banking and finance, government, utilities, entertainment, and manufacturing.
Surveys show that almost 3.1 million graduates are added to the Indian workforce every year. It is predicted that by the end of 2020 India will have approx. 2.2 million talented IT experts. The pool of these skilled professionals is English speaking, which is a significant boon to communicate with clients from any locations
India has a wide cellular system and best in class infrastructure in major cities. Indian outsourcing companies guarantee to they have an uninterrupted communication channel with their customers.
The average developers pay in India – even in tech-centered economies like Bangalore – is essentially lower. When you think about the expense of rent, travel, health insurance, and bonuses too, there is a tremendous difference, and tying up with the top offshore software Development Company in India will consistently be helpful for your business.
How Much Does it Cost to Setup an Offshore Software Development Centre in India?
The cost to set up an offshore software development center in India varies from one company to another company. It also depends on industry standards and practices followed by the company, availability of skilled, talented, and experienced employees, billing and engagement models are chosen, project scope, project requirements, and many different factors.
How DxMinds can help you to set an Offshore Development Center?
Setting and building an offshore Development center requires time, effort, and money, so one should think and plan before settling on a conclusion. Here are a few points on how DxMinds the top offshore game Development service provider in Bangalore India helps you as your Offshore Development Centre.
Quality and Accountability
As a top ODC company in India for top quality game development, we place extraordinary emphasis on software quality and innovation to pull you in a competitive market. We are proficient and solid in our software development operations.
Our proficient evaluation and reporting methodology will empower you to evaluate and monitor the development project in real-time.
Shared Responsibility
The risks related to software development are probably going to be better estimated by the offshore development company since this process is a part of its central business. And the responsibility is shared between onsite and offshore team
Technical support and knowledge team
ODCs offer 24/7 technical support for a software development project. All the knowledge gained during a development project is secured.
Timely Delivery of Projects
Our ODCs for software/app development strictly follow the project timelines that you set during planning, design, development, testing, and deployment. A successful collaboration between the in-house team and offshore can make the game project lifecycle to shorter.
FAQ's
How Much Does it cost to set up an offshore development center in India?
The cost to set up an offshore development center in India depends on project scope, project requirements, industry standards, chosen company, location, and more Connect with Dxminds to know the exact cost to set up an offshore development center.
What Billing or engagement models your company follows for ODC?
DxMinds represents and follows leading engagement models which are Time/Material, Hire dedicated resources, Turnkey model, and BOT(Built, operate, and transfer).
How do I set up an Offshore Development center in India?
Connect with Top offshore developers in India i.eDxMinds where you will get
Immediate availability of skilled and experienced resources.
A dedicated development team including talented and experienced employees.
Hire 1 to more resources either for short term or long term projects.
Provide support for multiple time zones.
Industry standards and practices followed.