November 21, 2022
Posted by:

Admin

Category:

Healthcare App Development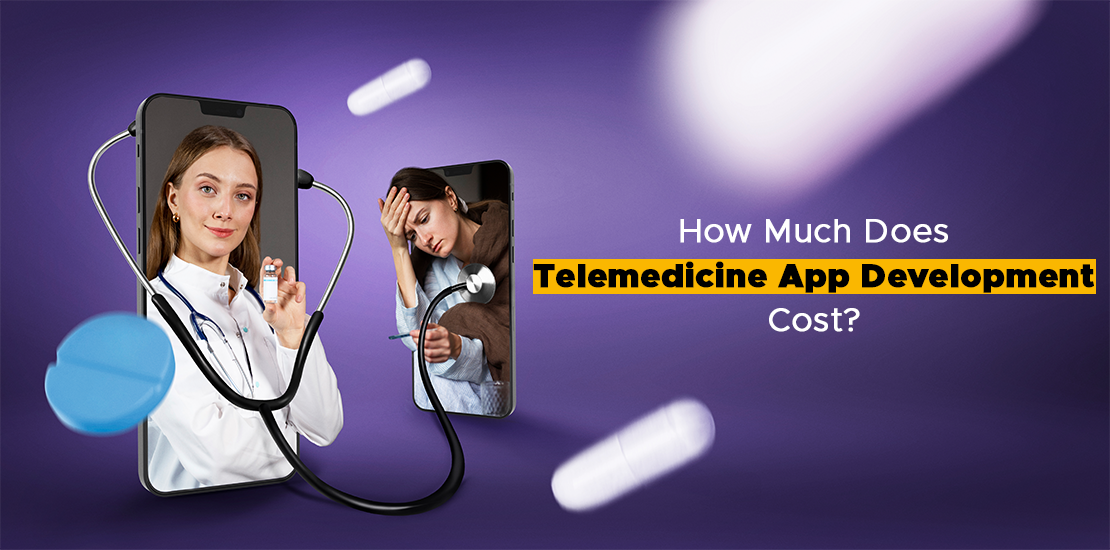 You can now order anything on demand, including food, taxis, personal trainers, and even doctors. On-demand doctor consultations recently became a thing, whereas the first three on-demand services have been well-liked for some time.
Clinics, medical professionals, and patients are all very attracted to telemedicine solutions. According to Grand View Research, the global telemedicine market generated $55.9 billion in revenue in 2020.
Telemedicine is one of the most prosperous sectors of the digital healthcare ecosystem due to the Covid-19 pandemic. Never before has it been so simple to link patients with qualified medical advisors. According to the most recent market statistics for the industry, more than half of US medical advisors, physicians, and hospitals have implemented telemedicine programs for their operations.
Globally developed nations' healthcare systems have begun to go digital as a result of COVID-19. With the use of apps, smartphones, and video appointments, telemedicine is replacing in-person doctor visits in nations like the United Kingdom, Germany, and the United States.
The adoption of telemedicine has increased dramatically in these nations as a result of the pandemic, where healthcare providers continuously work to ensure that patients have easy access to care that is secure.
Innovation has been sparked by the numerous start-up investments in virtual healthcare and digital health sectors. Venture capitalist spending on digital health soared to $14.7 billion in 2020, almost twice as much as in 2017. However, that is merely the beginning.
There is a lot more potential for telemedicine. It is a reliable option for care. Additional telemedicine initiatives and application development projects can address many ongoing problems with care quality and set up the healthcare system for potential crises in the future.
The article has your back if you're a startup, an entrepreneur, or a healthcare professional who wants to try your hand at creating a telemedicine app. In this article, we have covered a variety of telemedicine app development topics, features, costs, and some essential information.
Related Link – How Much does it cost to develop a doctor consultation app like Zocdoc?
The Rise of Telemedicine Apps
Telemedicine is becoming popular in some large states. With increased interest in telemedicine, the global telemedicine market has grown significantly in recent years. According to forecasts, the market will reach nearly 460 billion US dollars by 2030.
Fortunately, there is always room for a new product in the expanding market. Creating a new telemedicine app necessitates extensive research and an in-depth understanding of the users you intend to target.
The more you know about users, the better you can identify their pains, gaps, and problems—and the faster you can get your first evaluation. Following the evaluation of your target group, you can proceed to learn about the costs and create a development budget.
Before delving into the various aspects of the overall cost associated with a telemedicine application, let us take a look at the most recent market statistics to help you understand why investing in a telemedicine app is your best future option.
The global telemedicine market is expected to be worth $87.8 billion in 2022 and $559.52 billion by 2027.
By 2022, more than 38% of patients will seek remote care.
Over 74% of patients in the United States prefer telehealth services.
The telehealth sector is expected to grow at a CAGR of 35.18% from 2020 to 2029.
What Advantages Do Telemedicine Apps Offer?
There are many advantages to using and creating healthcare applications. Especially telemedicine apps that are used by both patients and doctors. The following are a few advantages:
For Patients
Faster Solutions
When a patient has a minor illness, like a cold or fever, these apps come in very handy.
They can quickly obtain the proper medication by connecting with the doctor via their mobile device. This eliminates the need to travel and wait in the doctor's office.
Greater Convenience
The telehealth application's leading goal is to make patients' lives more convenient.
While ill, you do not need to waste your energy on travel. To obtain the appropriate medication, you can make a phone call to your doctor. And this is the primary justification for beginning the development.
You can complete the official paperwork right on the app, saving you the time and effort of having to move around the hospital.
Simple Access to Specialists
There may not be all types of specialists available at the hospital in your town or the surrounding area. Therefore, you might need to travel a long distance to receive treatment for a specific disease.
Greater satisfaction
Getting complete satisfaction is one of the biggest benefits of using telemedicine applications.
With the doctor, you can have a more healthful discussion and get all of your questions answered.
The majority of telemedicine apps offer you a 24/7 service. Consequently, you can access your account and get your questions answered whenever they come to mind.
For Doctors
A reliable monitoring system
Telehealth applications ought to have a reliable monitoring setup.
A virtual scribe can be hired by doctors to take thorough notes during each visit, and such software keeps a record of the patient's entire medical history. Consequently, it's crucial to development.
The doctor can follow up easier because all of the prior medical records are accessible by date.
Wide Patient Reach
Because not all parts of the country have access to doctors, particularly specialists.
Therefore, the application enables the doctor to travel to distant locations and treat patients there.
Better Practice Efficiency
The product improves the doctor's decision-making because it keeps track of every little detail about the patient.
Due to the absence of the patient's physical commute, the doctor can attend to more patients.
Time-Saving
The software's basic process is automated, so the doctor can spend less time on routine past-related inquiries.
At the beginning of the session, the app itself shares the data with the doctor.
Features to include in Telemedicine app development
Technical Aspects of Telemedicine App Creation
How do you build a platform for telemedicine? For the development of telemedicine software, you must create a feature list and choose your tools. A doctor's side and a patient's side should both be present in any telehealth app. Depending on their roles, they will each have a different set of features.
Patient Features of Telemedicine Apps
Registration, voice and video calls, the ability to upload EHRs, and other features should be available on the patient's side.
We'll now focus on each one individually.
Registration
The sign-in feature comes first and foremost. Because telemedicine apps store a lot of personal information, including EHR, a personal account is necessary.
Additionally, keeping track of appointment schedules via an app is more convenient than doing so manually.
Patients can log in using their email addresses or through tools provided by third parties, such as Facebook Login and Google Sign-In. However, personal accounts must be protected, so be sure to use SMS or email for two-step authentication.
Profile management
A user must create a personal profile after registering. It includes basic personal information like name, gender, and age.
The user's EHR is the most crucial piece of information in a profile. Doctors can use it to evaluate patients' health conditions and review their prior medical history. Keep in mind that only doctors and the owner should have access to this private information. Take HIPAA regulations seriously because they forbid unauthorized third parties from gaining access to EHRs.
Search and Filters
Finding the best doctors will be made easier for patients by search algorithms. Users can narrow their searches using filters to include criteria such as language, rating, proximity, and medical specialization.
Notification
It is imperative that you create notifications for your app if you have chosen to abandon Google Calendar syncing. Users can count on them to keep up with your app's updates and to be reminded about upcoming appointments. In order to send notifications from your server to users' devices, you can use a platform called Firebase Cloud Messaging.
Text chat
Users can text physicians when they don't need to make video calls. Because text messages do not necessitate a separate consultation, this is an option for resolving minor issues. While doctors can answer texts in their spare time, video calls may keep them from seeing other patients. It is a great addition to text chat to allow for the attachment of images and files. In terms of resources.
Calendar
Patients can manage and keep track of doctor appointments using the in-app calendar. Users can make changes directly in the calendar and wait for the doctor's approval if they need to reschedule the consultation.
With the aid of the Google Calendar API, the schedule can be synced with Google Calendars. As a result, Google Calendar will send users notifications, and a widget will allow them to view the specified dates.
Video conferencing
A crucial feature in the creation of telemedicine applications. The video should be transmitted in the best quality possible so that the doctor can see any potential injuries and symptoms.
Additionally, the audio should be audible and clear. Every user has a different internet connection, so your app must automatically adjust the video quality to prevent buffering. However, you must maximize the real-time connection. Real-time messaging protocols like RTMP and WebRTC are excellent examples of telemedicine technologies for creating a video chat.
Rating system
Patients can find a reputable doctor with the aid of rating systems, reviews, and grades. You can create one to five scales that are similar to Uber.
After their appointment, patients can rate the doctor and post a brief comment. The client's health is the top priority of a telehealth app, so consider imposing sanctions on impure medical professionals. Once more, emulate Uber. A doctor is asked to improve the caliber of their care if they receive a grade of three or lower. The account is suspended if nothing changes after a certain amount of time.
Payment details
An essential feature of the creation of any telehealth app. A third-party system or a personalized payment service are both options.
In either case, mental safety is important. You must perform research and select a trustworthy provider before using third parties. Follow every current data regulation and security protocol when developing your own payment system.
The three most widely used payment gateways for telemedicine apps are Stripe, Braintree, and PayPal. They enable fast transactions and safe payments. Fees, however, are where third parties fail.
Physicians Features of Telemedicine app
Some specific telemedicine app features are also available for the doctor's side. Some of them are comparable to the patient's side, while others are different.
Let's have a closer look.
Physician profile
In this section, doctors must detail their specializations, medical knowledge, experience, and other information. Doctors are perceived as more trustworthy by patients the more information they provide about themselves.
Viewing EHRs
Doctors should have access to patient's electronic health records (EHRs), unlike patients. Make certain that physicians cannot download EHRs from your database. Both of you will be fined in the event that they lose the phone containing this private information.
Communication
The creation of a telehealth app necessitates two-way communication between the patient and the doctor. To ask about the course of treatment and the patient's health, doctors should be able to text them. The doctor should be able to make appointment arrangements without the patient's involvement in the event that the patient needs a scheduled physical examination.
Calendar management
The doctor can be given administrative privileges in the patient's calendar using telehealth technology tools. It will be simpler for physicians to fit the appointment into their schedules in this manner. Along with that, the client will have one less problem. A patient must contact a doctor and wait for a response if they need to reschedule their appointment.
Technologies Associated with Telemedicine Apps
There are obviously many telemedicine app features that need to be created. How can you improve your app even more? What technologies support telehealth? The majority of modern development trends will be useful when creating telehealth apps. For your project, you can use technologies like cloud computing, the Internet of Things, and artificial intelligence. These use cases will be briefly discussed.
Artificial Intelligence
The most promising application of AI in telemedicine is chatbots. It goes without saying that doctors cannot be on call constantly. Users' inquiries about the doctor's availability, expertise, and other topics can be addressed by a straightforward FAQ chatbot. Chatbots can even schedule a consultation if a patient doesn't have any specific requests. Chatbots can automate some routine tasks and streamline the doctor's workflow, but they can't actually prescribe medications or create treatment plans.
Cloud storage
There are two options when it comes to data storage: on-premises versus the cloud. If you choose an on-premise model, you'll need to rent space for the servers, purchase the necessary hardware, and create a fault-tolerant network. A storage system that you can scale and modify eventually becomes available. However, compared to cloud storage, the costs are much higher.
Big data
In the health sector, a lot of information is produced and processed. Medical facilities can gather and examine EHRs thanks to big data (electronic healthcare records). The information gathered may be used to improve patient care, make more precise diagnoses, conduct medical research, and lower healthcare costs. Additionally, the correct dosage of medications can be calculated using Big Data analytics techniques, and personalized treatment plans can be made for patients who are located far away.
Deep Learning
The telemedicine app can gain insights from enormous amounts of medical data with the help of deep learning integration. This technology simplifies decision-making and enables medical professionals to predict patients' well-being more precisely.
Blockchain
With the help of blockchain technology, patients and physicians can exchange data in a safe, encrypted format. When you take into account how sensitive the data is, blockchain becomes a solution to the problem of how to make a telemedicine app more secure. The current focus of healthcare professionals is on patient information sharing through distributed networks for health information exchange.
IoT
Another example of telehealth technology is the Internet of Things. Doctors can keep tabs on a patient's condition and receive emergency notifications with the aid of wearables. Doctors can collect patient health data using fitness trackers, stress meters, scales, and other devices, and then modify treatment plans in light of the information. Without consulting the patient, doctors can set a medication schedule thanks to smart drug dispensers. When it's time to take pills, a dispenser will alert the user's phone.
Factors Affecting the Cost of Developing Telemedicine Apps
Understanding the various factors that will influence a telemedicine app's cost will help you estimate it accurately. The price of your app can vary depending on a number of factors, including an extensive feature list, location, and hourly development rates. You can reduce the risks while improving your financial decisions by having a logistical understanding of the factors.
List of Features
The number of features a telemedicine app supports can have an impact on its overall cost. For instance, you could spend between $30,000 and $60,000 on a simple telemedicine app with a minimal admin panel and a feature set. The total gross cost of telemedicine apps can change as the number of features and functionalities increases. Simply put, the cost of an app increases with the number of features it includes.
A sophisticated app with top-tier features can help your company gain an advantage in the digital market and will be well worth the expense.
UI/UX Design
An interactive UI/UX design can provide the app with much-needed user engagement while also maintaining user retention. Multiple testing parameters are used in an aesthetically pleasing UI design to make it resonate with the essence of the brand. As a result, the price of telemedicine software may go up if you want to give your users a smooth user experience and a visually appealing app.
An appealing UI/UX design goes a long way when it comes to bringing in new users, boosting platform productivity, and enhancing brand perception.
You must first respond to questions like the following in order to ascertain how the designing process may impact the cost of the telemedicine platform:
Is your app concept original or a copy of other apps already on the market?
Exists a digital identity for your product already?
Or do you require a custom-made app?
Or do you want to update your app?
The telemedicine app development company will be able to determine the complexity of your desired app and give you a ballpark figure for the cost of its design with the help of the answers to these questions.
Wireframe
When purchasing specialized telemedicine app development services, wireframe costs frequently unintentionally appear. A wireframe is an architectural map of the entire development process that is necessary when designing and building a telemedicine app from the ground up.
The wireframe typically goes through multiple testing standards to ensure seamless development because giving you the best of everything is our top priority. To give you a ballpark figure, the wireframe for an app can range from $100 to $4,000, depending on the number of testing iterations.
App Platform
The underlying iOS or Android platform may have an impact on the overall cost of developing a telemedicine platform for physicians. Given the larger user base of Android than iOS, Android app development costs more. We typically advise beginning with the development for a single platform to keep budgets as efficient as possible. You can then switch to a cross-platform app tailored to your needs as the app gains popularity in the market.
App Development
Based on the number of coding hours, it is possible to estimate the cost of developing an app for telemedicine. You can determine the development cost by adding the developers' hourly rates to the total number of coding hours. The kind of development team used can also have an impact on how much telemedicine software costs overall.
Based on the kind of team hired, the following is a rough estimate of the price to develop a telemedicine app:
| | |
| --- | --- |
| Kind | Average cost $ |
| In-house team | 1,50,000-1,90,000 |
| Local development agency | 1,90,000-2,00,000 |
| Outsourcing development agency | 70,0000-75,0000 |
| Freelancers | 35,000-40,000 |
Location of the Telemedicine App Development Company
The total cost of developing an app is also influenced by the location of the company that was hired to provide healthcare application development services.
For instance, if you chose to outsource your project to a company in Asia, the hourly rate of telemedicine app developers will be considerably lower than the hourly development rates in the US or Europe.
You can get a general idea of the price of development in different parts of the world from the table below:
| | |
| --- | --- |
| Development location | Approx. cost |
| US | $180,000- $240,000 |
| UK | $180,000- $200,000 |
| Australia | $140,000- $155,000 |
| Western Europe | $130,000- $150,000 |
| Eastern Europe | $60,000- $80,000 |
| Asia | $40,000-$55,000 |
Team size
The size of the company's team is another element that affects how much telemedicine app development services cost. You can get a telemedicine app that can stand out from rivals from a qualified team that includes project managers, developers, designers, quality analysts, etc. The cost of the app may go up if you choose a full-fledged development team, but you can be sure that your company will grow more quickly.
The team required to build a full-fledged telemedicine app
1 Project Manager
2 Backend Developers
2 iOS/Android Telemedicine App Developers
1 Designer
1-2 Quality Analysts
Maintenance
The overall development cost can be added to the maintenance costs for an app after they have been tallied up at the very end. The following are some examples of maintenance expenses:
Modifying the application to support a new platform.
Apps are updated to reflect new specifications.
Trends in marketing are evolving.
The price varies depending on the telemedicine app development company you have hired for all the parameters that need upkeep.
Tech Stack
The associated tech stack is a significant factor that affects the overall cost of telemedicine apps. The current situation calls for a strong tech stack that can support a sizable user base while providing them with the best possible user experience. So, the cost of the app increases as more technologies are used in it.
| | |
| --- | --- |
| Programming Languages(iOS) | Swift |
| Programming Languages(Android) | Kotlin, Java |
| Backend development | Node JS |
| Video conferencing | RTMP, Twilio, WebRTC |
| Chat | Twilio, Socket.io |
| API's and Framework | Stripe,EC2,S3 |
| Search and filters | Elastic search |
| Geolocation | Google maps platform |
Strategies for Making Money from Telehealth Apps
While helping others is undoubtedly a noble endeavor, without funding, any app won't survive long. It's time to review the primary revenue models for telemedicine software development.
Freemium
The company uses a freemium model and provides some fundamental services without charge. With a premium subscription, users can access the app's additional features. According to this tactic, users who downloaded the app's premium version pay for users who download the free version. More users who are interested in the free version will eventually switch to paid subscriptions.
Subscription
With a subscription business model, an app will produce income on a regular basis, such as monthly payments. Regardless of whether they use the app or not, users must pay under this model.
Fees
The most well-liked and successful business model for telehealth app development. Each transaction between the patient and the doctor made through the app will incur a fee. Thanks to this model, Teladoc rose to the position of the most expensive telemedicine provider. Teladoc is a business-to-business app that markets its services to customers on behalf of its staff. Therefore, in addition to transaction fees, Teladoc also charges businesses for interacting with their employees.
How Much Does it cost to build a Telemedicine app?
An answer to this query is challenging. Features, designs, and agency fees are just a few of the many variables that impact the telemedicine app development cost. Nevertheless, we are not here to abandon you in the dark, so let's reveal a rough estimate.
An approximate cost range for a telemedicine app development may range between $20,000 and $100,000.
| | | |
| --- | --- | --- |
| App Type | Cost | Time Frame |
| Simple telemedicine app development cost | $20,000-$50,000 | 2-3 months |
| Medium telemedicine app development cost | $40,000-$60,000 | 3-9 months |
| Complex telemedicine app development cost | $70,000-$1,50,000 | 9+ months |
Why elect DxMinds for telemedicine app development?
DxMinds is a top-tier organization that provides telemedicine applications for healthcare with a guaranteed ROI.
From determining the exact cost of the telemedicine app to understanding the feature logistics and how they can help you gain traction, our healthcare application development services speak for themselves. Contact us with your telemedicine app concept, and our team will work with you to make it a reality as soon as possible.
Conclusion
We have covered almost every aspect of the key steps, features, and budget estimation for a telemedicine app project. In this regard, keep in mind that if you include a lot of advanced features, the app budget may include additional cost components and considerations. We only attempted to estimate based on the most basic features.
FAQs
1. How to build a Telemedicine app?
To create a telemedicine app, you must first create a feature list. Then, decide on technologies and app development costs with your software development company Furthermore, remember to follow any and all telehealth regulations.
2. What are telemedicine apps?
 Telemedicine is a method of providing healthcare services to patients over the Internet.