April 29, 2021
Posted by:

Admin

Category:

Healthcare App Development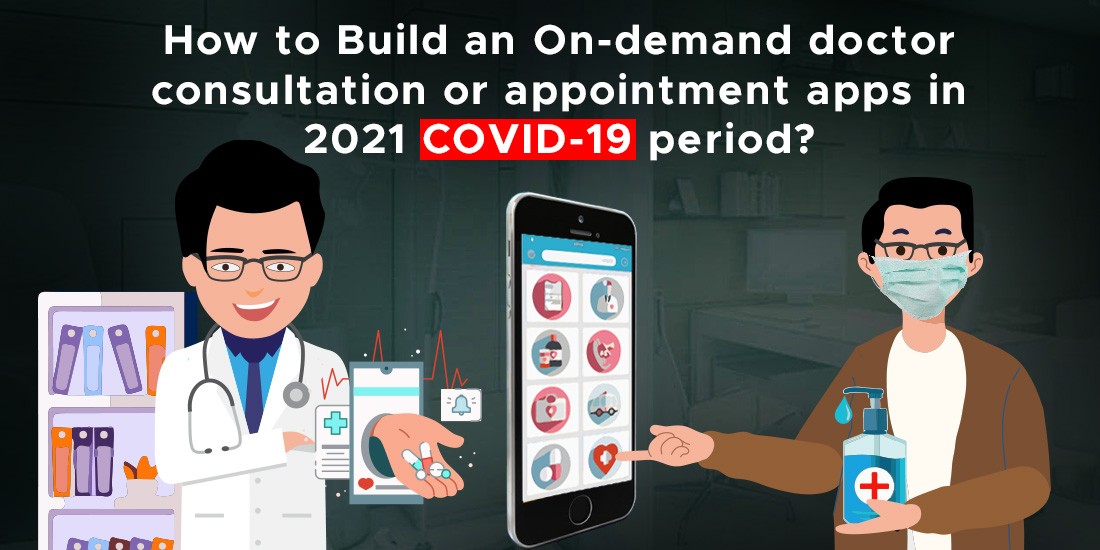 The evolving global COVID-19 pandemic that has turned out to be a deadly disaster by worsening millions of lives around the world has also disrupted the healthcare functioning system badly. The new culture that includes social distancing, wearing a mask, and avoiding gatherings and crowding are the rescue measures that are been adopted in a majority of countries to break the chain of these deadly infections.
Despite following these precautionary measures, the world is still utterly under the attack of this destructive virus where positive cases are arising constantly. Under this critical circumstance where people are scared to head outside for normal or covid check-ups and the hospitals and clinics are rushed with massive patients every day, the online doctor and Patient Consultation apps or COVID healthcare apps such as Practo, Polish Home Quarantine(Kwarantanadomowa), Indian Aarogyasetu, Italian Immuni, and US CovidWatch are few of the apps that looked up as a savior for delivering needful healthcare consultation for panic patients who are sacred to undertake offline consultancy.
Most of the healthcare systems, organizations, and doctors have already embraced online telemedicine practices but still, a majority of them are in the process of the digital shift. Agree or not there is no choice left rather undertake the Online Doctor Consultancy system that has become valuable for serving millions of lives.
Are you wondering how to build an On-demand doctor appointment app for covid or overall healthcare service? What engaging features to include in the virtual doctor app to make it a big hit for providing needed assistance to patients? And a lot more queries you probably holding up for building an On-demand doctor appointment app.
To guide you in building beneficial and value-generating On-demand Appointment apps for patients and doctors we have come up with a blog by performing depth research that covers everything associated with developing a productive healthcare app.
Be highly attentive to this enlightening blog don't miss out on any useful sessions.
Before proceeding to the main section let's show you some stunning virtual care/Telehealth/Remote Patient Monitoring stats that will blow your mind.
According to reports given by Global Market Insights, the telemedicine market size is predicted to exceed USD 130.5 billion by 2025
The size of the global telemedicine market is estimated to expand at a CAGR of 16.8% and reach USD 56738.3 million by 2023 reports reflected by Market Research Future per the American Wall around 22% of physicians have used telehealth to provide consultancy to patients and from 340% in 2015 only 5% of physicians have undertaken the telehealthcare practices. But now in the horrific situation, between 340,000 and 590,000 healthcare experts are anticipated to use Remote healthcare services 
The remote patient monitoring market is estimated to reach US$31.326 billion at the end of 2023, expanded from US$15.817 billion in 2017, and growing at a CAGR of 12% during the forecast period. (Research and Market).
Currently, almost 70% of healthcare service providers are using some sort of remote or online healthcare consultation apps or tools and 71% of people choose to browse health-related information ( Center for Digital Strategies)
Now you firmly become aware of the importance of having Digital Healthcare or Mhealth apps for dealing with the ongoing COVID-19 situation.
Let's dig into the essential section of the blog
Speak to the expert
Must Require Features to Make a Successful On-demand Doctor and Patient Appointment Apps
To put it simply there are some imperative features without which the Remote healthcare apps don't serve the specific purpose to doctors as well as patients.
Just have a look into those features that leads to making incredible apps
Patient and Physician Profile Creation
For any kind of healthcare or On-demand doctor booking app, it is fundamental to integrate profile creation features for both patient and physician. The application includes separate sign-up portals for doctors and patients
Sign up for Profile Features for Doctor 
Full Name: Doctors must include the name with some basic information such as Contact Number and more
Degree and Certificates: This section includes the area of expertise such as doctor's education information, degree, certificates, documents, and more
Photos: The professional photos of doctors or clinics could help build reliability among patients 
Hospitals and Clinic Location: 
Including the location information can be fair enough for patients to learn about doctor availability on different days and time
Experience: Through this section, patients get a kind of confidence by knowing about the specialist's years of experience which might differ from zero months to years
Consultation fee: This is an optional feature as the consultation completely relies upon the doctor's expertise, patient reviews, and the terms and conditions that are agreed upon while signup the process
Book an appointment with experts
Sign up Profile Features for Patients
Full Name: By getting to know the name of patients will be easy for doctors to address them and prepare the Prescriptions that can be shown for future use. Also, it builds up good communication manner between the patients and doctors
Phone no, address, age, and sex:
Adding up this information could be essential for a doctor for providing the diagnosis and updating the reports.
Search and Filter
This is the highly adored feature that enables patients to easily search the doctors or specialists based on their disorder or syndrome by applying advantageous filters like Doctor's specialization, years of expertise, ratings from existing patients, consultation fees, and more.
The search and filter operations simplify the patient's task of getting connected to their required
Additionally, it intensifies the user experience by providing the convenience to reach out to the required specialist just with a few clicks.
Just take an example if a patient wants to get an oral health consultancy the application leads them to easily collaborate with a dermatologist
Booking an Appointment
Through the Booking an appointment feature it is easily understandable for patients to book an appointment according to the doctor's availability and presence. However, once the appointment request is been confirmed by the doctor and patients can leverage the consultancy. According to the application's functioning, it can either accept the request or delay it later by knowing about the unavailability of a doctor.
Multiple Modes of Payment
In today's where everything is going digital, people are becoming used to secure and convenient digital transactions. In order to provide a flawless experience to patients, you must have to integrate various online payment options such as UPI, credit card, debit card, digital wallet, and more.
The payment stage is considered to be an integral part to make your Healthcare app a one-stop destination for embracing any healthcare needs so make sure that users can easily get navigated into the payment portal without taking up more time.
Video Conference
Live video conference is a crucial feature where the patients can easily express their problems by showing lively to doctors. It also saves the patients and doctors time because through video conferences they find it easy to communicate effectively. This feature takes up the additional charges from patients.
Emergency Button or SOS
Building a healthcare application without adding an Emergency or SOS button is unimaginable.SOS or emergency button empowers the patients to call for an emergency or ambulance just by pressing the button. Based on some terms and conditions patients can make use of this helpful feature.
Push Notifications
Through the push notification feature patients get reminders on their mobile phones regarding appointments, medicines, reports, and many more.
Document sharing
This feature enables them to share their earlier prescription and medical records with the patients. By going through these records and reports doctors can provide a proper diagnosis.
How to Generate Money from the Healthcare Application?
Before stepping into building an Online doctor booking and appointment app, it's super necessary to understand how it would bring in revenue because this app unleashes the services for patients, doctors, and healthcare clinics. You might be anticipating what profit you will leverage by building this app. Let's make you clear how you could make money by building the valuable apps
Similar to any other appointment booking application revenue can be earned by following various essential process
Commission Based Model
It is a basic way of producing money from the application. Through this model, the doctors need to share some part of their fee produced by the app owner. It is planned either by calculating the number of appointments done through the application or the date finalized by the doctor
Premium feature list
This is an awesome feature that supports those doctors who can't embrace the success and exposure embraced by other high-profile and qualified doctors. For that, they need to pay some money through which they get listed as featured doctors. This is the most attractive way to generate the revenue
In-app advertisement
Apart from the above-mentioned ways of gaining commissions, these are considered the most significant way of making money. Under this model, diverse hospitals and clinics need to get paid for undertaking in-app advertising to showcase healthcare services and consultancies.
End-to-End Process for Developing a Healthcare Appointment Application 
Besides essential features and revenue strategies, there is some systematic and standardized development and designing process that needs to follow for developing a highly functional and serviceable Online application.
Let's get you covered with the development stages of the online appointment application
Unique and Creative App Concept
You must have to come up with helpful and creative app concepts that no one has ever thought of and that need to solve people's problems effectively and precisely. And then in detail and transparently you need to place all your healthcare app perspectives in front of reliable healthcare and medical app Development Company that has the potential to present your idea in a world-class level application.
By embracing the clear concepts and all the details of the app, the company works on the MVP(Minimum Viable Product) or the prototype of the application followed by testing it with a small audience for getting suggestions on improvements
App Design
This is the most attentive part of the Healthcare application that decides the faith of your app. Users feel more attracted to clear, well-arranged, and neat designs. Make sure the app design is easily navigable from the Signup page, and appointment to a payment portal. It is highly advisable to go with a company that holds expertise in designing attractive and tempting UI(user interface)and UX( user experience)
Application Development
The effective phase of the app where the front end, back end, and features of the app are been loaded into the application by crafting through reliable programming languages according to the preferred operating platforms such as Android, iOS, and Windows.
Request a free quote
Quality Testing
The app should be served up once it is bug-free and performs effectively as the users want if not it might lead to failure. To make it flawless in all aspects the Quality testers and specialists test the app against various standards and factors to assuring the app is foolproof in terms of speed, load, security, and more.
Launch
Before launching the application in the respective play stores, try to bring awareness among the users about the launch of the undiscovered application by performing some marketing and advertising tasks.
Here are the most basic but imperative queries people want to know before stepping into the app development space
How Much Does it Cost to Develop Online Doctor-Patient Monitoring Apps?
Well, this is one of the foremost questions that arise in everyone's mind while going to build an amiable app. Speaking about the cost needed to develop an Innovative and professional online healthcare app, it absolutely depends upon your app concept along with some essential factors such as
The complexity of your app which might range from simple, medium to highly functional apps is the crucial factor that impacts the application development cost
The cost deciding factor that tells the number of working hours required to build a perfect app from starch to launch
Hourly rates that differ from one country to another country
The hourly rates differ from one mobile app development company to another based on market trends and standards, company success, accomplished projects, and more.
Type of Engagement Model( Fixed, Offshore development, and more)
According to unique project requirements, some companies present flexible engagement models such as fixed cost where the project cost will be mutually fixed, Offshore development for getting a dedicated team for the project based on the hourly rates and dedicated team rate
Platforms selected ( Android, iOS, and Windows)
Some people with an aim to reach a wider audience choose to build cross-platform apps that support multiple platforms and while others prefer to target platform-specific audiences (either Android or iOS). However, according to expert advice if you are having a limited budget try to focus on one platform, and if you gain profit through it focus on other platforms as well.
According to the healthcare apps requirements such as feature list, design, platforms, and more, different development and designing software, tools, and frameworks have to be utilized for shaping the proper apps. These all things come under the technology stack which is also weighed in development cost
According to depth industry research, it is predicted that just building an MVP of the app it requires 350-450 hours for a specific platform, and for the backend, it might go around 250-300 hours. 
Just by considering the average hourly cost of the developer i.e. $20-$45 then the cost to build an Online Doctor-Patient Monitoring app might fall between $25K – $100K or more.
Experts are just a click away
What Team Structure Required to Build On-demand Healthcare Application?
For building soundable medical apps you need to look up a well-structured team that has the expertise and skills to shape out your missionized apps.
Business Analyst (1)
Project Manager (1)
Designer team (includes Visual designer, Navigation planner, content developer, and more)
Development Team( Responsible for the Technical architecture of the app)
Quality assurance team (for app quality and performance testing)
Bottom Line
Trust us it's the right time for you to confidently invest in promising healthcare app development when the world is demanding such digital platforms to fight against the painful COVID-19 battle.
Hope so through this blog we have achieved all your essential queries in regards to the On-demand appointment or consultation app from stats, features, and cost to the team. But also some queries might be uncounted. In such a case reach out to our proficient developers who are been admired for providing outstanding technical consultancy along with making the healthcare apps the biggest hit.
Free consultation request
Popular Posts: