Online Doctor Consultation App Development Solution
Our solution can empower clinics, Hospitals, and healthcare start-ups to offer vigorous telehealth to each patient.
DxMinds Online Telemedicine solution (Doctor Consultation Online) is prominently conquering the entire obstruction among patients and healthcare services providers for both emergencies and normal check-ups. This virtual technology is drastically diminishing emergency visits, and patient confirmations and giving overwhelming support to remote care administration. With the help of DxMinds broad telehealth app/software solution, you can set up your healthcare service platform to address your patients' recurring condition remotely.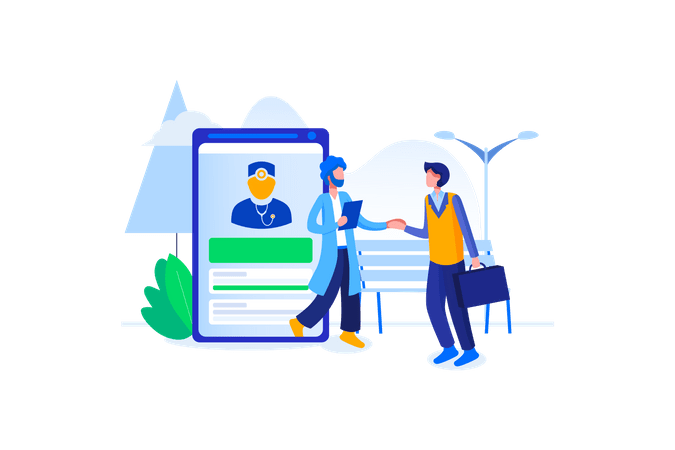 Telemedicine Health startups
Interface Patients and Providers Together Online
Develop a board telemedicine platform to let patients associate with suppliers virtually through the app
Hospitals and Healthcare Networks 
Build Your Own Virtual Multi-Specialty Hospital
Furnish your patients with customized telehealth solutions and remote counsel.
Primary care clinics 
Offer Online Doctor Consultation
Decrease the requirement for in-person subsequent follow-ups with patients with an online doctor consultation app.
Highlights of Our Solution
Build your online doctor consultation app on many platforms such as the Web, android, and ios
Secure data processing Point-to-Point P2P or collecting data from telemedicine app with screen sharing, document exchange mechanics, and recording limits.
Virtual platform headway that reflects your block what's more, mortar service through HIPAA consistent virtual holding up rooms and video recording/spilling abilities to enlist constant priority
Cloud-based video conferencing app/software with a secure record through start-to-finish encryption parts and information redirecting highlight.
Exclusive video conferencing platforms with content educating screen sharing and custom assimilation of sound and video.
Features Of Online Doctor Consultation App
Patient App
On-Demand Doctor Consultations Made Seamless.
A well-developed patient-provider relationship is an establishment for cutting-edge patient care and diminishing essential care costs. Online doctor consultation app development solution empowers patients to see their doctor and influence the mastery of specialists remotely.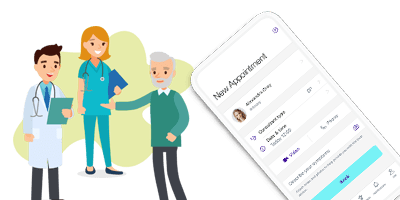 Authentication
Patients can effortlessly sign up with their email or number and begin with the application.
Native Apps 
The patient application is accessible for both Android and iOS devices, offering an extremely smooth encounter.
Search Doctors
Patients can browse, select, and book appointments with doctors dependent on the location, ailment, specialty, and ratings.
Doctors Profile 
View doctor's qualifications, certifications, surveys, and forte. Patients can likewise stamp them as a top choice.
Book Appointments
Patients can see the doctor's accessibility and book appointments appropriately.
Video Consultation
Patients can associate with the specialist through two-way video interaction.
Audio Consultation 
A simple to-utilize voice calls alternative for patients to get associated with providers for consultation.
Secure Messaging
Patients can chat with the consultant to check their health status progressively.
History
A devoted segment for patients to get to all their past appointments and transactions.
Reviews & Ratings
Patients can choose doctors dependent on genuine reviews and appraisals given by different patients
Doctor App
Robust Technology to Help Millions of People Has Healthier Lives.
Our solution helps providers reinforce the relationship with existing patients and extend their patient base. It permits doctors to interface with the patients remotely and gives care.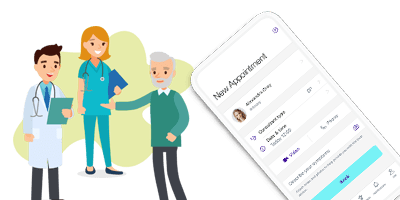 Consistent On-boarding 
Specialists can begin by signing in with an email or phone number without much of a stretch.
Make Profile 
Doctors can include their experience, accessibility, qualifications, contact details, and testimonials within the app.
Manage Appointments 
Specialists can see their whole schedule in one spot. They can likewise include appointments physically and set updates in a remainder.
Manage Patients 
Providers can see the rundown of their past and up-and-coming appointments with the activity records.
Appointment Reminders 
Realize who is requesting for appointment and answer in like manner from the app with numerous interaction choices accessible.
Update Availability
Suppliers can set the accessibility schedule for appointment type and update available time slots for the choice to date.
Offer Prescription
Make prescription utilizing a predefined structure, for example, name, time to take medicines, and offer it with patients utilizing email.
Incorporated Billing 
Specialists can charge and gather payments from patients after their remote visits.
Admin Panel
Make Quality Medical Consultation and Service Available to All.
We enable you administrator to view, control and track all aspects of the consultation activities and operation and get custom incorporation according to your specific requirements
Amazing Dashboard 
Get an elevated perspective on your online hospitals with key details and numbers like dynamic engagements, patients, and suppliers.
Specialist/Provider Management 
Oversee enrolled doctors and healthcare providers and help them with specialized support.
Patient Management 
View and deal with the details and updates from patients.
Detailing and Analytics 
Get key bits of knowledge into your telemedicine platform, for example, well-known doctor categories and application introduce
Manage Appointments
View all the booked, dropped, and finished patient-provider engagements
Calendar View 
View appointments for all the specialists in a visual format on a calendar
Manage notification 
Arrange notification settings for patients and suppliers to keep them updated.
Advanced/Optional Features 
Look at the list of optional/premium highlights that you can get with a custom doctor consultation app development solution and the advantage of relying upon your business needs.
Video Session Recording 
Both patients and suppliers can record their video meetings for future reference.
Multi-client chat
Incorporated chat feature to permit suppliers to converse with patients or different doctors progressively.
Treatment Notes 
Medicinal services providers can include progress notes, treatment, and assessment for every session.
EHR Integration 
Providers can report persistent experiences, record audio/visual notes and digitally append them to the patient's health record.
Prescription and Medication Tracker 
This component permits providers to track the prescriptions and medicines offered by them to specific patients.
Pharmacy Database 
Healthcare suppliers and administrators can without much of a stretch access the Pharmacy Database from the app.
Digital Health Records 
Safely transfer, store, and offer health reports and records with the specialists for better health evaluation.
Customized Patient Feed 
Patients have a dedicated area as a focal center point to see updates from specialists, their clinical records, and other health data to remain informed.
Advantages of DxMinds's HIPAA Compliant Online Doctor Consultation App Solution
Our online doctor consultation app solution accompanies key favorable benefits that make it appropriate for broadened customer needs.
Customizable 
A completely branded app with the alternative for new highlights, integrations, and upgrades according to your idea and requirements.
Save Time and Money
Our healthcare app developers will assist you with beginning rapidly with your concept and idea.
Your Model 
Building an online doctor consultation app can be done in different ways and we work with you to develop the model which you need.
HIPAA Compliant 
All data shared and stored within the framework is completely scrambled according to HIPAA prerequisites.
Native Experiences 
The solution incorporates native telemedicine applications for Web, iOS, and Android for a consistent encounter.
Astonishing UI/UX 
The application and the web administrator board have been keenly designed for an instinctive encounter.
Go Global 
We offer support for your favored payment portals with multi-currency support for worldwide reach.
Vigorous and Scalable 
We have utilized an incredible tech stack for a profoundly scalable doctor consultation platform.
Full Support 
We will work perfectly with you from concluding the solution requirements to post-launch support.