October 12, 2022
Posted by:

Admin

Category:

Mobile App Development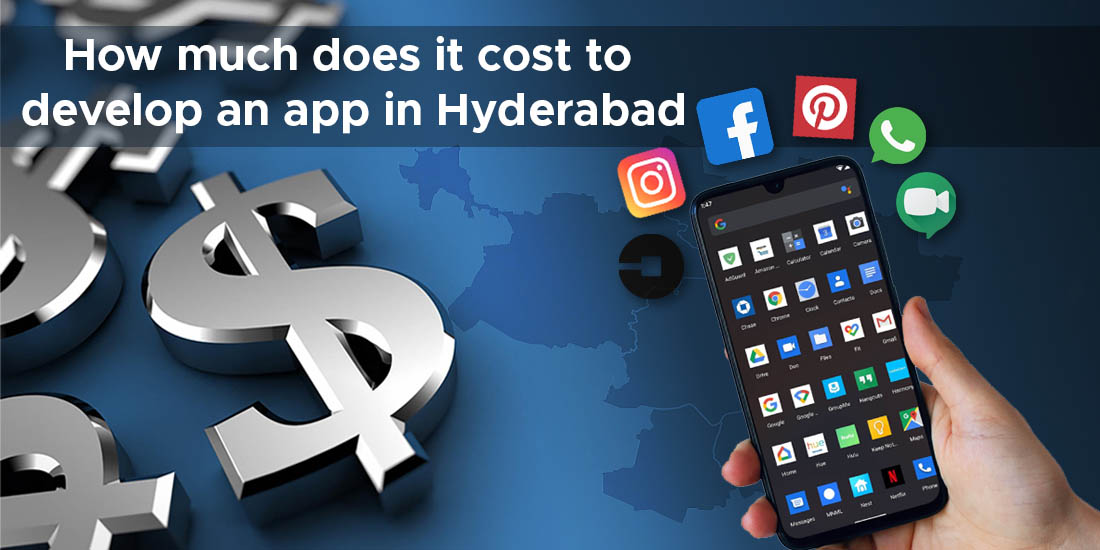 Mobile App Development Cost in Hyderabad
Technology Trends
Revolutions of mobile technology have given so many new innovations in the field of technology. Being Hyderabad is one of the metro cities. It also carries out well established technology companies in Hyderabad. Technology companies are booming in metro cities with new innovations and the number of startups is increasing day by day. The mobile app is one of the major areas in that. Capturing consumer behaviors and pushing them to purchase your product is much easier than a year ago. If you are holding a business or planning to start your business then developing a mobile app for your business can be the first major market strategy to get boost your business in a very short period of time. I will be explaining to you how much does it cost to develop a mobile app
Are you also in favor of adopting digital transformation? If yes then you must understand the SMAC.
S – Social Media
M – Mobile
A – Analytics
C – Cloud
Are you present strongly in an internet space where you can offer your product to the customer in a very well structured way? What I feel is that these are the very crucial questions which every business player has to ask before this.
In the post-digital universe, simultaneously with digital substances, related products and services will be hyper-personalized. And to decipher that, we will require a technology insight that meets the demands of constantly changing on-demand practices.
In a digital ecosystem that's transitioning from social, mobile, analytics and cloud (SMAC) to the assigned ledger and quantum computing, where does your business stand? To know this question, we have come up with the latest technology trends that you can incorporate into your business.
Mobile technology is one kind of revolution in the Digital transformation era.
Mobile technology revolutions
In 2014 people started to adopt smartphones very aggressively and this right moment when the Tech development Industry got Click up by the world. In the Year 2017, people started using mobile apps accounted for 50% of all global internet traffic.
This number has grown up better in 2018 and it will continue to rapidly grow in 2019…
Because mobile apps are an enormous market and an excellent opportunity for businesses.
If I talk about nowadays then Right now companies with mobile apps are drawing in…If your business doesn't hold a mobile app then your business is losing so many opportunities. Most people use their mobile devices to access the internet, after all. As tablets Devices start to exchange laptops and mobile devices get more powerful, the businesses which invest heavily in developing mobile apps will prosper.
There are so many mobile development companies in Hyderabad
One thing tons of companies struggle with is committing to developing a mobile app…
Even though mobile apps are often a simple "cash cow" for business (and usher in tons of revenue which may rather be missed) it's hard to understand the risks.
You might get a few questions in your mind such as…
How much is the cost of a mobile app development company in Hyderabad?
How much will it cost for a ready to use mobile app?
How can I make my app more profitable?
What is the best company to develop in Hyderabad to develop a mobile app?
Is it so important to develop an app for my business?
So the answer for the last questions is "Yes"!
So I am going to explain to you how much it costs to develop a mobile app for your business.
Before explaining to you about the cost of mobile app development in Hyderabad I will guide you that why your business needs a ready to use?
Get an answer from yourself before jumping to the conclusion
WHAT KIND OF PROBLEM DOES YOUR APP SOLVE?
If you're developing an app with great care you'll have a "me too" product on the market, save your investment for something else. While there's tons of opportunity within the app development world, it's also very crowded because most are trying to take advantage of app monetization.
Your app must be unique and solve a selected problem. Ideally, your company is already within the business of solving a selected problem for a selected section of the market. It is often a superb introduction, a call for participation for your customers to interact, how to exchange value, and even a way to form significant purchases.
Consider thinking "outside the box" when it involves creating a singular app. Not only should it address the foremost acute, specific problem possible, but it should also offer one specific solution.
The more specific and narrow the main target of your solution, the more irreplaceable your app.
Once you are clear with your solutions that your app will be able to do then you can start your mobile app development. I will be summarising below how much it will cost to create a mobile app for your business and what are the factors that can affect your cost of mobile app development.
I have listed out some of the information.
WHAT PLATFORM WILL YOU DEVELOP FOR?
You need to develop your app on such platforms where your customers engage. It could be a web app, a native app, or a hybrid application. When you start to develop for a mobile app, you have to decide whether you need an iOS app or an Android app, if you want to develop your app on ios and android platforms. If you have a limited budget then you might have to decide on just one to the platform where your user traffic is more it could be the IOS platform or Android platform.
Here's some listed insight for you:
Native apps
If I talk about native apps then it either android platform or ios platform Native apps are developed respectively for a particular operating system — either the iOS or the Android system. Developing an Android native app will be a different and separate process from developing an app for iOS. You will eject native apps either on Google Play or the Apple App Store.
Hybrid Application
Hybrid applications are basically all platform compatibility that they sound like. These apps will function on both platforms with a singular programming language. It may be easier to develop and be a budget option but it won't offer a few user experiences of good native apps.
Web Apps
It has the potential to reach the maximum number of users. Around 80% of mobile users would rather use an app or they use their mobile browser to surf the website. It could lead to several reasons. Mobile apps normally give a better UX than mobile sites. Definitely give this option some reflection.
IOS or Android?
You can decide based on your need that you are looking for an iOS or Android app. especially, you would have both for your business. But if you need to, you can develop an MVP app for either iOS or Android and see the consumer behavior response. You'll just have to understand which platform is the perfect market will resonate with.
MONETIZATION
You have to understand before you start developing the app for your business that what type of app you are going to build.  Basically a few categories I will list out below.
Free Apps – The idea behind developing free apps is not to make a lot of money in the very first phase. You have to create the first brand presence first then you can sell your product later.
Freemium Apps – It's a free trial based app you have to use this with a certain period of time and after that if you are interested to continue then the customer has to pay or take a subscription plan based on terms. It will be similar cost to make a mobile app in metro city like Hyderabad
Paid Apps – It's an app that drives as a paid product. Anyone can make easy pay for it and get all features immediately at a time. Again it will depend on feature to feature to cost of creating a mobile application.
E-commerce Apps – when you are planning to build an app for e-commerce than it's more beneficial to your business having an app for your business. It allows your customer to purchase any listed item in your app at any point of time & any place. Based on your need you can get a quote for the cost of mobile app development in Hyderabad city.
Conclusion:
The time taken by developers to develop a mobile app and developing a cost of mobile app in Hyderabad city will vary based on your above mentions requirement and type of app you are planning to develop. It might take less time if the client already has a good working knowledge & project requirements. If a client is co-operative and willing to work along with the developer in the planning phase. However, complex and more featured apps will definitely lead a longer time, and the project will require lots of different team member's involvement.
Pricing
If we talk about the cost of mobile app development then it depends upon all above mentioned factors. It's hard to say how much it will cost to build a mobile app development in Hyderabad. However, on basic rough amount would be If you are also in Hyderabad city looking for a technology partner or mobile app development company Hyderabad, Telangana to build a mobile application or if you are looking to get a quote of how much does it cost to develop a mobile app in Hyderabad city. DxMinds is one top leading mobile app development organization in Hyderabad city. We have delivered so many mobile apps on time with very nominal cost. You can contact our mobile application Developers experienced in India to build an easy to use application.