November 6, 2022
Posted by:

Admin

Category:

Famous App Analysis, Mobile app development cost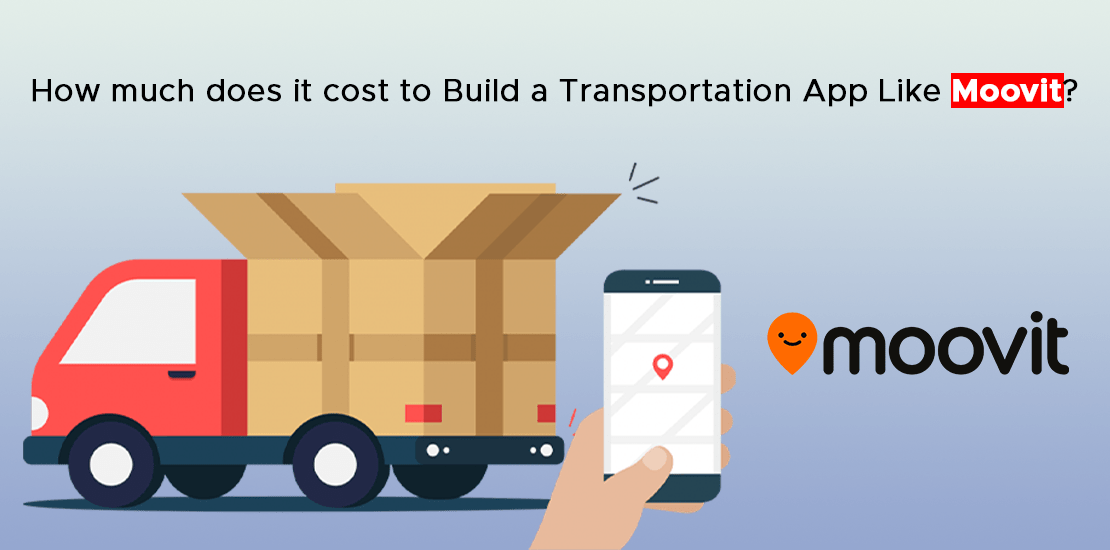 We've traveled and experienced a difficult journey. We've come a long way, aren't we?
From waiting in line for hours just to send a package or register, we can now do it with the click of a button on our smartphone. Additionally, from the perspective of the logistics operators, they are spared the discomfort of constantly monitoring all logistics and transportation operations.
It all comes down to taking a result-oriented approach. This is due to the integration of the logistics and transportation industries within the field of mobile app development.
Global supply chains are becoming much more sustainable and have begun to focus on the needs of the customer as a result of the incorporation of technology-driven innovations in the business processes of transportation and logistics. Digitization has had a significant impact on the transportation and logistics sector due to a rise in digital literacy. Operations like shipping, delivery, ordering, etc. are successfully managed as a result.
A sort of logistics industry revolution has been sparked by the on-demand logistics app development solutions like Moovit, which have produced a highly transformative era.
When it comes to freight forwarders, it brings a high level of transparency and has done away with middlemen to produce supply chains that are more dependable. To achieve a higher level of market sustainability, businesses are increasingly converting to logistics and transportation apps today.
According to Statista, this is one of the world's largest industries, with a revenue of 6.8 billion euros expected by 2024.
The industry is so large that it accounted for 7.1% of all jobs in the United States in 2018, and it is expected to grow another 6% by 2026.
With the advent of Industry 4.0, the logistics industry is expected to evolve even further, with megatrends such as AI & ML technologies, IoT, Supply Chain Optimization, Inventory Management, custom software development, and so on. And the recent changes brought about by Covid-19 were only a catalyst for the growth.
This has drawn a lot of business from all over the United States of America. In fact, a staggering number of companies have shifted to on-demand logistics app development, creating a $25.22 billion market for these apps.
Being a well-known transportation app, Moovit served as an inspiration for the creation of many other transportation apps. And this blog is for you if you want to create an app similar to Moovit.
Everything concerning Moovit, its features, and the cost of developing a competing app like Moovit will be covered in this article. So, with all of that said, let's get right to it:
Moovit: What is it?
One of the most well-liked transportation apps, Moovit, has been defying logic with its popularity.
This Israel-based mobility and transportation platform, which was founded in 2011, also functions as a journey-planning app. Following the meteoric success of this transportation app, Intel acquired it through its subsidiary Mobileye in 2020.
Speaking of Moovit, it is a fantastic transportation app. It goes without saying that Moovit is the best transportation app idea ever put into practice.
For those who are curious about what it does, the mobile app enables you to book a rider while providing a convenient one-stop travel experience. This facilitates the user's hassle-free travel from point A to point B, their intended destination.
Additionally, users of the Moovit app can track trains and buses, receiving data such as arrival times, maps, and other things. The fact that all of the data is delivered in real-time makes everything for the customer much more convenient. It currently has 750 million active users across 3,400 cities in 100 countries. It is simpler for everyone to use because it is available in 45 languages.
However, the industry's scope continues to grow thanks to mobile applications that assist in the management of fleets, routes, shipment information, drivers, goods, etc.
Now let's look at some of the explanations for creating an app similar to Moovit in the section below:
Why Create A Transportation App Similar To Moovit?
A lot of time and money must be spent on the development of a mobile app. Therefore, you don't just make a big decision out of the blue without double-checking it.
But there are plenty of good reasons to create a Moovit-like transportation app. As mentioned below, these are:
1) Improved Shipping Operations
Delivery is, in fact, one of the biggest niches in the logistics sector. In actuality, logistics services are used to deliver the items you ordered through eCommerce to your doorstep.
Since there is so much competition in this field, you must outperform everyone to establish a name for yourself.
You can accomplish this by optimizing your delivery processes with the help of the logistics and transportation mobile app.
The team will be able to work more efficiently and select the ideal delivery dates and itineraries based on the location and requirements of the client using the mobile application. Not only does this increase the value you offer to customers, but it also enhances the efficiency and productivity of your business operations.
2) Cost- and time-effective
Businesses can create mobile apps that are best suited to their needs by using services for mobile app development. Additionally, these mobile apps aid in streamlining their business processes.
In this situation, an app can assist in better route optimization, which can save both time and fuel, as well as in creating a better schedule.
But most importantly, it boosts productivity, lowers costs, and enhances overall time management. This is one of the reasons you ought to create a logistics and transportation app like Moovit.
3) Real-Time Information
Real-time optimization, then, depends heavily on management and fleet communication.
However, outdated logistics systems aren't very flexible, which hurts a company's productivity. A straightforward app that functions like Moovit offers a real-time information exchange solution.
With a good transportation management system, management can handle everything and troubleshoot immediately.
4) Fleet Management
No logistics or transportation company operates without a sizable vehicle fleet. Additionally, fleet management becomes more challenging as it gets bigger.
The fleet management mobile applications give businesses access to information like fuel, vehicle location, current tasks, and more to manage their fleets more efficiently.
Through a mobile application, you can manage the entire fleet with various monitoring tools. If this doesn't convince you to work with an app development firm to create your own logistic app, we're not sure what will.
5) Automation
To put it mildly, logistic operations required a lot of paperwork. And keeping track of it all, organizing it, and managing it can be difficult and disorganized. Not to mention how much money and paper it wastes.
You can eliminate all of the paperwork by integrating automation functionality into your transportation app using AI and ML technology.
Mobile devices are extremely helpful in that they automate monotonous tasks, which saves a lot of time and enables you to concentrate on other things.
All you have to do to access these incredible advantages is create a mobile app for logistics and transportation. With that said, let's examine the feature you ought to include to provide the same facilities.
Features to Integrate for building a Moovit-like transportation app
The mobile app's features play a crucial role. Customers can be drawn in and engaged with your product with the right features.
As a result, a feature has a significant impact on the app's usability and performance. Because of this, you ought to include those who support your expansion while also providing for public demand.
Therefore, let's first take a look at the features to include in your logistics app development before you hire dedicated developers and create a market-leading transportation app, as mentioned below:
Customer Panel
Sign-up
The app requires quick and simple registration in order to use it. Utilizing social media platforms helps businesses attract new customers and saves a tonne of time. Through this, the application's administrator would be able to retrieve the users' identities, email addresses, and social network accounts.
User alerts
At regular intervals, the user will get alerts for scheduling, receiving receipts, shipping orders, and delivery. Using this functionality, the driver and vehicle's most recent statuses can be sent.
Payment gateway
By eliminating the hassle of carrying cash, this feature promotes payment through the app. Users can pay with debit and credit cards, electronic wallets, Google Wallets, and other methods.
Monitoring/tracking
Customers feel secure and confident using the order tracking feature. It improves the participants' relationships and fosters customer loyalty. Through on-time tracking, the customer can also see the driver's location and the anticipated delivery time.
Comments and suggestions
The feedback feature is advantageous to the logistics and transportation industries. A simple transportation app can become the best one thanks to user feedback and change suggestions.
Driver Panel
Sign-up
Driver enrollment is an essential feature. The drivers must register on social media, with a mobile device, or via email.
Drivers Profile Creation
The administrator can upload the driver's profile, and the driver's panel also has a feature. Additionally, he or she can directly add or edit their information in the app. The application's database is where the data is stored.
Product window for delivery
The newly assigned products will be displayed along with the client information, delivery address, and contact information. The list of recent and upcoming shipments, as well as other details, are available to the drivers on the dashboard. Consequently, they will be able to plan their transportation and ship the order right away.
Delivery confirmation
Transportation apps have made the driver's job easier and risk-free since former delivery men were held responsible in the event that a product was stolen. As proof of delivery, the drivers can now take a photo, get a sign, or scan a code. The data will be automatically saved in the app's database.
Push notification
Text alerts can be used by customers to find out whether their orders have shipped or are still in transit, and by drivers to find out about allocated orders, changes to scheduled orders, and notes from customers or management. Since the notification panel itself notifies the driver of any crucial information, there is no need to launch an application.
Admin Panel
Management portal
An admin can keep close track of various activities using a managerial portal, also known as a dashboard. The administration doesn't focus on the management as a whole. They can see the orders that have been delivered, processed, and sent. With satellite navigation, the administrator can always keep an eye on the car and its occupants.
fleet management
It is one of the crucial features to consider in creating a transportation app. Administrators have real-time access to the location of the fleet. Using mobile applications, they can easily communicate with the drivers and point them in the direction of the shortest routes.
GPS and navigation
GPS tracking features can help drivers by showing them alternate routes and traffic updates. Customers can also see real-time ETA updates. It assists with tracking, mapping, and monitoring fleet movement. The importance of transportation has increased in a world that is changing quickly. More customers can be attracted by GPS devices, and the development of transportation software facilitates user logistical planning.
App notifications
Compared to email viewing rates, push alert viewing rates are higher at over 90%. Actual updates on issues like heavy traffic, unforeseen circumstances, accidents, and new construction are available to users. You can interact with your customers more successful and help them further plan their schedules by integrating a push notification feature. Customers can receive regular updates on their shipments as they travel. Bills, delivery updates, and information, as well as courier credentials, can all be sent.
Driver's administration
Drivers make up the majority of workers in the logistics sector. Administrators have control over driver identities by collecting data from their employees. Among the information name, contact information, addresses, registration numbers, assigned vehicles, etc. Additionally, assigning vehicles or changing salaries can be done using the same interface.
Chat capabilities
Admins can talk to their customers and drivers frequently. If a customer or driver had a problem, it would be resolved instantly through the chat feature.
Offline routes and schedules
The creation of transportation apps is seen as a joy by all seasoned commuters who stick to a set route, location, and station. To plan their travel offline, they can use the offline display of the schedules and routes.
How to Build a Moovit-Like App? Logistics & Transportation App Development
In order to ensure the success of your transportation app on the market, you must build it well.
Nevertheless, it's not as simple as it seems to develop a mobile app. In order to develop a market-leading solution, a specific procedure must be followed.
Here, we'll walk you through every stage of developing a transportation app from scratch to produce a solid product that will boost your company's revenue by millions.
These are, as follows:
1) Come up with an Exclusive Idea
If it wasn't already clear, this is the first step in this journey—call it a concept, an idea, whatever.
How do you acquire it? Nobody knows; just think, plan, and take action as necessary. Once you have a plan, we can move on to the following action.
2) Research
You must do research into an idea you have in mind. The data gathered here will be helpful throughout the development of transportation apps, so this process is crucial.
Here, you can carry out a market audit, examine your competitors, keep track of their strategies, and discover what they lack and what customers want.
Once you have all the necessary data and information, we must cross-check the concept.
3) Verify the Concept a Second Time
Verify the validity of your concept.
Make sure it is market-relevant and developable using the information you have on hand. You want to confirm that the problem you are attempting to solve is one that exists.
The app idea should be monetizable, which is the most important factor.
4) Monetization
Well, everyone wants to make money with their mobile app, and we assume you do too.
You must use monetization techniques to achieve this. Big data is how the well-known transportation app Moovit makes money.
You can use other tactics, though. Several of these include
Service Fees
and Premium Version
Advertisements
5) Hire mobile app developers
It's now time to hire mobile app developers after all the planning is done.
You can now hire them using a variety of methods. There are some things to keep in mind no matter which direction you choose to go.
These include, as follows:
Check out the way they interact with you.
View their portfolio to learn how their prior projects fared.
Request client endorsements
size of their team
What level of expertise do they possess
What are their areas of specialization and expertise?
You also have to make a decision regarding something else.
It is necessary to select a platform because we are talking about developing mobile apps. Furthermore, you will hire the developer in accordance with the platform you select.
As a result, you have a choice between iPhone and Android app development services. The choice ultimately comes down to your project, even though both of these platforms are excellent.
Moving on, hybrid app development services are another option if you're looking for a cross-platform app.
We can begin the actual development process after this is finished.
6) Transport App Design Process
Designing a transportation app is the first step in development.
Design is crucial for many reasons. For instance, this is what motivates user engagement with features. As a result, it is advised that you develop a design that both reflects your company and satisfies user needs.
It should be attractive to look at, convey the necessary information, and be simple to use. These are characteristics of an effective UI/UX design.
When front-end development is complete, we can proceed to the following step, which is…
7) Back-End Development
The developer of the transportation apps will be writing the applications' source code, so this is where all the technical work is completed.
As a result, this is probably the process step that uses the most resources and is the longest. You are therefore advised to keep open lines of communication with the development side.
The app will be tested after it has been created.
8) Testing
Testing the app before it is released is obviously crucial.
By doing so, the app is ensured to be free of bugs and to be exactly as the client requested. Developers test them using a variety of tools while running them in a virtual environment.
We can proceed to the next step once this is finished.
9) Deployment
After everything is said and done, the app needs to be launched.
Now, the actual deployment procedure greatly depends on whether you select hybrid, Android, or iPhone app development services.
However, once this is finished, you can begin doing maintenance.
10) Mobile app Maintenance
You need mobile app maintenance services if you want your mobile app to be successful and remain successful.
What is the cost of developing a Transportation app like Moovit?
To put it mildly, creating an app like Moovit is a lengthy process. You start to wonder how much it would cost to create a similar transportation app to Moovit.
Actually, a number of factors affect how much it will cost to develop a mobile app. This includes
App platform
Security
Size and complexity of the app
Location of the developer
Feature set
Design
However, you can anticipate spending between $25,000 and $65,000 to develop an app similar to Moovit.
How can the transportation and logistics software development services from DxMinds benefit your company?
You need automated logistics software development services that can satisfy all of your operational needs if your business is in the transportation sector. In the logistics industry, DxMinds provides comprehensive software application development for streamlining your internal and external delivery system. We offer services like
Transportation Management systems
Location tracking applications
Fleet Management systems
On-demand transportation and logistics solution
Our aim is to enhance the overall customer experience while assisting your company's sustainable growth through solutions like logistics management solutions, transport management software, database management, and more.
Recently, using AI-powered robotics and predictive analysis, our team developed a new data-driven logistics and supply chain management system for our client company, a manufacturer of heavy equipment.
Contact our experts right away if you're searching for a similar thing. They'll make the process of developing an app easier for you by guiding you through it from beginning to end.
Conclusion
The logistics and transportation sector may experience a significant change as a result of technological advancements. Building a logistics and transportation application for your business will be profitable because it will allow you to manage vehicles, paperwork, and intricate processes.
You can hire a mobile app development company as a specialist to help you create a transport application solution that satisfies user and industry needs while integrating functionality and features. Because the transportation sector is currently experiencing tremendous growth, developing an on-demand logistics application for your business is now crucial.