Logistics App, Software Solution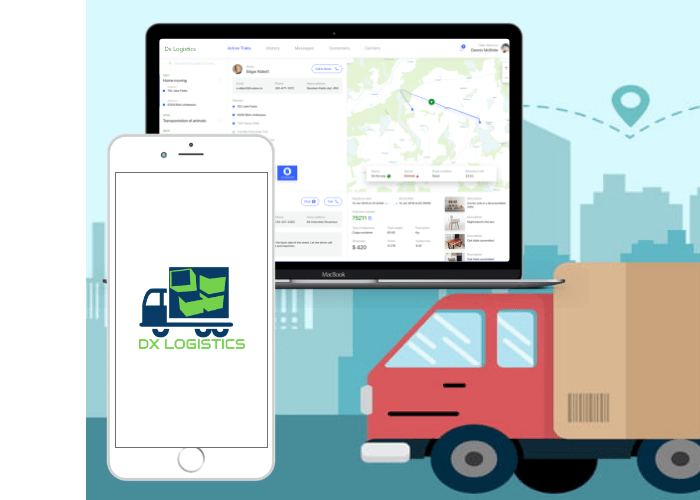 Logistics Service Providers (LSPs) prior aim is to offer a complete end to end service for transporting goods across the globe. If LSPs desire a winning business, then they have to turn out to be completely digitized and offer a consistent, online experience to customers who prefer a quick and simple way to move goods via land, ocean, or air.
DxMinds leverages its masters in offering DxLogistics app development solutions either on-premise or in the cloud to the users across various industries. 
We understand how challenging it is to manage logistics especially when it comes to transportation, so to overcome that, DxMinds offers the best logistics solution which can be customized for each retailer's business needs. 
We purse enterprise mobility techniques that can provide advanced management abilities and can expand the sales of getting flawless orders.
About DxLogistics

DX Solutions
DxLogistcis a complete unified logistics delivery mobile app development solution encourages you to manage the fleet, routes, shipment details, drivers, goods, and much more.
Customers depend on their logistics partners to transport their goods and packages from one place to another. A booming on-demand logistics app solution addresses the needs of the growing logistics industry.
An On-demand DxLogistics app solution empowers the users to book consignments advance from their smartphones whenever they require it. Additionally, it offers realtime updates about their shipments.
With a Dx logistics, transportation, and trucking solution manage your delivery business accurately, create and grow lifelong customers.
Our solution is a feature to provide real-time tracking of your fleets and workforce in a single map interface. Additionally, it manages delivery routes and speeds up the process in a cost-effective way
Solution

Subcategories In DxLogistics
Freight Management Solution 
Our smart and automated logistics app development solutions offer an outstanding platform to manage, maintain, and grow your freight business within a short time.
Transport Mobility Solutions 
With the innovative on-demand transport application, streamline all your mobility services and diminish unwanted expenses
Fleet Management Solutions
Your business may be initiated with a handful of vehicles, however, it may be multiplied in huge quantity. Effectively manage your complete fleet with our robust solutions from fuel management to realtime tracking of fleets.
Delivery and Dispatch Solutions
Observe on-time dispatch and delivery services with our best in class solutions, designed and developed to serve all your business requirements.
Warehouse Management Solution
Save money on undesirable storage and lift complete efficiency with the farsighted warehouse management solutions
DxLogistics Serve

for Top Industries
Courier and Parcel Delivery 
DxLogistics solutions help in streamlining your daily tasks including managing and automating pickup points, enhancing speed, accuracy, and on-time deliveries.  
Ecommerce 
Implemented with functionalities such as smart inventory management, warehousing, product packaging, transportation/delivery, and considerably more productively. 
Transport Providers 
Enhance and manage your transportation business flawlessly with our advanced and profoundly robust trucking, fleet and logistics solutions. 
Manufacturing 
Manufacturing businesses without logistics support is difficult to visualize. Our specialized tech services help to raise proficiency and speed of output.
Pharma and Medicine  
With the unified dashboard, operate all business activities including medicine catalog, medicine agents and representatives, logistics, and more.
Financial Institutions and Insurance 
The financial sector aims for reliable and secure transaction solutions from an ethical logistics app. Our amazing highlights offer speed and security consistently! 
Food and Beverages 
The food and dairy industry requires clear cut planning and setting up the correct logistics support. Do it flawlessly with our stunning delivery and shipping solutions
Customer App
Registration/Signup
Users/shippers can sign up the application with their telephone number and email or sign in via social media accounts such as Facebook, Instagram, and others. 
Select Vehicle Type 
As per the transfer dimensions, users can pick the type of vehicle that best suits their mobility prerequisites. 
Estimated Time Of Arrival (ETA) 
After confirmation in booking, the users will see the estimated time of arrival of the truck to their given location.
Notifications 
Users will be updated with the most recent alerts via push notification, SMS, and email. Updates incorporate booking confirmation, ETA and more.
Multi-Payment 
The shipper application is included with numerous mainstream payment gateways coordinated with various payment techniques such as credit/debit cards, in-application wallets, and others. 
Save Address 
The users can save their address where the deliveries are consistently picked up and dropped off.
Book Now 
Opting the kind of vehicle and affirming the pickup and drop off location, users tap "Book Now" for beginning the service instantly. 
Schedule Trip 
User can book the delivery services for a later on by furnishing complete details such as date and time, destination, location, and other mandatory details before confirming.
Rate and Review 
After delivery of the consignment, users/shipper can rate the service on their experience. They can also provide feedback as per their preference and knowledge 
Email Invoice 
Customers can get detailed invoice receipt including all the vital insights about the service-related cost via email.
View nearby Trucks 
Depending on the user's location and kind of vehicle chosen they can look the nearby accessible trucks in real-time to oblige their logistics needs.
Fare Estimation 
The most highlighted feature enabling users to see the complete fare estimation for the service they select. 
In-App Calling 
The user can personally connect with the allocated driver through the in-application calling and messaging highlights 
Cancel Service 
The user can cancel the logistics post-booking. A small amount might be deducted before refunding according to service policy
Driver Details 
The app aid users to get complete driver details including his/her ratings, experience, and other important details 
Trucker/Driver App
Upload Documents 
Drivers can upload all the required documents via the app. The document type will be according to asper the choice of a service provider.
Select Vehicle Type 
Drivers can pick the vehicle/truck type they will be requested for. The data will reflect on the user's screen while searching for the preferred vehicle. 
Acknowledge/Reject Requests 
Because of the driver's choice, they can either accept or reject service demands. On the chance that he/she concurs with the trip request, they will track the pickup details in real-time. 
Navigation
The well-known feature shows the drivers with start to finish navigation from the pickup to drop off location without any error.
Revenue details 
The application enables drivers' view revenue details for each trip and commission added or deducted by the administrator as per the company policy.
Accessibility Toggle 
Drivers can affirm their accessibility through this feature. They will get shipper request, they can confirm the availability via an app. 
User and Consignment Details 
Drivers previously or in the wake of accepting the request can see the customer and consignment (to be transported) details 
View Rate Card 
The driver can see the rate card that is set and given by the service administrator. This helps drivers while checking their earning and profit. 
Cancel Trip 
Drivers can opt to cancel the trip by choosing the proper reasons as listed in the app service company. They can even give extra inputs for cancellation. 
In-App Calling 
Drivers can directly connect with users via in-application calling and messaging features
Notification 
The drivers get updated on recent service requests including trip requests, pickup/drop location, and more using pop-up notification, SMS, email, and others. 
Multi-Language 
The application offered in various local languages tackles drivers' correspondence concerns.
Admin and Dispatcher Panel
User Management 
Administrators can screen and manage the users via a ground-breaking administrator board. They allow the driver, produce the receipt invoice, send updates, and significantly more. 
Sub-Admins 
Administrators can allocate various sub-administrators to help them with supervising the business. Sub-administrators access can be expanded or constrained easily. 
Managing and Tracking Trips 
With the robust and smart administrator board, manage and track every logistics trip real-time without a glitch. They can see the details on consignment, drivers, current location and many more.
Rate Card Management
The administrator can set, modify, and deal with the rate card for every driver and vehicle simultaneously.
Manage Complaints 
Manage clients and drivers complains of a scalable dashboard and improve your service offerings easily. 
Manage Drivers 
Allocate ride demands dependent on driver accessibility and oversee dispatch requests for the complete fleet. 
Oversee and Track Revenues 
Screen, track and deal with the complete revenue cycle consistently. The administrator can either manually deduct profit for each service or automate the entire procedure. 
Manage Trip History 
The administrator can see the trip service history of both the shipper and the driver through the tailor-made panel.
Produce Billing and Invoice 
Asper the offered services, the administrator can either manually produce the bill and invoice and offer the customer or streamline the whole procedure. 
Fleet Management
Manage and track hundreds to thousands of vehicles via the admin dashboard. Administrators can provide maintenance as per their choice.
Set Multi-Stop Routes 
Admins can set various stops for the vehicle while in travel to the destination. This incorporates stacking extra consignments that utilize space on the truck. 
Membership Plan 
For often users, admins can offer a week, monthly, or yearly membership plan that guarantees proceeded connection and turns into a dependable salary source.
Remarkable Advantages for your Business
Enhance supply chain management
With our customized and robust logistics solution deal with your supply chain management, inventory, and transportation services effectively. 
Track in real-time accurately 
Logistics and mobility businesses can build their efficiency with improved vehicle management and tracking.
Engaging communication 
Great business depends on amazing communication and interaction with service seekers and providers. Our solution assists you with meeting that mark easily. 
Successful methodologies 
With the exact transportation solutions, come up with exceptionally compelling business techniques to grow your business reach.
Exceptionally Cost-Effective 
With the inclusion of mobile technology, fleet management processes like time management, route enhancement, departmental handling of a task, support, and maintenance, warehouse management will be streamlined and automated. It will assist with diminishing fuel usage and develops a viable communication to improve efficiency. 
Better Visibility 
Top Logistics app developers in Bangalore offer an app that improves visibility over a company's whole supply chain. It additionally empowers the businesses to track and trace fleets, record driver driving behavior, and question drivers after deliveries are completed. Hence it saves and money misspent on tracking and tracing.
Expanded Automation 
Fleet management tasks can be streamlined and automated with mobility solutions in real-time. When the enterprise get furnished with the fleet management apps they can reduce manpower and delivery time 
Logistics App Development Process We follow
Gathering Requirement
Our app experts get familiar with your business goals and suggest perfect solutions.
UI/UX Design 
Because of the client's plan and desire, we being the #1 Logistics app development company in Bangalore plan the ideal UI/UX (UI/client experience) that satisfies, attracts business and user's needs easily.
Prototype 
The well-organized prototype offers an amazing business idea. Because of customer inputs, the result can be improved further.
Application Development 
The application builds for all platforms including the main features for smooth execution throughout the entire way.
Quality check 
The application experiences various quality tests and security checks to ensure the app is bug-free and performing securely.
Application Deployment 
The robust and customized logistics app is deployed on all driving mobile (iOS and Android) and web platforms.
Support and Maintenance 
Our talented support and maintenance team helps you after post-launch. We guarantee your application performs fantastically forever.
On-demand DxLogistics App Solution Supports Offers Complete Package
User and driver iOS app
User and driver android app
Robust Admin panel
User and Driver website
Quick implementation
Multi-payment gateway integration
Multi-language integration
GPS tracking
Google maps integration
Consignment tracking modules
Why DxLogistics App Solution?
Our DxLogistics solution offers complete growth to your Logistics Management Solutions. It furnishes analytics data and provides real-time tracking benefits. It offers nonstop monitoring and tracking of each activity of workforce individuals and vehicles. 
Improve efficiency plus productivity 
Cut operational costs 
Drive operational effectiveness 
More prominent Inventory Visibility 
Eradicate repetitive procedures 
Improve user service 
Increase safety and security 
Access critical information insights 
Key Financial Indicators 
Proficient supply chain