DxMinds is offering COVID - 19 online business solutions in 2020
Amid the Corona virus pandemic, several countries over the world depended on lockdown to bring the graph down from the infection. These lockdown restricted millions of citizens to their homes, shutting down businesses and stopping practically all financial activity.
From working remotely and maintaining social distancing, to wearing masks and getting ready for an uncertain future, the novel corona virus has hit the world with challenges no one was prepared for.
The pandemic has badly influenced all industries including Banking, aviation, automotive, education, Pharmaceuticals, consumer electronics, travel and tourism, and more. Nationally and internationally, we are affected by financial issues that will take longer effort to recover, especially in terms of traditional businesses that have experienced huge losses during this period.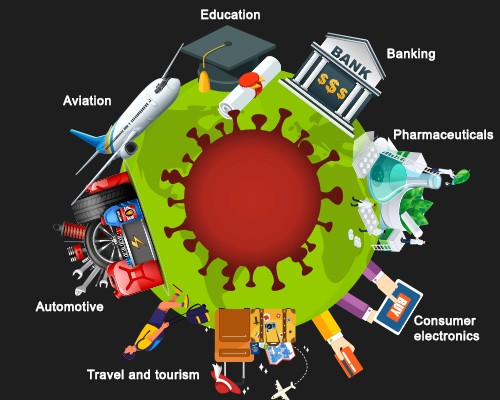 To limit physical contact as much as possible during this COVID-19 outbreak, DxMinds the digital tech and Mobile app development company in Bangalore has introduced an end to end online tech solutions to encourage businesses to switch from Traditional platform to Online platform and sustain during this corona period.
The tremendous online business solutions offered by DxMinds are mentioned below: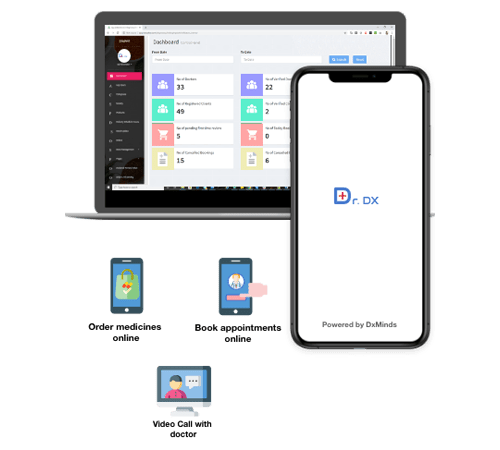 Dr.Dx solution is engaged with offering online doctor consultation for reducing the risks and chances of Physical contact. The solution encourages you to scale your healthcare business during the corona season with on-demand mobile app development. 
Dr.Dx app solution makes it virtually easier for patients to book doctors, schedule appointments, send reports, updates, and make payments. Build inventive healthcare apps that tackle the problem of the COVID-19 outbreak and gain the advantage of online visibility.
Our developers are specialists who deliver impeccable on-demand doctor consultation apps to make individuals' lives safer, easier, and risk-free. We help hospital chains, clinics, and doctors to channelize their booking procedures by building up the most productive mobile application. Never be late to grasp technology, where it can offer you the most ideal approaches to virtually treat the patients during the corona season. Build a doctor booking application and make things smooth for your patients now.
Why Dr. Dx Solution?
Tailor-made Customised Doctor booking app for entrepreneurs, Hospitals and Doctors.
Integrated with unique features to delight patients and doctors such as Booking, chats, Video calls, Payment, Treatment history and more.
Our Doctor appointment or consulting app supports different platforms such as android, iOS, and react-native.
The solution is implemented with a chatbot, IoT, AR/VR, and the latest technologies.
Work-from-home strategies, social distancing, and government lockdowns have expanded the urge of video conferencing applications, for both business and personal use.
Video conferencing is a kind of distance conferencing where at least two or a group of individuals can virtually connect and interface with one another. This platform has empowered businesses and associations to conduct meetings face to face with individuals without the need to travel at a specific location 
DxQuickcall is a video conferencing platform intended by DxMinds. The software permits employees of an organization to conduct online gatherings and meetings while working remotely. The platform supports HD video as well as audio calls.
The DxQuickcall integrates all the features a company requires to conduct online meetings without considering the size and strength.
The solution incorporates features such as Screen sharing, Virtual hand raising, Chat, Polls, Record meetings, and Mute participants.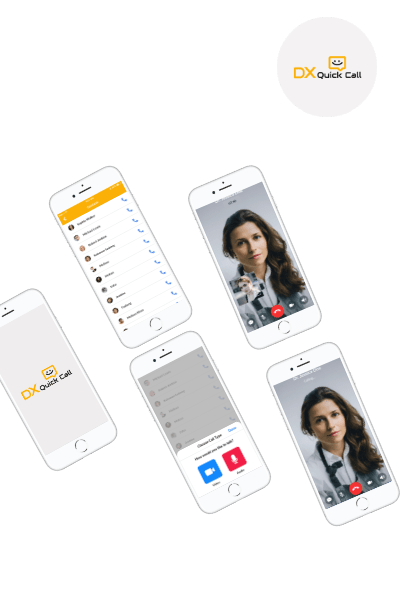 Why DxQuickcall?
DxQuick is simple to set up, use and manage.
Modern communications with your dispersed team.
Single platform for meetings, phone, webinars, and chat.
Our solution supports desktop clients, browsers, conference rooms, and mobile devices.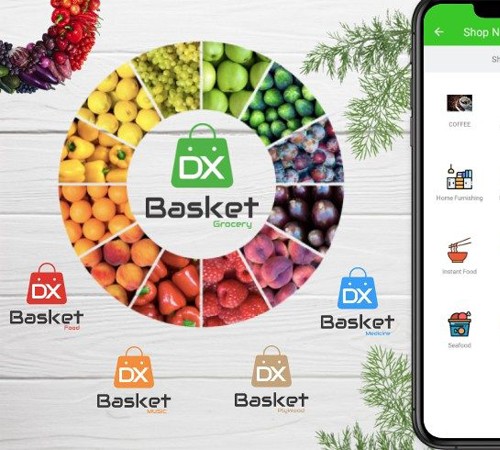 DxBasket the Online business/eCommerce solution came into existence to offer numerous advantages to Micro, Small, and Medium Enterprises (MSMEs), by providing them access to more extensive markets, overcoming geographic limits, offering a level playing field for competing bigger players and so on. 
Shoppers additionally get benefited from DxBasket solution, fulfilling a desire for extensive selection, choices of goods/services, competitive pricing, etc. 
DxBasket solution introduced to uphold the rules of social distancing by offering a platform for traditional retailers to support door to door delivery of groceries, medicines, and other essential commodities to avoid physical contact and enhance online business sales.
It's high time to shift your local product/service store into an online Market place with a DxBasket eCommerce solution.
Why DxBasket solution?
Offers brand new digital eCommerce store.
Our solution fits for Retailer app/shopping app, Catalogue app, Market place app, service booking app, and Warehouse and Inventory app.
Integrated with Payment gateway and shipping methods.
Flexible engagement solution.
Most customers are stuck in their homes due to corona virus pandemic and in this way, the demand for essential goods and services has made them request on-demand fast deliveries. Logistics businesses are initiating to build a hyperlocal on-demand delivery business model to satisfy this need. 
Dxhyperlocal on-demand solution designed to connect the local offline business holders to customers through a digital mobile app platform. It empowers customers to rapidly buy products or services like food, medicine, and goods. 
In this delivery model, the logistics provider obtains the desired products from nearby shops and delivers them to the customers. Customers can track the complete delivery process in real-time.
The COVID-19 outbreak has changed the notion of retailers towards on-demand deliveries. Retailers who are not participating in on-demand deliveries are suffering from huge losses. They are looking for alternate options to survive their business.
One such tech option that solves the problem of retailers is DxHyperlocal on-demand delivery solution.
Here are several services that come under our DxHyperlocal on-demand business solutions
Personal Home care services: Beauty, Salon spa services, etc 
Food Ordering services 
Courier Parcel delivery services 
Handyman services: Plumbing, Carpentry, electrician, gardening, etc
Home Healthcare Services: Babycare, senior care, caregiving, etc
Grocery delivery services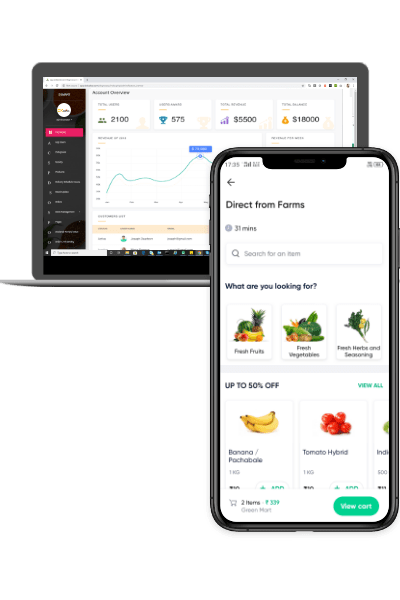 Why DxHyperlocal solution?
Hassle-free solution.
Overcomes Logistical challenges of providing deliveries on time.
Customer-centric model.
#1 Hyperlocal app development company.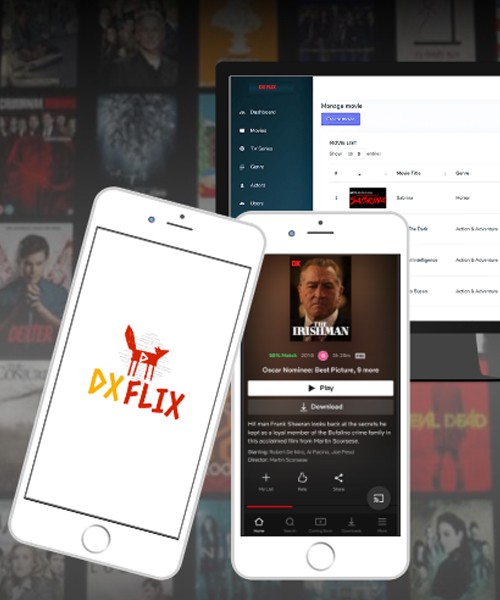 Televisions are getting fade from the market as a huge crowd already transformed towards the digital platform of Video streaming applications which can be easily accessed as when required. 
DxFlix is acquiring high popularity during pandemic time as numerous movie studios are permitting new releases on video streaming platform. DxFlix is a video streaming app solution by which the users can choose their preferred video content such as movies, TV shows, web series and watch them as per their desire time irrespective of watching on the TV according to the on-air broadcast time.
Culture has gone virtual in the new ordinary of social distancing, which can be noticed by the rise of Video streaming and Video sharing apps.
Individuals are advised not to gather at public places and possibly after the lockdown is lifted, people would avoid crowded places like movie theaters and opt for video streaming and sharing solutions.
LIVE video streaming app development is the future, as a large number of individuals have lost interest from TV with the rise of the internet and video streaming application. This is the fundamental reason, why, the demand for video streaming application development is expanding nowadays.
Why DxFlix?
A complete solution for Content streaming, Video streaming, and Video sharing.
Our DxFlix solution keep Up with the latest trends.
We use the right strategy to customize the solution as per your requirements.
Supports High-quality videos and content.
DxLms is an online-based software platform that helps to automate the student training and offers digital experiences for aspirants, educators, students, and learners.
The software manages, analysis, and runs educational courses and training programs.It likewise features for student registration, curriculum management, Exam management, Tutor management and more.
The solution is a fantastic innovation for academic education. 
In the present crises, the adoption of online learning platforms such as LMS can help to reduce the spread of the disease (COVID-19). During the nationwide lockdown, remote learning and educating through online platforms have been embraced across schools, universities, and training centers. Practically overnight, a multitude of schools went digital and countless students began to attend online classes and lectures.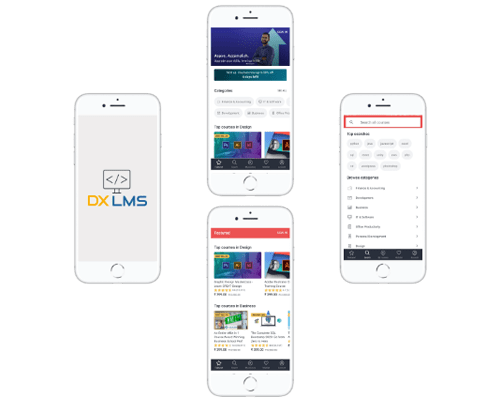 Why DxLMS?
Minimizes learning and development cost and time.
Organizes e-Learning content in one location.
Our solution easily tracks learner progress and performance.
Provides unlimited access to e-learning materials.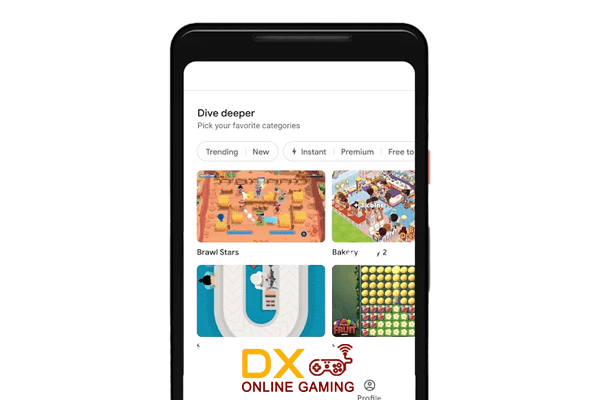 Many online games are getting popular during the lockdown, offering creative survival scenarios, with regards to the Covid-19 wellbeing. Individuals in lockdown are discovering gaming the best route to associate and socialize with family, companions, and colleagues. Time spent on games has drastically expanded, more individuals are playing online games and all the more gaming app development companies such as DxMinds are taking advantage of the rising enthusiasm across the world 
DxOnline Gaming is a top-rated game app solution that offers the high-level user experience utilizing revolutionary technologies to design high tech games that are cherished by game lovers. Get an exemplary shield of mobile game development at an absolute bottom cost with DxOnline Game solutions. To Design 2D, 3D and isometric game for iPhone, iPad, and Android, our expert game app developers utilize a wide range of technologies such as AR/VR, IoT, Machine Learning and more
Why DxOnline Gaming?
Offer animated,3D and 4D game app solutions.
Experienced in building interactive games, level-based adventure games, puzzles, VR based games, and so on.
Supports all the platforms such as android, iOS, React native and windows.
As COVID-19 is spread globally and we are rehearsing social distancing, it is technologies like Chatbots that are coming to save, as businesses are running out of human power.
Dxbots.AI is an ideal solution for users who are coming on the government site for location-based data or conventional COVID-19 related data.Since they can't wait back to talk with real individuals, this data is vital to be received immediately 24/7. 
DxBots.AI fits for any businesses such as E-commerce, Ticketing, News, Food Ordering, Hotel booking, Customer support, Finance, Legal assist and Healthcare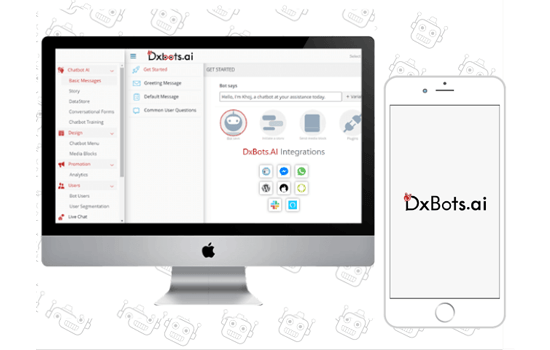 Why DxBots.Ai?
Our chatbot solution is less expensive and offers a high adoption rate.
Offers personalized interaction which enhances customer retention and loyalty.
Chatbot supports regional languages makes you interact efficiently with your users.
Offers transparency during operation.
These workable and customized solutions are specifically designed and built to operate consummately in the current situation, where the business tasks won't get eradicate by the effect of the COVID-19 pandemic. 
The industries that were before hesitant to take up modern business techniques are currently compelled to do it—just to understand that these tech solutions have advantages over the conventional ways. 
Whatever the case is, corona virus has extremely influenced the conventional practice of business operation while helping them to incorporate modern ways.