August 31, 2023
Posted by:

Admin

Category:

Blockchain Development, eWallet App Development, Technology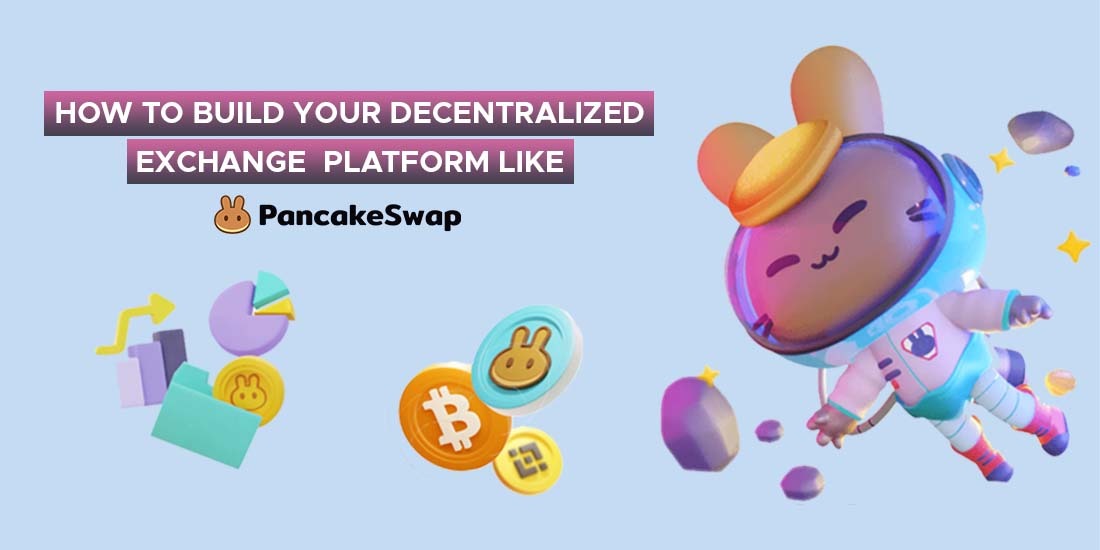 How to build your decentralized exchange platform like PancakeSwap?
Millions of users across the globe use PancakeSwap, which is a popular decentralized exchange.. It gives users a quick, affordable, and secure way to buy, sell and swap cryptocurrencies/ tokens/NFTs. Pancake swap is built on Binance Smart Chain.
In fact, PancakeSwap had tremendous success due to its simple user interface, reasonable transaction fees, and attractive liquidity mining rewards. Starting a DeFi exchange like PancakeSwap can be an excellent opportunity to break into the market and draw customers searching for a decentralized exchange alternative.
This blog will give you an introduction to PancakeSwap, its features, and ways to create your own DeFi exchange like PancakeSwap.
More about PancakeSwap
In short, PancakeSwap is a Binance Smart Chain-based decentralized cryptocurrency exchange (DEX). Using PancakeSwap, users can engage in yield farming, trade cryptocurrencies, and NFTs, and receive rewards through liquidity mining. As a substitute for centralized exchanges, it provides customers with more control over their assets and minimizes transaction costs. PancakeSwap became popular in the DeFi industry due to its straightforward user interface and attractive rewarding system.
How PancakeSwap Work?
PancakeSwap is built on the Automated Market Maker (AMM) structure, which uses algorithms to decide the value of tokens. Users can exchange Binance Smart Chain and BEP-20 tokens on PancakeSwap by depositing an equivalent value of two distinct tokens into liquidity pools. When a user decides to exchange a token for another token in the liquidity pool, the price is determined by the relative worth of the tokens in the pool. On PancakeSwap, users can also participate in liquidity mining, which rewards them with CAKE tokens for adding liquidity to various trading pairings. By staking their CAKE tokens, users can increase their payouts. Users can start trading on PancakeSwap just by connecting their cryptocurrency wallets. It supports Trust Wallet and Metamask Wallet.
How to create a decentralized cryptocurrency exchange like PancakeSwap?
· Build from scratch
You can develop your own DeFi exchange like PancakeSwap by hiring a crypto app development company in Bangalore, Dubai, or the USA. This method necessitates a large investment of time and resources. The timeline and cost to cost to develop a DEX Platform like Pancake Swap from scratch will vary based on the requirements and feature integrations.
· Use PancakeSwap clone script
Using a PancakeSwap clone script is a simple and faster approach to creating a decentralized exchange like PancakeSwap. A clone script is a ready-made software solution that matches PancakeSwap's features and capabilities, allowing you to easily develop your own DeFi exchange. You can search and compare with various development companies on how much does it cost to develop a PancakeSwap clone script? The best Pancake Swap clone companies in Bangalore, UAE, and Germany can give you the best product that fits your requirements.
· Customize a PancakeSwap clone
You can modify a PancakeSwap clone script with specific functionality and visual components. This strategy allows you to design a DeFi exchange specific to your needs and preferences. Top DEX app development companies like DxMinds offer you the best product that can be customized to any extent.
· Hire dedicated/ on-demand Blockchain Developers
You can hire on-demand blockchain development companies in Bangalore to onboard dedicated developers to work on your project. They can give you resources based on your requirement. Most of these companies will be charging on an hourly basis. The cost will vary based on the experience of the resource.
Features to integrate while developing a decentralized exchange like PancakeSwap, UniSwap, and SushiSwap.
Get a Free Quote
While developing a decentralized exchange like PancakeSwap, Sushiswap, Trader Joe, etc. make sure the application has all the necessary functionality. Some features are essential and should not be overlooked, but others are advanced and will help you onboard more users.
Trading
The Trading feature of PancakeSwap, which utilizes an automated market maker (AMM), is one of its most essential features. Users can swap one crypto coin for another without using a centralized marketplace or order book. In contrast to centralized exchanges, pre-set orders on PancakeSwap don't need to be matched with another order. Instead, when the predetermined price target is met, the swap is applied to the liquidity pool.
Staking
Users may stake their CAKE tokens in PancakeSwap Syrup Pools and receive rewards. Two ways for staking are available in the CAKE Syrup Pool: flexible and locked staking. In comparison to locked staking, flexible staking allows users to receive rewards at a lower annual percentage yield (APY). A higher APY is available with locked staking, but users must lock their tokens for a predetermined time. By staking tokens in Syrup Pools, users can boost the PancakeSwap platform's liquidity, which promotes more efficient trading and reduces slippage. Staker rewards are increased by receiving a share of the platform's transaction fees and the rewards they already receive for staking.
Yield farming
PancakeSwap Yield Farming is a way to make passive income by contributing liquidity to the platform's liquidity pools. Yield farming entails storing crypto assets in pools that profit from trading fees. Users will need to stake LP tokens to engage in PancakeSwap Yield Farming. These LP tokens can get by placing liquidity into PancakeSwap liquidity pools. Yield boosters can also be enabled, increasing the yield gained by investors.
Lottery
Users can participate in lucky draws by purchasing the tickets, each with a unique 6-digit combination. A random 6-digit combination is created at each lottery session's end, which lasts between 12 and 36 hours. To win, participants must have tickets that match the winning combination. The larger your payment, the nearer your number is to the winning combination.
Initial farm offerings
Through initial farm offerings (IFOs), users can gain early access to new tokens being added to PancakeSwap. To participate, you must exchange your CAKE tokens for iCAKE, the exclusive currency used to purchase new tokens from farm offerings. Users can use this feature to acquire new tokens early and potentially profit from doing so.
NFT marketplace
By releasing its own NFT collections and enabling users to build customized profiles on the exchange by connecting them to an NFT, PancakeSwap is staying one step ahead of the competition. A white-listed NFT marketplace is also available on PancakeSwap for trading NFT collections. Users can also receive NFTs from PancakeSwap airdrops or team trading games where traders compete to determine who can trade the most in each time frame.
Predictions
Users can bet on the price changes of token pairs on PancakeSwap's prediction market. By adding tokens to the prize pool, users can bet on whether the price of specific tokens/ cryptocurrencies will be lower or higher at a specific point. As a participant, you may receive payouts that are multiplied by the amount you contributed to the prize pool if you are on the winning side of a bet.
Security
PancakeSwap is an open-source project subjected to numerous security audits by Peckshield, SlowMist, and Certik. There are a total of nine security audits included in the official documentation. PancakeSwap also adheres to industry security standards by requiring multi-signatures for all contracts and instituting a time-lock option. In addition, for maximum transparency, most PancakeSwap's codes are publicly available, and all its contracts are BscScan verified.
How to develop a decentralized exchange like PancakeSwap, Uniswap, TraderJoe, Curve, and SpookySwap?
UX/UI design
Based on your market research and requirements the designers from the top blockchain development companies in Bangalore, India create an excellent user experience for your platform. A detailed visualization will protect you from any potential user experience issues and explain the rationale behind why users engage in the trade.
Front-end development
The front-end is the user interface implementation. At this phase, the developers generate the user-visible portion of your exchange. The front-end controls how your platform appears and feels which is critical for attracting and retaining users.
Back-end development
The back-end process controls the logic and all necessary operations of your app. The development team can use the outcome of a typical trading exchange that has been optimized for the region of the exchange registration. After that, this foundation is modified to suit your needs and creates a unique trading engine.
Security functions
Experts use a wide range of security measures at this stage of development to make sure the platform offers all sorts of security for its users. An encrypted database and a password-protected user interface are crucial security elements.
Adding digital currencies
After selecting which cryptocurrencies to list on the exchange, the development team can add the necessary coins to the platform. Following that, users will be able to buy and trade those cryptocurrencies.
Application launch
Following all the testing and modifications, your cryptocurrency trading platform is now ready for use. Although there are many supports and promotion work to be done, a high-quality software solution will make these jobs considerably easier. We recommend you take your time in selecting the right blockchain development company because blockchain technology and cryptocurrency trading are so reliant on the quality of software development.
How much does it cost to build a DeFi Exchange like PancakeSwap, Curve, TraderJoe, and SundaeSwap?
What is the cost to build a DeFi Exchange like SundaeSwap? It is one of the most frequently asked queries by people looking for DEX development. Well, a lot of factors affect the Decentralized Exchange development cost. It includes:
How many local currencies will be accepted
how many cryptocurrencies will be integrated for trade
the available features and capabilities
the use of the technological stack
the location of the app development company
Charges of the technology partner you hire
Number of servers deployed
Clientele, the volume of transactions, etc.
The above-mentioned cost is just the development costs involved in turning your business concept into a working DEX platform. The marketing campaign to raise your DEX's awareness and draw clients as well as the project's ongoing post-launch maintenance is additional expenses you should consider.
Conclusion
PancakeSwap has grown to be a popular DeFi platform due to its straightforward user interface, affordable transaction fees, and substantial liquidity mining rewards. Developing your own DEX can help you start a sustainable business. By starting from scratch, utilizing a clone script, or altering an existing clone script, you can create a DeFi exchange similar to PancakeSwap. Whichever approach you go with, it's crucial to put security first and offer top-notch customer service to make sure your platform is successful.