April 27, 2023
Posted by:

Admin

Category:

Blockchain Development, Technology, Uncategorized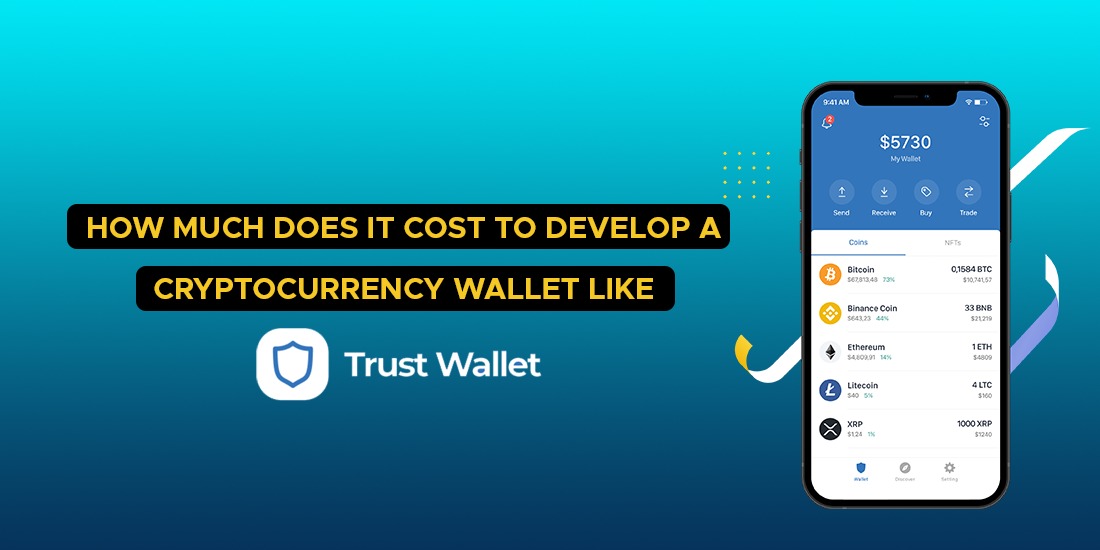 How much does it cost to develop a cryptocurrency wallet like Trust Wallet?
Are you planning on how to create a crypto wallet in 2023? Then this article is for you. In this article, we will shed some light on the estimated cost to develop a crypto wallet app like Trust Wallet and the approach for evaluating it. This information will help you adequately plan each crypto wallet app development process.
Ever since their introduction, the popularity of cryptocurrencies has grown tremendously as businesses and entrepreneurs have accepted them worldwide. And as more cryptocurrencies enter the market, the demand for crypto wallets has also grown.
In the current crypto scenario, there are many significant crypto wallets for keeping crypto assets safe. Among these, the "Trust Wallet" has captured the interest of many cryptocurrency users, and the number of active Trust Wallet users is constantly growing. Compared to other wallet apps in the market, the trust wallet app has a high user engagement and creates a significant profit. This inspired many businesses and entrepreneurs to create crypto wallet apps like Trust Wallet, which currently rules supremacy in the crypto world.
What is the Trust Wallet app?
Trust Wallet is a popular cryptocurrency wallet app like Coinbase Wallet in the blockchain industry. The Trust Wallet mobile application provides a simple and attractive interface for managing and storing cryptocurrency coins, NFTs, and tokens, giving users constant access to private keys. It is recognized as the fastest and most secure cryptocurrency wallet app. If you use the Trust Wallet, you can securely store a massive number of crypto assets. Trust Wallet simplifies wallet management by providing a single backup for all your crypto assets.
Since its initial release in 2017, this crypto wallet app has prioritized simplicity, security, transparency, privacy, and dependability. Trust Wallet can let you store your coins and other blockchain-powered crypto tokens more efficiently. In other words, it's a repository for all decentralized apps that meet stringent quality and security management criteria, allowing them to be tuned to run at peak efficiency.
Factors affecting the Trust Wallet development cost
Crypto wallet development cost in Bangalore, India depends on many factors including the app features, the technology stack that supports it, design components, UI/UX, and so on. Although it is hard to predict every aspect affecting your app's unique requirements, the below list summarises the most important ones.
Design of crypto wallet
Simple and appealing designs are critical to the success of your crypto wallet. The cost of developing a cryptocurrency wallet varies depending on the requirements. A successful UI/UX design plan costs more but benefits you in the long run. Each component of your wallet app will take time to design, depending on your needs. The overall cost will be high if you require a more complex structure.
Size of crypto wallet app
The crypto app size is another factor that determines the total cost of developing a crypto wallet. The cost of developing an app increases with the number of features it includes and, consequently, the total app size. Choosing an MVP (Minimum Viable Product) development that focuses solely on the significant features in the first edition is a cost-effective technique to keep the budget under control. It will let you provide an outstanding user experience at an affordable price. The MVP will showcase the app's most prominent features. Following an initial assessment from the targeted customers, you can proceed to design a full-featured crypto wallet app with a comprehensive feature list.
Team size
The cost of a cryptocurrency wallet depends on the crypto app development team size you select. Hiring the best cryptocurrency wallet development companies like DxMinds, will be profitable because of their broad professional experience and commitment. A dedicated team of specialists can assist you create a robust product that provides a unique customer experience to your target audience.
Factors to consider while developing a crypto wallet app like Trust Wallet?
You can create an Ethereum wallet app like Trust Wallet, Coinbase wallet, etc. to maximize the return on your investment. In that case, you should prepare a step-by-step procedure for constructing your crypto wallet app.
Find the right markets
Since a crypto wallet is a notion that is gaining popularity, finding the right market where your cryptocurrency app has a chance to thrive is crucial. Initial research can help you optimize your cryptocurrency wallet app's optimization, particularly regarding the languages that the app supports, features, etc. This makes the app more specialized for the target market.
Shortlist the tech stacks and features
You should first shortlist features and tech stacks to design a crypto wallet app. This stage will help you develop the ideal user interface for your app, ensuring that it runs smoothly and is user-friendly while supporting the necessary functions.
Hiring the development experts
You must choose the best crypto app developers based on various aspects, like your budget, the skillset required for the app, the developers' preferred location, etc. Best app developers in Bangalore, India like DxMinds can help you avail best cryptocurrency wallet. It is also recommended to brainstorm your app idea with them before making a short list of crypto app development companies to see how well they understand your project.
Preparing the prototype and UI
This phase in the development process is to create a user interface (UI) and a prototype. It also determines how to provide a seamless user experience while ensuring that all functionalities the app covers. Your user interface (UI) and prototype must consider a few things, like scalability, compatibility, and performance, based on various devices, operating systems, and configurations.
Development of the app
During the best wallet app creation process, maintaining security, transparency, and easy transactions can significantly impact the target user and help in developing a positive reputation for the app.
Factors to consider while developing Polygon wallet apps like Trust Wallet
Many businesses specialize in developing cryptocurrency wallet apps ready to provide their customers with cryptocurrency wallet development services. You must conduct thorough research before hiring a cryptocurrency wallet app development service for your business. Picking the ideal development companies requires taking into account the following factors.
Area of expertise
Knowledge and years of experience
Verify the testimonials and reviews of their reputable clients
On-time project delivery
A cohesive team of designers and developers
24/7 customer service
Based on the factors above, you will need to put some work into your search for finding the top crypto wallet development company. You can start your wallet business in the cryptocurrency industry by selecting the best cryptocurrency wallet development company in Dubai by considering the above factors.
How to calculate the development cost for a cryptocurrency wallet?
If you have an estimate of how many hours the cryptocurrency wallet development company in Bangalore could need to develop your app, you can quickly determine the overall tentative budget. However, you will also need the company's hourly fee and any other expenses that may occur when developing the app. The following formula is used to calculate the cost of developing a crypto wallet app:
How much does it cost to build a Bitcoin/ Ethereum/ Binance/ Dogecoin Wallet app?
Developing a simple crypto app ranges between $25,000 to $60,000. In comparison, designing a high-complexity crypto wallet app ranges between $100,000 and $200,000. The development cost purely depends on the user requirements. It can be customized to any extent.
Cost breakdown for developing a crypto wallet app
| | |
| --- | --- |
| Phases | Tentative Costs |
| Web/Desktop | $7,000- $10,000 |
| Backend Development | $10,000 – $15,000 |
| iOS | $20,000- $28,000 |
| Android | $27,000- $32,000 |
| QA/PM | $5,000- $8,000 |
| Designing | $8,000- $10,000 |
| Total | $90,000- $100,000 |
Conclusion
Trust Wallet is still expanding and becoming more popular. Since being acquired by Binance, Trust Wallet has introduced features in high demand, such as DEX integration, staking, and card-based cryptocurrency purchases. It's still a great idea to have your own cryptocurrency wallet like Trust Wallet. Developing cryptocurrency wallet apps is one of the most lucrative cryptocurrency business ideas, and seeking support from a reputable company like DxMinds that develop cryptocurrency wallet apps will always enable you to take your crypto business to new heights. If you want to get a free quote on developing your crypto wallet app, drop a mail to info@dxminds.com.
You may also read: Unique features of Cryptocurrency Exchange