April 7, 2020
Posted by:

Admin

Category:

Famous App Analysis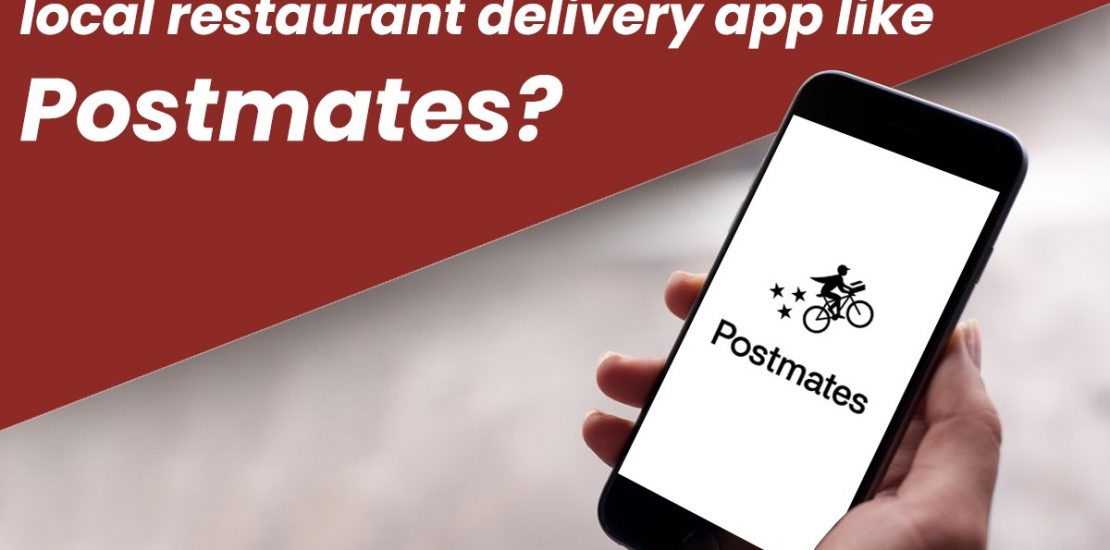 How much does it cost to develop an app like Postmates?
Of all the contributions technology has made in our lives, mobile application stands high as the best. Right from booking a taxi to making an online fund transfer and ordering a delicious meal from a nearby restaurant, the use cases and adoption of mobile applications are impeccable. Mobile applications are built for the betterment of our lives and the best use cases of mobile applications are even transforming our lives digitally.
Online food delivery is the buzzword in the tech space right now. One can order food of his kind just with a finger tap. Online food delivery mobile applications are offering the best services to their customers by delivering the food to their doorsteps, even wherever they belong. This blog comes with serving the purpose of making entrepreneurs aware of the whole concept right from the research to the mobile application development cost of a restaurant delivery mobile application like Postmates. So let's get started.
Need for a food delivery mobile application like Postmates
Mouthwatering foods are always appealing to customers. Having a delicious meal course from their favorite restaurant can be quite appealing for them. There existed a time when they were having limited access to these features. They might not be able to go out to the restaurant amid their busy work schedule or anything else that acts s a barrier to making the same happen. With the arrival of online food delivery mobile applications, customers were able to fulfill their appetites by ordering food online right from their favorite restaurant. The food will be delivered to them in the least time possible. Eliminating all the factors that set them apart from good food. From a commercial point of view, food delivery mobile applications like Postmates offer a scalable and revenue-generating business opportunity for entrepreneurs thereby letting them being the creators of their emporium. An online food delivery mobile application is one of the best ideas to start with.
Read more: How Much Does It Cost to Develop Food Ordering App like Zomato
More about the On-Demand food delivery app Postmates
Postmates is a US-based on-demand food delivery mobile application having headquarters in San Francisco. The company was founded in the year of 2011. The founders are Mr.Bstian Lehmann, Sean Plaice, and Sam Street. As per the latest reports, the company is growing at a huge pace and is delivering its top-notch services in more than two thousand US cities. Postmates has its presence in the very first cohort of AngelPad. As of now, more than ten thousand drivers are associated with the online food delivery mobile application Postmates.
What makes online food delivery mobile applications like Postmates successful?
The mobile application connects end customers with potential restaurants. The restaurant is given the right to list its entity along with its wide range of menus on the mobile application. Users are given the full right o electing their favorite dishes from their favorite restaurants, in a hassle-free manner. Since its introduction, the online restaurant delivery mobile application Postmates has been delivering exemplary services to clients. This has helped the app in gaining huge traction among the potential clients and in turn, resulted in the app being a huge hit in the respective app markets. The app not only offers top-notch services to the clients but helping the founders in generating potential revenue and has turned out to be a scalable business model. The turnover offered by an online food and dine mobile application Postmates is so huge that entrepreneurs out there are keenly looking forward to knowing the app development cost of an online food delivery mobile app like Postmates.
How does a delivery mobile app like Postmates work
The working model of Postmates is quite interesting. The app hosts mainly three parties. The customers, delivery partners, and restaurants. Food ordered b the restaurants are collected and delivered o the end customer y the delivery partners. A certain amount of commission will be deducted from the restaurants by Postmasters. The app offers an outstanding user experience by offering them huge discounts and offers.
Key Features of local delivery mobile applications like Postmates
Certain features are mandatory on a food delivery mobile application like Postmates. Let us see in detail what those details are.
· Account
A user needs to create an account on the Postmates mobile application to deliver top-notch services. They can make use of their social media accounts, email Id, or even phone number for doing the same.
· Search bar
A search bar is a mandatory option that needs to be in a food delivery mobile application as it allows the users to search for their favorite food. Search options should have advanced filter options integrated into them. Filtrations based on locations, menus, price categories, etc are some examples.
· Favorites
Once a user finds a dish of his kind, the favorite option allows them to add it to a wish list or a favorite list where they can access it later on. This helps them to save potential time and energy whilst searching for food items.
· Order tracking
Order tracking allows customers in tracking their orders on a real-time basis. With the advanced order tracking system, they can have their hands on top of the order status like the status of preparation, location of the delivery partner, etc.
· Integrated Chatbot
As a part of enhanced customer support, t hap s integrated a live chat system that offers a hassle-free experience and end-to-end support to the customers. The advanced chat system allows them in solving their queries and doubts that too in a fraction of a second.
· Safe and secure payment gateway
The in-app payment gateway allows customers to have a safe and secure mode of payment, streamlining all payment operations.
· Content Management System
The enhanced content management system allows restaurant owners to manage and update their content on a real-time basis without any hassles.
· Delivery management
It is a management system where the delivery partners are assigned based on their location and availability. This helps in enhancing the delivery speed and the customer experience.
Factors affecting app development cost of an online food delivery mobile app like Postmaster
There exist a multitude of factors that determine the mobile app development cost of an online food delivery mobile app like Postmaster. Let us see in detail what those factors are and how they are affecting the food delivery mobile app development cost. Mobile application platforms play an important role in determining their development cost. There are mainly two platforms namely iOS and Android. Developing a mobile application for both platforms can be costly. So one can try developing a hybrid mobile application wherein they can vail both iOS and Android mobile applications simultaneously there b saving the potential amount of funds. The other factor that is bounded to the app development cost is app features. One can enhance the food delivery mobile application by integrating the latest trends and updates in the technology domain. The more features, the higher will be the development cost. User Interface plays a crucial role in increasing the cost. One can never compromise a bit on the UI as it should be much more appealing to the users. Several more factors exist as they determine app development costs.
Cost of developing an online food delivery mobile app like Postmaster
I hope the aforementioned details have given you a detailed idea of the app development cost. Based on that and various other constraints, the cost of developing a food delivery mobile application will be around USD 10,000 to USD 50,000. Any features can b integrated on top of this which affects the mobile app development cost.
Read More: Cost of Developing a food delivery app like DoorDash
DxMinds Innovation Labs- The best food delivery mobile app development companyDxMinds Innovation Labs is a leading digital transformation food delivery mobile app development company. DxMinds offers end-to-end services in the area of mobile app development. The highly talented engineers and project managers at DxMinds work hard to deliver impeccable solutions right for you. For more details drop a mail to info@dxminds.com