October 12, 2022
Posted by:

Admin

Category:

Famous App Analysis, Food Delivery App Development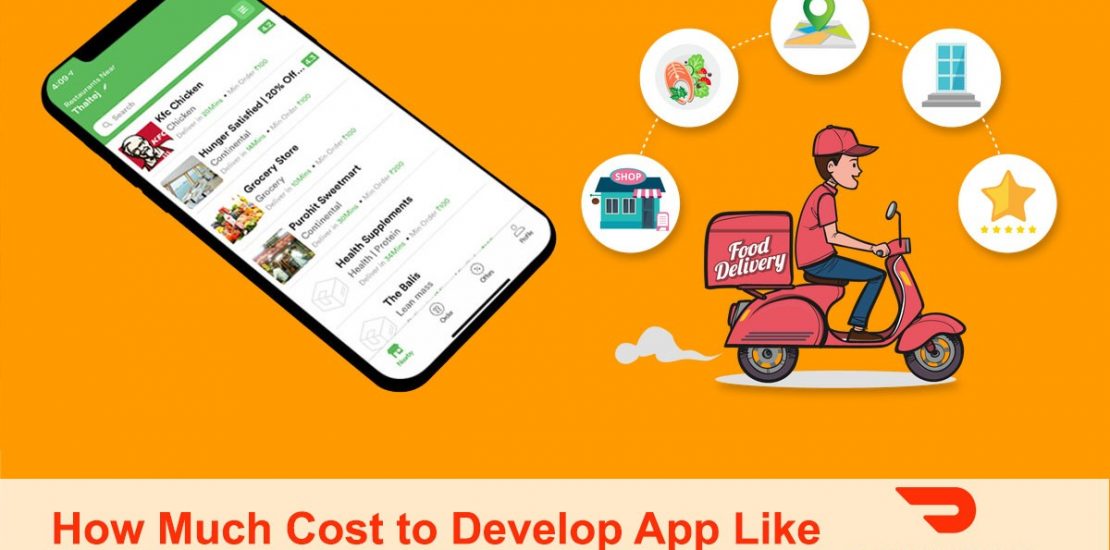 Cost of Developing a food delivery app like DoorDash
The appetite for men's interest in culinary has got a pinch of technology added to it. And over time it has got many enhancements. And now here we are, skipping our travel to the favorite restaurants and delivered the food right at our doorsteps.
Ever since its introduction, online food delivery business was a highly Monetizable area of focus, it still is and it will forever be. It's a high profit-generating business that every entrepreneur out there wants to give it a try. And many adopted the idea customized it and presented it as nicely as they could do it.
This blog is more about a trending food delivery app named DoorDash delivery. Here we are going to discuss the in and out features including the app development cost of DoorDash delivery. Our purpose behind this blog is to lend a hand to all the entrepreneurs who are actively looking forward to knowing how much it will cost to develop a food delivery app like DoorDash delivery.
So let's get started.
What does a food delivery app like DoorDash do?
So, let's begin with various aspects and services offered by a food delivery app like Door Dash. Doors help you connected and order food online from high-end and top-rated restaurants from your locality. As of now, the company offers its top-notch services across the major cities of both the United States of America and Australia. The company makes use of its iOS and Android mobile apps for its day to day operations and deliveries. Though DoorDash focuses more on online food delivery business, they are not just limited to that. They help its customers in delivering the goods and takes the role of a major key player in the hyperlocal delivery industry as well.
Features of online food delivery app DoorDash delivery
Right before going to the costing aspects of a food delivery app, let's dive deep into the various features the app facilitates. With a food delivery app comes to various mandatory features. These features are a must and are the very basics. We are now going to see the very basic features required for developing an online food delivery app like DoorDash.
Sign Up/ Sign In
Like every other app, a user needs to create an account on DoorDash to get started. He can make use of his username and password to have access to his account later on.
Unique DashBoard
Right after the sign in, the app welcomes its user with a high end, eye-catchy and unique dashboard listed with top-rated restaurants in their locality. It is from this dashboard that the user can go for their favorite dishes and restaurants.
Top-Notch Search Bar
Search Bars are provided for the users to go for searching for their favorite restaurants and cuisines. The app hosts a wide range of hotels serving multiple cuisines across the globe l, varying from the Mediterranean to Chinese, Japanese and Asian.
Profile
The profile is a private space for a user to access. He can change his user name, passwords, contact details, and other personal data under the profile section.
Wishlist
While in the search for their favorite dishes, users can add them to their wish list for a later on access. This helps them in getting more accessibility to the dish and save them from another search.
My Cart
Right before the checkout, users can add multiple orders to their cart.
Payment Gateway
The DoorDash mobile app delivers a safe, secure and hassle-free payment gateway to its users. They can either make use of their credit/ debit cards or go for cash on delivery option. Whatever it may be, the app offers them a highly flexible payment system
Order Tracking
After an order has been placed by a user, he or she can have a regular hands-on tracking it's status. The app will show the order status right from its preparation to the live location of the delivery executive.
Rating and Reviews
As a feedback of their experience on the food, restaurant, and the delivery partner, the users can rate them on a scale of one to five stars. It is based on these reviews and rating s that the app recommends a restaurant to further of its users.
Refer and Earn
The DoorDash Company allows its users to refer their app among their friends and family to gain extra points that can be claimed on their future purchases.
What makes DoorDash deliver the best food delivery app?
Stunning User experience
Eye candy User Interface
High Speed
Secure transaction
High app engagement rate
I hope you have got a brief idea about the features of an online food delivery app like DoorDash hosts. Now let's see the cost to develop the same.
Online Food Delivery App DoorDash development cost
So many factors play a crucial role in determining the development cost of a food delivery app like DoorDash. That has been said, some of these features are the size of the mobile app, the app platforms ( Android, iOS or both), various technologies integrated to the all, location where which the app serves its purpose, additional features like chatbots, Artificial Intelligence, Machine Learning, etc. and different third-party add ons.
Considering these factors into account, the cost of developing a food delivery app like DoorDash with the very basic features integrated to it will be approximately USD 10,000 to USD 50,000. Anything extra will cost you on top of this. However, DxMinds a world-renowned app development company help you create a top-notch food delivery app at a highly economical budget.
Conclusion
DxMinds, one of the leading mobile app development company in Bangalore, having years of experience in developing high-end mobile apps can lend a helping hand to you in making your app dream come true. Currently, DxMinds operates from different countries like India, the USA, Peru, Australia, UAE and delivers unimpeachable services all across the globe. The high-end services delivered and mastery over various technologies made DxMinds the top food mobile application development company.
For more details, drop a mail to us: info@dxminds.com