June 22, 2023
Posted by:

Admin

Category:

Blockchain Development, Game App Development Cost, Game Development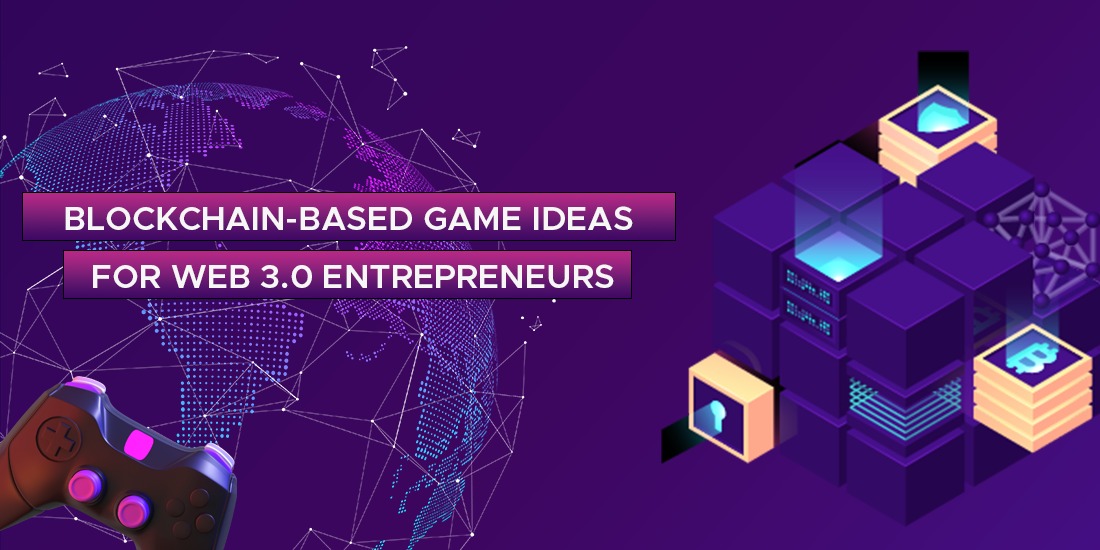 In this new era, as blockchain technology is becoming a key ingredient of day-to-day business operations, blockchain-based games are also gaining huge traction. The Web 3.0 gaming industry has excellent growth potential and comes with numerous benefits and advantages for building a business empire.
If you are looking forward to building your Web 3.0 game and becoming a successful entrepreneur in the blockchain gaming industry, this article is curated exclusively for you. We will be covering a wide range of Web 3.0 gaming ideas that can be leveraged to build the best blockchain games.
What are blockchain games?
Blockchain games are the type of digital games that are built on top of blockchain technology. The main reason why blockchain games have gained huge popularity is because of their transparency and security, no matter what type of game it is. This makes blockchain games more dependable than any traditional game platform. These games leverage smart contracts and with the help of these smart contracts, intermediaries and third parties get eliminated. Also, blockchain games developed by top web 3.0 game development companies have proven to have more advantages than traditional web 2.0 games.
Difference between Web 2.0 and Web 3.0 Games
There exists a huge difference between Web 3.0 and Web 2.0 games. One of the main factors that differentiates Web 2.0 and Web 3.0 games is their mode of operation. All traditional games that operate in a centralized manner come under the category of Web 2.0 games. Web 3.0 games are highly decentralized and are not controlled or managed by any centralized entities. Another major difference is in terms of ownership. While web 3.0 games offer full ownership of the game to the users, web 2.0 games offer no to limited ownership of the games and assets to the players.
Gaming assets in Web 3.0 games are interoperable across multiple games, whereas in Web 2.0 games, assets cannot be transferred from one game to another. Transparency, enhanced earning opportunities for players, loyal community, etc. are a few of the other factors of Web 3.0 games built by leading web3 game development companies in Dubai.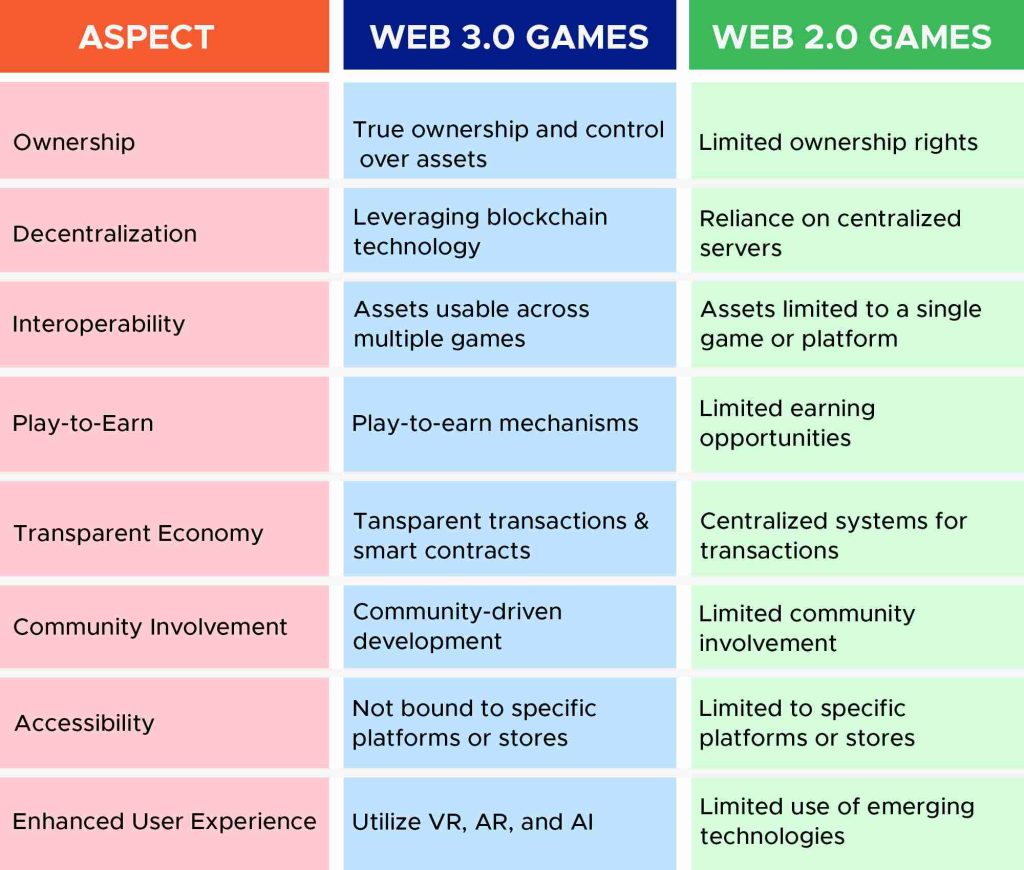 Benefits of Blockchain games
Blockchain comes with a handful of advantages. The following are some of the advantages of Blockchain games that are changing the gaming sector.
Secure transactions
Transactions that take place while playing a Web 3.0 game are highly secure when compared to Web 2.0 games. Since Web 3.0 games are built on blockchain technology, the chances of double spending are nil. Every transaction taking place is stored on the blockchain making it secure and transparent to the core.
Ownership of Game Assets
Games developed on blockchain technology give users full ownership and control over the assets they have purchased. These assets can be digital collectibles, avatars, features, etc. Whereas traditional games cannot offer true ownership of these assets
Asset Portability
Assets including avatars, digital collectibles, features, etc. can be ported across multiple blockchain games. In Web 2.0 games this is not at all possible
Asset Trading
Players can trade their assets for tokens or cryptocurrencies using blockchain games. They can also buy and sell other players' in-game assets.
Legitimacy
Blockchain games have a clear track record of exchanges and interactions between players. This improves the legitimacy and integrity of Web 3.0 games. Since each transaction is recorded on the blockchain, it guarantees that no person is making double payments for the same service or product. This prevents fraudulent activities in Web 3.0 games.
Earning rewards
Web 3.0 games built by the best web 3.0 game developers in Bangalore, Dubai, and the USA reward users in the form of tokens and cryptocurrencies. This prompts more users to take actively participation in Web 3.0 games.
Step by Step Process of Creating a successful blockchain game
Define your idea
Defining your idea is the first step towards developing a top blockchain game. It consists of iterating your idea over and over until it becomes fine enough. This process includes identifying the niche, genre of the game, target audience, etc. A clear concept must be there from the beginning to create a successful blockchain game as it is the foundation of building the game.
Choose the right blockchain platform
Once the idea is polished and ready to go, the next step is choosing the right blockchain platform. This is very crucial as it is the blockchain platform that decides the scalability, transaction speed, transaction fee, etc of the game. By choosing the ideal blockchain platform, you can improve the performance of your game and enhance the user experience.
Hiring the best Web 3.0 Game Developers
The development of blockchain games requires a high level of proficiency in programming languages. You need to hire the best blockchain developers in order to build a top-notch blockchain-based game. Hiring the best developers who have expertise in developing high-end blockchain is a must factor.
Proper Testing and QA
Game testing is one of the major processes which should not be ignored at any cost. Functional testing, Blockchain Integration Testing, Performance Testing, Security testing, Performance testing, load testing, etc. are the few important testing that needs to be performed to ensure the proper running of the game.
Launch the game
Once the game is tested thoroughly and is confirmed that it is free from all types of flaws and errors, it can be launched in the market. Proper go-to-market strategies need to be implemented to ensure it reaches the right targeted audience. Leveraging community-based marketing will be the right channel to reach out to the targeted audiences when it comes to launching blockchain games. Other strategies such as influencer marketing, social media marketing, giveaways, etc. can also be implemented.
Trending Blockchain game ideas
Now that we have covered all the major aspects related to developing blockchain games, let us see what trending web 3.0 game development ideas entrepreneurs can leverage to make their next bet.
Role-play games
Due to their immersive nature, role-play games are popular among blockchain game players. In RPG, players can create characters and assign them to various jobs. They force to make decisions that affect the plot of the game, which increases their sense of achievement when they perform specified tasks.
Play-to-earn games
Play-to-earn games are gaining huge popularity among Web 3.0 gamers. Rewards are sent to players as tokens, digital assets, or cryptocurrencies in exchange for accomplishing specific in-game activities.
Collectible Games
Collectible games deal with buying, selling, and swapping of collectibles like digital assets, NFTs., features, etc. These type of games comes with exotic collections and the gameplay circles around the trading of these assets.
Metaverse Games
Metaverse is a parallel universe built where users can own and trade digital assets like virtual land, properties, etc. These games deal with interacting with other virtual users in the virtual universe. These sort of games are gaining huge popularity and is a hot topic when it comes to developing Web 3.0 games.
NFT games
NFTs can represent characters, things, and even physical objects. These assets are available to players to buy, accumulate, and exchange. For NFT gaming development, entrepreneurs can hire NFT game developers from one of the best NFT development companies in Dubai.
Move-to-earn games
Blockchain games that reward players for performing physical activity are known as move-to-earn games. The amount of digital assets earned is proportional to the action performed. Apart from rewarding users with tokens and cryptocurrencies, move-to-earn games also prompt users to stay fit. Blockchain game development companies in Dubai can help turn these concepts into reality.
Sleep-to-earn games
Sleep-to-earn games enable users to earn cryptocurrencies and other digital assets while sleeping. While other Web 3.0 games demand active user participation in gameplay, sleep-to-earn games want users to stay offline and get rewarded.
Strategy games
These games use strategic gaming rules, with players making decisions during the game to attain their goals. Strategy games frequently include resource management, combat, and player trading elements.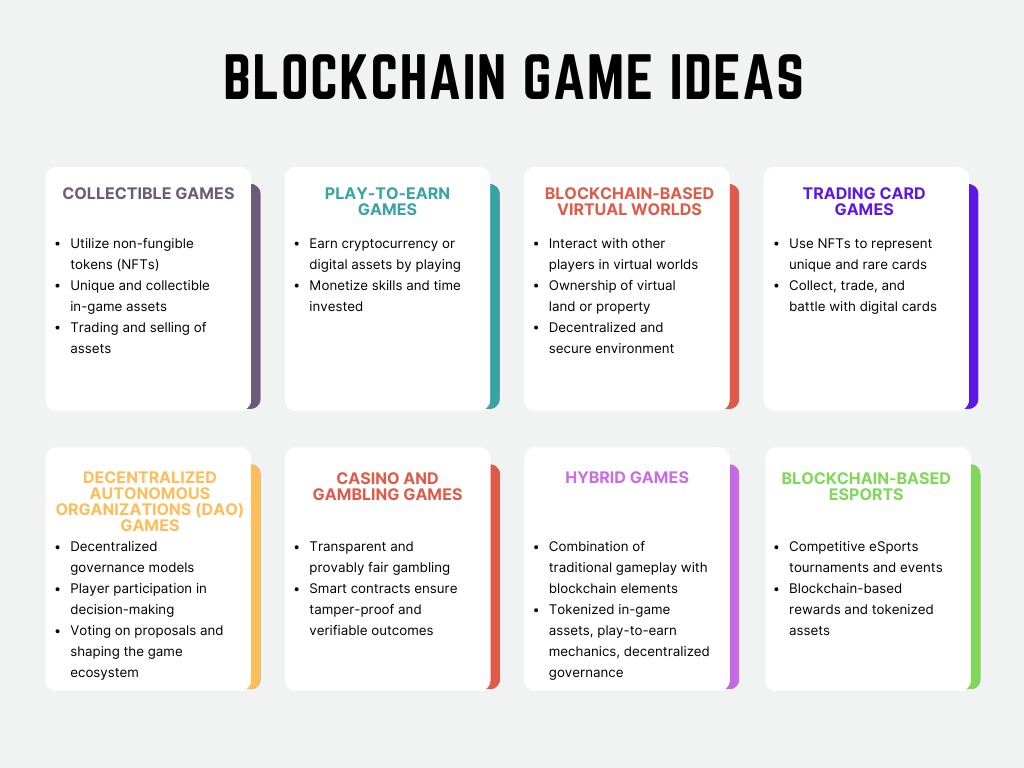 Conclusion
Blockchain gaming has endless potential. A successful blockchain game requires technical expertise and a creative concept that can capture and attract players. Developers from the best game development companies use the potential of blockchain technology to develop unique games with out-of-the-box gaming experiences and creative game design. It is no doubt that the future of blockchain games is bright. If you are looking to develop blockchain games, connect with DxMinds, the best Web 3.0 game development company. For details: info@dxminds.com