October 23, 2020
Posted by:

Admin

Category:

Outsourcing and Offshoring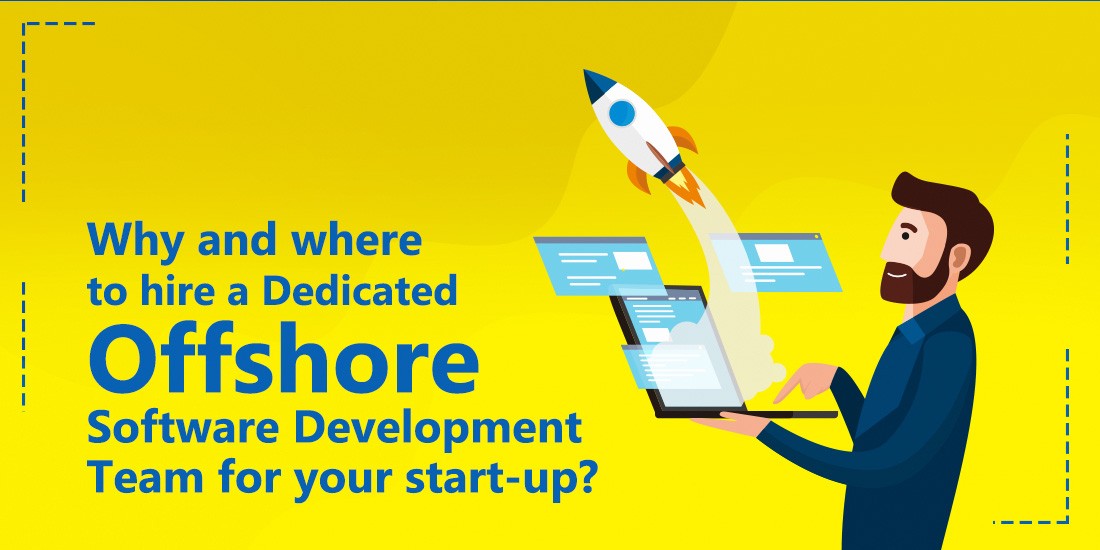 Capital investment and human resources act as crucial elements for a start-up to establish its footsteps in the business world. Technology is growing at a fast pace and hence generating tough competition for IT companies. In this competitive era, most businesses are collaborating with offshore software Development Companies and as a result, they can cut down their expenses to a great extent. Hiring a dedicated offshore software development team is an ongoing trend that helps out entrepreneurs to surpass all the challenges of human resource management and also project management. Most of the established companies being well aware of the professional world, especially the western countries have hired an offshore development team for their software development. Due to the scarcity of experience and information, most start-ups initiate their business operations with a dedicated team that ultimately ends up shutting down a great business idea.
If you are a newborn entrepreneur and looking to set up your software development business with limited capital but an excellent team, then here is a guide to success for you. You might be having several questions about hiring a dedicated offshore software development team. Here, you will get answers to all your questions, such as "Why, where, and how"?
Why?
The very first question that arises in your mind is why Offshore software developers? The answer is the benefits offered by offshore software Development Companies are myriad and are proven game-changers for any business operating with limited capital. The reasons why a start-up should opt dedicated offshore software development team are countless, a few of the reasons have listed below that makes the offshore development team a prior choice of top business brands all across the world.
Hiring a native team will make your team rigid, and you will be forced to use the same team and their skills for distinct requirements. Also, you need to pay your team for a long tenure; either the team is having major operations or else need to hire a new team each time you require which is not feasible. Instead of going through this hectic team recruitment and management procedure, hiring offshore software developers is much more feasible. It offers you the liber to choose the team based on your requirement and also the flexibility to hire them for a certain period.
Lower operating expenses:
Opting for a dedicated offshore software development team also helps you in cutting down the operating expenses. With an offshore team, you need not provide any equipment, office space, or other dependencies to the team. Hiring offshore developers will assist you with a complete team setup, facilitating their necessities.
The hiring offshore development team will set you free from the software development process. Just selecting a team with few paper formalities is enough to get the best end product. In the due course of software development, you can concentrate on other business development procedures such as marketing, designing, and many more.
Limiting to native talents may restrict you from reaching out to the best talents available all around the world. Offshore software Development Companies all across the world is a creative approach that connects the entrepreneur with the best talents in the world. As the technologies are growing every day with more innovative attributes it is becoming more challenging for organizations to bring out the best professionals with expertise in the specific attribute for relevant software development.
Other reasons that justify hiring offshore software developers are:
Specialized and trained developers with experience working as a team on various projects, 
Comprehensive support round the clock, and complete hold over the project without taking the burden of team management,
Flexibility to choose the size and time duration of a team, no interruption from a third party.
Where?
Now you might be ready to hire dedicated offshore developers but the next question bothering you might be "From where to select?" It is a huge world with several countries and countless offshore development centers. Which is your cup of tea? Most of the start-ups rush towards Silicon Valley, California in search of success with the best team. The place is renowned as the largest business hub in the world, but is it the perfect place for a newborn business? Not, of course. California being the busiest professional center is also one of the most expensive places that will not be a correct companion for your wise capital investment.
 India is the wisest option for a start-up to choose its offshore software development center, where you can find the best talents at the most affordable price. India has always been recognized as one of the best countries with everyday grooming talent. Whether you are seeking traditional software development ideas or the latest technologies, India can serve you with the best pool of talent.
Other reasons for choosing an offshore development center in India are listed below:
Unbeatable pricing options:
Every company works with a basic principle of less investment with higher returns. India has the best-in-class developers at the lowest prices as compared to other countries. A generic study conducted over the pay scale of developers all across the globe depicts that Indian developers cost approx. 30-40% lesser than developers from other countries. This is one of the primary reasons that incline most IT companies towards India for hiring offshore software Developers. 
For example, if you are hiring a developer from the USA or any other country, it may cost you around $80-90 per hour, whereas you can find the most prominent talent in India for $20-30 per hour.
Quality standards:
Being lower in price, the quality standards are never compromised by the offshore development team in India. The country has been recognized for the best technological innovations and technical growth in the present era. The reason being most of the established companies have already offshored their projects to offshore development centers in India and they ensure to meet the project deadlines within the given period keeping the quality standards high.
The professionalism and expertise offered by software developers in India are unbeatable with unmatched quality and skills. This is one of the most prominent reasons that make your collaboration with the Indian offshore development team a win-win strategy for your business development. Most popular apps of the present technological world like Zomato, hike, Iris, etc. are developed by Indian software developers. During an annual conference of the National Outsourcing Association (NOA), it is stated that India is becoming a one-stop destination for offshoring software development teams with a myriad number of well-established companies.
For setting up an offshore development center in India you don't need to pay any infrastructure, office, working equipment, or any other upfront charges. Once you sign the agreement then you hold command over your team without any liability towards the team except the project development charges which were pre-determined in the agreement.
Handling a native is difficult as you have to observe the work of each employee and their productivity to make sure that your work is going in the right direction with 100% accuracy. But if you are hiring a dedicated offshore development team from India then you are relieved from the keen eye detailing of the team. You will get a complete update on your project at every development level.
How?
Now you are ready with a specific country to select your dedicated offshore team, but again India is a vast country where you will millions of talented software developers with exciting prices and project development offers. Selecting one among a crowd of the best option will be a tough job. Your team screening task can be simplified by preparing a checklist of your requirements, budget, and offers to look for. Few aspects that you must consider while choosing a team for your business development are listed below:
Track records:
The trial and error method is not an option when you are looking for a potential team to expedite your business growth. To make sure that you are making the right choice you must first check for the work history of the offshore development company. Try to connect with their existing or previous clients to know more about their work strategy, team, professionalism, and quality standards. Filter out options that serve you with a proven track record of software development.
Latest technology:
An app or a software feature can be developed using various technologies and software development languages. But to achieve innovation and uniqueness you need the latest technology that boosts your software with top-notch features and prominence. While picking up a team for your software development, make sure they have access to the technology and are deep-rooted with the technology to serve you the best output.
Costing and hidden charges:
Before signing up any agreement make sure to check the package properly. Try to make all the charges clear with the onboarding team to avoid any hidden charges. Before selecting a team compare the charges and services offered by all the shortlisted teams and based on your budget select one of the best teams available.
Conclusion:
Starting up a new venture is a big deal and to strike out as the best software Development Company needs a lot of hard work as well as smart work. To reach the predetermined business objective various aspects play a crucial role, such as a business idea, team, and most importantly capital investment. If you are having excellent business ideation then capital investment and a proficient team can be managed hand by hand. Offshoring a software development team is the one-stop solution that can assist you to get the best talent at the most affordable prices. You may get confused about choosing a native team or an offshore software development team. But the benefits offered by offshore development companies will tempt you towards them. Benefits that you will get by offshoring your software development team are cutting-edge technologies, top professionals, the least expenses for the team and other office requirements, and more to go. Once you are steady at your choice of hiring an offshore development team, then you must check for the best places where you can get the best talent. How select the best software development team for your appropriate objective achievement and business development is more crucial. A correct choice of team can help you to take your business in the right direction of success in the long run and can also assist you to reach out to your goals with a more thriving and unique approach and products.