March 11, 2021
Posted by:

Admin

Category:

Mobile App Development, Technology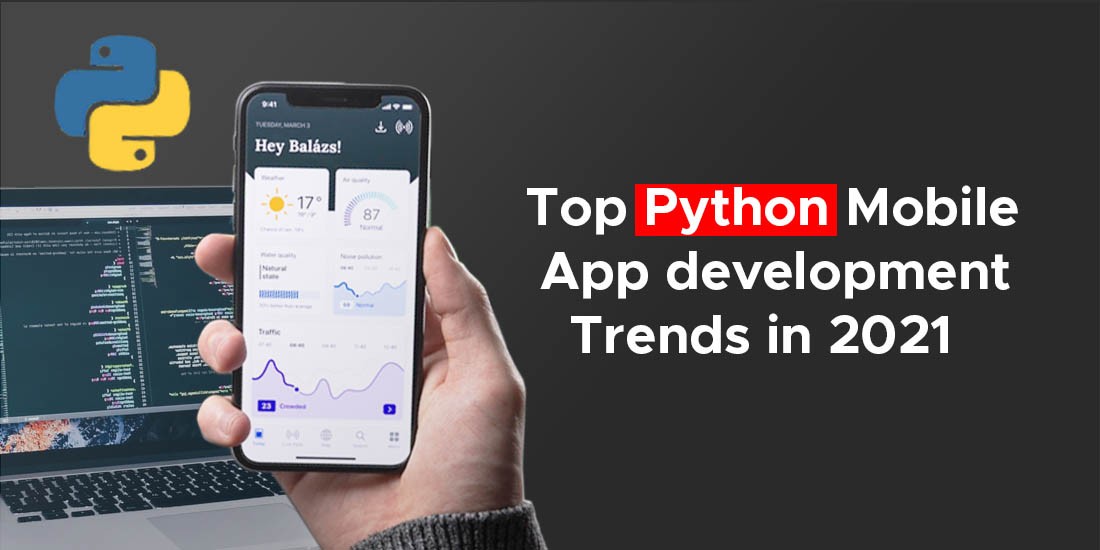 Python has been a key innovation catalyst ever since it has been introduced. In a relatively short span of time, Python has been growing at a fast pace, with many enterprises and technology firms experimenting with it on various grounds. With numerous businesses leveraging the most out of this state-of-the-art technology, Python has made landscapes disrupt like never before. Python is futuristic and doesn't come with chunks of complications while developing and integrating.
The handful of advantages offered by Python has made it everyone's cup of tea. The technology breaks the barrier that sets enterprises back from innovating and flourishing. That being said, mobile app development leveraging Python is gaining huge momentum these days. Futuristic Python adoption in the mobile app development process is actively taking place in the space in an aggressive manner to offer enhanced bandwidth for businesses. The idea of this article is to discuss the top python mobile app trends in 2021, covering every aspect in detail. We are sure that this article stays as a benchmark for you to stay on top of the latest Python trends. So let us get started.
What is Python?
We will start with this basic stuff, what is Python. A widely used object-oriented high-level programming language, Python is so popular in the technology space as it comes with highly dynamic semantics. Mr. Guido Van Rossum created it and was first released in the early 90s. Python is a standalone language among all of the programming languages that exist. So what makes Python so special? Well, there exist tens of hundreds of reasons to back the same. Let us see some of the major ones among them. Python is quick and crisp to learn, meaning it consumes less time to have mastery over python than any other programming language. When it comes to usability and easiness of integration, no other technologies can deliver results that are as good as Python. It offers a high degree of scaling facility for businesses so that they can leverage it to the core. Python is known for its code readability and easiness in execution. Also, it is backed by a wide array of libraries and comes with enhances community support.
How Python is influencing mobile app development
When it comes to developing high-end mobile applications, Python is the best. Python offers the best in class resources for developers to come up with futuristic mobile applications. Python has become increasingly popular in the space that anyone who wants to come up with a high-end yet scalable mobile app ends up giving much priority to Python. With holistic development approaches and multi-platform support, Python remains astute among the leading programming languages. So what makes Python a top priority in mobile app development? Let us discuss that in detail.
Experts are Just a Click Away
Python is Interoperable
Python is one of the very few technologies that possess an interoperable language, meaning its ability when it comes to exchanging and leveraging information. Python can be seamlessly back the state of the art technologies like Artificial Intelligence, Machine Learning, Big Data, and much more. Also, its integration with other languages makes Python a good to go.
Free and open source
Since a free and open-source programming language, one can have any sort of experiment leveraging Python. There exist no set boundaries that prevent developers from coming up with groundbreaking solutions. The open-source feature of Python prompts numerous developers in adding a handful of resources on top of the existing one.
End to end automation guaranteed
With Python comes the power to automate, meaning developers can land upon programs that possess a high degree of automation by making use of Python. Since automation is turning out to be the hottest topic in the market, developers prefer more of dealing with Python. The high degree of automation guaranteed by Python makes it a vital factor when it comes to endorsing self-driving cars, Artificial Intelligence, etc.
Faster coding
Python is pretty faster when compared to any other programming language. Python has positioned itself in the right place, covering the major pain points hosted by other languages. This sets programmers free from anything and everything that limits them from innovating. Futuristic adoption as the North Star, Python is doing the best it can to make this a better place.
Resilience in the area of cloud computing
Over the years, Python has turned out in becoming the backbone of cloud computing with hundreds of thousands of use cases revolving around it. Python is an active endorser of cloud computing and has helped organizations scale-like anything.
Python area of focus
We have been so talkative about Python and the advantages it offers. Python has grown to a position where it has become more than just a programming language. Let us now focus on the areas the best applications and use cases of Python are disrupting.
Blockchain app development
Python has ideally made Blockchain app development hassle-free. With a myriad of use cases and futuristic development approaches, Python is offering the best it can to endorse top-of-the-line Blockchain mobile applications. Developers are preferring more f Python than any other language when it comes to building a Blockchain app, all from the scratch.
Game development
Over the years, Python has turned out in becoming the key driving factor in games and game app development. With Python on board, developers are able to deliver the real gameplay experience to the category ranging from extreme to moderate and amateur gamers. Some of the top trending games of the decade were built on Python.
Machine Learning Applications
Python and machine learning go hand in hand and Python is the lifeline in creating full-fledged machine learning algorithms. Over the years, tremendous advancements took place in the area of Machine learning app development leveraging Python. It has been deployed across various walks of life. Thanks to the futuristic applications and use cases of Python.
Industries leveraging Python
Retail
Along with the best Python integration, comes the glory in the retail industry. To go parallel to the lifestyles in the tech-savvy era, retail industries need to satisfy the customer appetite with most modern technology integrations and when it comes to putting it into practice, Python is the best. Python in the retail industry serves a wide array of use cases ranging from personalized user experience, dynamic prices, and much more.
Hospitality
The high degree of automation in the hospitality industry leveraging Python is delivering precise results. Businesses dominated in the tourism and travel industry make use of various python solutions to serve their customers for enhanced ROI and business boost.
Healthcare
Fortunately, the Python invasion in the healthcare industry is taking life expectancy rate far more and beyond, heavily supporting a generation of healthy citizens. The major involvement of Python in the healthcare industry results in a bright future of the industry. Automated surgeries, medications, contributions towards medical experiments are some of the applications of Python in the healthcare industry.
FinTech
FinTech is taking a one step ahead with Python programs onboard. By nature, the industry demands high-end security and transparency and Python is inherent of all resources that are capable of meeting these demands precisely.
Logistics
End to end automation can add more mileage and growth to businesses residing in the logistics industry. With the best Python practices, these businesses can now avail top of the line services that make them outpace all the hurdles that stop them from being a successful entity.
More Python Adopters entering the picture
Modern use cases and real-life applications of Python have made it possible for organizations to scale at a rapid pace. It has helped businesses in connecting the dots in a hassle-free manner than ever before. The integration of Python has not only helped them in addressing the complex business challenges but also has offered them an abundance of opportunities. With Python comes the ability for businesses in streamlining their end-to-end operations. Ever since it's been introduced, Python is serving the precise set of customers with utmost accuracy and potentiality. All these factors and advantages have prompted more and more businesses in taking a positive approach towards onboarding Python app development.
Conclusion
Python leverages the most reliable and scalable approaches in transforming landscapes. It helps businesses boost at a rapid pace, ensuring end-to-end automation. Furthermore, it helps digitalize landscapes no matter what. In a nutshell, we can say that by onboarding Python, businesses are not only able to land upon what exactly they are looking forward to having, but help them gain global traction in a hassle-free manner. It is delivering services that inspire generations to come.
Contact Us For a Free Demo
Popular Posts: