April 17, 2020
Posted by:

Admin

Category:

Famous App Analysis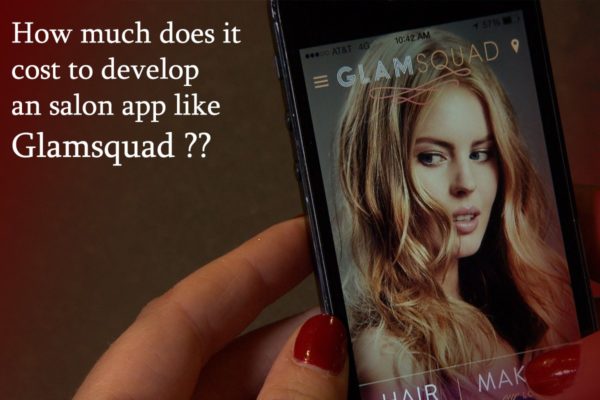 How Much Does Salon App like Glamsquad Cost and Features
During this time of digital transformation, businesses are moving to digitalized platforms like iOS and Android mobile applications. It is for the easiness and flexibility in interacting with customers than that of conventional ways. Digitalization offers various advantages to businesses across various domains. It helps them in generating more sales and revenue, streamlines in-house operations, redefines business structures, and much more.
The revolution made by smartphones in the current century is vivid and astonishing. The role of mobile applications in enhancing the traction for smartphones is not so small. In the current tech-savvy era, a mobile application not only helps entrepreneurs and enterprises in scaling their business to an extent where every one of its operations goes cut and clear but also delivers exemplary experience among its customers.
Mobile applications are aggressively been adopted by businesses across their lengths and breadths. In this article, we are going to see one such mobile application that is playing a major role in determining the success of a business domain thereby disrupting the conventional ways. We will cover all the features of an on-demand salon mobile application like Glamsquad, the way they operate, its characteristics, and much more. We will also discuss liberally on the topic of how much it cost to develop an app for beauty services at home like Glamsquad. So let us get started.
More on mobile hairdresser and beauty clinic mobile applications like Glamsquad
Glamsquad is a US-based on-demand salon service provider company. The main mode of operation of Glamsquad is by making use of a mobile application for both iOS and Android smartphones. The company supplies a team of highly talented professionals who delivers impeccable on-demand services for hair, makeup, and nail anywhere and anytime. It was founded by Alexandra Wilkes Wilson, David Goldweitz, Jason Perri, and Victoria Eisner in the year of 2014. The company is headquartered at Greater New York Area, East Coast, Northeastern US. It operates in all major cities like NYC, Hoboken, Jersey City, LA & Southern California, Miami & South Florida, SF & The Bay Area, Washington DC, and Boston. As per the latest information, they are about to move to a wider range of cities in the US.
Need for online hairdressing and make-up mobile application
Technology has brought in a lot of transparency in the entire domains of our lives and the salon and beauty industry is one such among them. Conventional ways of the same industry have a lot of hassles and bustles involved in its day-to-day operations. Customers have to walk into the salon, take their appointment manually, wait at the store till the previous customer has done, etc. All of these activities got disrupted right after mobile applications were introduced. Mobile application features facilities for customers where they can access services without any long wait. In a nutshell, we can say that mobile applications have transformed the industry as a whole.
How does it work- Beauty on-demand mobile applications like Glamsquad
As we discussed earlier, the company is making use of iOS and Android mobile applications for reaching out to potential customers across the nation. Users can download and install the mobile application from respective app stores and can easily access a multitude of services offered by Glamsquad. They offer various on-demand beauty services like Hairstyling, blow dry bars, waves, braids, updos, natural and glamorous makeups, manicures, pedicures, nail designs, Shellac, and spa services. The app is a huge hit among potential customers and gaining huge revenue. The entrepreneurs out there are planning to set up a business of the same pattern and are actively looking at the cost to develop an on-demand salon services app like Glamsquad.
Features of mobile salons and spa services like Glamsquad should have?
For an on-demand salon mobile application to flourish, it should have a multitude of features integrated into it. We are now going to see in detail, what are those mandatory features an on-demand hairdresser mobile application should have. Let us dive deep into it.
· Sign In/ Sign Up
One of the very basic features an on-demand salon app like Glamsquad should have is the user registration facility. The app should allow its users to create an account with them. Users can make use of their email id, mobile number, or even social media account for the same. Once they have registered, leveraging the credentials provided, they can log in to their account.
· Interactive dashboard
The dashboard of the application should be highly interactive and it should prompt potential customers to the recurring ones. It should have an eye-candy user interface and should deliver an impeccable user experience.
· Listings and pricing
The app should have the list of services offered by the salon including the complete details mentioned. This will help customers in availing of the right services of their choice. The app should contain features that allow users to view the prices of products and services.
· Schedule services
The application should allow its users in selecting and scheduling the services they want to avail of. The app should be enabled with various time slots, which they can book as per requirement. This helps customers in skipping long queues at the salons.
· Combos and discounts
To attract a wide range of customers, the app should provide exclusive combos and offers to the customers. This enhances the user experience and helps businesses in gaining a huge amount of traction.
· Enhanced payment gateway
The purpose of having an enhanced interactive payment gateway is to deliver seamless ways of payment opportunities for customers.
· App Referrals and loyalty programs
For the app to reach out to a wide range of audiences, it has to spend a lot of money on promotions. One way of availing this in an alternative and effective way is by using referral and loyalty programs. The app should allow its users to refer to the application among their friends and families.
· Rating and review
Reviews from potential customers help any business grow just as in the case of an online salon booking application like Glamsquad. The rating and review system is also a mandatory factor that a b2c mobile application should have.
· Order and purchase history
Service history allows customers to have detailed notes on their previous orders and their details. It also helps a business in enhancing customer experience.
Cost to build an on-demand salon mobile application like Glamsquad
Demand for online hairdressing and mobile application like Glamsquad is skyrocketing because of the scalability and potentiality of the business model it offers. Entrepreneurs are actively looking for the cost to build an on-demand salon app like Glamsquad. Coming to the costing part, is bounded to a wide range of factors like app platforms, app size, app technologies, app enhancements, technologies used, third-party integrations, and much more. The cost also depends on the app development company one associate with. Based on these factors, the approximate cost of building an on-demand hairdressing mobile application will be around USD 10000 to USD 30000.
DxMinds Innovation Labs- the best salon app development company
Hire DxMinds Innovation Labs, the leading digital transformation and salon app Development Company to give life to a mobile application of your kind. Highly talented professionals at DxMinds Innovation Labs help you avail of top-notch services at the least possible budget. For more details, info@dxminds.com