November 6, 2022
Posted by:

Admin

Category:

Software Development, Technology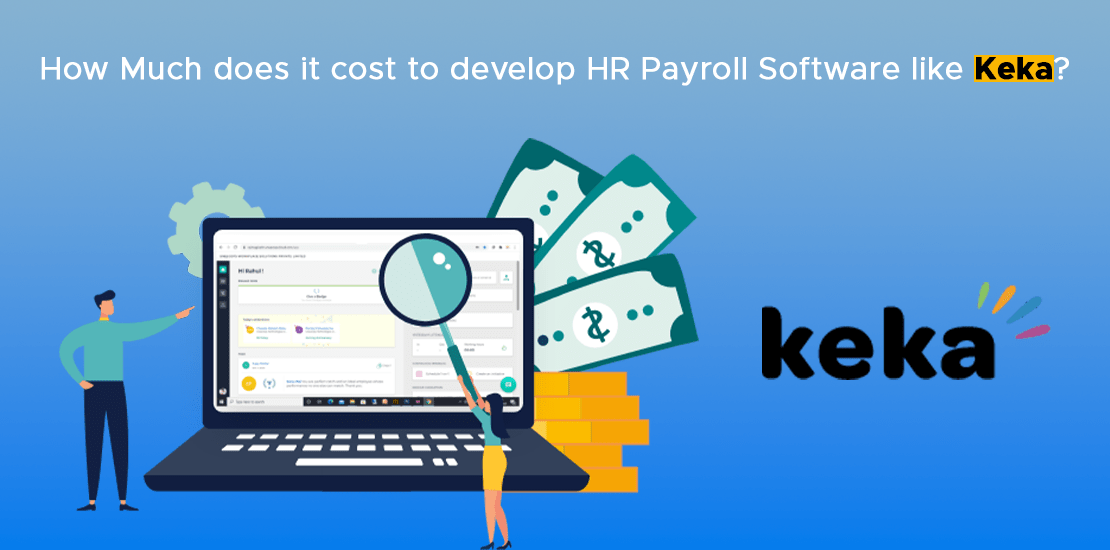 Nowadays almost every company has a human resources department. Any business, whether it is a small business or a large corporation, needs human resources. The method of hiring and overseeing a workforce has undergone significant change over time.
Recruiting, onboarding, and employee retention are now handled by separate smaller divisions within HR departments.
There are people for every job: recruiters who find the best talent, retention managers who foster a positive work environment in an organization, training, and development managers who make sure that staff members advance their skills, and HR generalists who take care of pretty much everything mentioned above. HR generalists oversee benefits, payroll, and time off in addition to working with onboarding and offboarding.
This complicated process necessitates the development of software that can streamline the internal processes of HR departments.
Speaking of which, Keka a leading Human Resource Management software has been availed by every other company and business serving the best benefits than ever.
HR Management software development is the most excellent idea if you are looking to develop something to achieve bigger.
And Keka the HR payroll management software sets the best example for accomplishing unbeatable success.
In this blog, we'll look at how much it costs to create your Human Resources application like Keka.
But first, let's define the various types of HR software that are currently available on the market and consider the features that they provide.
WHAT IS KEKA HRMS?
The daily responsibilities of HR specialists are now more involved and extensive than they used to be.
Recruiting and hiring, employee development, evaluations, retention, payroll, and many other processes are intertwined with managing employee information. Due to the high cost of these processes, HR professionals must integrate specialized software to manage the information more effectively.
As a result, Keka the remarkable Human Resource Management System (HRMS) enables organizations to smartly, effectively, and automatically manage a lot of HR operations via single HR software.
Why Companies On-board Keka Like HRMS System?
Cost Management
Nearly all costs are related to labor. Additionally, HRM systems are employed for cost planning and optimization.
Systematic Business process management
HRMS solutions allow you to manage many HR business processes such as personnel solutions, employee records, payrolling, motivation scheme development, and so on. Furthermore, HR managers provide employees with direct access to the necessary information, which improves efficiency.
Legal compliance. It entails adhering to the legal requirements that govern employee-employer relationships. HRMS enables users to resolve complex issues, implement flexible payrolling schemes, and manage personnel document flow.
Human capital development. Companies must prioritize employee career and skill development, as well as develop incentive programs and motivational strategies.
In fact, if you want to retain your employees and show them your attitude, custom human resource management software is a must-have software in your business.
Top-Notch Features To Include in Making HR Management Software Like KeKa
#1 Staff or Workforce Management
Maintaining spreadsheets for all of your company's data becomes unmanageable once it reaches a certain size. It becomes tiresome to review each document to make sure the records match (and introduces lots of errors).
A database of all employee records is the foundation of a human resource management system. Names, positions, dates of employment, responsibilities, benefits, insurance plans, performance histories, and other information may be included in the data. To make it simple for you to locate the records when needed, all of this data is connected to the employee's profile.
When employees can access this information through a self-service portal, HR managers won't have to answer as many repetitive questions. Employees can begin working on tasks, instructions, and processes when they can easily view them.
Thus, considering this feature in your HR management software development can make your product valuable
#2 Performance and talent management
One of the best ways to succeed in business, according to an HBR survey, is to promote the right person. The promotion process now has the much-needed objectivity and transparency thanks to human resource software. Set KPIs for each role, monitor productivity and get feedback from your coworkers.
Managing 360-degree reviews takes a lot of time, as any HR manager will attest. With routine 30, 60, and 90-day reviews, HRM software can streamline this process. Using automated feedback forms, you can collect information from various sources and display the insights on the main dashboard.
Additionally, you can frequently conduct a variety of tests inside the system to determine whether employees can meet management expectations, how well their skills align with the company's goals, and how well they can achieve their goals.
#3 Staff advantages
One of the most important aspects of any business is managing employee benefits, such as salaries, healthcare programs, and pension contributions. It's frequently the HR tasks that take up the most time.
The management of employee wages and benefits may be made simpler by HRM automation. Create employee plans, establish eligibility requirements, manage compensation, pay for vacations, deduct taxes, calculate 401(k) contributions, and fill out social security reports all through one system.
Your HRM software should enable regular enrollment in benefits, reducing mistakes and administrative work.
#4 Document management, analytics, and reporting
If you cannot use the data, it has no value. You can gain knowledge about your employees' past and present performance, just as Big Data has transformed marketing and finance.
A wide range of pre-built reports, including ones on employee performance, staffing requirements, and departmental growth, should be included with your HRM software. The ability to alter reports visualize data for simpler analysis, and export insights in a variety of formats are equally crucial.
Another benefit of a good HRM is simple document management, particularly when it comes to documents that are industry-specific, such as compliance, licenses, and certificates. Automated updates will save you the stress and time of navigating through folders and out-of-date files. Once all the necessary documents are attached to the appropriate project or task, everyone will have access to the information they require as needed.
#5 Finance and Payroll
Payroll problems are experienced by a high percentage of employees annually. The adoption of an HRM system simplifies your accounting and gets rid of human error. The management of wages, taxes, bonuses, commissions, stock options, and long-term incentive programs may be of interest to you.
Another helpful HR system feature is accounting automation, which can be used to automate accounts payable and receivable and calculate wages and taxes.
Payroll's primary function is to calculate and pay salaries, withhold appropriate taxes and deductions, and organize paycheck printing and delivery.
With its well-defined formulae, it easily handles all legacy compensation and benefits systems in an organization, including salary, allowances, and overtime rates. It is one of the most useful features of HRMS software. Payroll automation has numerous advantages, including
Data on compensation and rewards/bonuses are easily accessible.
There is less need for manual data entry (if the information is in a system, the payroll software can access it, ensuring single input).
Staffing and overhead costs are reduced.
A unified approach that does not rely on a jumble of databases, files, and spreadsheets.
#6 Security, compliance, and other factors to consider
Non-functional requirements are just as important as HRMS features.
Entrepreneurs all over the world are becoming painfully aware of cybersecurity threats, according to Gartner. Human resources departments can be a prime target for cyber-attacks attempting to steal sensitive financial and personal information. It's critical that your HRMS adheres to cybersecurity best practices:
Only users who have been properly authorized and authenticated are granted access to private data.
The vendor monitors vulnerabilities in third-party components used in your HRMS and performs penetration tests on a regular basis.
Access to sensitive information is limited based on a user's role in your organization.
A strong password is supplemented by another authentication method (for example, an SMS code).
Sensitive data is encrypted and stored in a secure and sustainable data center/cloud hosting facility.
#7 Onboarding and hiring
Keeping track of applicants is as important as managing your workforce. Modern Applicant Tracking Systems (ATS) can assist you in posting job openings on job boards and social media, collecting hundreds of resumes, ranking them based on predetermined criteria, and organizing job interviews.
However, most human resource management systems include only the most fundamental ATS functionality. They are frequently nothing more than a searchable database where you can store your vacancies and applicants. Most of them also allow you to post job openings on various websites and schedule interviews using your calendar.
If you represent a large organization or have specific recruitment needs, it may be worthwhile to invest in a dedicated ATS that integrates with your HRM.
Once hired, such integration will allow you to seamlessly move the applicant's data, launch the onboarding and induction process, organize training, manage benefits, and so on. If you want to learn more about these systems, read our article on ATS features, common problems, and solutions.
#8 Keeping up the talent
Losing a worker can cost anywhere from 30% to 400% of the employee's annual salary. Many HRM systems assist in the development and implementation of basic retention strategies. Some of the more advanced solutions use AI and predictive modeling to discover patterns in employee behavior, such as
Risk modeling identifies employees who are at risk of leaving or underperforming.
Talent forecasting: find candidates who are high performers and have a clear sense of what they want.
Retention Modelling: Build psychological profiles of your employees using retention modeling to uncover hidden relationships that influence turnover.
Attrition modeling predicts employee loss due to natural causes by classifying workers based on parameters such as age, gender, family status, education, work experience, job performance, peer/manager relationships, promotions, and pay raises.
Predicting turnover at different departments and locations can help cut down on the expense of hasty hiring.
Data are just one more tool in the HR manager's toolbox, to be honest. One of the biggest issues with HR analytics, in Deloitte's opinion, is the lack of complete and accurate data. Aggregating and correctly preparing data can turn into a problem of its own because the average enterprise has 5-7 systems of record.
#7 Learning and Development
The OECD predicts that within the next ten years, technology will change almost 1 billion jobs. Therefore, substantial investments in workers' upskilling and retraining are necessary to maintain competitiveness. It is understandable why industry titans like Amazon and PwC spend billions on educating their workforce.
A corporate Learning Management System is a useful tool for structured and cost-effective employee training. Basic learning management, like an ATS, is frequently found among HRMS software modules. They are, however, far less flexible and feature-rich than standalone solutions.
Adopting an LMS can assist you in identifying skill gaps, managing educational resources, organizing individual and group training, maintaining compliance, issuing digital certificates, running aptitude tests, and more. If you want to learn more about this feature, recommend reading our article on how to create a modern LMS.
#8 Time and attendance management
It can be difficult to track and calculate paid time off (PTO). As a result, automated PTO management is mainly included with HRM software.
Simply specify the calculation method for the time off, and the system will make the necessary modifications whenever some of your employees take any kind of leave.
Scheduling shifts across departments, locations, and projects; receiving automated roster change notifications; streamlining time tracking and payroll with digital timesheets; tracking PTO used/accrued; clocking in/out, and managing disability and maternity leaves are all crucial components of a good HRS. In the end, they collaborate to assist you with tracking absentees and handling administrative duties.
Another critical factor to consider is user experience. Navigation ease, intuitive design, and a quick interface are just as important as flashy features. As a result, ensure that the system is simple to use, even for non-technical users, and that it works properly on a variety of mobile devices.
You don't want to be left alone if something goes wrong, so make sure you have all the help you need when using your HRMS.
The process to build a Custom HRMS like Keka
Plan out your workflow
To do this, you must map out every aspect of your business operations that the HRM system will directly affect. It will assist you in determining how the system will support the implementation of particular processes and the communication between you and your employees.
Determine your budget and build a requirements analysis.
You should have a clear understanding of the financial requirements for creating a unique HRM system like Keka in case you are aiming not to fail. This is why a requirement analysis should be created before you ask the software development company you found for a ballpark estimate. Even multiple businesses could be involved at once. For instance, at DxMinds, we give customers a rough estimate within a few days. Alternatively, you can use our cost estimator on your phone.
Hire the right dedicated team.
Finally, decide who will design your HRM system. You can read Clutch reviews about various companies, look at their portfolio to assess their experience, what skills software developers have, and so on. Outsourcing your development is the most preferable option because outsourcing development companies offer more profitable options and have many advantages with their dedicated teams. You can find a detailed guide on hiring a dedicated team here.
Security is essential.
Keep in mind that your HRM system should be highly secure. HRMS does not store personal employee data, confidential company data, or other classified information for third parties. As a result, security protocols and encryption methods should be used during the development process. Access to software may also be restricted to users who have a password and, if necessary, two-factor authentication. It will help to protect your HRM system from hackers.
MVP creation
Though some people prefer to skip this step, we strongly advise creating a minimum viable product (MVP) before developing full-fledged software. An MVP is a simplified version of your future system that allows you to collect feedback from real users of your HRMS at an early stage of development. This saves you time and money because the development team gains valuable insights into real-world user expectations and experiences. With an MVP, the final product will be much closer to what you actually require.
While gathering feedback, you may realize that you require mobile app development services in addition to a web-based HRMS solution. For example, feedback on the MVP may reveal that candidates prefer to communicate via smartphones.
Product development
The next step is to develop the full product after the MVP has been tested and user feedback gathered. The technical team builds all the blocks and features, conducts QA tests, and works on HRMS integrations.
If you follow these steps, you will undoubtedly succeed in implementing your custom HRMS for the benefit of the company.
Software Maintenance
Throughout its lifecycle, your custom HRIS/HRMS software will need updates and modifications. Additionally, you'll need to update your HR management system as your company's HR processes evolve. Employing a software development team to handle these responsibilities for you is crucial.
How do we know that each step is required? based on our own expertise in the creation of HRMS software. Here is how we assisted a client from Norway in creating a platform for time and project management.
How Much Does it cost to develop HR Payroll Software like Keka?
Now that we have decided which modules to include in it, let's estimate the development cost of a human resource management system like Keka
The HR software development process is identical to any other web application or mobile application approach because it is a web application or a mobile application, or both.
The development process and cost estimation method are the same as those used in web application development.
In conclusion, we will take into account the system with the following modules for this cost estimation:
Payroll management module
Hiring management module
Module for talent management
Wellness and rewards management module
Time management module
Let's start by outlining the IT professionals required to create this application. The web app will require the following:
A project director
Payroll software developers fall under the categories of backend and front-end developers.
QA Specialist
Administrator of Systems
More and more employees now access their work and information related to their work through a mobile device, changing how they interact with their work. The use of mobile HR software is beneficial. We'll need the following to create an application that works on mobile devices:
Mobile developer: iOS and Android developers
The product we are estimating is comprehensive. But what about more precise figures?
For these cost estimates, we will use average hourly rates for development services in an offshore location, specifically in Easter Europe.
This article also includes a cost comparison of HR system development in Western Europe, Eastern Europe, and Asia. So, here's an estimate of the time, resources, and money required to develop a human resource management system by an offshore software development company:
| | | | | |
| --- | --- | --- | --- | --- |
| Location | Project discovery | UI/UX design | Development | QA |
| South America | $40-$60/hr | >$35/hr | $40-$60/hr | $30-$45/hr |
| Western Europe | $50-$110/hr | $50-$110/hr | $65-$80/hr | $35-$65/hr |
| Eastern Europe | $40-$70/hr | $40-$70/hr | $40-$80/hr | $20-$60/hr |
| Asia | $15-$30/hr | >$35/hr | >$40/hr | >$25/hr |
Generally, the cost to build HR payroll software like Keka can fall between $40K-$90K.
*Disclaimer: This is an estimate only. The actual estimate can only be made after the scope of work has been prepared and the entire project has been analyzed.
Conclusion
Human resource management is essential for all businesses. The key features of human resource management software like Keka are all aimed at freeing up time spent on routine tasks so that you can focus on attracting, motivating, and retaining top talent.
Unfortunately, when it comes to HRM software, there is no fix-size- that fits all solution. If you want to get a system that meets your needs, you must first assess your HR requirements. Determine which features are critical to your company. For some, there may already be a solution. For others, off-the-shelf software may be problematic.
If so, designing a custom HRIS system based on the procedures and culture of your business might be a great idea.
HR & recruitment software is the area of expertise for DxMinds, a custom HR software development company. Therefore, feel free to message us at any time if you have any questions or need a team of experts to complete your human resource management software project. To get a callback, just fill out the contact form.
FAQs
What is the function of an HR system?
A human resources management system, or HRMS, is a collection of software applications used to manage human resources and related processes throughout the employee lifecycle. A human resource management system (HRMS) allows a company to fully understand its workforce while remaining compliant with changing tax laws and labor regulations.