January 24, 2023
Posted by:

Admin

Category:

Famous App Analysis, Food Delivery App Development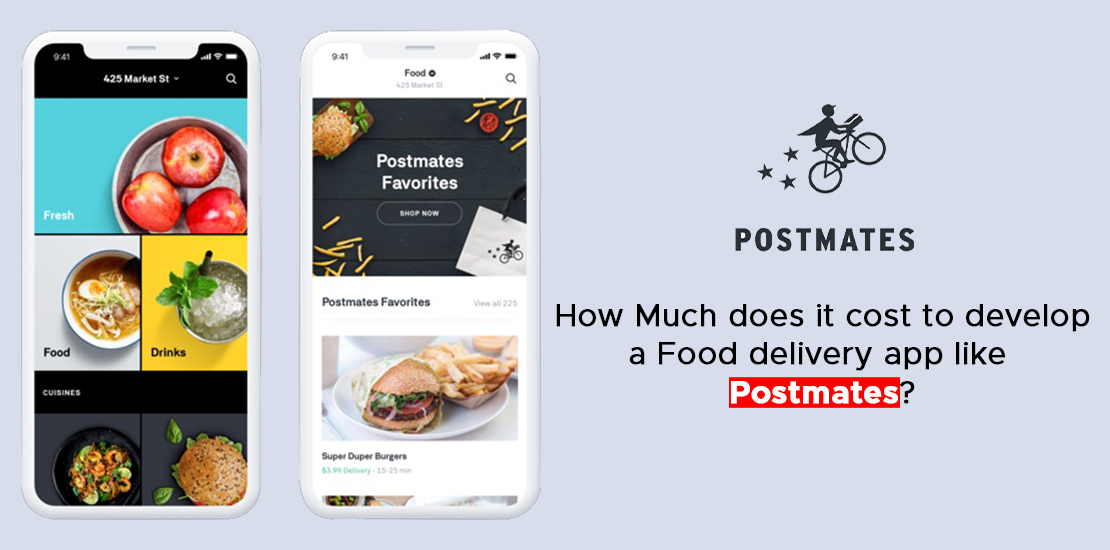 There is no doubt that mobile applications have become an integral and necessary part of peoples' lives. Mobile applications are now used for almost everything, from ordering a taxi to scheduling a doctor's appointment, shopping, fitness, or entertainment.
Time has become one of people's most valuable possessions as a result of the entire digital era. For this reason, both individuals and organizations are constantly looking for simple ways to optimize their own schedules and get rid of any time wastage or potential downtime.
It is not surprising that on-demand services are becoming very popular in this world. Nowadays, you can quickly have any product delivered to your door. Numerous delivery service apps exist that make delivery logistics incredibly convenient and have significant potential growth. The increased demand for such apps has resulted in an unquestionably enormous increase in on-demand app development.
Most of the time, people either don't have the time or don't want to waste their precious time on chores like grocery shopping and cooking.
Over the past few years, the market for on-demand applications has grown financially and substantially. When people were unable to leave their homes at will and lost the ability to go out to eat or even go grocery shopping, the market, especially in 2020, saw significant growth.
The online food industry generated more than $302,826 million in revenue in 2021, and this number is expected to rise. One such on-demand food delivery service that is well-liked in the US is Postmates.
Postmates is among the best food ordering apps because of its many unique features and qualities. Create a food delivery app that is similar to Postmates if you want to create your own.
In this article, we'll look into the food delivery app development process and discover the co-tech requirements, features, and cost of food delivery app like Postmates.
Why should you create a food delivery app like PostMate?
Let's first examine what advantages your company could gain from developing a Postmates-like app before spending a lot of money on the development of your food delivery app.
Get quick ROI
For your food delivery business, developing a mobile app has all the necessary prerequisites to support you in attracting reliable investments in just a few years. Swiggy, an Indian food delivery unicorn, is just one example among many that could be used as evidence.
In 2014, three young entrepreneurs created the straightforward website Swiggy with just Rs. 10,000 (approximately $164) in their pockets. However, Swiggy managed to work with more than 100 restaurants in its first year alone and finished more than 70,000 orders. Due to this, the Swiggy founders were able to develop a mobile application and secure $2 million in funding from Accel and SAIF Partners. The Swiggy app's innovative, intuitive design helped the company's founders raise an additional $15 million from Bessemer Venture Partners and Harmony Partners in 2016.
Serve more food to more people with less effort.
By providing a mobile app for your food delivery company, you have a great chance of growing your clientele and streamlining last-mile order delivery. For instance, adding a single instant delivery tracking feature to your app can boost user satisfaction, lower complaints, and increase customer retention rates.
Knowing this, the German startup Karla's founders made the decision to use an advanced delivery tracking tool as their main weapon while developing a website and app in the early months of 2022. Customers can track their deliveries in real-time with Karla, including delivery dates, drop-off locations, and returns. Customers can also communicate with providers, couriers, and other customers at any time after placing an order.
Learn new marketing techniques
You should create a food delivery app for another reason: it can give you more effective ways to market your company. For example, emails only have a 21.5% average open rate across all industries, whereas app push notifications have an average open rate of 81% for Android.
Push notifications, when used correctly, can boost user engagement and retention rates by up to 92%. It is preferable to take advice from Zomato, an Indian tech giant in food delivery, in order to achieve this goal.
Zomato users enjoy personalized notifications that feature catchy and relevant content. Zomato cares about and engages with its customers rather than sending repetitive messages like "Order from us and get your% off."
Increase the revenue from your restaurant
If you aren't sure whether to build a food delivery app for your restaurant, think about these other opportunities to increase sales with a mobile app:
Encourage customers to place their first orders
Reduce the rate of cart abandonment
Promote upselling
With location-specific notifications, increase dine-in visits.
based on previous user behavior, provide individualized promotions.
Create a referral program.
Start a subscription
Make customers aware of the booking tables and Click & Collect options.
Boost online ordering during peak times.
In addition to ready-to-eat food, sell meal kits for preparing customers' favorite dishes.
Telepizza, for example, made $2400-2600 from a single message by sending location-based push notifications with an irresistibly enticing offer to passers-by.
Key Features to Include in A Food Delivery app like PostMates
The main features are divided into four sections: the client side, the courier app, the admin panel, and the restaurant owner side.
Registration
Users can register and set up an account by using the registration feature. Email, phone calls, and social media sites like Facebook, and Gmail accounts can all be used to manage this process. Don't forget to include password recovery and email confirmation.
Map
Your customers must be able to locate the desired restaurant using geolocation, particularly if you have multiple locations nearby. Allow users to enable their location so they can see which vendors are located closer to their residences and places of business.
Use filters to help users find the items they are looking for with a product description and a price. The total price, delivery date, and payment options should all be included in the shopping cart.
Scheduling
To ensure that they receive their orders at the most convenient time, customers should be given the option to choose the delivery window.
Payment
Integrate a variety of payment methods, such as PayPal, credit and debit cards, Stripe, Apple and Google Pay, etc. Some places still accept cash on delivery, particularly in less technologically developed regions of the world.
Location Tracking
Allow users to track the courier's location in real time after they have placed an order. Customers can determine the estimated delivery time and learn about any potential delays thanks to this. As an alternative, Postmate like food delivery apps and others provide a pick-up option that enables customers to pick up their order from the restaurant. When using the self-pickup option, location tracking can be helpful in guiding customers to the restaurant quickly.
Reviews and ratings
Although not necessary for an inventory business model, this option is preferred. Before placing an order, customers can read reviews to learn more about the different dishes your restaurant offers and form an opinion.
Courier's Information
Customers should be able to find out a courier's name, vehicle, and phone number so they can contact them if necessary.
Order history
To make it easier for customers and restaurants to remember their previous orders, order history should be saved on both sides of the admin panel and the client side. The history may aid in locating a delicious dish that a customer may have ordered but forgotten the name of.
Restaurant Side
Menu Management
Menu items should be able to be added, removed, and edited by restaurant owners and managers. Additionally, make it possible for customers to upload food-related images, descriptions, and prices.
Order Management
To accept, reject, or modify new orders, they should be easily accessible through the application. The application should also enable restaurant owners to modify the order's status as needed.
Admin Panel
Restaurant management
Permission management is a feature of this feature that permits particular users to perform specific actions.
Analytics
Every app admin panel must have analytics because it provides valuable insights into the app's performance metrics. Administrators can use this feature to monitor orders, inventory, delivery schedules, sales, marketing initiatives, etc.
Payment integrations
The admin panel is where payment methods are stored and managed to ensure a high level of security and accuracy.
Order assignment
The app administrator should have access to the delivery personnel in order to assign or reassign orders and ensure timely and smooth deliveries.
Courier-side
Registration
In order to set up an account and begin working for the restaurant, delivery agents also need a signup option. Email, phone, and social media platforms could all be used for signup.
Profile creation and validation
Couriers should have the ability to create a profile and add personal information in order to guarantee a high level of security. Once all required documents and information are in order, the admin can then review and verify the profile.
Maps
By including a map in the courier section of the app, you can help delivery staff locate the quickest route to customers. Make sure your delivery map appears professional and interactive
Order information
Additionally, couriers should have access to information about the order, such as the delivery address and time, the items inside, and the user's name and contact information.
Status Updates
Order status updates should be available on the app's courier side as well. For instance, a food delivery app like PostMates should be used to notify the customer when a courier arrives at the restaurant, picks up the order, and departs to deliver the food.
Additional features
Additional features are not required for a start-up but will be useful in future iterations. They enhance the customer experience and provide users with a distinct value.
Client-side
Two-factor authentication
You can add an extra layer of security by implementing two-factor authentication, which requires users to use two methods of signup, such as a password and a code sent to their phone number.
Notifications
Notifications enable users to do their own thing while waiting for delivery while receiving status updates. Simple notifications can be used to inform customers about special offers, promotions, and discounts, among other things. These messages encourage users to take advantage of the offer and place an order with a bonus or discount.
Customer Support
Customers can get in touch with the restaurant through the customer support feature to ask a question, make a complaint, or address any other issues or misunderstandings. Like Uber Eats, you can also use a chatbot to speed up service delivery and streamline customer support operations.
Locations list
If you have multiple locations for your business, list them all with complete addresses and phone numbers so that customers can come in person.
Tipping
The built-in tipping feature makes it easier for customers to remember to tip and enables delivery personnel to make a little extra money.
Specific recommendations
To assist users in placing an easy and quick order, your app can recommend dishes and beverages based on previous orders.
Admin panel
Notifications
Notifications about discounts and exclusive offers ought to be able to be sent out or set off by administrators. Permit the administrator to design, maintain, and manage reward and loyalty programs. It will aid in encouraging users to keep using the application.
Courier side
Give your couriers the ability to set their own custom availability if you want to develop a solution resembling the Postmates courier app. In this manner, they are able to work during the times that best suit their schedule.
How Much Does it Cost to Build a Food delivery app like PostMates?
The cost of developing a food delivery app like Postmates is primarily determined by its features. However, business analysts and developers take numerous factors into account when determining the final features and the resulting cost estimate. Here are the seven most important factors that influence the Postmates like food delivery app development cost
Scope, Category, And Features Of The Food Delivery Application
The cost of PostMates app development is greatly influenced by this main factor. The market is already established and secure for food delivery app development.
The cost is also influenced by the platform you choose. The cost of developing an iOS based Postmates like food delivery app is slightly higher than that of an Android native app.
Cross-platform app development and flutter app development are significantly more affordable and practical for businesses and aspiring entrepreneurs than both of these options
Total number of development hours
The greater the number of features, the greater the number of development hours. This is the industry standard. That is understandable given that each app feature necessitates a specific technical specification as well as a certain number of hours for design, development, testing, and deployment.
Food delivery apps, as previously stated, typically take between 550 and 800 development hours. So, multiply your developer's hourly rate by the number of development hours you estimate.
At DxMinds, we have highly experienced app developers who can recommend specific APIs to reduce your development time and budget. APIs are small tools that allow two different applications to communicate with one another. In some cases, deploying APIs rather than designing a native feature can actually save time and money.
Development Tools and Technologies
A strong backend, admin panel, and analytics dashboard are required for a food delivery app. These require advanced tools.
For example, if a bitcoin payment option is one of your app's unique selling points, you may require a conversion platform. As a result, you may have to pay for conversion deployment or integration.
Simply put, you might have to stretch your development budget if a food delivery app makes use of the most recent technologies. For example, being an early adopter of technology in your industry, in this case, food delivery, can actually give you an advantage over your rivals both now and in the future.
Keep in mind that your app uses a variety of tools, including chatbots, third-party databases, cloud services, location and map tools, cost estimators, and other tools, and that your developer will typically create a cost accounting for all of these as well.
The Development Process
Presently, a variety of app development firms provide full-cycle development in addition to stand-alone prototyping, design, programming, testing, maintenance, and launching services.
From a logical perspective, you get what you demand. New entrepreneurs are advised by our business analysts and opportunity specialists to purchase full-cycle development processes rather than investing in stand-alone services. By doing this, you can maintain control over your spending and streamline your business process.
Here is a general outline of the stages of development for your reference:
| | |
| --- | --- |
| Stage of Food Delivery App Development | Cost of Service in dollars |
| Discovery | $2,000 –$ 5,000 |
| UI and UX design | $10,000 – 12,000 |
| Back-end and Front-end development | $20,000 – $50,000 |
| API integration | $3,000 – 7,000 |
| Testing | $9,000 – $15,000 |
| Deployment and Launch | $1000 – Depending on your contract |
Design Complexity
The complexity of any level of development can have an impact on the cost, as you can see from the quick breakdown of various stages of development and their costs. Choosing a minimalist design with understated branding, for instance, will have a favorable effect on your budget.
Security of Apps
High-end app security is required for food delivery services because they handle users' private data, including delivery addresses and financial information for bill payments. These are both extremely important issues. Your app needs to be as secure as possible to never jeopardize the retention of this data for a positive user experience.
To ensure app security, developers employ a variety of tactics. In order to prevent messages and information shared within the app from leaving it, they first implement end-to-end encryption. Second, they make sure the back-end development is carried out with virus-free development toolkits and error-free tools.
Costs are associated with each and every data security measure. Even if you have a tight budget, you shouldn't ever compromise the privacy and data security of your users or give hackers access to your app's back end.
Make sure your application is battle-tested by your developers and QA team during the development and testing phases to prevent such incidents. Make sure to run various functional, scale, and instrumentation tests to verify the security of your app.
Side costs
These are extra expenses that you may or may not have to pay for during the development phase, but you will need these components at some point in the course of running your business.
| | | |
| --- | --- | --- |
| Extra Cost | Description | Fees |
| Infrastructure | This pertains to the domain, hosting, and data servers used to launch your app. | $25 – 300 per month |
| Patent | This is a tool to protect the intellectual property rights of an asset, which is not advised unless your food delivery app has an unimaginable scope and proposition. The cost of a patent depends on the concept you want to protect | $2,000 – 10,000 |
| App Marketing | Either you or an ASO (app store optimization) company can decide to forward the narrative of your app. Search engine marketing, authority building, and other techniques are also used for app marketing. | $150 – $1500 |
| Measuring Success | You may decide to invest in this service because it is essentially a business function. The cost of keeping track of the app's downloads, reviews, and ratings may fall on you if you hire a VA. If this food delivery app is your full-time job, you can also do these things on your own. | $200 to $400 per month |
| App Maintenance | After launch, reputable app development firms typically offer a free 30- to a 45-day maintenance plan.After the first year of the app's launch, however, you will need to hire maintenance services separately. The performance and updates of your app will be covered by this maintenance. | $1,000 – 4,000 |
If the Postmates like food delivery app development cost is $15 per hour, the cost of developing the customer MVP app will be between $25,000 and $35,000, with a development time of 15 to 26 weeks.
The total cost of developing a food delivery app like Postmates can range from $40,000 to $80,000.
Conclusion
With the growing demand for on-demand food delivery apps, restaurant app development has advanced by leaps and bounds. People now expect innovative online food delivery apps to allow them to order food from the comfort of their own homes.
Postmates is one such on-demand food delivery app that has grown in popularity in the United States. If you want to create an app similar to Postmates, you should be aware of the features that you must include in your own app.
You should also be aware of the development costs for food delivery app features and app sections. Consider all aspects of the courier and customer app development. The entire breakdown of the food delivery app cost is mentioned above.
If you have any further questions about the app development process or the costs involved, please reach out to us directly or share the details at info@dxminds.com
Do you want to start a Postmates-like business and increase your company's revenue?
We at DxMinds have decades of experience developing and delivering on-demand food and goods delivery apps within a short period. Our team of knowledgeable developers works on the most recent technology stack adheres to the agile methodology and meticulously evaluates your business needs so that you can have a robust final product ready in weeks.
We have currently served up to 500+ businesses with a full fledge on-demand delivery app, and we continue to strive and prove ourselves as a preferred on-demand app development company for your business needs.
We can help you create and launch a Postmates clone app or create a new concept from the ground up.